Archives For
As surely as night follows day, so autotune songs follow incredible TV interviews.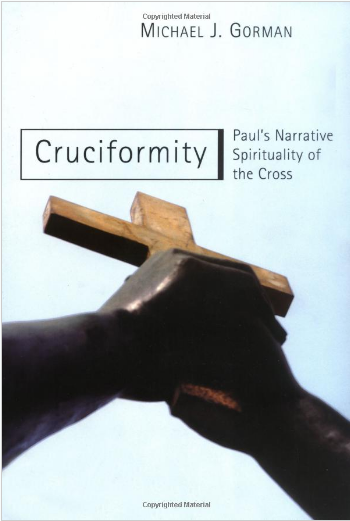 Cruciformity: Paul's Narrative Spirituality of the Cross
Cruciform = cross shaped.
This book is very good. Very, very good. Sometimes Gorman pushes things a little bit further than I would to make his point, sometimes his application of his ideas goes in interesting directions, sometimes his interpretations of passages don't land where I'd go (and where other much smarter people than me go), and sometimes his tangents and arguments are a little coloured by his understanding of what hobby horses cruciformity rides – but it's truly fantastic. One of the best books I've read while at college…
Want proof. Compare, side by side, the overture to Jesus' work on the cross in Philippians 2:6-8, with how Paul describes his ministry in 1 Corinthians 9:19, and throughout the chapter. Amazing. I'd never noticed this before – maybe you have.
Here are some of the big ideas he riffs off for a few hundred pages of gold…
"The son's act on the cross was an act of family resemblance, of conformity to God. God, therefore is a God of self-sacrificing self-giving love, whose power and wisdom are found in the weakness and folly of the cross. "
"If on the cross Christ conforms to God, then God conforms to the cross. The cross is the interpretive or hermeneutical lens through which God is to be seen; it is the means of grace by which God is known."
"As a colony of cruciformity, the church first tells its story to itself in liturgy and prophetic edification, so that it can live the story of cruciform faith, love, hope and power within itself. It is then equipped to tell and live the story – the gospel message – in the world, summoning people to faith by the power of the Spirit, and living by love and hope even in the face of opposition from enemies of the cross."
"Paul's communities become living commentaries on their master story… For Paul, the most faithful interpretation of the Messiah's story is not a letter or an argument but a living body, one whose life unfolds step by step in ways analogous to Messiah Jesus. Such a body will bear – literally, or metaphorically, or both – "the marks of Jesus" branded on its body (Gal 6:17)"
Storytelling is the new communication. In fact. It's the old communication. These tips are pretty good. If you want to make stories that people are interested in. It's properly basic stuff. With some nice tips and twists.
Some of these are video specific – which is great if you want to catch up with the present, and communicate into the future – but most of them are generic enough to be slightly relevant to the non-video world.
Here's a nice coffee "story"…
Coava, a case study of storytelling from stillmotion on Vimeo.
This. My friends. Is a fundraising opportunity that perhaps outclasses Movember. Mullet-mo for the Gospel.
Every $10 donated to Katherine Yock's Australian Fellowship of Evangelical Students (AFES) support fund keeps Peter Yock's mullet – and mo – growing for another day. And earns you a photo of the mullet. $50 buys you a whole week. You can give online.
AFES does great gospel work around Australia – and Katherine does great work at my old uni, where I was involved with AFES. So this is a cause dear to my heart.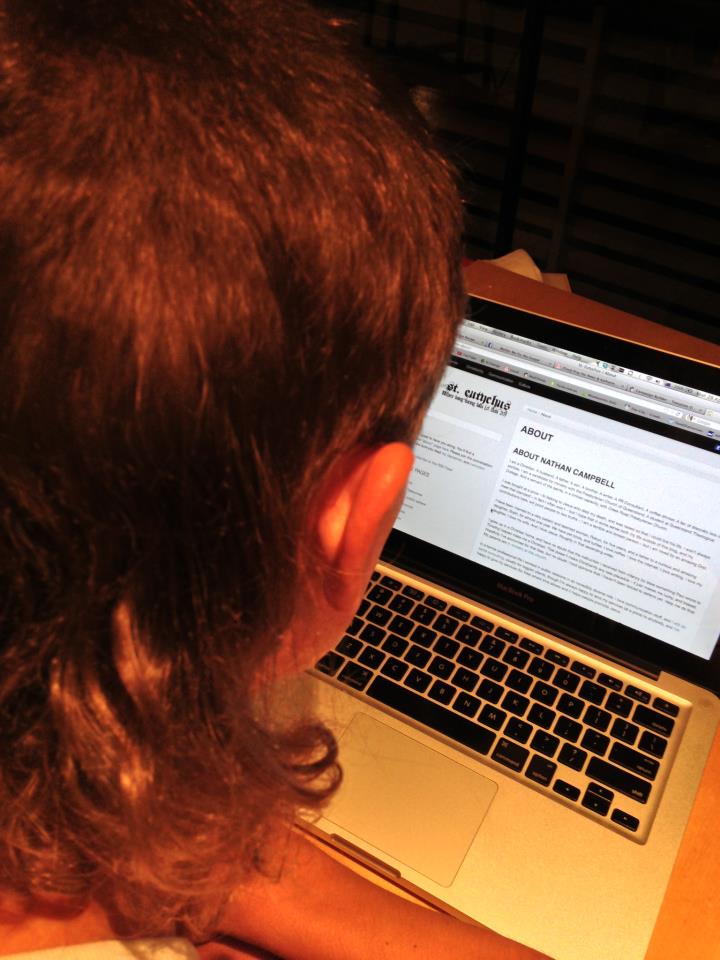 The Yocks are having a baby soon – and the mullet is already funded up to November. I think if a bunch of you, dear readers, were to donate, that we could make sure the baby actually remembers the mullet.
Give hard, so that the Yocks can keep partying hard. Like it's 1980 something.
This Tumblr We Never Look Up tracks how technology makes people less present in whatever physical space they're in.
This study says people who use their phones heaps are more likely to be self-indulged, self-seeking, and racist.
"A new study showed that young adults who text more than 100 times a day tend to be more interested in wealth, vanity and less so in leading a virtuous life.

Led by psychology professors Paul Trapnell and Lisa Sinclair, the University of Winnipeg study suggested that students who text that much are 30 percent less likely to value living an "ethical, principled life," compared to those who texted 50 times or less a day. The study also showed that heavy texters exhibited higher levels of ethnic prejudice.

Researcher gleaned their findings from 2,300 freshman psychology students who took online surveys about their goals in life, personality traits and how much they texted. Around 30 percent reported texting 200 or more times a day, while 12 percent indicated they texted more than 300 times a day."
And this technological evolution is potentially rewiring our brains. That study says people are becoming, like, more superficial and stuff.
"The study aimed to test the "shallowing hypothesis" that Nicholas Carr discusses in his book "The Shallows: What the Internet is Doing to Our Brains." The hypothesis suggests that relentless texters and heavy users of Twitter are more superficial because the platforms encourage rapid and brief interactions that promote shallow thought.

"The values and traits most closely associated with texting frequency are surprisingly consistent with Carr's conjecture that new information and social media technologies may be displacing and discouraging reflective thought."
There's another book that says we're all, well, at least the males of the species, becoming man-children because of these changes.
"This new kind of addictive arousal traps users into an expanded present hedonistic time zone. Past and future are distant and remote, as the present moment expands to dominate everything. And that present is totally dynamic, with images changing constantly. Boys' brains are being digitally rewired in a totally new way to demand change, novelty, excitement and constant stimulation."
This is mostly due to porn – which does terrible and damaging things to the brain – but the writer of the book quoted in this blog post, also points the finger at the dreaded spectre of video games.
"That means they are becoming totally out of sync in traditional school classes, which are analog, static and interactively passive. Academics are based on applying past lessons to future problems, on planning, on delaying gratifications, on work coming before play, on long-term goal setting."
Lots of people see the negatives associated with these social changes (and again – there are only negatives associated with the porn industry and what it does to those who fall into its clutches). And there are negatives – if people look at their devices and never connect with real people. That's certainly not been my experience of social media and its impact on my real world social interactions… sometimes I think someone should study the average age of people who write negative studies about young people.
But are people less connected and more selfish? I don't know if this is a properly basic understanding of the social web. Even when the web goes wrong – and it did horribly in the aftermath of the Boston Bombings as Reddit went on a terrorist hunt – it goes wrong socially. It goes wrong because it brings people together in new ways. It harnesses the mob mentality. Texting is the same – it can appeal to our baser natures and amplify our capacity for sinfulness. Sure. But you don't need smart phones and university studies to know that young people are vacuous and vain. In the main. Consider Narcissus. Facebook is the modern day version of the mirrored pool.
Are we failing to grow up? Or are the young people of today forced to confront less affordable housing than ever before because of the avarice of the generations above them. This will cause inevitable social change. So will new technology.
Sooner or later, as Christians, we've got to start thinking about how we get people thinking about Jesus when they're staring at their iThings and playing games. If that's where people are spending all their time "doing nothing but talking about and listening to the latest ideas" (like the marketplace in Acts 17:21), then we, like Paul, should see that as an opportunity for cultural critique and gospel engagement – not simply hand-wringing and condemnation. Imagine if Luther had condemned the printing press – because people reading and writing pamphlets wouldn't be talking to other people. Or people ignoring Paul because he wrote them letters rather than being present…
This is great.
This shirt has never been so appropriate.
It's UFC meets Juggling. In teams.
Via Kottke
This uses a crazy amount of paper.
This is a great article on a meeting of two literary giants. Here's a cool quote from Dostoevsky about how Dickens created relatable characters.
"All the good simple people in his novels, Little Nell, even the holy simpletons like Barnaby Rudge, are what he wanted to have been, and his villains were what he was (or rather, what he found in himself), his cruelty, his attacks of causeless enmity toward those who were helpless and looked to him for comfort, his shrinking from those whom he ought to love, being used up in what he wrote. There were two people in him, he told me: one who feels as he ought to feel and one who feels the opposite. From the one who feels the opposite I make my evil characters, from the one who feels as a man ought to feel I try to live my life. 'Only two people?' I asked."
Although it's actually about a long running hoax that has made the rounds through newspapers, biographies, and the Internet, for a few years. It's a long read that gets weirder as it goes – but is a reminder that you shouldn't believe everything you see on the web. The guy behind the rumour has published books, submitted articles, and submitted scathing reviews of his own work to different journals under a string of different names – and was undone by plagiarising some of his own bizarre adult fiction (there are a few paragraphs of said fiction included in the article so be warned). The quote above could very much be about himself.
I take photos of cafe food. Because I have a coffee blog. I guess that makes me a hipster. But most of the time I don't want to see photos of your food on Instagram. Unless you're somewhere really cool. Here's POHTPOF
On Sunday I followed up my previous talk in a miniseries called "Where is Jesus now?" with a look at how Jesus is visible in the here and now in images of him.
People. Those who have been transformed by Jesus. Into his image.
I feel like it was an adequate treatment of the question in that Jesus is visible in his church – but I feel like I pulled some punches in the answer that I gave.
It's easy to talk about being Jesus in the small stuff. It's easy to talk about being Jesus to other people when they're moving house – or when you realise how broken you are, and they are… It's easy to talk about being Jesus as something that's a little intangible and hypothetical – it's easy to say that people should be able to see Jesus in us. As we live transformed lives.
But it's not so easy to see Jesus, here and now, in human tragedies.
The challenge for those who call Jesus Lord, who are being conformed to his image, and who are his image bearers – or ambassadors – is to know how to be Jesus in the awful extremities of life, not just in the every day.
Sure. Figuring out that bearing the image of Jesus means having a life shaped by the sort of sacrificial love Jesus showed at the cross will hopefully help us in big situations if we're disciplined at living that way in the minutiae of daily life. But a big question we've got to answer – and account for, if we're bearing Jesus' image – is where is Jesus in tragedies.
Where is Jesus when bombs explode at the finish line of a popular marathon and maim hundreds?
The Westboro Baptists offer one answer.
It's not a very good answer. There is no image of Jesus in this picture, or in these words. There is no Jesus in the words and lives of the Westboro Baptists. There's as much Jesus in their ministry as there is in those pieces of toast that sell for thousands of dollars on eBay.
BREAKING: Westboro Baptist Church to picket funerals of those dead by Boston Bombs! GOD SENT THE BOMBS IN FURY OVER FAG MARRIAGE! #PraiseGod

— Westboro Baptist (@WBCSays) April 15, 2013
This sort of thing makes you wish that Anonymous would make good on their threats to remove the cancer that is Westboro Baptist… Even if that's not real justice. And even if there's a little of the hate (or at least the capacity for hate) that Westboro spew out in all of us… sometimes when we're condemning them.
But Jesus is in the voices of people who are changed by him – who are called to be his ambassadors – joining together to call Westboro out for what they are. Spokespeople of evil. People peddling the sort of message that might have earned them the label "antichrist" from the guys who wrote the New Testament… Jesus is in the actions of the people who respond in love, rather than standing idly by – or worse – celebrating – when tragedies like this strike. Tragedies that are the result of human brokenness. Tragedies that unite us – tragedies that the world unites to condemn.
I read somewhere that the explosion left people with broken bodies and severed limbs – people who moments before had been taking part in a grand moment, sitting at the finish line of a marathon – the pinnacle of human athletic achievement. There's something beautiful and pure about sport – it's one of those parts of life, like music, love, and childbirth, where something magical happens. Something that puts the better aspects of our humanity to the fore… except when people cheat (or play country music).
That's why it's easy to spot the tragedy and injustice in this situation that has, as I write, claimed the lives of a handful of people, including a child, and seriously injured many, many others.
It's easy to speak for Jesus in a situation where everybody is essentially saying the words, and offering the compassion, that those of us who follow Jesus want to be saying. You don't stand out as different for wanting to see those who have been, literally, torn apart by those explosions, lovingly pieced back together – to have their lives stretch out for many years into the future with only small physical scars to show for this event.
It's easy to be Jesus – to carry his image – when everyone agrees with what he says. When the media is trumpeting the story on front pages, and at the top of news bulletins, throughout the world.
It's easy for those in leadership to sound like Jesus when they're condemning evil and promising to deal with it, and deliver justice for the victims. It's easy to be admirable and kingly – to be a voice of sacrificial authority and compassion.
But what about when the media is silent – by conspiracy, or just because an issue is deemed to be a non-issue?
Where is Jesus when tragedies are occuring in darkness – rather than in the prominence of an internationally significant sporting event?
Where is Jesus in the story of Kermit Gosnell?
Abortion is a horribly complex issue with all sorts of factors influencing a decision that often comes from a place of trauma and despair and leads to more trauma and more despair. This has never been more true than in the horrible shop of horrors case of Kermit Gosnell.
Where is Jesus in that million dollar backyard abortion clinic that ended the lives of mothers, and untold numbers of unborn babies – and worse – babies who were born. Live. During the abortion process. Only to be, literally, torn apart for the convenience of the mother and doctor. Using stationery. He's on trial for killing seven babies and one mother – but it's hard to tell the difference between a baby killed outside the womb at 30 weeks and a baby killed inside the womb at 30 weeks. It's hard to tell the difference between these seven babies and the thousands of babies Gosnell has killed in completely legal (though horribly conducted) processes in his clinic. Which is why some ethicists argue that infanticide isn't just ok, but the natural conclusion of legalising abortion. And is probably why pro-abortion reporters have a hard time demonstrating why Kermit Gosnell is a criminal anomaly rather than a participant in the status quo.
It turns out it's much harder to be presidential when you're talking about the potential legal murder of babies (Obama's track record on this issue is pretty disturbing, I'm not expecting him to comment on a case that's before the courts)… It's much harder for the media to speak like Jesus in a story like this – as they try to balance their competing agendas. It's harder to carry the image of Jesus into a situation like this – when people would much rather sweep the whole thing under a rug and forget it happened. It's much harder to sound like Jesus when the mob is baying for a certain type of blood to match a certain style of lifestyle.
One of the tragedies of the abortion debate is that it's the product of a culture that rejects the idea that some actions have consequences that we don't want. If the debate was limited to early term abortions in the case of rape, or genuine threats to the life of the mother, there'd be a lot less heat. Even those situations aren't black and white. But the goalposts have moved so far from those extremes to questions of convenience that we're now in a situation where the long term mental health of the mother is said to justify the termination of a human life after the person has exited the mother's body. It's not about control over one's body at that point.
Where is Jesus in infanticide? He's in the voices of Christians who lovingly point out that we can do better – and who model a better way forward. A way that involves sacrificial love – not a voice of condemnation. A way that involves hope, not despair. A way that involves being Jesus not just to the unwanted babies – but to the mothers. To the legislators. To the doctors. We can do better. We need to do better.
It's easy to speak for Jesus when what he'd say is obvious and requires no creativity. It's easy to carry the image of Jesus into a situation where everybody agrees on a way forward.
It's harder to speak for Jesus, and carry his image, when the way forward requires creativity and thinking outside the box in a completely counter-cultural way.
You can read Mike Bird's excellent and persuasive piece on why we need to be thinking about infanticide now, not in three years, and I'd humbly submit this piece I wrote last year when those enlightened ethicists calmly essentially suggested that Kermit Gosnell's actions be normalised as a useful companion piece.
Jesus is in those who speak out for the vulnerable. Who speak against the consensus that is driven by an ideology of "me" – an ideology that dehumanises other lives for my convenience. An ideology that knows nothing of sacrificial love – but only sacrifice of others. Of other lives. With scissors.
I'm sorry. But how did we get to this? We got here by rejecting the progress borne out of almost 2,000 years of people valuing life because Jesus valued life. Valuing life because human life is life made in the image of God with the potential to be life remade in the image of Jesus. You only get to humanism through Jesus.Humanism is that great modern "secular" doctrine which has somehow been white-anted by selfishness where "I" am valuable but fellow humans – including the unborn – are to be discarded when they become inconvenient and its within my power (or rights) to do so. Humanism is a product of Christianity. Cut out Christianity and the foundations for valuing life disappear. And we're going to wear the cost of that.
We might see a bombing that takes the life of a handful of people – including a child – as tragic, and rightly so. It's right for that story – that describes how human brokenness can affect something pure and exciting – to be front page news. But somehow the story of a man whose brokenness affected that other pure and exciting human event – childbirth – in bloody, heinous and unimaginably terrible ways – is only worth a mention five weeks into his trial as a result of a sustained outcry.
Somehow we need to be Jesus in situations like this.
Somehow we need to be Jesus to our legislators, and to parents – as Christians were in the pagan Roman empire where child exposure (infanticide) was a daily reality.
Here's what Tertullian said about infanticide which was part of a Christian led revolution of the practice where Christians would take exposed children and raise them in loving environments – in a way that ultimately led to children being valued.
"But in regard to child murder, as it does not matter whether it is committed for a sacred object, or merely at one's own self-impulse—although there is a great difference, as we have said, between parricide and homicide—I shall turn to the people generally. How many, think you, of those crowding around and gaping for Christian blood,—how many even of your rulers, notable for their justice to you and for their severe measures against us, may I charge in their own consciences with the sin of putting their offspring to death? As to any difference in the kind of murder, it is certainly the more cruel way to kill by drowning, or by exposure to cold and hunger and dogs. A maturer age has always preferred death by the sword. In our case, murder being once for all forbidden, we may not destroy even the fœtus in the womb, while as yet the human being derives blood from other parts of the body for its sustenance. To hinder a birth is merely a speedier man-killing; nor does it matter whether you take away a life that is born, or destroy one that is coming to the birth…"
Somehow we need to find creative ways to be Jesus to the mothers faced with the horrible prospect of terminating a life because they see no other way forward.
Somehow we need to be Jesus to those who would profit from the industry this produces.
Somehow we need to be Jesus to those who are legislating on our behalf so that people see that it's ok to make decisions out of love for other people that come at personal cost. Like Jesus did. Somehow.
Somehow we need to help people rediscover the truth that people are made in God's image, and of value – so that they might take the step to being remade in the image of Jesus, who after surviving an attempted infanticide when he was born, sacrificed himself for others.
It's all well and good to pay lip service to living like Jesus – and at the end of the day I feel like I did a pretty good job of doing that on Sunday. Paying lip service to the idea that we should take up our cross and follow Jesus so other people see him in us. It's easy enough to do it when everybody is up an arms. But what about when the rubber hits the road – what about in the face of tragedies and injustices that people aren't really interested in knowing about?
Robyn says "I don't find many things on the Internet funny, but these made me laugh"…
I wrote a bit about Macklemore's gangbusters pro gay marriage anthem Same Love a while back. It's an incredible piece of persuasive writing set to music.
And it's resonating with a generation of people. Check out this open letter to the church written by someone who buys into Macklemore's thesis on Christianity and homosexuality…
Here's the parting words from the open letter…
My whole life, I've been told again and again that Christianity is not conducive with homosexuality. It just doesn't work out. I was forced to choose between the love I had for my gay friends and so-called biblical authority. I chose gay people, and I'm willing to wager I'm not the only one. I said, "If the Bible really says this about gay people, I'm not too keen on trusting what it says about God." And I left my church. It has only been lately that I have seen evidence that the Bible could be saying something completely different about love and equality.

So, my advice to you, the Church: if you're looking for some intelligent biblical liberal opinions on the subject, have a little coffee chat with your local Methodist or Episcopal pastor. Christians can be all about gay people, it's possible. People do it every day with a clear biblical conscience. Find out if you think there's truth in that view before you sweep us under the rug. You CAN have a conservative view on gay marriage, or gay ordination. You can. But I want you to have some serious conversations with God, your friends that disagree with you, and maybe even some gay people, Christians or not, before you decide that this one view is worth marginalizing my generation. Weigh those politics against what you're giving up: us. We want to stay in your churches, we want to hear about your Jesus, but it's hard to hear about love from a God who doesn't love our gay friends (and we all have gay friends). Help us find love in the church before we look for it outside.
This letter makes me incredibly sad – especially the comments, which make me a bit angry (all contributors equally), and make me despair a little for how the church has articulated its message about the place of sexuality, and how poorly we love people who fall outside our norms.
Here's one comment…
"You say that you hope you would be willing to at least take a vow of chasitity if God calls you to be homosexual but let me just make this point: Why did God make Adam a partner? Because he should not be alone, it was not good that Adam was alone. God made us so that we survive better when we are not alone. Now, I'm not saying that there are not people out there that are called to be chaste, but what I am saying is that being called to be chaste is NOT the same thing as being called to be homosexual. It's not fair for you to tell all homosexuals that they must be chaste because of the way GOD MADE THEM! Afterall, God said that everything he made was good (including sexuality) so how come you get to say that your sexuality is better than mine?"
You know how people always bring in that caveat before they say something that singles out a particular group, "I'm not against x, I have friends who are x" (eg I'm not racist, I have friends who are Asian, but here's what I think…) – that always seems a little bit trite and tacked on.
But I do have some friends – or acquaintances – who are gay. I have no problem with that – I'd love them to know Jesus, but short of knowing Jesus there's not a whole lot I have to say to them about their sexuality. Paul says in 1 Corinthians that the sexual behaviour of people outside the church isn't really meant to get us all fired up. But I'm not really interested in this debate for their sake, because while I have some friends in this boat, there are people I love dearly, brothers and sisters in the family of Jesus, people I would do much for, who are attracted to people of the same sex. These brothers have voluntarily sacrificed their "happiness" (if happiness is defined as pursuing every natural inclination to its full extent, or beyond that point) because they believe, and they're smart people, that this is part of being a follower of Jesus.
This "enlightened" open letter, and Macklemore's "enlightened" view of love and the church has no place for the humanity or value of a decision these brothers of mine have made. And that makes me angrier and sadder than anything else in this debate.
I can understand the passion that drives people to fight for equality. But lets make it equality for all. Equal opportunity to determine your own sexuality, and your own view on an appropriate expression of your sexuality, rather than this ridiculous "Born this way" group think that leaves people as slaves to something beyond their control.
Both Macklemore and the enlightened commenter quoted above by into the born this way trope, with a dash of "whatever makes me feel good is not just good but right" approach to decision making. Here's Mackelmore:
The right wing conservatives think it's a decision
And you can be cured with some treatment and religion
Man made rewiring of a predisposition
Playing god, aw nah here we go
America the brave still fears what we don't know
And god loves all his children, is somehow forgotten
But we paraphrase a book written thirty-five-hundred years ago
I don't know
Such rewiring is problematic if it's not voluntary. It's like trying to teach kids to be right handed. But nobody has problems with a left handed kid teaching themselves to bat right handed to advance their sporting career.
Maybe people want to give up something "good" or a type of "happiness" to chase something better and more fulfilling. Maybe my brothers in Christ want to pursue something bigger than sexual satisfaction.
That's what the liberal theologians the letter writer calls for us to read are missing (that and any sense that our nature (Genesis 1) may have been frustrated by sin (Genesis 3) in the narrative arc of the Bible) – following the Jesus who typified sacrificial love for others, and sacrifice of self for others, will necessarily involve some sacrifice of self.
It's horrible that the letter writer thought she had to choose between loving gay people – who are really just people, adding a label is part of the problem – and being part of the church. The church is called to love people, and we're called as people who are aware that we are broken. That we are a horrible mess. We can't come to Jesus for help without realising we need it. There's nobody too messy for the church. Part of the problem, indicated in the comments, is a complete refusal to acknowledge that there could be any mess in me. Or in the people I like. All the mess is in those other people. Or that any aspect of our identity can be free of selfishness or the messiness of our humanity.
It's horrible that the commenter thought that there are two choices in life: sex, or solitude. Fulfilment or being alone. What a shame that our understanding of human relationships has come to this. Maybe it's easy for a straight, married, guy to say this. But I want to do everything I can to support people as they make voluntary choices – and I want to be especially helpful if they're making voluntary choices because they want to follow and honour Jesus. I think all Christians should want this, and perhaps the real tragedy identified in the letter and the comments is that the church does a really bad job at making single people, whether by choice or not, feel anything other than alone. We need to get better at community. It isn't good for man or woman to be alone – but the answer doesn't have to be sexual intimacy.
I wish people in this debate would stop dehumanising my brothers and sisters who have voluntarily chosen not to conform to their ideals or to how they're "made"… Surely we can approach this debate with a bit of maturity, and recognise that tolerance and equality is based in individual freedom, not in meeting whatever parameters are set by people on either extreme.
The problem with Macklemore, and this open letter, is that both are devoid of the love they claim to be looking for – love for people who live messy lives. They are pushing a new conformism that is as hateful as the one they're trying to overthrow. Their pictures of church are also devoid of Jesus. Which means they've got a crap view of love. A broken, selfish, and dysfunctional definition of what love is.
Here's a bit of the Bible (written by John) on love, based on Jesus, that all of us could learn from.
19 We love because he first loved us. 20 Whoever claims to love God yet hates a brother or sister is a liar. For whoever does not love their brother and sister, whom they have seen, cannot love God, whom they have not seen. 21 And he has given us this command: Anyone who loves God must also love their brother and sister.
But the key to this sort of genuine love for others – brotherly and sisterly love, is in the love God showed us first.
This is how God showed his love among us: He sent his one and only Son into the world that we might live through him. 10 This is love: not that we loved God, but that he loved us and sent his Son as an atoning sacrifice for our sins. 11 Dear friends, since God so loved us, we also ought to love one another. 12 No one has ever seen God; but if we love one another, God lives in us and his love is made complete in us.
People who don't get God won't get what it is that compels my brothers and sisters to give up temporary pleasures, companionship, and fulfilment now – but it's this real love. All we offer one another without that is the "same love" – inadequate love, selfish love, love based on what meets my needs. That's why Macklemore's song resonates with people – it seems so wrong to rob people of the ability to satisfy their desires, or have their significance recognised. But it's a hollow form of love. A shell when compared to the love God showed in Jesus.
Ultimately Macklemore might be right people should be free to enjoy the same love - there's no logical reason to stop people who don't believe in God pursuing equality (with constraints like power dynamics and consent taken into account), but the love he's singing about isn't real love.
You know that discomfort you experience when you hear your recorded voice played back. I get that tenfold watching the first few seconds of this. It's a recording of a sermon I preached last Sunday.
Part 2 is coming this week. I post this more as an explanation for my complete lack of substantial content this week – moving house and preaching two Sundays in a row, while not writing my project means producing cogent extra-curricular writing is not at the top of my list.
I still can't quite snap out of "piece to camera"/reporter/emotionless drone mode. I'm a product of my own long term deliberate suppression of pathos. On the plus side, I felt much more comfortable with the no notes (or rather the powerpoint) thing this time around.