Archives For
10 minutes of dramatic jump cut entries. You are welcome.
Enough.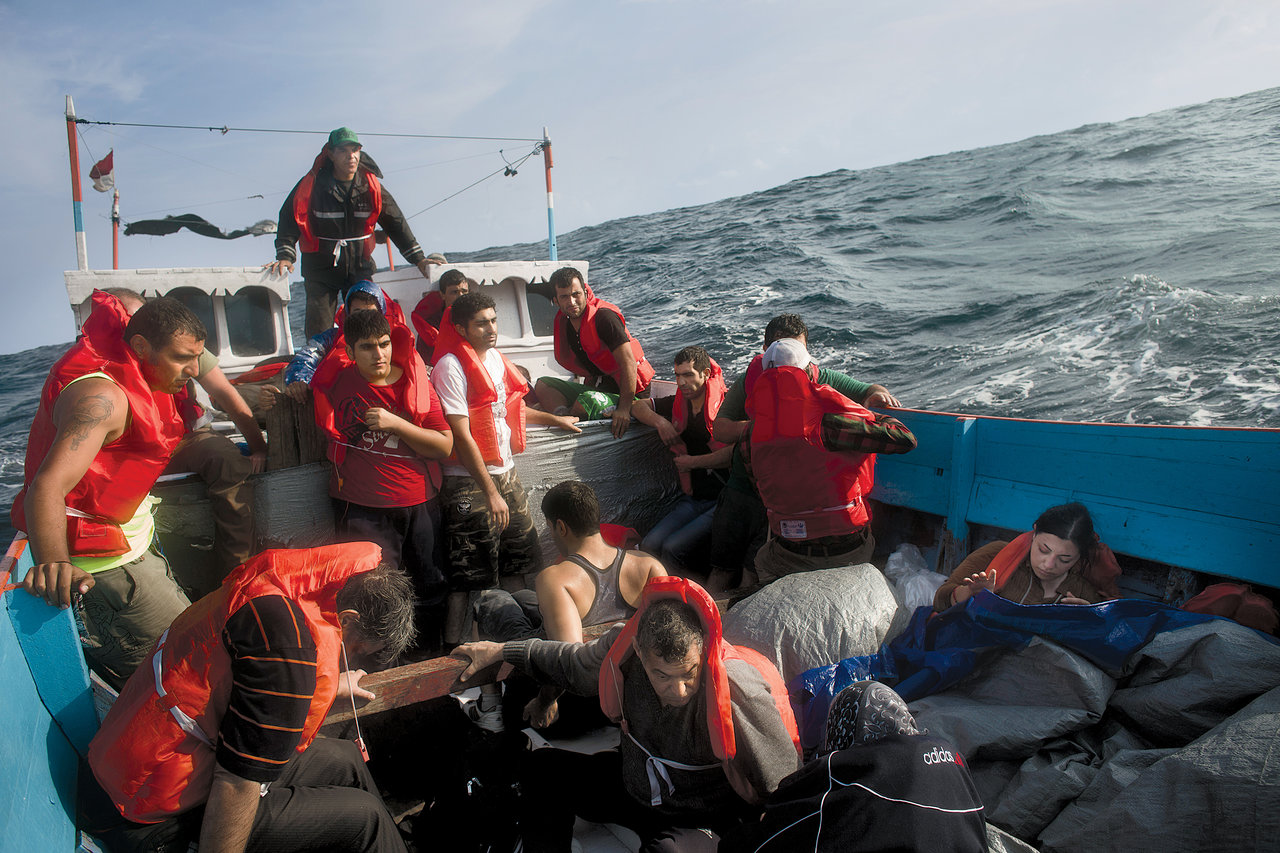 Image Credit: Joel Van Houdt, New York Times
Dear Australia
Most Australians think asylum seekers who arrive by boat are not genuine refugees and there is strong support for the Abbott government to treat boat arrivals more harshly.

A nationwide opinion poll by UMR Research shows that 59 per cent of people think most boat arrivals are not genuine refugees…

The poll, based on a nationally representative sample of 1000 online interviews, shows only 30 per cent of Australians believe that most asylum seekers are genuine refugees while 12 per cent are unsure.

A strong majority of Australians, 60 per cent, also want the Abbott government to "increase the severity of the treatment of asylum seekers… Only 30 per cent of Australians think asylum seekers should not be treated more severely, while 9 per cent are unsure.
That is staggering. We're not just talking about maintaining the status quo, which most mental health professionals and human rights advocates already believe is too harsh. We're talking about people who want this treatment to get worse.
Maybe this is purely malice. Maybe it is ignorance. Maybe it's something else. I hope it is ignorance. Though 9% of people admitted they weren't sure what they wanted.
If you're one of these 59-60%  – and statistics suggest there's a pretty good chance that you are (better than 1 in 2 (without accounting for what lovely people my readers are) – could you please commit to meeting at least three refugees this year and hearing their stories.
Why not make 2014 the year you expand your horizons beyond the lines you're fed by people with particular "special interests"? I'm not claiming not to be biased. It's pretty clear I feel strongly about this issue.
But that's no excuse for you to simply dismiss my opinion without taking steps to make your own opinion better educated, and perhaps, more compassionate. Could I challenge you – even if you stop reading right here – to put human faces on the statistics we're reading about asylum seekers, and, to avoid hypocrisy – can I offer to help. While I'm asking you, a statistic, to put a face to these statistics, can I ask you to become a face to me as well. Share your story with me. Tell me why I'm wrong. Tell me why we should be treating humans whose crime is not to be born in Australia – something not many of us have much control over for ourselves – as less than less than human (we already treat boat arrivals as less than human, so to make the treatment harsher again would be to dehumanise them further). Convince me.
If you're one of these 59% of Australians – can you contact me, speak to me, become a face for me – and allow me to introduce you to some refugee friends? I'd be happy to. If you're not in Brisbane, I'm pretty sure I can put you in touch with someone who lives near you who can help.
More than half of us don't want to look after people who are so desperate for help they flee their homes, their families, their friends – and get on rickety boats (even if they're told these boats are going to transfer them to more comfortable ships for the journey) – in the hope that Australia, the country they're heading to because we have a reputation for promoting freedom and welcoming multiple cultures – will welcome them. More than half of us don't want to welcome or care for our fellow humans. Not only do we not want to care for them – we want to treat them more harshly. This might be out of ignorance too.
If you want to read a first hand account of the boat journey – just the boat journey, without the underlying personal trauma associated with fleeing your home – two New York Times journalists made the trip, and wrote about it.
Maybe you're one of the 60%. Maybe you haven't felt about what it does to a person to be pulled off a sinking ship in the middle of the ocean, ferried into captivity, referred to by number, placed with a bunch of strangers, given no certainty about how long you'll be held…
Maybe you aren't aware that a Commonwealth Ombudsman report on suicide and self-harm in migration detention described the conditions, presently, in our detention centres – funded and operated in your name, Australian – as prison-like, featuring: "omnipresent surveillance features, including high wire and razor wire fences, surveillance cameras, body searches, room searches, roll calls, and being constantly watched over by uniformed security personnel."
Maybe you're not aware that 62.5% of people held in detention centres have significant mental health issues – exacerbated by detention, and according to that same report: "Australian and international evidence supports the conclusion that immigration detention in a closed environment for a period of longer than six months has a significant, negative impact on a detainee's mental health."
Maybe you're not aware that almost 1 in 5 asylum seekers attempt self harm in detention, and 14% of these self-harm cases involve children.
Maybe you're not aware that these conditions, and detention itself, scars detainees by causing significant ongoing mental health issues, and not only does it cost about $578,000 per offshore detained Asylum Seeker ($1 billion to keep 1,728 refugees in off-shore detention), the mental health care costs when they are inevitably released into our community are huge – about $25,000 per individual (source: T. Ward, Long-term health costs of extended mandatory detention of asylum seekers, (Melbourne, Yarra Institute for Religion and Social Policy, 2011).
It feels crass to make an economic case not to keep people in detention – or treat asylum seekers who arrive by boat "more harshly" – but that's a political reality. It seems. Which is sad.
Politicians do whatever they can to stay in power, and we keep the politicians who serve our self interests in power for longer.
Dear Australian Christians,
Statistically, about 62% of Australians identify as Christians – there has to be some overlap between that 62% and the 59% who want us to be nastier to vulnerable people. Even if the 38% who don't identify as Christians were hypothetically part of that 59%, there's another 21% of Australians who are Christians who want us to treat asylum seekers "more harshly" than we already do.
If you are one of these Christians, then let me speak to you for a moment about why your position is fundamentally inconsistent with the Gospel – you know – the foundational truths of Christianity.
Let's, for a moment, imagine that Christianity is fundamentally the story of people looking for a better future because their 'present' is filled with brokenness, and that part of becoming a Christian involves escaping the brokenness. It shouldn't be too hard to imagine. Because that's exactly what Christianity involves. But it doesn't just stop there.
Christianity involves a king, a leader, who doesn't just show compassion to us, as refugees who are fleeing a future we don't want, he grants us a future we don't deserve. He doesn't just grant us a future we don't deserve – he dies to buy our ticket to this future, to secure our place.
We don't get in on merit. We don't get in on lining up in the right place. We get in by asking for mercy from the king.
If you want to pick a stance on this issue that imitates Jesus and gets you a hearing for the Gospel message, the ability to tell the story of Jesus with consistency – a story that involves self-giving, sacrificial love from a king, not just for strangers from another country, but for his enemies – then I'd urge you to reconsider the stance you are taking on refugees.
Sure. It is possible that by being generous and compassionate people will abuse our generosity. People may come through our gates who we don't want coming through our gates. There might be "security" risks. But risks come with rewards, and at the moment we are perpetrating a terrible evil by being complicit as our leaders mistreat people in our name, while they give us what we want. It's time to want something different. To want something better.
We can start by not wanting something worse.
We can start by understanding the plight of the refugee, the complexity of the decision making process involved in fleeing one's country.
We can start by insisting on treating refugees with dignity, with love, with compassion – even if we feel strongly that they shouldn't have taken their own lives in their hands on a dangerous journey with some manipulative and unscrupulous people smugglers.
This is an issue that transcends party politics. Don't read this thinking I've got it in for Tony Abbott and the Liberal Party. It's not about the Liberal Party. It's not about the Labor Party, and while the Greens are a compassionate voice in this debacle debate, I'm not suggesting we all join the Greens. Politics in our country is far more complex than a neat dichotomy (or trichotomy) allows. There are issues scattered through history where all the obvious and popular positions were wrong, and immoral. And when we see such immorality enshrined in our legislation, or when we realise we've vicariously been participating in this sort of immorality, change requires people speaking up in every party, from every ideology.
If we want genuine change the solution to this issue needs to be something that affects every party. We can learn something from how those agitating for changes to the Marriage Act are approaching their advocacy – pushing for conscience votes, and advocating the issue on a person to person basis, through stories, rather than accepting the lock-step conclusions of two party rooms – even if you disagree with their cause, their methods are effective.
Because Australian politics is now, perhaps more than ever, predicated on giving people what they want, not giving people what they need, or what is right (because that's how you stay in office) – our Prime Minister has amped up the rhetoric on the asylum seeker issue.
"If stopping the boats means being criticised because I'm not giving information that would be of use to people smugglers, so be it. We are in a fierce contest with these people smugglers. If we were at war we would not be giving out information that is of use to the enemy just because we might have an idle curiosity about it ourselves… Let's remember that everyone in these centres is there because he or she has come illegally to Australia by boat. They have done something that they must have known was wrong."
Disgusting.
Dear Prime Minister Abbott,
Sorry Mr Prime Minister. With all due respect – we must do better as a nation, and your job is to lead us in doing better in promoting selflessness, not to pander to our self interest.
We live in a democracy, where transparency is essential for our votes to be cast in an informed and invested way, as is our right. You are robbing us of that right by promoting secrecy – it is, I feel, better to inform both the smugglers and the Australian public, rather than informing neither group. This isn't a war. This isn't an issue of national security. This isn't about mere "idle curiosity" – this is about letting the Australians who care about our international obligations, and about other people, you know, our fellow humans, keep you accountable as our elected representative and leader.
Perhaps worse than the lack of transparency is the fundamental abuse of the truth in your pandering to the "will of the people." Your statements to The Guardian are misleading and make criminals out of the victims of crime.
a) it's not illegal to seek asylum by boat. It's wrong to people smuggle.
b) none of the asylum seekers I've spoken to had any idea the thousands of dollars they spent to get here, or the boats they got on were the "wrong" way to come here. They certainly weren't paying thousands for a dangerous trip on a non-seaworthy rust bucket. "Ishmael" tells the story better than I can.
c) comparing the circumstances of people fleeing from the tragedy of war, or violence, by conflating the motivation of asylum seekers and the scourge of people smuggling is abhorrent.
Even if it's true, what you say, about many of these asylum seekers being "economic refugees" – and it doesn't appear to be, given that the vast majority are found to be genuine refugees – these individuals have the right to test their refugee status by seeking asylum. And, are allowed to seek asylum in whatever way they are able.
I spoke to a friend, an asylum seeker from the Middle East, a Christian, who had fled religious persecution from his home country – and sure, his reason for specifically seeking refuge in Australia was that it offered new opportunity – both for the freedom to practice his faith without fear, and economically – but the very nature of seeking asylum is to seek new opportunity for life, from a situation where there is no opportunity for life. Every refugee is an economic refugee, it's a meaningless category.
Here's another story. From another asylum seeker.
I think TED talks are to ideas what blog posts are to books. And I clearly don't have a problem with blog posts… but I would hate to imagine a world without books.
TED is probably a little guilty of taking itself slightly too seriously. So I'm a fan of this video, where a performance comedian snuck into the schedule for a TEDx event.
Here, as something a little meta, is a TED talk about the problem with TED talks.
If you can't handle that level of metaness – you can read the transcript as an article on The Guardian, which includes this nice little quote…
TED of course stands for Technology, Entertainment, Design, and I'll talk a bit about all three. I Think TED actually stands for: middlebrow megachurch infotainment.

The key rhetorical device for TED talks is a combination of epiphany and personal testimony (an "epiphimony" if you like ) through which the speaker shares a personal journey of insight and realisation, its triumphs and tribulations.

What is it that the TED audience hopes to get from this? A vicarious insight, a fleeting moment of wonder, an inkling that maybe it's all going to work out after all? A spiritual buzz?

I'm sorry but this fails to meet the challenges that we are supposedly here to confront. These are complicated and difficult and are not given to tidy just-so solutions. They don't care about anyone's experience of optimism. Given the stakes, making our best and brightest waste their time – and the audience's time – dancing like infomercial hosts is too high a price. It is cynical.

Also, it just doesn't work.
This article Against TED is also worth a read, it makes many of the same points.
Culturally, we have an incredible tendency to switch deep thinking for pre-packaged intellectual junk food. And TED feeds that addiction.
People doing the communicating have a responsibility to package their information in a way that makes the content clear and engaging – TED is a great reminder that presentation matters… But people receiving the communication have to fit that information together in a coherent framework from a wide range of sources, TED talks only give a very small part of the picture and the medium works against depth and complexity.
Don't get me wrong. I think the format – a short oral presentation about an interesting, potentially life changing, idea is incredibly compelling. I am embarking on a life doing that. I think TED is essentially secular preaching. But I think the intellectual life of the church would be incredibly anemic if all we did was preaching (which is part of the problem I have with the typical megachurch).
It's weird. When I think about how I go about preaching in the light of this quote – I feel my training in communication stuff pushes me towards serving up sermons that are something like an epiphimony – because stories grounded in the life of the speaker and audience are absolutely one of the most compelling ways to persuade people of something – while my personal preference is for deep and lengthy content filled with conceptual rabbit holes and stuff to nut out. It's a paradox. It's a paradox that only becomes crippling if we do all our communication in one communicative event, with one style.
Here's a worked example of how TED can work well though, in a multimedia, multi-channel approach to communicating an idea. In 2011, I read an Economist article by an author/journalist, Tom Standage, called How Luther Went Viral. This essay became part of my thinking for my own essay on Luther for my Reformation subject, which in turn partly inspired my Masters project. Then I watched a Tom Standage TED talk about ancient social media. The TED talk wasn't deep. But it was exciting. Finally, I read Standage's excellent book – Writing on the Wall: Social Media – The First 2,000 Years
, while conversing with him on Twitter, before writing my own review, and using some of his insights in my thinking in the current series I'm writing about Facebook messing with your brain.
I'm not claiming this example involves the production of high quality material on my part (the TED material, frankly, is gold in this case) – but the process is an example of how TED can work well when it causes people to interact with and develop ideas, producing new stuff in response.  An idea was shared, discussed, and new ideas were cultivated. This is TED achieving the goal implied in its own motto – "ideas worth spreading"… but it's only working well because it's part of a much bigger picture involving a fair bit of depth, and wider reading. Could you get the gist just by watching the TED video? Sure. Maybe. But that's a fairly limited way to participate in the spread of ideas, arguably being featured on just one platform, with just one audience – no matter how big that audience is – isn't really "spreading" – not, ironically, like Luther's Reformation – which if you think about it kind of started with Luther nailing up a proposal for a 16th century TED talk. Luther didn't stop there. He used every medium he could to spread his ideas.
Another interesting thing about the popularity of TED, by the by, is that it (along with the rise of YouTube tutorial videos and vlogs) represents a movement back from a predominantly written culture to an oral/visual culture – if you've ever checked out the comments on YouTube you could say a pre-literate oral/visual culture. This has interesting implications for people whose job it is to communicate something to such a culture, and its possible this means being a bit more creative in how we present stuff, preferably without wiping out depth and complexity.
Anyway – I really just wanted to post that video. So. Over and out. 
This is part 3 in a 5 part series on what social media does to our brains – it uses Facebook as a case study, but sustained use of any communication medium will have a similar effect (though Facebook is extra specially designed to addict you).
The first post showed that the mediums we use do shape our thinking and rewire our brains. The second post was about how one might process this fact drawing on insights from media ecology and neuroscience.
In this post we'll consider what insights might be gained here for Christians who want to use mediums like Facebook to communicate about Jesus and share their lives authentically with their friends while steering clear of the down side of having your brain changed in ways you don't want.
This post is less about why a Christian should use Facebook (though it deals with that briefly), and isn't so much about what steps to take to use Facebook well (which will be dealt with a little in post four) – it is more about what to think about the power our communication mediums have over us.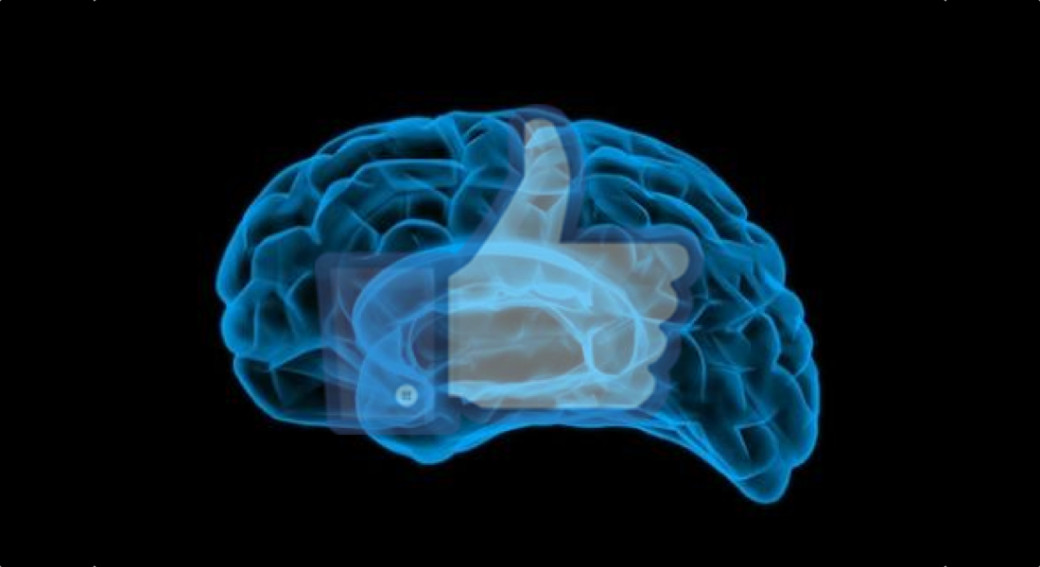 The Theological Framework
I'm speculating a little here – and it's possible that you can't simply equate the Biblical concept of "mind" with the neuroscientific understanding of what the mind is. But I think there are some important Biblical and theological touch points to consider when it comes to social media and our brains. Some of these are also covered in John Dyer's excellent From the Garden to the City
 – Dyer approaches the question of communication technology as a Christian theologian and media ecologist. His journey through the Biblical narrative hits similar points – as does this old post.
Briefly – according to the guy who kickstarted a lot of the neuroplasticity stuff, Daniel Siegel, people's well-being involves a combination of brain, mind, and relationships – the "mind" is the process that regulates the flow of energy and information through the brain, which is the physical "neurocircuitry," relationships are how energy and information is shared between people via communication. When it comes to the Bible – the mind and heart are closely linked with how people think and act. I'm working on the assumption that these are roughly equivalent and related.
The God who speaks (from the ultimate hive mind)
"In the past God spoke to our ancestors through the prophets at many times and in various ways, but in these last days he has spoken to us by his Son…" – Hebrews 1:1-2

In the beginning was the Word, and the Word was with God, and the Word was God. He was with God in the beginning. Through him all things were made; without him nothing was made that has been made… The Word became flesh and made his dwelling among us. We have seen his glory, the glory of the one and only Son, who came from the Father, full of grace and truth…No one has ever seen God, but the one and only Son, who is himself God and is in closest relationship with the Father, has made him known. - John 1:1-3, 14, 18
Theological projects – like this – are best served by starting with who God is. God is the ultimate 'hive mind' – one God, in three persons, acting with one mind. There's a word bandied about in theological tomes – perichoresis (wikipedia) – which describes the interpenetration of the persons of the Trinity. There is no act of God the Father that doesn't  involve unity of purpose and action from God the Son and God the Holy Spirit because each person of the Trinity is so thoroughly 'networked' to the other. The Trinity is the ultimate social network – or perhaps, in a less theologically dangerous way – social networks are what we get when humans made in the image of God, for relationship, use our meagre, broken, selves to try to act out that relational aspect of our humanity.
It shouldn't really surprise us, in this sense, if our attempts at forging communication networks end up with something like a hive mind. Relationships are about connection.
Here are a few paragraphs from my project – you can read the whole thing if you want to see the footnotes.
As ethos, pathos, and logos, are necessary elements of persuasive act, so the "perichoretic" contribution of Father, Word, and Spirit is necessary in divine communicative acts. There is no act of God that is not produced by the three divine persons, acting in concert, so it should be impossible to speak of any work of Father, Son, or Spirit separately, just as it is impossible to produce a spoken communicative act that doesn't inherently contain the three persuasive proofs: ethos, logos, and pathos.
Moon (2010) suggests the Triune God is a Divine "communicative system" that employs the perfect media – the Word and Spirit, to produce communicative acts both internally (ad intra), and externally (ad extra) through "coupling with creaturely media." Moon suggests the primary part of "the distinct form of divine operation is communication," because divine action is consistently depicted as speech, or alongside divine speech, and God is described as "word." The divine communication system is the "ground of communicative/meaning systems" so that human communication is "grounded in divine communication," or, as O'Donovan describes it "from God's true speech flows all possibility of true human speech."…

…I suggest that divine communicative acts are persuasive acts, containing the three proofs, analogously aligned to the persons of the Trinity. Each divine communicative act involves the inextricably perichoretic contributions of each divine person, yet one might describe those acts in terms of the ethos of the father, being demonstrated in the incarnate logos, with the Spirit moving the hearts and minds of the audience as divine pathos. So, as a communicative act of God, consistent with his character, the incarnation of the logos, and his death on a cross express the ethos of God, who also works in the hearts of the recipients of his communicative act to produce appropriate emotional responses (either hardness or softness of hearts) as divine pathos. In communicating through Scripture, to and through people in particular times and places, using appropriate and common mediums and genres, and through the incarnation itself, God "aptly" accommodates himself to his audience and situation.
Basically, all our communication, true or otherwise, is a reflection or refraction of the way God communicates and uses mediums. This is especially true when one considers the incarnation of Jesus – and what that does with humanity as a medium. Which we'll get to below. First we've got to look a little bit at what humanity, especially the 'mind,' is and to do that we'll do a little run through the Biblical story…
A Biblical Theology of Personhood: Heart, Mind and Image
The best way to develop a theological framework for something like what it means to be a person with a changing brain, is to start with Biblical Theology – and see how the idea of personhood develops – I think there are three interesting 'human' threads – the heart, mind, and image – that we can pull together to help us understand what the Bible thinks about your mind being rewired into an externalised social hive like thing (I don't want to use brain and mind completely interchangeably – a lot of the neuroplasticity stuff out there makes a slight distinction between them).
The Bible talks of personhood in a whole heap of ways – but the ones that are particularly pertinent for this little exercise are to do with the state of our hearts and minds (a sort of overlapping mishmash of desires, objects of worship, and the thinking that frames our actions), and the image we present to the world as we live out those desires.
The first thing we learn about humans is that we're created 'male and female, in God's image' – made in the image of the God who is a plural (he says "let us"), but a singular entity as people who are designed to relate to each other (Genesis 1). Humans were then given a job to do. Adam and Eve were to be God's images – his representatives (and probably something like his 'idols') in his Garden Temple. There's a really nice thread in the Bible that starts at Eden, weaves through the Temple, and ends in the New Creation – that involves a Garden, flowing water, precious stones, and God's people. Adam is also meant to "work and take care of" the Garden – and the Hebrew words used in Genesis 1:15 are later used of the priests in the Temple. Part of his job – presumably where he is showing that he's a chip off the old block – is speaking to name the animals, just like God spoke to make the world and create the animals. Communication is part of what it means to be made in the image of God – and being made in the image of God means we have a function that communicates something about God as people look at us. Images are mediums. People are mediums. We all carry messages about the things we live for – the image that is imprinted on our hearts as we live and relate to other people.
The things we think about and the way we think shape our lives. Contemporary neuroscience is catching up with thousands of years of Christian (and Jewish) theology. We shouldn't be shocked – as Christians – to learn that we can alter our brains by the way we live, and alter the way we live by altering our brains. We should expect it. It's foundational – we'll see in the next post that many of the ways we might go about deliberately changing our brains for the better are also part and parcel of a Christian way of life.
At the heart of humanity's rejection of God's rule, in the events of the Fall, is the desire to be like God ourselves – not to bear God's image, but to bear our own image, to shape our own lives. The serpent's deception cunningly attacks the very heart of our created being.
"For God knows that when you eat from it your eyes will be opened, and you will be like God…" – Genesis 3:5
Adam and Eve were already created to be like God, the desire the serpent awakens is the desire to set the communication agenda for one's self.  The result is a breaking of the ability to carry God's image – Adam's son is made in Adam's image (Genesis 5:3), and a darkening of the human heart so that it's "only evil all the time" (Genesis 6:5).
Furthermore, just as they did not think it worthwhile to retain the knowledge of God, so God gave them over to a depraved mind, so that they do what ought not to be done. – Romans 1:28
I think Paul, in Romans 7, is talking about the frustration of being someone made in the image of God who lives with this darkened heart brought about by sin.
"So I find this law at work: Although I want to do good, evil is right there with me. For in my inner being I delight in God's law;  but I see another law at work in me, waging war against the law of my mind and making me a prisoner of the law of sin at work within me. What a wretched man I am! Who will rescue me from this body that is subject to death? Thanks be to God, who delivers me through Jesus Christ our Lord!

So then, I myself in my mind am a slave to God's law, but in my sinful nature a slave to the law of sin." – Romans 7:21-25
Our minds – as created – long to break free of the shackles of our broken human nature. When a bunch of people whose humanity is broken like this, get together as broken humans, with darkened hearts, in social networks, using the language they were created to use as people made in God's image – they no longer work to point people to God, like they were created to, but to their own images and interests. So we get Babel.
"Now the whole world had one language and a common speech. As people moved eastward, they found a plain in Shinar and settled there. They said to each other, "Come, let's make bricks and bake them thoroughly." They used brick instead of stone, and tar for mortar.

Then they said, "Come, let us build ourselves a city, with a tower that reaches to the heavens, so that we may make a name for ourselves; otherwise we will be scattered over the face of the whole earth."

But the Lord came down to see the city and the tower the people were building. The Lord said, "If as one people speaking the same language they have begun to do this, then nothing they plan to do will be impossible for them. Come, let us go down and confuse their language so they will not understand each other." – Genesis 11:1-7
The people who went to build this tower – using new technology they had created (bricks and mortar), and the language that united them – tried to turn themselves into gods and use their created technologies that were new and mythically permanent to try to make a name for themselves, but their plans were shattered and they were scattered.
"Rather than using their creative powers to honor God as Noah did, the people of Babel wanted to bring glory to themselves. Rather than live in dependence upon God (as Abraham will in the coming chapters), they tried to achieve complete autonomy from him… At Babel, we find humans creating a city as their anti-garden and a tower as an image to themselves." - John Dyer, From the Garden to the City
We shouldn't be surprised that as we interact with created things that have the potential to either serve our idols, or become idols themselves, those things rub off on us a bit.
"We are molded and formed into the image of whatever shapes us. Here wisdom warns us that not all technologies are created equal in this regard."

"The things we create can—and will—try to become idols in our hearts. Though they enable us to survive and thrive in a fallen world, the very aid they provide can deceive us with a false sense of comfort and security, hiding our need for God and his grace." – Tim Challies, The Next Story
The problem with being conformed into the image of something hollow and empty is that it leaves you hollow and empty, and it never quite lives up to the promise. David Foster Wallace gave a famous speech This Is Water to a bunch of college graduates. In it, though he wasn't a Christian, Foster Wallace said:
"Everybody worships. The only choice we get is what to worship. And the compelling reason for maybe choosing some sort of god or spiritual-type thing to worship–be it JC or Allah, be it YHWH or the Wiccan Mother Goddess, or the Four Noble Truths, or some inviolable set of ethical principles–is that pretty much anything else you worship will eat you alive. If you worship money and things, if they are where you tap real meaning in life, then you will never have enough, never feel you have enough. It's the truth. Worship your body and beauty and sexual allure and you will always feel ugly. And when time and age start showing, you will die a million deaths before they finally grieve you. On one level, we all know this stuff already. It's been codified as myths, proverbs, clichés, epigrams, parables; the skeleton of every great story. The whole trick is keeping the truth up front in daily consciousness.

Worship power, you will end up feeling weak and afraid, and you will need ever more power over others to numb you to your own fear. Worship your intellect, being seen as smart, you will end up feeling stupid, a fraud, always on the verge of being found out. But the insidious thing about these forms of worship is not that they're evil or sinful, it's that they're unconscious. They are default settings.

They're the kind of worship you just gradually slip into, day after day, getting more and more selective about what you see and how you measure value without ever being fully aware that that's what you're doing." – David Foster Wallace, This Is Water
The connectivity that Facebook offers – the boost to your ego that keeps you coming back – it's the same hollow and empty shadow of Christian relationships, or the eternal self-giving relationships in the Trinity. The effect it has on your brain is a shadow of the effect that participating in those social networks has. And participating in those social networks – the church, and being connected to Jesus via the Holy Spirit – is possible because of how the Triune God employed communication mediums. It's this social network that should reshape our brains, and help us to avoid having them reshaped by other stuff as we manage to be in the world but not of it.
Jesus' prayer in John 17 is pretty useful for thinking about how we share in a deeper social network if we follow Jesus.
"My prayer is not that you take them out of the world but that you protect them from the evil one. They are not of the world, even as I am not of it. Sanctify them by the truth; your word is truth. As you sent me into the world, I have sent them into the world. For them I sanctify myself, that they too may be truly sanctified.
"My prayer is not for them alone. I pray also for those who will believe in me through their message, that all of them may be one, Father, just as you are in me and I am in you. May they also be in us so that the world may believe that you have sent me. I have given them the glory that you gave me, that they may be one as we are one— I in them and you in me—so that they may be brought to complete unity. Then the world will know that you sent me and have loved them even as you have loved me.

"Father, I want those you have given me to be with me where I am, and to see my glory,the glory you have given me because you loved me before the creation of the world." – John 17:15-24
That's a nice bookend to John's prologue, quoted above. Jesus – God's word made flesh – became a human. Truly human. Sharing all of humanity's potential pitfalls and foibles. Entering a broken world, and yet he managed not to be broken by sin, while choosing to be broken for us.
For we do not have a high priest who is unable to empathize with our weaknesses, but we have one who has been tempted in every way, just as we are—yet he did not sin. – Hebrews 4:15
Jesus became a communication medium, he used communication mediums, and rather than being conformed into the messy "myth" or narrative of the human condition – he transformed the narrative and rewrote the myth – so that if you want to be human like Jesus was human – through the cross and sharing in his death – you too can be transformed. This has to change the way we use communication mediums – and I'll suggest that it does. In the next post.
The story of the Old Testament, and the promise anticipated that is fulfilled in the New, revolves around broken humanity's inability to focus mind and heart on God, as they should.
Israel was called to be a nation of priests – a nation that represented God to their neighbours – and the tool they had for doing that was the Law. God's word.
Now if you obey me fully and keep my covenant, then out of all nations you will be my treasured possession. Although the whole earth is mine, you will be for me a kingdom of priests and a holy nation.' These are the words you are to speak to the Israelites." – Exodus 19:5-6

See, I have taught you decrees and laws as the Lord my God commanded me, so that you may follow them in the land you are entering to take possession of it. Observe them carefully, for this will show your wisdom and understanding to the nations, who will hear about all these decrees and say, "Surely this great nation is a wise and understanding people." – Deuteronomy 4:5-6

Fix these words of mine in your hearts and minds; tie them as symbols on your hands and bind them on your foreheads. – Deuteronomy 11:18
That didn't work so well. So God had to intervene… first with a promise…
"The days are coming," declares the Lord,
"when I will make a new covenant
with the people of Israel
and with the people of Judah.
It will not be like the covenant
    I made with their ancestors
when I took them by the hand
    to lead them out of Egypt,
because they broke my covenant,
though I was a husband to them,"
declares the Lord.

"This is the covenant I will make with the people of Israel
after that time," declares the Lord.
"I will put my law in their minds
    and write it on their hearts.
I will be their God,
    and they will be my people. – Jeremiah 31:31-33

I will give you a new heart and put a new spirit in you; I will remove from you your heart of stone and give you a heart of flesh. – Ezekiel 36:26
And then he intervened again with the Holy Spirit – which does something profound to the hearts and minds of those who follow Jesus – and works to conform them into his image.
"After they prayed, the place where they were meeting was shaken. And they were all filled with the Holy Spirit and spoke the word of God boldly. All the believers were one in heart and mind. No one claimed that any of their possessions was their own, but they shared everything they had - Acts 4:31-32
Paul shows how the renewing work of the Spirit as a result of Jesus' work on the Cross, and our union with him – which brings us our justification and sanctification (makes us ok by God, and works to make us like Jesus), brings about a new humanity – a new link between heart, mind and image.
"Those who live according to the flesh have their minds set on what the flesh desires; but those who live in accordance with the Spirit have their minds set on what the Spirit desires. The mind governed by the flesh is death, but the mind governed by the Spirit is life and peace. The mind governed by the flesh is hostile to God; it does not submit to God's law, nor can it do so. Those who are in the realm of the flesh cannot please God.

You, however, are not in the realm of the flesh but are in the realm of the Spirit, if indeed the Spirit of God lives in you. And if anyone does not have the Spirit of Christ, they do not belong to Christ. But if Christ is in you, then even though your body is subject to death because of sin, the Spirit gives life because of righteousness. And if the Spirit of him who raised Jesus from the dead is living in you, he who raised Christ from the dead will also give life to your mortal bodies because of his Spirit who lives in you… the Spirit helps us in our weakness. We do not know what we ought to pray for, but the Spirit himself intercedes for us through wordless groans. And he who searches our hearts knows the mind of the Spirit, because the Spirit intercedes for God's people in accordance with the will of God… For those God foreknew he also predestined to be conformed to the image of his Son, that he might be the firstborn among many brothers and sisters.
We become part of the ultimate mind-rewiring social network . Our hearts and minds are rewired to match up with the heart and mind of God. Suddenly we're able to communicate with God again.  This is the ultimate socially networked 'hive mind.' The Holy Spirit has incredible power to connect us with other people to make us more like Jesus.
Romans 12 is, I think (along with Philippians 2), an incredibly prescient passage for this whole idea that your brain is altered by the company you keep and the mediums you use to keep it. It, along with the incarnation of Jesus, provides an important framework for responding to competing influences on your head, but it also spells out what the ideal Christian social network looks like… people acting as one. Sacrificially giving of themselves for the sake of others. Just like Jesus does as, a person of the Trinity, at the cross.
Therefore, I urge you, brothers and sisters, in view of God's mercy, to offer your bodies as a living sacrifice, holy and pleasing to God—this is your true and proper worship. Do not conform to the pattern of this world, but be transformed by the renewing of your mind. Then you will be able to test and approve what God's will is—his good, pleasing and perfect will. – Romans 12:1-2
Here's why Christians should be a little wary of the impact Facebook can have – the world we live in isn't neutral. It has a pattern that we are naturally conformed into – a pattern of behaving and communicating – culture – created by people whose lives are consumed by things that aren't God. Who bear the image of things that aren't God. People who are broken. Facebook is part of the "pattern of this world" – it promotes and rewards self-seeking behaviour. Facebook isn't neutral because the world isn't neutral. But that doesn't mean Christians shouldn't use it – in fact, in the next post I'll argue that we should, using Jesus becoming human as the framework.
As Christians – we shouldn't be surprised that groups of people work together to rewire our brains, and that communication mediums play a part in that – but we should be careful about what the communication air we breath in our hyper-connected world is doing to us.
We should be careful about what happens when a bunch of people gather with a common language to share a platform that is designed to bring glory to people, not God. Forewarned is forearmed.
We should be excited about being part of an incredible network of relationships – joined with God, by his Spirit, as his children, being transformed into the image of Jesus, and joined with other Christians, by the Spirit, as brothers and sisters united around the ultimate act of self-sacrifice – and that excitement should be something we seek to spread to others.
Here's Paul's solution to avoiding being conformed to the patterns of the world – living sacrificially and chasing humility has always been counter cultural…
"For by the grace given me I say to every one of you: Do not think of yourself more highly than you ought, but rather think of yourself with sober judgment, in accordance with the faith God has distributed to each of you. For just as each of us has one body with many members, and these members do not all have the same function, so in Christ we, though many, form one body, and each member belongs to all the others." – Romans 12:3-5
Or, restated in Philippians 2…
"Therefore if you have any encouragement from being united with Christ, if any comfort from his love, if any common sharing in the Spirit, if any tenderness and compassion, then make my joy complete by being like-minded, having the same love, being one in spirit and of one mind. Do nothing out of selfish ambition or vain conceit. Rather, in humility value others above yourselves, not looking to your own interests but each of you to the interests of the others.

In your relationships with one another, have the same mindset as Christ Jesus - Philippians 2:1-5
Paul's hope for the Roman church was that they'd be a social network with a hive mind… changed by God to do what people were created to do – not what the broken world made them do…
"May the God who gives endurance and encouragement give you the same attitude of mind toward each other that Christ Jesus had, so that with one mind and one voice you may glorify the God and Father of our Lord Jesus Christ." – Romans 15:5-6
Interestingly – this sort of integration between mind and relationships is a pretty highly sought after type of neuroscientific "well-being" – we're much more likely to be able to make deliberate changes to our brains if we're part of such a network where people are committed to each other and to a set of values – in this case being sacrificially loving like Jesus. The Spirit has a big role to play in changing our thinking – because naturally we'd never focus on God – but Christianity, as described in the New Testament, works from a neuroscientific framework.
Paul was basically a neuroscientist before neuroscience existed. Probably because neuroscience is simply describing the way God created us to function, and the way we function as image bearers of whatever it is that we focus on bringing glory to with our minds, hearts and lives.
I know Christmas is over in our corner of the world. But spread the Christmas cheer just that little bit longer and watch this.
And by "Christmas cheer," I really mean remind people that Christmas is about a pretty amazing event. God stepping out of infinity and into our finite world as a man. Making himself known to finite beings, and being an infinitely pure sacrifice made in our place through a particularly unimpressive death.
More gold from my friend Nat. Remember – you can get his 7 Scrolls of Suffering album here.
Here's a bonus…
This is part 2 of a 5 part series on how the media you consume – in this case, Facebook – changes and rewires your brain, and what the implications are for people using Facebook, especially Christians. In the first post I looked at how your brain is rewired by the Internet in general, social media in particular, and Facebook specifically.
In this post I'll consider what we should think about the idea that we've essentially rewired our heads to incorporate social media into the way we think and operate. I'll continue to explore these questions in terms of media ecology, neuroscience, and Christian theology.
This post will look at how one might approach the truth that Facebook changes your brain from a media ecology and neuroscientific standpoint – should we be scared? Or is this just the circle of life? A description of the inevitable implications of the intricacies of life within our tech-fuelled environment? How much should we listen to the pessimists and their doomsaying?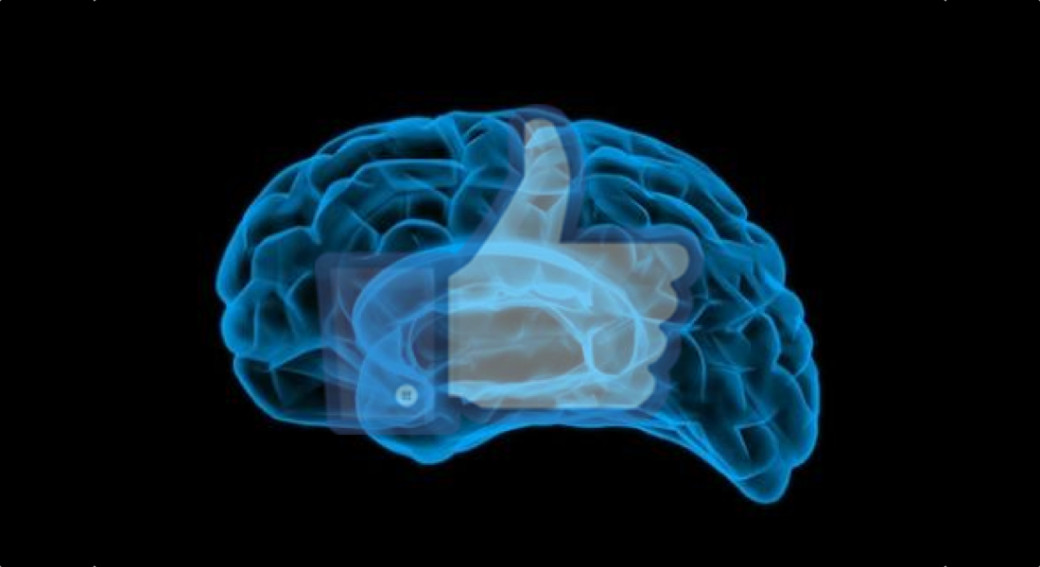 The Media Ecology Framework
Every new technology brings change – and it brings the same cultural doomsday prophets with the same cultural doomsday predictions. Change happens (also XKCD). It happens through the tools we create, and as a result of the tools we create. Some of the change is good. New communication mediums make communicating more efficient, they broaden our reach, they provide new platforms for relationships with other people.
Nicholas Carr, whose book The Shallows featured pretty heavily in post one, is pretty pessimistic about the impact of technology – he also famously asked "Is Google making us stupid?" – and he tends to look back, somewhat romantically, at the way things were.
"Thanks to the ubiquity of text on the Internet, not to mention the popularity of text-messaging on cell phones, we may well be reading more today than we did in the 1970s or 1980s, when television was our medium of choice. But it's a different kind of reading, and behind it lies a different kind of thinking—perhaps even a new sense of the self. "We are not only what we read," says Maryanne Wolf, a developmental psychologist at Tufts University and the author of Proust and the Squid: The Story and Science of the Reading Brain. "We are how we read." Wolf worries that the style of reading promoted by the Net, a style that puts "efficiency" and "immediacy" above all else, may be weakening our capacity for the kind of deep reading that emerged when an earlier technology, the printing press, made long and complex works of prose commonplace. When we read online, she says, we tend to become "mere decoders of information." Our ability to interpret text, to make the rich mental connections that form when we read deeply and without distraction, remains largely disengaged. - Nicholas Carr, Is Google making us stupid?
Carr isn't saying anything new here. In fact, he's (with Wolf) essentially saying exactly what Plato said/wrote when writing was invented, he was "quoting" Socrates in Phaedrus…
"If men learn this, it will implant forgetfulness in their souls; they will cease to exercise memory because they rely on that which is written, calling things to remembrance no longer from within themselves, but by means of external marks. What you have discovered is a recipe not for memory, but for reminder. And it is no true wisdom that you offer your disciples, but only its semblance, for by telling them of many things without teaching them you will make them seem to know much, while for the most part they know nothing, and as men filled, not with wisdom, but with the conceit of wisdom, they will be a burden to their fellows."
Carr is right to sound the warning about the power of the internet – because most of us want to be in control of how our brains are being changed – otherwise we're being coerced, manipulated, and captivated by the tools we use. But his pessimism is the same pessimism that has been expressed at every point in history. There's nothing really to worry about in terms of the changes media theory wise – technology develops. It just does. These developments bring social and societal change. Some of these changes are good, some are bad.
The founder of Media Ecology, Marshall McLuhan has some pretty nifty stuff to say about technological changes in his Tetrad of Media Effects, it's famous enough to have its own wikipedia entry, and you can read about it there – but his basic thesis is that new mediums, when introduced to the communication landscape – or ecology – effect the ecology, the balance of things. So the printing press changed the world by making the written word more accessible, cheaper to produce, and very linear in appearance (lines on the page) and logic. This changed the way people thought, and made communication more accurate and precise. McLuhan also wanted to make sure we didn't just see communication mediums and technologies as neutrals – he wasn't a big fan of Augustine's wrong use/right use dichotomy that believed created things are simply inert – he recognised that things we create are created as part of cultures, with myths and uses – while they could potentially be extracted from those myths and used for something else, McLuhan said:
"Our conventional response to all media, namely that it is how they are used that counts, is the numb stance of the technological idiot."
A Short Excursus on Augustine
People who've been reading for a while will know I'm a fan of the Augustinian maxims "Wrong use does not negate right use," and that all gold is created by God and should be "plundered from Egypt and used for presenting the Gospel." Augustine was talking specifically about a communication medium – oratory – when he wrote this.
I don't think McLuhan's position contradicts this. McLuhan isn't talking about "gold" – neutral created stuff. He's talking about the stuff we've made out of gold – so, for example, Israel should have known that taking the gold of Egypt, and building idols just like Egypt had, out of that gold, was a bad idea. They could possibly have used a golden calf, carefully, by putting it in a golden zoo in the palace or something.
This is a pretty outlandish hypothetical – Israel had real trouble distinguishing between right and wrong use, there's an example with their use of  the bronze snake they make in the desert in Numbers 21. They're being bitten by snakes as a judgment against their stupidity, when:
"The Lord said to Moses, "Make a snake and put it up on a pole; anyone who is bitten can look at it and live." So Moses made a bronze snake and put it up on a pole. Then when anyone was bitten by a snake and looked at the bronze snake, they lived."
By 2 Kings 18 the snake has become an object of worship… that Hezekiah has to smash.
"He removed the high places, smashed the sacred stones and cut down the Asherah poles. He broke into pieces the bronze snake Moses had made, for up to that time the Israelites had been burning incense to it. (It was called Nehushtan.)"
Anyway. Excursus over. Back to the media ecology thing… there are two ways to think of the changes brought about by technology – instrumentalism, and determinism.
Determinists believe this change is inevitable, that the changes wrought by new technologies are unavoidable, and people are destined to become part of "the machine," while instrumentalists believe mediums are simply instruments that are employed by people for their own ends. Then there are optimistic determinists and pessimistic determinists.
McLuhan is a determinist – but he, on good days, was pretty optimistic about where things were heading because he had an interesting view of the end of the world informed by an interesting Catholic theological framework. I'm more at the instrumentalist end of the spectrum – but I think you can only be an instrumentalist if you are aware of the changes wrought by new mediums. And most people aren't.
Technology changes the environment it is introduced to, and changes the people who use it. Some people will like the change, others won't. Some people will find a medium. Some people will be passive passengers in the process of change – some people will be agents of the change, fully aware of what they are doing. You don't want to be the passive passenger, or you end up like this.
Image: The Matrix, a battery farm of humans. Basically. You need to decide between the red pill and the blue pill. Freedom to rage against the machine – or slavery. It's not actually that extreme. Unless you want to be Amish. New tools usually replace old tools for a reason – they do jobs better, or jobs we couldn't previously imagine doing. You'd be an idiot to insist on using a handsaw to cut down a massive tree once the chainsaw has been invented – but you'd also be an idiot to test how sharp a chainsaw is, with your hand, while it's running. What we need to remember about the Internet is that it presents an incredible opportunity for people with something to communicate.
"The Internet is proving to be one of the most powerful amplifiers of speech ever invented. It offers a global megaphone for voices that might otherwise be heard only feebly, if at all. It invites and facilitates multiple points of view and dialogue in ways unimplementable by the traditional, one-way, mass media… " "After a one-hundred-and- fifty-year hiatus during which the person-to-person aspect of media was overshadowed by centralized mass media operating on a broadcast model, the pendulum has swung back. Social forms of media based on sharing, copying, and personal recommendation, which prevailed for centuries, have been dramatically reborn, supercharged by the Internet." - Tom Standage, Writing on the Wall, 2,000 Years of Social Media
From a media ecology sense – change is inevitable. What effect the change has on you is up to you. Forewarned is forearmed.
The Neuroscience Framework
This conclusion is, in part, supported by neuroscience. One of the big 'tools' in neuroscience, in terms of shaping your brain, is a thing called "mindfulness" – it basically boils down to being intentional in how you think as much as in terms of what you think about. Just knowing, and adopting or resisting the changes a medium brings is enough to avoid being trapped into mind-altering conformity.
This sort of thinking isn't new – and while I'm not anywhere near qualified to speak about neuroscience and the efficacy of neuroplasticity in terms of actual medical care for mental health issues – and I'm not trying to do that at all – this quote from Cicero's Tusculan Disputations (Book 3) is interestingly prescient.
"But surely we must admit that the mind is capable of healing itself. After all, it was the mind that invented the science of medicine for the body. And while bodily healings are largely dependent on the nature of the bodies themselves, so that not all those who submit to treatment show any immediate improvement, of the mind there can be no doubt: once it is willing to be healed, and heeds the precepts of the wise, it does indeed find healing. A medical science for the mind does exist: it is philosophy. And unlike medicine for the body, the help of philosophy is something we need not look to others to gain. Instead, we should make every possible effort to become capable physicians for ourselves."
There are actually some neuroscientifically derived practical steps that we'll look at in a future post – but most neuroscientists see the way our brains adapt according to the use of our technology as part of the ongoing process of evolution. Carr, for example, says:
"When a carpenter picks up a hammer, the hammer becomes, so far as his brain is concerned, part of his hand. When a soldier raises a pair of binoculars to his face, his brain sees through a new set of eyes, adapting instantaneously to a very different field of view… Our brains can imagine the mechanics and the benefits of using a new device before that device even exists… The evolution of our extraordinary mental capacity to blur the boundary between the internal and the external, the body and the instrument, was, says University of Oregon neuroscientist Scott Frey,"no doubt a fundamental step in the development of technology."… The tight bonds we form with our tools go both ways. Even as our technologies become extensions of ourselves, we become extensions of our technologies." 
The mental functions that are losing the "survival of the busiest" brain cell battle are those that support calm, linear thought—the ones we use in traversing a lengthy narrative or an involved argument, the ones we draw on when we reflect on our experiences or contemplate an outward or inward phenomenon. The winners are those functions that help us speedily locate, categorize, and assess disparate bits of information in a variety of forms."…The brain of a person raised in the age of print, a person who learned from books and who read books in time of leisure or study, has a brain that is markedly different from a person who has learned primarily from images or who has watched videos in times of leisure or study… technology changes our biology, reshaping our brains, we become the product of our technologies in some deep and profound ways." – Nicholas Carr, The Shallows
This isn't really neuroscience – but the concept of "synchronicity" or "spontaneous order" – which relates to the "hive mind" (see the first post in this series), is pretty interesting.
"Steven Strogatz, an expert in applied mathematics, uses to illustrate his theory of spontaneous order. In spontaneous order, Strogatz explained to an elite audience of entrepreneurs in 2004, live organisms and even inanimate objects fall into sync with one another in ways that seem unnatural and inexplicable… Steven Strogatz summarized his case for the prevalence of synchronicity at every level of nature, with examples from the subatomic to the farthest reaches of the universe. He pointed out more obvious examples like fish that move in schools and birds that travel in flocks. He tied in our human experience, as well. "We [humans] actually take pleasure in synchronicity," said Strogatz. "We sing together. We dance together." In fact, while he conceded the law of entropy that proves objects both animate and inanimate typically move toward disorder, he also claimed that the tendency toward the harmonization of objects might be an even more certain reality. "Sync," Strogatz says, "might be the most pervasive force in nature." – Jesse Rice, The Church of Facebook
Throw the research that shows our heart beats sync when we sing together into the mix and there's a pretty interesting picture of what happens when humans gather together with the same mind. Neuroscientists, like media ecologists, will either be positive about these changes seeing them as the next step in our evolution (towards becoming Wolverine), or be against them because they think that process should be 'natural.'
In biomedicalized societies, the concept of brain plasticity has generated much excitement giving rise to a new style of thought, connected to a booming industry of brain-based self-improvement or "neuroascesis," particularly since the late 1990s. The idea that the brain has the capacity to modify itself through experience-dependent processes has pushed neuroscience towards a less deterministic and more interactional discourse. Aside from genetic programming, neuroplasticity is after all dependent on environmental inputs, and, as popularized accounts emphasize, the enrichment of a given environment can bring about reorganization and genesis of neurons. In adulthood, plasticity has been celebrated as the means through which recovery can occur after trauma and injury, and the mechanism through which new skills can continue to be learned throughout life. In contrast to the notion of the brain as a fixed organ, which determines certain behaviours or dispositions of a person, the plastic self is alterable, continually evolving and able to steer its own course into an open future by working on its material substrate, the metamorphosing brain. This plastic reason has radically recast visions of the brain giving it a sense of historicity, individuality, and situatedness, and assigning it the ability to respond to psychological experience as well as to generate it. In fact, it has become an ethical imperative to deploy one's brain in ways that preserve its openness in order to maintain psychological health. In this imperative, adult neuroplasticity articulates with individualizing formations of risk and responsibility. Plasticity in the adult brain is thus seen for the most part as a positive thing—a process that should be harnessed in order to learn, change or recover, and sustained in order to prevent mental illness and the negative effects of ageing… 
"Plasticity in the case of adolescence is often framed differently—certainly in the debate about the effects of digital media. The adolescent brain, programmed to be in a much more pronounced state of synaptic plasticity compared to the adult brain, is rendered vulnerable and risky by virtue of its plasticity… Further, the stakes and consequences of neuroplasticity for adolescents are interpreted differently than for adults, for whom opportunities for neural change entail responsibility and provide hope primarily as individualizing practices. However, while the actual locus of change rests within the brain of the individual adolescent, the risks or consequences of these changes are imagined to occur at a much broader level. The stakes are indeed quite high as changes in individual brains are seen to have the potential to collectively shape the future of society." - Choudhury & McKinney, Digital media, the developing brain and the interpretive plasticity of neuroplasticity 
Because the changes wrought in your brain by these technologies are dependent on you using them actively, rather than passively – you are in control. The changes are what they are – some of them are positive, some are negative, some are only negative if you want to live in the world of yesteryear. I'd say the inability to think reflectively or deeply and the rewiring that turns people into bigger narcissists (which can only be the result of people seeking likes for their selfies) are mostly negative changes. Carr is worried about the effect the emerging shared digital consciousness is having on our brains – which are wired to seek that sort of connection, but maybe not in this way…
There's another, even deeper reason why our nervous systems are so quick to "merge" with our computers. Evolution has imbued our brains with a powerful social instinct, which, as Jason Mitchell, the head of Harvard's Social Cognition and Affective Neuroscience Laboratory, says, entails "a set of processes for inferring what those around us are thinking and feeling." Recent neuroimaging studies indicate that three highly active brain regions—one in the prefrontal cortex, one in the parietal cortex, and one at the intersection of the parietal and temporal cortices—are "specifically dedicated to the task of understanding the goings-on of other people's minds." While this cybernetic blurring of mind and machine may allow us to carry out certain cognitive tasks far more efficiently, it poses a threat to our integrity as human beings. Even as the larger system into which our minds so readily meld is lending us its powers, it is also imposing on us its limitations - Nicholas Carr, The Shallows
But our brain being wired to be more social, or more connected to others – that's probably a good thing. There are obvious caveats here based on how much you're in control of the rewiring – and how much it's on your terms, not the medium's – but that's a media ecology issue, not a neuroscience issue.
When we go online, we, too, are following scripts written by others—algorithmic instructions that few of us would be able to understand even if the hidden codes were revealed to us. When we search for information through Google or other search engines, we're following a script. When we look at a product recommended to us by Amazon or Netflix, we're following a script. When we choose from a list of categories to describe ourselves or our relationships on Face-book, we're following a script. These scripts can be ingenious and extraordinarily useful, as they were in the Taylorist factories, but they also mechanize the messy processes of intellectual exploration and even social attachment. As the computer programmer Thomas Lord has argued, software can end up turning the most intimate and personal of human activities into mindless "rituals" whose steps are "encoded in the logic of web pages" – Nicholas Carr, The Shallows
It's this conversion of our personalities and activities into binary bits and bytes that has Tim Challies worried about the effect of the Digital world.
"Time may well show that one of the digital world's greatest effects on human beings has been to depersonalize us, to tear away our humanity in favor of 1's and 0's—to make us little more than their data. And increasingly we relate to one another as if we are not real people, not people with thoughts and feelings and emotions but people who are barely people at all. We relate to one another as if we are all computers, as if we are merely digital." – Tim Challies, The Next Story
Once again, forewarned is forearmed. If you know the change is possible you can either prevent it – by avoiding technologies, or steer it, by using them deliberately and as part of a bigger mix of brain stimuli. In the next post we'll tackle the question of our changing brain theologically.
In the next few days I'll be unpacking an essay I wrote for my Licensing (you can cheat by reading the whole thing now) – the application of my Masters thesis on communicating as Christians using worldly mediums to social media.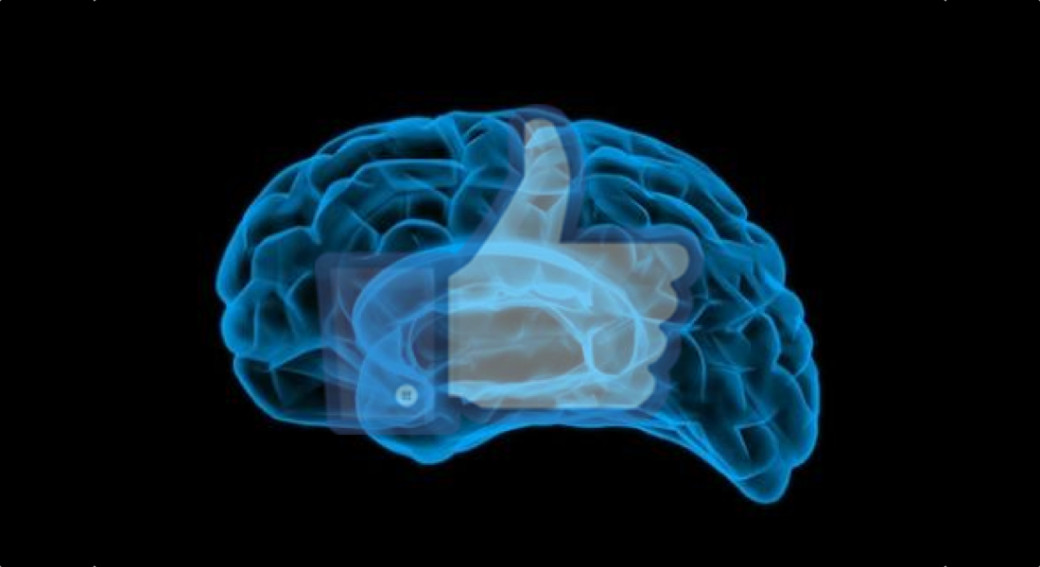 This series could be more generically titled – all social media is messing with your head. Because all communication mediums mess with your head. And by mess with your head, I mean "rewire your brain." And by rewire your brain – well, I mean that literally.
Have you noticed that you habitually return to certain things – even without thinking? I have. While I was procrastinating during my last little bit of college work I even found myself typing "facebook.com" into my browser, when I was already on Facebook. Then I posted a Facebook status about my mistake.
Do you think slow internet is just about the worst thing in the world? I'd hazard a guess that a significant number of "first world problems" shared online have something to do with phones, internet access, or happenings on social media.
It's not just Facebook. But whatever your poison – social media is changing the way we live.
The systems are designed to keep you engaged. They are constantly adapting to maximise your eyeball time. Remember Farmville? None of my friends play Farmville anymore. I don't play Farmville anymore – and yet, I'm still on Facebook just as much.
Mediums carry powerful myths, or are associated with powerful myths. These myths aren't lies or fiction. In fact the truer they are, the more they resonate with our reality, the more compelling they are. These myths are the big narratives that get us to sign up to new platforms in the first place, the values that systems lock us in to, and celebrate. Facebook is no different. It has myths. It has values. It has a system that is designed to get you to participate, and to keep you coming back.
Image Credit: Facebook.com, 'Is Connectivity a Human Right?'
It is the most powerful teller of its own myth. And as the myth maker, and platform creator, it is in the driving seat. The changes it makes – to its design, or what you see in the news feed – are changes made in line with its values and "myth" – changes designed to keep you engaged for longer, building a more detailed profile, to keep you clicking and interacting – so that companies have more compelling reasons to spend money getting their product in front of consumers.
Facebook changes the way you think.
The more you use it – the more your thinking is shaped by it. It's scary stuff. Especially because as you use them, and think the way they get you to think, your brain is actually rewiring itself. You are being conformed to the image of its world, participating according to its rules. And when it comes to Facebook – as we'll see below – the results aren't pretty.
Interestingly – this sort of conclusion is something of a venn diagram of multiple academic disciplines. Theologians, media theorists (especially media ecologists), and neuroscientists are all on the same page on this one. They all take the same data, and reach the same conclusions, down different roads.
The way we consume and transmit information changes us and our audience, potentially as much as the content we communicate.
In Christian theology – we are warned about worshipping idols (anything other than God) – not only because idols are poor substitutes for the very real God, not only because idols are hollow projections of our broken desires, but because idols work in an insidious way – the consequences of idolatry aren't pretty. Idols shape those who worship them. We become what we behold. We were made to behold God – to be his image bearers, and once we tried to be "like God," autonomously – that void became empty, and our hearts lead us where they will.
Those who make them will be like them,
    and so will all who trust in them. – Psalm 115 (about idols)
"The things we create can—and will—try to become idols in our hearts. Though they enable us to survive and thrive in a fallen world, the very aid they provide can deceive us with a false sense of comfort and security, hiding our need for God and his grace." - Tim Challies, The Next Story
What becomes mythic is only one step removed from becoming idolatrous. - Tim Challies, The Next Story
Media ecologists are those who study the effects different communication mediums have on the world they operate in, and the people who use the mediums. Social media platforms like Facebook are communication mediums. Communication mediums don't just carry data – they provide a context for the interpretation of data, and this influences the meaning of the data, and how it is understood. That's a little technical – but think about it this way – I can tell my wife that I love her. Face to face. With flowers. Or I can post her a message on Facebook with a flower emoticon. The message is the same, the meaning is vastly different – it's not just about physical presence (though that's important) – Facebook brings with it a whole heap of assumptions about the value of messages – if I post the message on my wife's wall, for all to see, that is different to if I send the message to her as a private message. Media ecology goes beyond understanding the impact of mediums on meanings – and looks at the impact of new mediums on the world.
"We shape our tools, thereafter they shape us." - John Culkin
"Neil Postman, the late cultural critic and media theorist, pointed out that over time certain technologies come to be considered mythic, not in the sense of being fictional or legendary, but in the sense that they seem to have always existed in their current form. They have become part of the natural order of life. They become assumed, and we forget that they have not always been a part of our lives… In fact, mythic technologies seem impossible to change. It seems easier to change ourselves and adapt to the new technology than to change it. Often, we assume that we must or should change to accommodate the new technology… What becomes mythic is only one step removed from becoming idolatrous." – Tim Challies, The Next Story
There is a growing consensus amongst neuroscientists – people who look at brains for a living – that our brains continue to change as we use them. Like any other muscle. That they are "plastic" – that what we do has the ability to form patterns in our thinking and processing. That we change our heads as we use our heads. That we change our heads as we use technology.
"Neurons that fire together, wire together." – Daniel Siegel, The Developing Mind
We become, neurologically, what we think… But the news is not all good. Although neuroplasticity provides an escape from genetic determinism, a loophole for free thought and free will, it also imposes its own form of determinism on our behavior. As particular circuits in our brain strengthen through the repetition of a physical or mental activity, they begin to transform that activity into a habit. - Nicholas Carr, The Shallows
"But scientists are only now beginning to understand a further truth: technology is biological. Our brains actually change in response to new technologies. The brain of a person raised in the age of print, a person who learned from books and who read books in time of leisure or study, has a brain that is markedly different from a person who has learned primarily from images or who has watched videos in times of leisure or study."

A person who is raised digitally becomes a digital person, with a brain shaped by the computer, the Internet, and the mobile phone. Though this may sound alarming, it seems clear that this is consistent with the way God created us. We are molded and formed into the image of whatever shapes us. – Tim Challies, The Next Story
Several writers have noticed the overlap between media ecology and theology,  the overlap between theology and neuroplasticity, and the overlap between neuroplasticity and media ecology – but there aren't a whole lot of people out there putting all these insights together. There are a few good books to read at the end of this series. What is relatively clear – if you couple the insights of all of these disciplines – is that social media, as a created "thing" that we use to communicate, with increasing regularity – is messing with our heads.
The head-changing power of Facebook
Research shows that Facebook likes cause your brain to get excited, causing neurons to fire and wire, giving us little chemical rewards and causing addiction. The study scanned people's brains while they were using Facebook
"We found that we could predict the intensity of people's Facebook use outside the scanner by looking at their brain's response to positive social feedback inside the scanner/ Specifically, a region called the nucleus accumbens, which processes rewarding feelings about food, sex, money and social acceptance became more active in response to praise for oneself compared to praise of others. And that activation was associated with more time on the social media site – Time Magazine, This is Your Brain on Facebook
The longer you spend on Facebook – participating in Facebook the way it is set up to reward you, hook you, and keep you coming back, the more Facebook rewires your brain in its image.
It makes you a more self interested person. We don't need much help being more self interested.
It also makes you more distracted – especially coupled with the ubiquitous access that comes with a smart phone. You can get this fix any minute of the day (or night). It's like giving a junkie a limitless, effortless, supply of their drug of choice. In their pocket. Always on tap. And the effect is a change in the default functions of your brain.
"Calm, focused, undistracted, the linear mind is being pushed aside by a new kind of mind that wants and needs to take in and dole out information in short, disjointed, often overlapping bursts—the faster, the better." - Nicholas Carr, The Shallows
Carr's book The Shallows is fascinating. When he talks about "The Net" in the below paragraphs he's particularly talking about social networks. Social media platforms are designed to be addictive. They are wired not just in a way that reflects the human brain – but to appeal to the human brain – and because of how we use them, they end up changing, and in some cases, replacing, the brain's functions.
"The Net also provides a high-speed system for delivering responses and rewards—"positive reinforcements," in psychological terms—which encourage the repetition of both physical and mental actions. When we click a link, we get something new to look at and evaluate. When we Google a keyword, we receive, in the blink of an eye, a list of interesting information to appraise. When we send a text or an instant message or an e-mail, we often get a reply in a matter of seconds or minutes. When we use Facebook, we attract new friends or form closer bonds with old ones. When we send a tweet through Twitter, we gain new followers. When we write a blog post, we get comments from readers or links from other bloggers.

The Net's interactivity gives us powerful new tools for finding information, expressing ourselves, and conversing with others. It also turns us into lab rats constantly pressing levers to get tiny pellets of social or intellectual nourishment.

The interactivity of the Net amplifies this effect as well. Because we're often using our computers in a social context, to converse with friends or colleagues, to create "profiles" of ourselves, to broadcast our thoughts through blog posts or Facebook updates, our social standing is, in one way or another, always in play, always at risk. The resulting self-consciousness—even, at times, fear—magnifies the intensity of our involvement with the medium.

"The Net grants us instant access to a library of information unprecedented in its size and scope, and it makes it easy for us to sort through that library—to find, if not exactly what we were looking for, at least something sufficient for our immediate purposes. What the Net diminishes is Johnson's primary kind of knowledge: the ability to know, in depth, a subject for ourselves, to construct within our own minds the rich and idiosyncratic set of connections that give rise to a singular intelligence." - Nicholas Carr, The Shallows
Carr's argument – supported by other neuroscientists (see for example, Choudhury & McKinney, 'Digital Media, the Developing Brain, and the Interpretive Plasticity of Neuroplasticity', Transcultural Psychiatry) – is that we are externalising our brain. The internet is becoming part of how we think and store information.
Marshall McLuhan – the father of Media Ecology – believed the end goal of technology was that we would become indistinguishable from the machines we use. That seemed a little crazy at the time. He was writing before the internet – but now not so much. Choudhury and McKinney are excited about that.
The cellphone then is not ''other'' but exists as an extension of the mind's capacity to store information or to communicate. Through feedback and feedforward loops that move across the boundaries of brain, body, and world, the distinction of brain and environment is collapsed…

…Taken a step further, the view of the socially extended mind pushes us to consider how the mind is also constituted in and is distributed across social processes and environments, and would thus include institutions, social structures, and discourses. – Choudhury & McKinney
Basically, these guys are saying when your mind is externalised into a social network you really do get a "hive mind" where we function like a swarm of bees (not simply within your own head, or through a sci-fi technological "telepathic noosphere"), but because our thinking is happening in shared spaces, influenced by all the participants in our network.
Carr thinks that's bad. Others like McLuhan, Choudhury, and McKinney that it's good, or neutral. But what are Christians to think?
Well. That's the next post. But what do you think? Can you see how the social networks you participate in – or your smart phone – is changing the way you think?
Anything JCVD can do, Chuck can do better.
Here's the JCVD original (in case you missed it).
And as a bonus. Chuck Norris fights Bruce Lee in Way of the Dragon.
You can find links to good videos for Christmas services all over the place at this time of year. Well. At Communicate Jesus anyway. Most of these feature the talents of some talented people from across the seas. If you want Australian made videos. Here are a couple.
Sand Bible (Luke 1-2, Matthew 2 – in sand) – Grab a five pack. With or without narration.
Sand Bible is a little project from some talented Brisbane brothers.
Or there's this one – Love Came Down, from Creek Road Media last Christmas.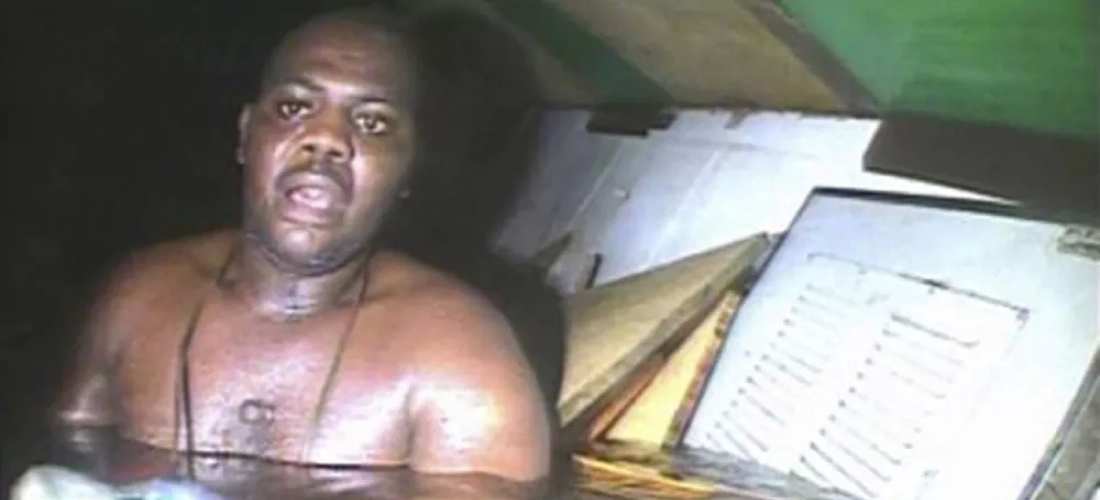 Call him Jonah.
This is the look of a man confronting his rescuer after three days believing he was going to die. Trapped in the belly of a boat.
Back in June, a tugboat cook named Harrison Odjegba Okene spent almost three days in the upturned hull of the boat he'd been sailing in. 30 metres below the surface. A rescue diver sent to retrieve bodies found him. And was sufficiently freaked out when the hand he suspected belonged to a floating corpse grabbed him.
The story is here. But the really stunning bit is the footage of the rescue. Hooray for ubiquitous cameras.
He'd been on the toilet when the boat sank.
"He groped his way out of the toilet and tried to find a vent, propping doors open as he moved on. He discovered some tools and a life vest with two flashlights, which he stuffed into his shorts.

When he found a cabin of the sunken vessel that felt safe, he began the long wait, getting colder and colder as he played back a mental tape of his life — remembering his mother, friends, mostly the woman he'd married five years before with whom he hadn't yet fathered a child."
To make the sermon illustration complete, Okene is a Christian.
"I started calling on the name of God. … I started reminiscing on the verses I read before I slept. I read the Bible from Psalm 54 to 92. My wife had sent me the verses to read that night when she called me before I went to bed."
Psalm 57 seems particularly apt.
1 Have mercy on me, my God, have mercy on me,
for in you I take refuge.
I will take refuge in the shadow of your wings
until the disaster has passed.
2 I cry out to God Most High,
to God, who vindicates me.
3 He sends from heaven and saves me,
rebuking those who hotly pursue me—
God sends forth his love and his faithfulness.
4 I am in the midst of lions;
I am forced to dwell among ravenous beasts—
men whose teeth are spears and arrows,
whose tongues are sharp swords.
5 Be exalted, O God, above the heavens;
let your glory be over all the earth.
6 They spread a net for my feet—
I was bowed down in distress.
They dug a pit in my path—
but they have fallen into it themselves.
7 My heart, O God, is steadfast,
my heart is steadfast;
I will sing and make music.
8 Awake, my soul!
Awake, harp and lyre!
I will awaken the dawn.
9 I will praise you, Lord, among the nations;
I will sing of you among the peoples.
10 For great is your love, reaching to the heavens;
your faithfulness reaches to the skies.
11 Be exalted, O God, above the heavens;
let your glory be over all the earth.
As does Psalm 61…
1 Hear my cry, O God;
listen to my prayer.
2 From the ends of the earth I call to you,
I call as my heart grows faint;
lead me to the rock that is higher than I.
3 For you have been my refuge,
a strong tower against the foe.
4 I long to dwell in your tent forever
and take refuge in the shelter of your wings.
5 For you, God, have heard my vows;
you have given me the heritage of those who fear your name.
6 Increase the days of the king's life,
his years for many generations.
7 May he be enthroned in God's presence forever;
appoint your love and faithfulness to protect him.
8 Then I will ever sing in praise of your name
and fulfill my vows day after day.
The moral to the story must surely be read Psalms when you're on a boat.