From time to time – well, twice before, I've interviewed people who have stepped out into the public sphere as Christians and stuck to their guns, winsomely talking about Jesus. You can read interviews with Mike O'Connor from Rockhampton and Guy Mason from Melbourne. Today, we're heading to Sydney. Chatting to David Ould – who has appeared on Channel Ten's The Project not once, but twice. I wanted to chat to David about what engaging with culture looks like – or, more correctly, what engaging our culture with the Good News about Jesus looks like. What follows are some transcripted highlights from our chat.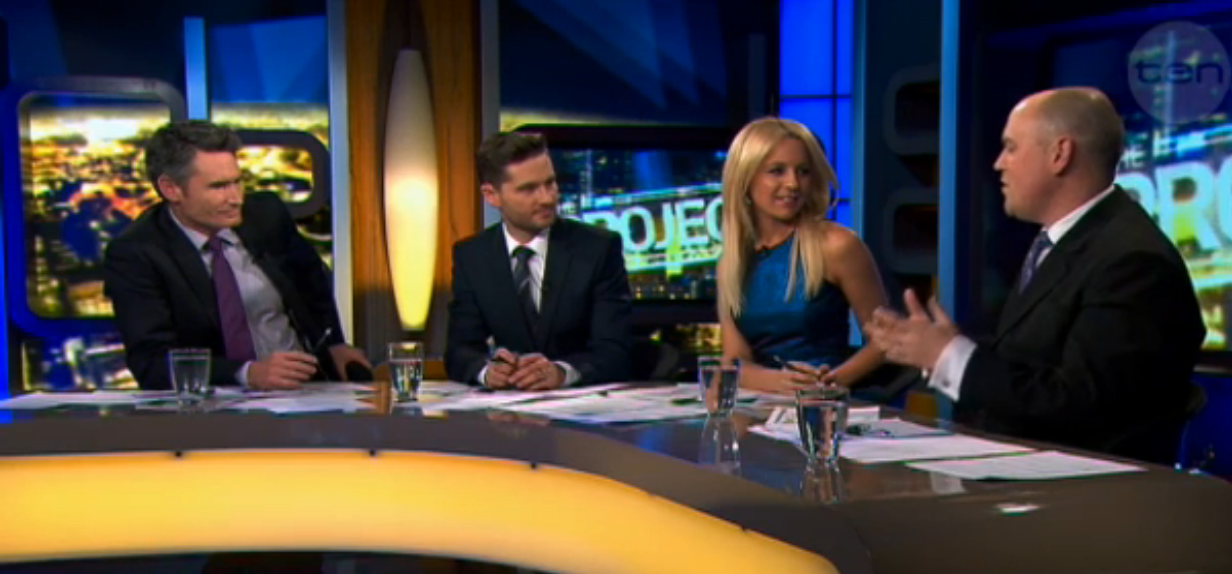 For those not familiar with your story – how did this all happen?
"I ended up on the project almost on a whim. I was driving with my kids, to school, in the morning, and the radio station in Sydney was running a competition. And I thought "I might have a crack at that" – so that day when I got home from work I put together a little application and shot a little video with the kids. I thought there's no way this will happen. I was absolutely astounded when I got a call three days later."
Your first appearance you were joining the panel, the second you were speaking about a particular topic. How do you prepare?
"For the no holds barred panel discussion, the first thing I did to prepare was watching it a lot more than I had before, and just trying to get my head around the format, and the style – just getting my head around the temperature, you want to play the ball that's in front of you.
It was the week of the gay weddings in New Zealand, and I was worried that that would get featured, but they covered that on Monday. You get a briefing pack of the day's news on the day. That's how you prepare for it. You read that, and then you just say I'm going to have a bit of fun.
The second time, they called me up, and ran the story by me – about ABS data on religious belief and affiliation in Australia. My brain goes "give them something a bit interesting" – so basically I told them they were wrong, and what the real story was.
One of the things you've got to do is think about how you talk about Jesus as positively as possible in front of a lot of people.
You're always thinking, aren't you, well you should be, what do I do to talk about Jesus. That's surely my agenda as a Christian. To talk about Jesus. So then you start thinking – how does this data tell me about Jesus. The census data is really a reflection of nominalism, nominal Christian belief and the way our culture has shifted, people are just being more honest about their beliefs. And genuine Christian belief is of course centered around understanding who Jesus is, and responding to him – and so then it becomes natural to be able to talk about things in terms of Christianity, and then genuinely following Jesus. So that's what I sought to do in the interview, and also what I sought to do is rather than talking about religion in general, is talk about what I know about. Which is Christianity. Which is still the big major religion in Australia."
Did you feel like in the background stuff – you had to play down the Jesus stuff and surprise them when you got on?
No. I went in, I applied for the show the first time around with the line that normal Christians don't get a fair play in mainstream media. I almost dared them to take me on on that basis. I felt no need to play down – in fact – quite the opposite, I felt like that was the gimmick in having me on, not just a Christian, but a minister in fact. So there's no need to play that down. Is there? If that is your gimmick. So the call back on the second time was on that basis – because I'm a Christian. So, given that they're speaking to you on that basis that you're a Christian, and surely your great desire is to talk about Jesus, it seems to me a no brainer at that point, you just go Jesus, Jesus, Jesus, Jesus.
Had you done much media before The Project? Are you a media tart?
Not a bit. No wait. That's a lie. A little bit of local newspaper work on the lower north shore in Sydney. Just the sort of shameless stuff you do to try to get the church into the newspaper. But no, nothing like this.
You did some radio stuff around the project?
Yeah, we did some radio promos around the competition, I was on air a couple of times talking about it, and then we leveraged it into the local newspapers after it.
Some of the leveraging – that was about your charity a little bit?
Yeah, so the point of interest was "local minister on national TV" – so you play that card – but I'm really, in my job, trying to achieve two things – first and foremost I'm trying to achieve the proclamation of Jesus, here in my local community and have that done in a positive way, but also I'm spruiking my charity, which is based on the church grounds, which I'm the chairman of. To me, that's actually doing the same thing, because to me "they see our good works and they praise our Father in Heaven." So I have no problem talking about the good works we do in Jesus name. So just keeping those two things tight together in people's sense of who we are.
Is that a form of cultural engagement?
It's a form of community engagement.
What's the difference?
"You can quote me on this. Cultural engagement seems to be a bit of a buzz word these days, I'm all for engaging with the culture. But it's not a silver bullet. The Gospel is the silver bullet. So it's important that we understand our culture, it's important that we critique it, analyse it, but then it's important that we bring the Gospel to bear on what we've observed there. So the question you're asking, all the time, as you look at culture, is what is the great news, and the answer that the Gospel brings to the conundrums, to the problems, to the questions, that are being raised in the culture. And of course what is the answer that the Gospel brings to the questions the culture doesn't know it should be asking. Which means, of course, you've got to start with the Gospel itself, and use it as the lens. The danger is we get to the position where we use our culture as a lens through which we look at the Gospel. So for example, the great extreme example is something like Liberation Theology – where the experience of people in a culture becomes the lens through which the Gospel is read. Whereas the flipside of that, is the example of slaves in America, where the Gospel became the lens through which they understood their experience. So slaves in the south could sing "free at last, free at last. I'm a Christian, I'm free from sin, and that radically impacts the way I see the world around me" – and Liberation Theologians, and further south, in South America, will look at "free at last" and say well you must be talking about your physical reality."
Of course, the flipside is that we don't read our culture at all, and we don't understand how to talk to our culture at all. So the classic stereotype of sandwich board wearing people standing outside a supermarket shouting "the end of the world is nigh," reading from the King James. That's the classic example. But there's a little bit of me that just wants to go, you know what, good on him. It's the word of God and I'm not ashamed of the Gospel.
You've got to work out what that is – the thing that I fear is that we think it's some sort of silver bullet, or that somehow we're going to win people over to ourselves and then import the Gospel in. I think we're better leading with the Gospel itself.
I've been thinking a little bit about the labels we use to describe how we do things this week, because I think community engagement – or social justice – and cultural engagement – are really important, but I agree with you on the dangers. What about using the terms "Gospel Justice" and "Gospel Engagement" to get that priority order right?
Yeah. So. In terms of good works – we preached through James earlier last year – the Gospel tells me that I treat people with grace. I'm a sick people being made well. I'm to treat people that way. James chapter 2 is just really clear – you either get the Gospel or you don't, and if you do, you treat people in a certain way. I don't think you need a fancy word for that. And then it's about that simplicity of preaching the Gospel to a world that is lost, and nothing will save but the declaration of who Jesus is, and what he's done.
I agree – but when you're approaching an issue like asylum seekers – I really liked that post you wrote where you retold the Gospel as a refugee story – I'm thinking there's an art to that, and that's the kind of social justicy stuff I think we should be doing – social justice that specifically demonstrates the Gospel story. There doesn't seem to be a huge model for that…
There is a model for that. The Scriptures, not least of which, Jesus himself. It's a model. Marriage models the Gospel – so when you're talking about marriage and sex and that kind of thing, you talk about it as a picture of the Gospel. And you've got Jesus' parables, he'll go "so there was a farmer in the field, and he needs some workers…" – he tells the Gospel of Grace in categories of whatever the debate is at the time. What he never allows those categories to do is distort what the Gospel is. It's about letting the Gospel shape the way you come to an issue – so you ask "what does the Gospel have to say about this issue?" not "what does moralism have to say about this issue?" that's the difference isn't it. The question you need to ask is "if the Gospel were to be framed in the categories that are now in front of me, how would that be expressed?"
Which is what I think was the beauty of that asylum seeker post – it was just here's Gospel categories applied in this situation. Here's self sacrifice. Here's how we as Christians tell the Gospel story by what we say into this situation. It's the same with marriage equality stuff. The idea that you might sacrifice your sexuality for something bigger – that you might lay down your life to take up your cross – that confronts our culture but also provides an opportunity to express the Gospel through the stance we take.
So, back to The Project, you got the call from them second time around
Yeah. So, a researcher calls me, Monday after Christmas, and says, it's so and so from the Project – have you got ten minutes? And I thought. I think I do. Sure. He ran me through the story, started to ask some questions, and then started to push me – about the decline in the census numbers – and starts to push me on whether this represents the collapse of Christianity.
And you'd pitched something into them between hadn't you – about Kevin Rudd's redefinition of Christianity – because you'd built a relationship with the producer while you were there?
I had five minutes after the show – and I was shameless – I said if you think I did ok, then I would like to talk about religious stuff with you guys again. I think I can give you what you want.
I emailed him about the K-Rudd stuff and he said "it's over we're not running it." I think he thought he'd be voted out in a matter of days, and nobody would care.
I was still surprised to get the call.
Tell me about how you went about building relationships with a view to the longer term – at the heart of my PR advice is that it's all about relationships. Building relationships with the media and developing trust and rapport.
Well it works in two ways, doesn't it. It works in terms of just the actual person to person relationships. In which case you've got to be yourself, unless yourself is a really nasty and horrible person. In which case it's over. And all the pastoral stuff you know anyway – everybody has a story, it's important to be empathetic, to listen – you just want to keep doing that. The danger is that at the end of the day we do things to please people, so part of it is in yourself being confident as a Christian that you can hold your views with conviction, but be pleasant about it. That's half the battle in our culture anyway – holding our views with good conscience and conviction, but doing it in a winsome and gracious way. So that's the first way.
In terms of the business side of things – it's remembering what they want from a guest or an interview. They want a dialogue. They want a conflict story. They want to be told they're wrong. And they want short snappy sentences – particularly on a show like the Project, and if you can be interesting and funny – then go for it. It's about working out what they want for that show – and giving them more of it.
Tell me about how you managed to apparently master the form of The Project in two goes?
You're too kind – I think sometimes we end up doing stuff because they're natural to us anyway, because it kind of works. It's my nature to be very serious about things, but also to want to joke and have a joke. It's my nature to be a bit of a people pleaser and to have a laugh. I'm not sure how that works – but it seems to work.
There is that business side to it – it's about working out what product they want to buy, and then delivering it. So they want friendliness. They want chummy and matey conversations. They want the conflict. And they want to be able to finish on a joke – so you know, that's kind of what we got the last time around. We had some serious topics – the topic itself, and abuse in the church and whether that had anything to do with it, and then I ended up trying to convert Dicko. Telling him to give Jesus another go – but doing it with a smile on my face.
You said in the lead up to your appearance you started watching it a bit more. Tell me how you went about exegeting the show, the ending with a joke thing is quite a perceptive observation.
So they call it infotainment – they mash together two things, the desire to be a news show, and entertaining. You can take two attitudes to that. And if you're a news junky like me, it seems a bit like they're dumbing it down – and they could be spending a whole hour of hard core news. And they are. But they're also opening up news to an entirely different audience – people are watching the news again. And more than that, the people giving them the news are actually serious about it. So Carrie is actually a news presenter, and Charlie takes it very seriously, I was so impressed with that when I was there, and even Hughsie, they've change around a bit now, but he was there as a "token comedian" – he's a very funny guy, but he was so engaged. They're all very engaged around the production meeting table. Thinking things through.
You see that and you go what's going on here. They want to get the information out, and have fun doing it. They seem to have that balance right. So you just try to mesh into that vibe. If you want to get Biblical about it, it's the all things to all men thing, isn't it. I'm never going to be Charlie or Dave – we don't have to be – we go and meet people half way as an act of grace, we don't leave behind what is fundamental to us. Jesus is our great model – he goes and he eats with sinners and tax collectors – he's there with them, and yet he says the world will hate you because it hates me. He's not going there to be loved, he's going there to love. Our great danger is we go somewhere and the first thing we say is "please love me" and at that point the world's affirmation of us is our idolatry, and we'll rapidly discard anything that will make people not love us. But if we're not so concerned about being loved, as loving, and revealing the Gospel, then we don't fall into that trap. In a nation like Australia that's easier sometimes than we think it might be. Australians like people to be themselves. They know when you're faking it, and they don't need you to conform.
In ministry I think we have to operate under the Tony Abbott principle. This has profoundly affected the way I think about doing ministry in Australia. I was in the lower north shore of Sydney, doing ministry, when Abbott became leader of the opposition and the Sydney Morning Herald and all their mates wrote off the Liberal Party until 2020, and the reality was the very opposite. The Liberals jumped in the polls. And we said "what is going on" – and of course, the answer is Australians like it when people talk straight. They hate spin – particularly when it comes to personal presentation. They love it when someone shoots from the hip and is just themselves. This means don't fudge or undersell the hard stuff. We committed to not pulling our punches in sermons – we didn't sugar coat anything – we gave it straight, without trying to explain it straight. God was good to us, every time we had a sermon like that we had visitors. I'd go up afterwards and say "it's not always like that" and the standard response was "no, we loved it… there's an authenticity."
Authenticity and not pandering is the way to go.
Which brings us back to cultural engagement…
Yeah, we've just got to remember there is a silver bullet – and it's already in the chamber – and it's the Gospel. And anything that dilutes that is potentially very dangerous. And my other principle is that I'm seeking to lead with the Gospel. The Gospel is not the last part I want to say – it has to frame everything I'm going to say – now there are practical challenges that come with that, but if I've got it in my head, then hopefully that's where I'll go. All the PR guys tell you you've got to be on message. We've just got to work out what our message is. And it's got to be the Gospel. Hasn't it. It's got to be the Gospel. The Gospel of Jesus is great. Peter Jensen is famous for how he approached the media. He just said "I've got to tell you about three things – God, Jesus, Bible" – I dropped the first one. I just want to go straight to Jesus because I'm not a unitarian.
There's an appropriateness to that because God speaks to the world in and through Jesus. That is the bridge between infinite God and finite us.
That's right. That's Matthew 11 isn't it. There's a beautiful logic to Matthew 11…
"I praise you, Father, Lord of heaven and earth, because you have hidden these things from the wise and learned, and revealed them to little children. 26 Yes, Father, for this is what you were pleased to do.

27 "All things have been committed to me by my Father. No one knows the Son except the Father, and no one knows the Father except the Son and those to whom the Son chooses to reveal him."
So there you go. What I love is the way Jesus does that. There is no way to know about God other than through Jesus. Which makes sense of the very next thing Jesus says.
28 "Come to me, all you who are weary and burdened, and I will give you rest.
Because if you are weary, and you are burdened, and there is no way to get to God other than Jesus, then the most logical, the most loving, the most natural thing for Jesus to say at that point is to say "come to me all of you" because there's no where else to go. Your proclamation to anybody is those two things – making the exclusivity claim, and making the claim to rest in Jesus. And one hangs on the other.
One of our great idols – we've talked about this a little – is to be loved by the world. I think one of the problems that people doing public Christianity face, and this applies to blogging as well, and this is where the 'cruciform' thing comes in – it's very easy to get on a soapbox, it's very difficult to use that soapbox to deflect attention away from yourself and to Jesus. Can you talk about that? For all the fame and fun that comes from being on The Project – the concept that John the Baptist had "I must decrease so he may increase…"
I remember being in the vestry of a church once, and on the noticeboard was an ad from a magazine to buy a "50 years of Cliff Richard" plate, and somebody had just written, in pen, big enough to see, but small enough to be be discrete "John 3:30" – which is that verse. So that's your principle. You say "my job is to talk about Jesus" – what's the mechanism of that, for John the Baptist, all of Judea went to him, so it's ok for all of Judea to go to you, but not ok if you don't point to Jesus. And John, of course, is incredibly impressive in the way that he goes about it, because he takes the people with him and he sends them to Jesus, and of course, he gets cut off pretty quickly. But that's his intention. So what do you do?
You've got to stay humble. You've got to remember that you're a sinner and Jesus is your saviour. You've got to get a good wife. Who'll keep you humble. That's really helpful. You've got to spend your time at the foot of the Cross. You've got to remember that at the end of the day it really is just about the audience of one – here's the thing. If I keep talking about Jesus – that's going to cure me of any desire for popularity. You cannot desire to be popular and pronounce the exclusivity of Jesus, and judgment, in the mainstream media. You can do it in our little Protestant ghettos.
Yeah, but the way you did it, it didn't seem as offensive as the guys standing on street corners
I just kept saying to myself "keep smiling, keep smiling" – except when I was talking about the child abuse stuff, but that's a good example to – when you've got to wear something, wear it. Greg Clarke was great on that one – when he was doing his stuff on the Da Vinci Code a few years ago, he said "where Dan Brown lands his punches, you've got to take them on the chin." So, where it comes to the treatment of women – we've got to absolutely take it on the chin. Concede it. That's part of the winsomeness. When you're not being defensive all the time, it's a chance to go "oh, ok"… it's kind of the skill of empathy as well. The older you get the more you have heard people's stories and you get it. You get where people are hurting.
Making stuff not about you is a profound challenge for blogging as well
When you're doing stuff outside of Christian circles, I've got it in my head "the world will hate you because it hated me first" – I'm thinking theology of the cross, not theology of glory. To do a bit of Luther. I think when we're in our Christian circles, we're desperate to impress them. Desperate to get it right. And if you are a little bit good at what you do, and people like what you do, then I think that's where the danger is for us as Christians. There's a tension. God is constantly using sinners to minister to other sinners. So just crack on with it. It is interesting just trying to work out what it is you want, and what it is you're trying to do, and who it is you're trying to impress.
For me it's finding my rhythm. I just go "I've done a lot of stuff, now I'm just going to write about stuff that interests me, and I force myself to get on and blog about the little things that have caught my mind." It's about making yourself do it, and people will either like it or they won't. If you're purely blogging for the people around you, then I don't think you're doing it for the right reason. So blogging is partly my way of having an effect, but also my way of processing as well. I do a lot of thinking that way.
Your blog is very impressive as well – and the danger is you look around at what other people are doing, we look at each other and you go "why am I not doing what they're doing" so you look at Tim Challies, whose a guy like me who just said "I'm going to do a bit every day" and when you look at what he's doing, it's not extraordinary. It's consistently good. The wrong response to that is to go "well what am I doing wrong" – the right response is to be thankful.
Any last words…
This has been exciting. It's been really encouraging. One of the sweetest things to come out of all of this has been the tweets, the mentions online and the emails from people. I had some lovely emails from people who really appreciated it, and the consistent thing I got was people saying "Thank you for just talking about Jesus and not being ashamed of it." So one thing I'd say is, if you see people doing that, in public. Do encourage them. Do thank them for it. Because you do feel like you're leaning out 90 degrees off Niagara Falls sometimes, and you do wonder who is holding the rope behind you, and just to turn around to see a bunch of people holding the rope is tremendously encouraging, and encourages you to lean out a bit further next time. So do encourage people. That sounds like a shameless attempt to have people write to me…
Don't worry. I'll frame it the right way…
Thanks.