Archives For Communication
Brian Solis is one of those internet business gurus who clogs the newsfeeds of other internet business gurus. Here he is speaking at TED for ten minutes about the premise of a book he wrote recently.
Here are some notable quotes that have an impact on how I think we should be thinking about communicating about Jesus, and equipping, and getting members of our church family communicating about Jesus…
"There's a "Me" in social media for a reason. And that is because you and I make the world revolved around us. That's cool. But we just have to live with that. Because we live in an era, and economy, where people are brands, and brands are trying to become people"
"In this economy as a brand, as a business, it's my job to talk to you and through you at the same time. Because this economy is driven by shared experiences, what you see and what you experience right now is what you're sharing right now. And people can be touched without actually having to be there."
"Social capital is defined as trust and reciprocity… try to earn trust and reciprocity as a business… and that is what the future of capitalism is about… what people say here [Twitter] contributes to your brand.
So. I've written before about how wonderfully my friend Mike O'Connor in Rockhampton models using the local media to share the gospel with his community. Here is another example, and another.
I posted a picture of a story the Rockhampton Daily Bulletin ran on the back of an interview with Mike following the ACL's unfortunate comments the other day. The headline was slightly misleading, and the story truncated one of his statements – but it was a great example of speaking lovingly about Jesus.
Mike decided to clear up some of the misconceptions with a follow up letter to the editor, written with grace, and dripping with gospel. I told him it was too long, so we put together a shorter version – but the paper went with the extended edition. Though with a similarly unfortunate heading (that Mike didn't write)…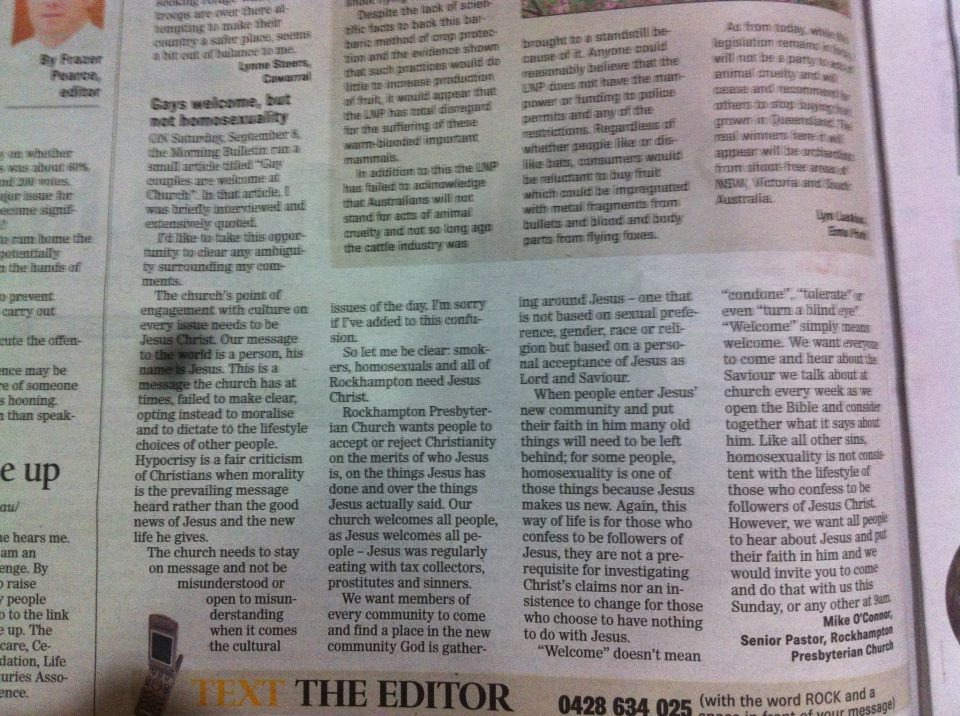 Here's the text:
Gays welcome, but not homosexuality
On Saturday September 8th, the Morning Bulletin ran a small article titled "Gay couples are welcome at Church". In that article, I was briefly interviewed and extensively quoted. 

I'd like to take this opportunity to clear any ambiguity surrounding my comments. 

The church's point of engagement with culture on every issue needs to be Jesus Christ. Our message to the world is a person, his name is Jesus. This is a message the church has at times, failed to make clear, opting instead to moralize and to dictate to the lifestyle choices of other people. Hypocrisy is a fair criticism of Christians when morality is the prevailing message heard rather than the good news of Jesus and the new life he gives.

The church needs to stay on message and not be misunderstood or open to misunderstanding when it comes the cultural issues of the day. I'm sorry if I've added to this confusion.

So let me be clear: smokers, homosexuals and all of Rockhampton need Jesus Christ. 

Rockhampton Presbyterian Church wants people to accept or reject Christianity on the merits of who Jesus is, on the things Jesus has done and over the things Jesus actually said. Our church welcomes all people, as Jesus welcomes all people – Jesus was regularly eating with tax collectors, prostitutes and sinners. 

We want members of every community to come and find a place in the new community God is gathering around Jesus – one that is not based on sexual preference, gender, race or religion but based on a personal acceptance of Jesus as Lord and Saviour.

When people enter Jesus' new community and put their faith in him many old things will need to be left behind; for some people, homosexuality is one of those things because Jesus makes us new. Again, this way of life is for those who confess to be followers of Jesus, they are not a prerequisite for investigating Christ's claims nor an insistence to change for those who choose to have nothing to do with Jesus.

"Welcome" doesn't mean 'condone', 'tolerate' or even 'turn a blind eye'. 'Welcome' simply means that: welcome. We want everyone to come and hear about the Saviour we talk about at church every week as we open the Bible and consider together what it says about him.

Like all other sins, homosexuality is not consistent with the lifestyle of those who confess to be followers of Jesus Christ. However, we want all people to hear about Jesus and put their faith in him and we would invite you to come and do that with us this Sunday, or any other at 9am.

Mike O'Connor

Senior Pastor
Rockhampton Presbyterian Church
So, for anybody who says it's not possible to be clear, winsome, speak against homosexuality (or at least call it sinful), and for Jesus – here's a bit of published evidence to the contrary.
Tying up some loose ends around here before I return to serving up YouTube videos which is just about the limit of what my mental capacity can handle for the next few weeks, I just wanted to lay out some of my thinking about what the relationship between my last career (which I still do a bit of) in Public Relations, and my future vocation – gospel ministry.
I'm increasingly aware not just that there's a gap in the market for thinking about how churches engage with the public via the media (a subset of PR), and not a huge number of resources out there for thinking about what Christianity looks like in the Media. CPX does a great job, the Sydney Anglicans, and especially Peter Jensen, have some resources, which we saw come into play on Q&A this week, and Communicate Jesus is a great first step for thinking about how to communicate timeless truths in a timely way.
I'm also aware that for many people "PR" is synonymous with "Spin" and deliberate deception, or providing inane sound bites so that you'll get picked up in the news cycle. These are essentially antithetical to Christian ethics, and the message of the gospel. Though clarity and being succinct is important.
I also mentioned in my post about what college is teaching me that I'm increasingly reflecting on how proclaiming the gospel benefits from understanding culture. I want to flesh that out a little in this post – particularly as it relates to how I think about public relations and whatever skills I might have there.
So – in a nutshell – I think Paul, in his rejection of Corinthian sophistry (see B.W.W Winter, Paul and Philo amongst the Sophists) turned to Cicero, who in De Oratore had rejected flashy, substanceless, but impressive oratory that majored in pathos, for an approach to oratory that focused as much on ethos (the character of the speaker), and logos (the substance), as pathos (the ability to stir an emotional response). I think Paul was a highly trained, though non-professional rhetorician who became a Pharisee because he couldn't professionally advance as a Jewish orator, and this explains the rhetorical power of his letters, and his impressive presentations to councils, kings, and court rooms in Acts.
I think his appearance in the marketplace, and then the Areopagus, in Athens is, by analogy, the first century equivalent of blogging, media engagement, speaking to parliament, and going on a TV talk show.
I think he benefited from recognising a truth in Cicero, also present in the work of the prophets etc – where value was placed on character and developed this to emphasise a Christ like suffering character (and I think that explains his words in 2 Cor 10-13 – you can read more in my essay here). I'd argue that in some sense he has "plundered the gold of the Egyptians." Which is a concept that Augustine pushes pretty hard when he tells Christians to get a good "classical" education in De Doctrina Christiana (On Christian Teaching – again, you can read more of my essay here).
"…all branches of heathen learning have not only false and superstitious fancies and heavy burdens of unnecessary toil, which every one of us, when going out under the leadership of Christ from the fellowship of the heathen, ought to abhor and avoid; but they contain also liberal instruction which is better adapted to the use of the truth, and some most excellent precepts of morality; and some truths in regard even to the worship of the One God are found among them. Now these are, so to speak, their gold and silver, which they did not create themselves, but dug out of the mines of God's providence which are everywhere scattered abroad, and are perversely and unlawfully prostituting to the worship of devils. These, therefore, the Christian, when he separates himself in spirit from the miserable fellowship of these men, ought to take away from them, and to devote to their proper use in preaching the gospel. Their garments, also —that is, human institutions such as are adapted to that intercourse with men which is indispensable in this life — we must take and turn to a Christian use."
Luther followed suit a little bit, he was particularly keen to communicate in forms that worked, and part of the nature of their "working" was their popularity. He even liked fonts. He sent a letter to one of his rich friends that said:
"have some boy collect all the German pictures, rimes,songs, books, lays of the Meistersinger, which have this year been painted, composed,made, and printed by your German poets, publishers, and printers. I have a reason forwanting them. We can make Latin books for ourselves, but we wish to learn how tomake German ones, as we have hitherto made none that please anybody."
He didn't just use pop culture, he also played the media relations game, or its equivalent.
Here are some stats about his use of the printing press during the reformation (read more in my essay here).
It is estimated in the first three years, 300,000 of Luther's 30 popular pamphlets were circulating,and by the tenth year, two million copies of Luther's 400 plus pamphlets were circulating, not just in Germany, but throughout Europe. The Reformation led to a sixfold increase in output from German printers.
These were published in the vernacular, and aimed at the public, not the elite.
The case for making PR, which is a modern form of "communication" and an academic discipline an example of this "gold" means establishing that it is actually a redeemable thing… and not just saying whatever it takes to get people to believe whatever you want.
First off, it's worth making the distinction between "media relations" and "public relations" – media relations is a subset, an important subset, of PR, and its really where my expertise lies. But media relations will be a bit piecemeal, and disconnected from an organisation's priorities – or in this case the mission of the church – if it isn't part of a bigger communications plan that considers what your message is, and what its implications are for the public, and how you're going to communicate your message so that the public understands it.
I was a Christian before I started working – so my approach to PR, and my PR ethics (and before that, my approach to journalistic ethics which I thought about while at Uni) were shaped by my faith. I think this actually made me better at my job, because I think the murky side of PR which is caricatured as "spin" and prides itself on not answering questions with anything but a repeated "key message" or not engaging with criticism is a communications cul de sac, which will hopefully eventually die out when people realise what sort of politics and public discourse it produces, and that it erodes the very trust that PR should be seeking to build. I think that's starting to happen. I was more interested in full, and pre-emptive, disclosure of stuff that went wrong, never lying by commission, or omission, showing how key messages related to issues, questions, and real life for real people, and maintaining a relationship with journalists and the public by generally being trustworthy. This didn't always happen, and it may be that I'm incredibly naive.
Conforming to the type of PR that involves essentially selling one's soul and becoming a robotic sound bite speaker driven by self interest, or the desire to win, or conforming our message to whatever medium we're speaking to – so, for example, going on Q&A to score cheap points by insulting the views of the people next to you, rather than listening to what's being said and offering a gentle opinion – would be a case of turning the gold we plunder into a golden calf (see this Matthias Media piece on being mindful of how we use "gold").
So when I talk about PR I'm essentially assuming this worldview, and this definition. Which isn't always what other people are operating with.
But what are the implications for this? I'd say we need to think about how we do the media relations part (and you can read my thinking about how to do that here), but that needs to be a subset of thinking about communication, of our key message (the gospel, how king Jesus changes lives through his death and resurrection and the launch of his not yet fully realised Kingdom), how it relates to our audience (everybody), and the manner in which we'll communicate this (I'd suggest Paul's "all things to all men" 1 Cor 9:19-23). I think we need to think about what theoretical frameworks or disciplines we can use – like Augustine – and what mediums we can adapt – like Luther.
The media engagement stuff is useful, in a sense, without this sort of thought and planning. If you have an event you want to promote, or something. Which is why I write how to posts. But it gets supercharged when you plug it into some strategic thinking about how you're going to communicate to the same person in an attempt to build, or nurture, a relationship with them. A relationship doesn't have to mean you know their name, or have their phone number, that would be nice – but a "brand" type relationship means they don't just know who you are, but have some idea of what you stand for, and how that is relevant to them. This is what "public relations" is about.
Public relations ultimately isn't so much about knowing how to say what you want to say. It's about knowing why you're saying something, and who you're saying it to. This is where having some sort of Public Relations or Communications Strategy for your brand – in this case, your church, which is essentially a subset of a much bigger franchise – is essential. We're never going to be able to sit down and get a universal "Communication Strategy" for the church beyond the Great Commission – so I'd argue each church has a responsibility to think about how it communicates the gospel as part of its call to participate in the Mission of God.
A Public Relations strategy starts with identifying what it is that you, as an entity, want to communicate, and why. I'd say that's relatively easy for us in the first instance. It's the gospel. But then it should probably include what you want to communicate as your church's distinctives – what's your point of difference from other churches, on the basis of your context, or theological convictions. What do you "do" that you want people to know about before they come into your doors? What do you do that you want people to know about when they come through your doors (at Creek Road we have some really helpful "Plumb Lines" that describe our approach to church).
Then it identifies "who" you want to relate to – and should include internal stakeholders – our members, leadership teams, elders, staff, as well as our external stakeholders – the people in our community, non-Christian friends and family members with some association with the church, the people of our state and nation… and what sort of channels we'd use to talk to them in the most authentic and relational way possible.
Then it moves to "how" best to relate to these groups – you're probably best off relating to as many of the internal stakeholders face to face, or as "authentically" as possible. Your communication should be a reflection of your relationship. So it's ok to communicate to people you don't know in the pages of your local paper, but it's probably not a good idea if your elders are finding out about changes at church when they sit down with the paper for a cuppa. This means, for external people, knowing the demographics of your area, and knowing what sort of channels those demographics use to learn stuff – so to caricature a couple of generations – talk back radio for the oldies, Facebook for anyone under 25…
Once you've got the strategy sorted out – you can produce a communications plan – so that what you're doing integrates with what you've decided you should be doing. Steve Kryger at Communicate Jesus posted up one week of his Communications Plan for Church By The Bridge. It's a really useful example of what applying some thought looks like, and once you get to that stage having some idea how to do things like putting together an email newsletter, or writing a media release, or doing stuff on social media, is really useful. You've also got to figure out how often you want to be communicating with people – both those who are on your team so that they stay on the same page – and those outside so that they develop a picture of who you are and what you stand for.
This is what I think when I use the words "Public Relations" – this sort of strategy, planning, and doing – not just the doing. I don't mean the shadowy stuff where you're sort of pulling the strings to create opportunities to be heard, or coaching your spokespeople to stay on message and not look silly doing it, or cleaning up the mess in a crisis – though these are all aspects of what PR is.
Public Relations – like this – is useful for getting the members of your church family working together and knowing what you're on about when they're out being ambassadors for Christ in your community, it's useful for managing changes – large or small – in your congregation and the way you do stuff, and it's useful for presenting the gospel in a way that people have information communicated to them in your community. That's why I think this is gold worth plundering.
I guess part of the reason I've written this post is because I realise that I've focused on the "how" more than the "why"… and that's potentially unhelpful.
Here are some of the things I've written about why we should do PR, and the substance of our "message" from my Public Relations resources page
Here are some "how to" posts 
Wow. Just wow. Look, Peter Jensen said tonight on Q&A that he supports the ACL – I'm going to write to him and ask him to support them with some PR advice. Just wow.
While every word he spoke was seized on and ridiculed by Catherine Deveny, Peter Jensen winsomely, faithfully, and articulately, presented the gospel and called for a more respectful public discourse about serious issues.
Let me just start by articulating, lest there be confusion, why I think Peter Jensen did a good job while saying substantially the same thing as the ACL.
He talked clearly and winsomely about Jesus and how the gospel impacts our social position. Not on all issues – Jesus was almost absent on his treatment of Asylum seekers – though his love for others wasn't – and he said that it wasn't "unChristian" to seek asylum"… he also talked about things in a measured way and talked about wanting to improve the tone of conversation around these issues – I don't think the ACL models this well, and they certainly talk about Jesus much less than Jensen did, and does. A friend suggested that my favourable response to Jensen, when he not only endorsed the ACL, but took the same position as them, was possibly a result of bias, or that it would be perceived to be the case. But let's walk through last night's program and see how the Archbishop did (this friend didn't actually watch until the end, and I thought it got better as it went along).
On Asylum Seekers
I think this was where what I am guessing was a strategy that Archbishop Jensen employed to demonstrate that careful engagement isn't the order of the day on Q&A – he has been, perhaps rightly, criticised for being a little waffly – but I think he may have been inviting people to interrupt. He's typically incredibly well briefed and sensitive to different mediums. There's also this:
Peter Jensen requested to be seated next to me on #qanda last night. Any ideas why?

— Catherine Deveny(@CatherineDeveny) September 11, 2012
Which is interesting. So I think he's subverting the medium to make a point about public discourse.
ROSS GRENFELL: Archbishop Jensen, do you agree with Tony Abbott's comment that good Christians would not use the back door in relation to asylum seekers using boats? After all, weren't Mary, Joseph and Jesus undocumented asylum seekers when they fled to Egypt to escape Herod.

TONY JONES: Peter Jensen?

PETER JENSEN: No, I don't agree with it and I do agree they were refugees and Christians ought to be extraordinarily sensitive to refugees and their needs. I agree with all those things. Can I go on?

TONY JONES: Yes, of course.

PETER JENSEN: I thought you might allow me. I do think, in terms of our political discourse, I'm sorry we can't let the Government change its mind and get away with it because, after all, when new facts come in we've got to have people to change their minds.
In the light of my recent posts on asylum seekers I will say, that apart from tone, in the black and white form of the transcript, Catherine Deveny made some solid points, given extra credibility off the back of her recent Go Back To Where You Came From appearances.
Catherine Deveny: …This is very easy. This is not about stopping the boats, this is about starting the planes. This is about processing in Indonesia and in Malaysia. There is no deterrent that you can set up in Nauru or Manus Island or Christmas Island that is going to stop those people getting on boats. They say to me – every single one of them has said to me, "I would be happy to be swallowed up by the ocean than go back to where we've came from." You have no idea what these people are facing. It is extraordinary that we're not doing our basic obligations as signatories to the UN Refugee Convention. We shouldn't just be doing what the UN suggests we should be doing, we should be doing so much more. We have so much to give. This is a country that has been built on boat people, as they call them. I don't see boat people. I just see people.
There was a nice moment where Peter Jensen promised to hold the government to account on its treatment of asylum seekers according to a recent report - which he had read, and could engage with.
CHRIS EVANS: Well, as I say, you can't put a length of time on it. We don't honestly know but in implementing the whole package one would hope that the deterrent value would start to see a change in behaviour. It's one of the reasons why I think the…

TONY JONES: All right. So, no, just having elicited that answer I just want to hear from Peter Jensen. Are you satisfied with that, no time limits?

PETER JENSEN: Yes, well, I've had a look at the report. The spirit of the report is saying something a bit different, I think, Chris, and I trust that as you implement it you will be there's nothing like hopelessness.

CHRIS EVANS: No.

PETER JENSEN: And to have arrived at Nauru and to have Australian protection in that sense, I know it's an independent country, but to have no timeframe will breed the hopelessness that leads to self-destruction and to depression. So I would be looking for something better than that if possible, I have to say, and I think that's the spirit of the Aristotle-Houston report.
I actually thought Chris Evans was worse to listen to than Catherine Deveny.
The Archbishop's gospel contribution began in earnest on the question of the Sydney Anglican's alternate marriage vows.
ELIZABETH ANNE SMITH: As a young woman and feminist living in the 21st century, where everyone is entitled to equal rights, I would like to know what valid reason the Church has to request a wife submit to her husband in marriage.

TONY JONES: Peter Jensen, let's start with you since you started this debate.

PETER JENSEN: I thought it might be me. Yes. Thank you very much. Thank you for the question. Really I mean that, because at long last we're beginning to have a conversation which sounds as though it's going to be a rational and serious conversation about the nature of marriage and I have to say, from my point of view and perhaps some others as well, the whole question of marriage and family is one in our community that needs careful thought. Now, when I say the Church, by the way, we have put forward a possible service for use. It's not mandatory. It's an alternative. Let me say that. What we're seeing, I think, is a clash of world views between what I'd call individualism and what you may call family or, in a sense, community. It's a clash of world views which is going on all around us and it has drastic consequences one way or another. If you agree with me that a man is a man and a woman is a woman and although they are we are absolutely equal, equal in the sight of God, both made in the image of God, both with the same destiny, both with the same value, all those things are inherent in the Christian gospel and they must remain in the Christian gospel, agree with that and yet, on the other hand, I would say there are differences between men and women which both sides bring to a marriage and we have not been good recently at working out what it is that men bring to marriage and women bring to marriage.
A word search even for the word "gospel" doesn't produce a whole lot of substance on the ACL's website.
This was perhaps my favourite moment of the night, Tony Jones treats his guests with thinly veiled contempt a little too often…
TONY JONES: Okay. Let's just get to the heart of the matter and to the question. Now, you've said biblical teaching is that the bride can make a voluntary promise to submit to her husband. So what exactly does the word "submit" mean to you.

PETER JENSEN: Well, it is a biblical word.

TONY JONES: Well, it's an English word, actually. It would have been in Hebrew in the Bible.

PETER JENSEN: I don't know quite how to tell you this, but it was Greek actually, if that's all right but don't worry
Then there was this:
PETER JENSEN: If submission is in view, it is because a husband has made certain key promises. This is more about men than it is about women and it is about a concern that men are not being men in the community. What men bring to marriage, what men bring to anything, is that sort of physical strength, if you like, a certain degree of arrogance, a certain degree of determination to be bossy, et cetera, et cetera, et cetera. What men are being asked – they were asked something before the women say anything. What men are being asked is will you live towards your wife like Jesus Christ who gave his life for his bride. Will you do that? And if the man says yes to that and only then, otherwise I would not recommend it, if a man says yes to that and so commits himself, then I believe it's right for a woman, if she chooses to, to say I submit to that in the sense that I recognise it, I respect it, and I'm going to give you space in our marriage – I'm going to give you space in our marriage to be a man.
As Tony Jones turned to Catherine Deveny in response to this Peter Jensen showed he had been briefed, with a reference to a tweet she put out a week ago.
I'm never married. I oppose marriage but support #marriageequality because marriage is a mistake everyone has the right to make.

— Catherine Deveny(@CatherineDeveny) September 5, 2012
PETER JENSEN: Now, you believe in marriage.

CATHERINE DEVENY: No, I don't.

PETER JENSEN: That's an important first point.

CATHERINE DEVENY: I don't believe in marriage.

PETER JENSEN: You don't believe in marriage.

CATHERINE DEVENY: I've never been married but I'm a very big supporter of same-sex marriage because I believe that marriage is a mistake that everyone has the right to make. I have never been married but I would like to congratulate you on your decision to proudly fly the misogynist and medieval colours of your religion and I do support your right to discriminate within your religion. And what I think is great is that you can choose to go to Las Vegas and be married by an Elvis or now you can choose to go to the Anglican Church and be married in a museum by a dinosaur….

So I think it's interesting that you guys are going for a niche market there. I mean you guys could have gone for the Gloria Jeans, the corporate rock, the Hillsong, the 'Be awesome for Jesus' but you're going, 'No. No. Men are in charge because of the mumbo jumbo.' So congratulations.

TONY JONES: I think you ought to be able to respond to that but briefly I just want to hear the…

PETER JENSEN: Where would you start to respond to that? I'm looking for a respectful and serious discussion of very important issues.

CATHERINE DEVENY: That is respectful.

PETER JENSEN: And we get dinosaurs and this sort of stuff. Interestingly, in the churches for years now we have not been using this language and we've gone down to 30% of the market.

CATHERINE DEVENY: Mm, the market.

PETER JENSEN: I'm saying, no, I think there's a clash of – I think it was your word. I think it's a clash of cultures here, very important. I may be wrong about all this. I'm only human. I think it's important.
That my friends is epistemic humility. It's disarming.
BRONWYN FRASER: Hi. I work with Christian cultures – women in Christian cultures overseas who do have this biblical wife submission approach to marriage and they also report some of the highest levels of domestic violence and sexually-based violence. Up to 60% of the women have experienced this. Could it be that this sort of inequality in marriage can lead to domestic and sexually-based violence and, as a Christian, how does this actually represent what Jesus stood for?

TONY JONES: Peter Jensen?

PETER JENSEN: Yep. I believe this, again, gets to the heart of issues that are very important and can I say I utterly abominate the whole idea of domestic violence. I think it's a wicked thing and any person – particularly any man who lays his hand on his wife is, to my mind, committing a grave sin. So that is what I believe. Now, is my view contributing to that end? I trust not because, properly understood, my view is saying that no man could ever do that, that it's really he is to behave towards his wife as Jesus Christ behaved towards the Church.
He was again humble and open to discussion on gay marriage.
"PETER JENSEN: Yeah. Yeah. And again there's an argument for this and it's one that we ought to conduct in the right spirit, I believe, and with give and take and listening to the whole matter. I do…

TONY JONES: So you have an open mind about gay marriage?

PETER JENSEN: Well, I have the same open mind most people have about most things. Namely, with a good argument you may change your mind but for the moment you keep going down one track."
Then it got really interesting, for me, anyway, given the last week… I take some solace from the bolded bits…
PETER KEEGAN: The Australian Christian Lobby has again made the headlines for offensive remarks made by its director, Jim Wallace. As a Christian, I continually find that the ACL does not speak for me and does not represent the kind of faith that I see reflected in the teaching and ministry of Jesus. Archbishop, will you publically say that contributions like those we heard from the ACL pose a greater risk to the health of our public discourse and the integrity of our faith than the presence of lifestyles or beliefs that may differ from our own?

PETER JENSEN: Again, thanks for the question. No, I won't say that. I am generally supportive of ACL, I have to say. I don't support everything that's said by its leaders.

TONY JONES: What about this very specific statement where Jim Wallace suggests that homosexuality poses the same kind of health risk to the community as smoking does?

PETER JENSEN: It needs to be observed that he has been somewhat quoted out of context in some reports. I'm not sure about that one but in some reports he's been somewhat quoted out of context. But what he has done for us, rightly or wrongly, what he has done is given us an opportunity to talk about something significant, namely the question of health risks. Now, I think it is true to say – I think it is true to say – it's very hard to get all the facts here because we don't want to talk about it and in this country censorship is alive and well, believe me…
In response to a gay teenager, brought up in a Christian home who explicitly cited the rejection from his Christian community as the reason for his suicide attempt, the Archbishop had this to say… I loved the last bit, because it's what I've been arguing our response should be.
ALISTAIR CORNELL: My question is for Peter Jensen. I was born and bred Anglican but at the age of 15 I tried to take my own life. What advice would he give to a 15 year old suffering almost to the point of death from the rejection of his community about being gay?

PETER JENSEN: Thank you and thank you for the courage of coming on and telling us that story. You see, one of the difficulties is to get that story, to get it to someone like me and to give me the chance to assess it for what it is…

…

PETER JENSEN: Well a 15 year old sorry, I need to be careful here. We don't want to talk about this particular young man with his courage. But clearly a teenager is going through a period in their lives, exciting as it is, in which they're seeking to find themselves. A person who feels in themselves same-sex attraction and I might add, a lot of such folk have talked to me over the years, is seeking, I think, to find themselves, to find an identity and in our sort of society, with its emphasis on sexual activity as an identity finding activity, there is therefore the opportunity to think that that is the way to do things and yet here you have this frowned upon same-sex feeling.

TONY JONES: Okay, I've just to interrupt because we do need to hear other panellists on this subject but put simply are you saying or repeating, in a way, or making, you know, a sort of more complex argument about what Jim Wallace said, which is homosexuality is bad for your health? Are you seriously trying to make that argument tonight?

PETER JENSEN: I would like to know see, people tell me that it is and they produce literature on the subject. I can't get a discussion going on this because it's a forbidden subject. Now, I'm open on this. I hope it's not true, Tony. I don't want to see my friends dying and I've seen my friends dying. I don't want to see that. I don't want to hear stories like that. But, dear friends, sorry, when do we get to the point where we can talk about this without shouting at each other and hurting each other?
This bit was helpful too…
TONY JONES: Well, can I just ask, presumably you've looked at some of the science around the health statistics, have you actually looked at the science about the gay gene which suggests that it is intrinsic in a person their sexuality and if you've looked at that, I would ask you this: if God actually created homosexuals, would you not then have to turn around and change your mind on all of these issues?

PETER JENSEN: Thank you, Tony. God did create homosexuals. I don't need the gene to tell me that. God created homosexuals. God created every person and loves every person, without doubt.

TONY JONES: No, I mean he created if there is a gay gene, would you say the creator was responsible for creating that?

PETER JENSEN: Well, I would say that that that may be the case but we're not talking about same-sex attraction, we're talking about the acting out of same-sex attraction. We're talking about well, I realise that we're living in a very, very different world from the one I'm talking about but I'm living in a world where a number of my friends have life long committed themselves to no sexual relations.
Then we were on the home stretch – atheism and proof of God's existence.
"CATHERINE DEVENY: For me, I mean, you can took about proof and there's no proof. I mean one of the things that I always think about is like if God exists why doesn't he show himself? But when you actually look at the Bible, which is – that's the only text that I'm – like, religious text that I'm really familiar with, it is basically social engineering embedded in fairytales and horror stories which is just chock full of homophobia, misogyny, discrimination and division and most people haven't even read it. It has been written by 44 – you know, 60 people, I think, 44 chapters, you know, three different languages over thousands of years, thousands of different interpretations and despite all of those different interpretations, the only thing they can all agree on is homophobia, misogyny, discrimination and division. So, I'm sorry, the way that I see it, it's just been a very, very handy way to keep people in their place, particularly women, homosexuals and people who don't believe what they believe."
Then there was this. Pure gold. Christ centred gospel in the face of the chatter of Catherine Deveny who couldn't resist scoring cheap points with angry soundbites. This is why I'm so very happy with last night. I know most people agree with Catherine Deveny's assessment that the church is out of touch on social issues – you only have to look at the comments on this post that went up when it was just my tweets… but that's not the point. Winsomely, and gently, responding to criticism and seeking a conversation where you can get to this point – having argued your position on social issues on the basis of Jesus and the gospel all the way through – that's why this man is an example for how to, as John Dickson says, do public Christianity.
Peter Jensen on Q&A – the best public Christianity I've seen. Pure grace & intellect under fire.

— John Dickson (@johnpauldickson) September 10, 2012
PETER JENSEN: Okay. Has God shown himself? Yes, I believe he has and I believe he's shown himself in Jesus Christ. I believe if you want to know examine his life, examine what he said, examine his miracles and that's where the big issue is. Come back to Jesus Christ and examine his life, examine what he said, examine what's around him. I have to say that Catherine's account of the Bible is as fanciful as a tooth fairy. It's got no bearing on the reality of the Bible.

CATHERINE DEVENY: You mustn't have read it.

PETER JENSEN: Yeah, I've read it a bit. And really the big look, I tell you what, the big story of the Bible is just as simple as anything. Jesus Christ came into the world to save us and he is God amongst us. What more could we ask? I tell you what, it's the most gracious I'm so sorry you've got your view of it.

CATHERINE DEVENY: You said, "What more could we ask?" Equality, that would be good.

PETER JENSEN: Well, we've got it because every man and woman…

CATHERINE DEVENY: I'm sorry, a white middle class man like you does have it. Try being disabled, try being an asylum seeker, try being gay, try being a woman, you'll find it's not there.

TONY JONES: Okay. All right, Catherine. No. No. No. No. Okay. All right. Sorry, I said we'd give him the last word. I didn't mean…

CATHERINE DEVENY: Yeah, I think he said plenty of words.

PETER JENSEN: Well, the last word is that in Jesus Christ we have that equality and in Jesus Christ was have that salvation and all I can say is the most wonder that the love of God for everyone, no matter who they are, no matter how they've lived or whatever, is the greatest reality in the world.
Gold.
Here are my tweets from during the show.
"call it queue jumping, call it what you will" – how bout we call it "seeking asylum" #qanda

— Nathan Campbell (@nm_campbell) September 10, 2012
Wow. Peter Jensen talked about civilised conversation. And then we turned to Catherine. #qanda

— Nathan Campbell (@nm_campbell) September 10, 2012
I love Peter Jensen's epistemic humility. "I might be wrong about this"…

— Nathan Campbell (@nm_campbell) September 10, 2012
Deveney speaks to Jensen mockingly. Jensen doesn't respond in kind. There's a worldview in operation.

— John Dickson (@johnpauldickson) September 10, 2012
I would, had I my preference, get rid of the others and just have Peter Jensen and Anna Krien. They seem interested in conversation #qanda

— Nathan Campbell (@nm_campbell) September 10, 2012
It's weird Catherine. I thought this was a question to Peter, and suddenly you're talking… #qanda

— Nathan Campbell (@nm_campbell) September 10, 2012
Ooo. This will be interesting. Archbishop Jensen on the ACL…

— Nathan Campbell (@nm_campbell) September 10, 2012
Gee Peter Jensen is winsome. #qanda

— Nathan Campbell (@nm_campbell) September 10, 2012
Chris Evans, let me google that for you here's a study from Oxford: ije.oxfordjournals.org/content/30/6/1… #qanda

— Nathan Campbell (@nm_campbell) September 10, 2012
Why are you asking an Anglican about condom use? Seriously. There was this thing called the reformation #qanda

— Nathan Campbell (@nm_campbell) September 10, 2012
Christianity is about Jesus. Yes. #qanda

— Nathan Campbell (@nm_campbell) September 10, 2012
Whatever social capital Deveny banked on Go Back To Where You Came from was just spent on #qanda

— Nathan Campbell (@nm_campbell) September 10, 2012
I'm disappointed this is the summary from the SMH.
David Ould was in the audience last night and had this to say.
This is probably the most important post in my recent series of ACL related posts – it's the one objection that keeps cropping up when these posts start doing the rounds on Facebook – and I think it's reasonably important ground to cover.
It's probably the longest post I've ever written. It's over 5,000 words long, plus a picture containing more words. I'd split it, but I don't want to extend this series any further than it needs to be… in sum, to save you reading…
I start by clearing up some of the issues people have raised in response to my previous posts – in the comments here, and on Facebook.
Then I provide my rationale for making my criticisms public, alongside a framework I try to operate in (though I acknowledge that I fail in this area). My points are:
It's a gospel issue.
The damage is public.
To equip others.
Because disagreement, and the ability to disagree, in public, should not put "Christian unity" at risk.
I want to make a few important points to begin with…
1. I am sure that the people involved in the ACL are Christians who love Jesus. From what I know of their ministries outside of the ACL – particularly Jim Wallace and Wendy Francis – they are concerned that people know Jesus. My problem is that they seem unwilling to see this translate into the positions they adopt in public discourse under the auspices of the ACL.
2. It is only really the public presence of the ACL, especially in the media, that bothers me – I have no idea what they do behind closed doors as they meet with politicians – which is doubtless where they see their main contribution in the political process. Like it, or loathe it, much lobbying now takes place via the media – and it is in the media where they are presented as the voice of Australian Christians – whether the ACL thinks of themselves that way or not. Their website makes this claim:
"The ACL does not seek to be the peak political voice for the church, but to be a professional witness to Christ in the Australian Parliaments which allows for the voice of the church and individual Christians to be more respectfully received in the public square."
If parliament is where they want to do their work then they should say no to media appearances. Or be careful when they take on such media appearances not to speak beyond their remit, or be represented as the voice of Christianity in Australia. They are treading a fine line when it comes to their stated aim regarding the impact they have on the voice of the church and individual Christians in the public square if they are squeezing those Christians out of the public square.
3. I'm not suggesting the ACL should only talk about Jesus. That's clearly not their function. I do have issues with their function – but I recognise their right to exist in a democracy. Rather, I'm suggesting they should start by, and possibly end by, talking about Jesus as the foundation of any moral position, and a relationship with Jesus (not legislation) being the true answer to any brokenness they identify in society. Even if this is edited out by journalists who are only interested in controversy (and I don't think most journalists are like that, in my experience) – at least we could point to their work and say "context is important" – at the moment there is no real context for the moral proclamations the ACL makes except "this is what the law in Australia has always been like thanks to our Christian heritage"… this means, conversely, that I will not as one person suggested shut up about the ACL and just talk about Jesus – tackling issues from a gospel framework is important for our witness to the world. I will always talk about Jesus as I point out the shortcomings of how Christianity is represented in the public square. I can't see any of my posts about the ACL where I haven't done that.
4. I'm also not suggesting that evangelism is the ACL's function. Nor that the ACL is "the Church." It is not the ACL's job to evangelise, but it is the ACL's job to think about how what they say helps or hinders this job for others. I'd also say that when the ACL is in the public sphere representing Christians – they also need to be representing Jesus, and presenting their activities in the context of the gospel message. I am suggesting that when the exercise of their function is damaging to evangelism and the work of the church they're not fulfilling their charter as a parachurch organisation – and when they "go rogue" like this it is the church's job to call them out for it. If the damage is done in public – to the church's witness to Jesus – then the response needs to be public to undo such damage.
5. Christian unity is in Christ – not in a conservative political position or our "Christian heritage" – one of the constant criticisms when my posts hit the interwebs is that Christian disunity is unattractive to non-Christians. And there is a fundamental truth there that I agree wholeheartedly with. It would be much better for our witness if we all just got along – but if there's one thing church history shows us – it's that it's unlikely we're all going to get along, and it's especially unlikely when people stop being united on the main thing – Jesus, and the next main thing – loving one another as a testimony to our relationship with Jesus (John 13:35). This is part of the reason Paul tells Christians not to sue each other in Corinth (1 Corinthians 6). I'm going to argue below that this is not the only passage that has any bearing on public disagreements between Christians, because it's not really saying "don't argue with each other in public" – though it provides an ethical paradigm to work from, which does value unity.
6. I do believe that Matthew 18:15-17 is relevant here, though not as relevant as some suggest. I think raising a disagreement with the party involved is a valuable exercise – though I don't think these verses are directly applicable (I flesh this out more below). I have discussed my problem with the ACL with them directly, and at some length, without fruit. I will always give them an opportunity to respond to what I write, and notify them when I have written about them. I'm not sure if I think the ACL is "sinning by omission" but I think they're doing public relations, and public Christianity, in an unhelpful way.
I think that 1 Peter 3:15 is probably as important – I suspect the gentleness and respect that we're to show to outsiders should be typical of our dialogue with each other. I need to be better at speaking in love when directing my writing at Christians, there is a remarkable difference in tone between my posts to Christians, and those aimed at non-Christians. Though perhaps this is the difference between "rebuke" and evangelism.  2 Timothy 2 is also particularly pertinent (but note that it doesn't say "don't disagree" or anything about the context of the disagreement (be it public or private)…
"24 And the Lord's servant must not be quarrelsome but must be kind to everyone, able to teach, not resentful. 25 Opponents must be gently instructed, in the hope that God will grant them repentance leading them to a knowledge of the truth, 26 and that they will come to their senses and escape from the trap of the devil, who has taken them captive to do his will."
I will say that I do not think this is a foolish or stupid argument, but a wildly important one.
"23 Don't have anything to do with foolish and stupid arguments, because you know they produce quarrels."
Ephesians 4 is also relevant… but again, maintaining unity doesn't mean avoiding criticism. Criticism doesn't equal disunity except in the most modern adversarial approaches to life. I've bolded the bits I think are relevant to this post.
"As a prisoner for the Lord, then, I urge you to live a life worthy of the calling you have received. 2 Be completely humble and gentle; be patient, bearing with one another in love.3 Make every effort to keep the unity of the Spirit through the bond of peace. 4 There is one body and one Spirit, just as you were called to one hope when you were called; 5 one Lord,one faith, one baptism; 6 one God and Father of all, who is over all and through all and in all.

7 But to each one of us grace has been given as Christ apportioned it."

…

11 So Christ himself gave the apostles, the prophets, the evangelists, the pastors and teachers, 12 to equip his people for works of service, so that the body of Christ may be built up 13 until we all reach unity in the faith and in the knowledge of the Son of God and become mature, attaining to the whole measure of the fullness of Christ.

14 Then we will no longer be infants, tossed back and forth by the waves, and blown here and there by every wind of teaching and by the cunning and craftiness of people in their deceitful scheming. 15 Instead, speaking the truth in love, we will grow to become in every respect the mature body of him who is the head, that is, Christ. 16 From him the whole body, joined and held together by every supporting ligament, grows and builds itself up in love, as each part does its work.

…

20 That, however, is not the way of life you learned 21 when you heard about Christ and were taught in him in accordance with the truth that is in Jesus. 22 You were taught, with regard to your former way of life, to put off your old self, which is being corrupted by its deceitful desires; 23 to be made new in the attitude of your minds; 24 and to put on the new self, created to be like God in true righteousness and holiness.

25 Therefore each of you must put off falsehood and speak truthfully to your neighbor, for we are all members of one body.

…

29 Do not let any unwholesome talk come out of your mouths, but only what is helpful for building others up according to their needs, that it may benefit those who listen. 30 And do not grieve the Holy Spirit of God, with whom you were sealed for the day of redemption.
I find it hard to think of truthfully telling other Christians to talk more about the foundational truth of Jesus -who changes our approach to morality –  as something that doesn't build them up, or something that grieves the Spirit.
7. I am predominantly driven by concern for my non-Christian friends with what I write here. I hope my posts are helpful for other Christians in clarifying issues, and providing a framework for thinking about how public relations, evangelism, ethics and Christianity fit together. I am really only claiming to be anything like an expert on the public relations side of things, and I claim that reluctantly and mostly on the basis that people still pay me a fair amount of money in that field. I write these posts, and I share them as widely as possible, because I want any non-Christian friends who I hope to be a witness to through what I speak about, how I speak about it, and how I live, to know that I don't think the gospel looks or sounds like it does when the ACL gets on a platform and whether intentionally or otherwise, makes unhelpful comparisons between things to further a political agenda that I do not always share.
8. I think it is really important not to water down sin, but I think it's more important not to water down the gospel into "don't sin"… I'm pretty careful when I'm writing not to suggest that the moral issues at the heart of the ACL's campaigns aren't moral issues (though I do think there's a profoundly important difference between homosexual temptation and homosexual practice when it comes to sin). I'm not saying that Christians should never speak about morality – I'm just saying when we do it should always be in the context of what Jesus has done, and who Jesus is. And my preference would be to lead with that, then talk about sin, then talk about Jesus again – who Jesus is in relationship to the world makes what the Bible says about morality important, here's what the Bible says about this moral issue, the good news is that even though we all fail morally, Jesus died in our place, taking our punishment – and he offers a restored relationship with God freely.
It's not really that hard. You simply say: As Christians we follow Jesus, who we believe is Lord of all, and restores our relationship with the God who created everything. We believe God created the world in a way that makes this behaviour wrong, and while a case can be made from nature, we base our opinion on what he has revealed in his word, the Bible, which shaped our legislation in this country historically, and we think a better case needs to be made for moving away from this foundation. We believe that people are broken – including us – by a desire to not live this way, but God sent Jesus as a first step towards fixing us, and now works through his Spirit to help Christians live his way."
Obviously I've argued elsewhere that because the Spirit is only active in regenerating Christians the case for legislating Christian morals with the expectation that people will keep them is fairly weak, but others have different opinions regarding the uses and efficacy of God's law.
That's a rather long preamble, and it has touched on the points I'm going to make below. But this is important stuff to think through well – because it's important for how the gospel is presented and understood by the people we live, work, study, and play with…
Why I will criticise the ACL in Public: It's a Gospel issue
If I didn't think that failing to even mention Jesus when you're talking about the brokenness of humanity and the solutions that human rights provide was a problem, I wouldn't be critical. But if people think this is what the church thinks is the solution to a broken world – we have a problem. The solution to the problem of sin, at a social level, and for the individual, is for people to know Jesus as Lord.
The ACL is pushing a Christendom styled solution to a post-Christendom society. While 62% of Australians culturally identify as Christians, less than 20% are churchgoers – which I would suggest is a much better measure of Australia's commitment to Christianity. Of that 20% there's an incredible diversity of political affiliation and even a diversity of understanding of what the gospel is, who Jesus is, and what sin is. The "Christian constituency" is a myth.
Why I will criticise the ACL in Public: They are operating in public, the damage they do is public
I don't think of myself as an ACL watchdog. Or watchblog. I'm not waiting for them to stuff up so that I can criticise them. There are more than 5,000 posts on this blog, and probably 15 of them are about the ACL. I could count – but you can check it out yourself. I often blog about other Christians in the public sphere, and how to do PR stuff without mentioning the ACL. I want that to be clear. Some people only pay attention when I pick on the ACL… but they're not a particular "bee in my bonnet"…
I try very hard to abide by the principles of publicly criticising people that Tim Keller posted here, because I think they're really useful guidelines (and part 2 – which is part 3 of a bigger series).
1. Carson's Rule—You don't have to follow Matthew 18 before publishing polemics.
Don Carson wrote an Editorial on Abusing Matthew 18 in which he addresses the often-made argument that a Christian should not publicly write criticism of other Christians' theological views without going to them first, privately, citing Matthew 18. But Carson points out that this passage is talking about two people in the same church, or at least in the same ecclesiastical connection, since if the two parties disagree the whole matter can be taken to "the church," meaning the congregation and its leaders…

…In short, if someone is publicly presenting theological views that are opposed to sound doctrine, and you are not in the same ecclesiastical body with this person (that is, there is no body of elders over you both, as when, for example, both of you are ministers in the same denomination,) then you may indeed publicly oppose those without going privately to the author of them. Carson does add a qualifier, but that comes under the next rule.
2. Murray's Rule—You must take full responsibility for even unwitting misrepresentation of someone's views.
If someone can demonstrate that I have misrepresented them I will retract, edit, and apologise for such a misrepresentation.
"Don Carson says that if you have strong concerns about Mr A's views, and you are considering publishing a critique, it may be wise to go to Mr A first, but "not out of obedience to Matthew 18, which really does not pertain, but to determine just what the views of the [other person] really are."…

… This is very sobering. In our internet age we are very quick to dash off a response because we think Mr A promotes X. And when someone points out that Mr A didn't mean X because over here he said Y, we simply apologize, or maybe we don't even do that. John Murray's principle means that polemics must never be "dashed off." Great care should be taken to be sure you really know what Mr A believes and promotes before you publish."
I slightly diverge from Carson and Keller here – because I think being able to provide an immediate response to the perceived position of Mr A is vital for limiting some of the damage, and it's the nature of blogging or reporting to be producing content as quickly as possible or you miss the moment. It's PR 101. But I am pretty careful to read closely, as sympathetically as possible, and to update posts where necessary. Sometimes I'm not as sympathetic to the ACL as I should be – and I apologise. I'm always happy to rewrite sentences that impugn someone's character or motives if they're pointed out. I think my responsibility is to be mindful of the potential of misrepresenting others.
3. Alexander's Rule—Never attribute an opinion to your opponent that he himself does not own.
They were to "strive for truth, not victory" and they were to "know when to put a stop to controversy. It is a great evil in keeping it up" unnecessarily. He also urged them to not go public with criticism unless the error was very dangerous and important. Like Lloyd-Jones and (as we will see) John Calvin, Alexander taught that the ultimate purpose of controversy was to persuade and win over people in error. Therefore we must "avoid whatever is apt to create prejudice in opponents or auditors." In other words, we must not argue in such a way that it hardens opponents in their views.
These other principles are similar:
4. Gillespie's Rule A – Take your opponents' views in total, not selectively.
5. Gillespie's Rule B – Represent and engage your opponents' position in its very strongest form, not in a weak 'straw man' form.
I do try to avoid guess work regarding the motives of certain people, and wherever possible, my understanding of the ACL comes from their own website, publications, and media releases – rather than the mainstream media. However, I think, when it comes to the public sphere – that it's just as important to understand the public perception of the people you're engaging with. The ACL may not seem to be the "peak body" – but it is certainly the "go to" organisation on public policy debates so far as the media is concerned, and as long as their annual report says:
"… the regular mentions of ACL in the media demonstrate that ACL is continuing to mature as a player in the Australian political landscape. It has become the go to organisation for Christian commentary on so many of the major issues facing Australia…"
I'll be questioning whether their commentary is essentially "Christian"… which I think means it has to contain the gospel.
I'll be dealing with this last principle substantively in the last point.
6. Calvin's Rule – Seek to persuade, not antagonize, but watch your motives!
"In short, it is possible to seek to be winsome and persuasive out of a self-centeredness, rather than a God-centeredness. We may do it to be popular. On the other hand, it is just as possible to be bold and strongly polemical out of self-centeredness rather than God-centeredness. And therefore, looking very closely at our motives, we should be sure our polemics do not unnecessarily harden and antagonize our opponents. We should seek to win them, as Paul did Peter, not to be rid of them."
7. Everybody's Rule: Only God sees the heart—so remember the gospel and stick to criticizing the theology.
I've probably fallen foul of this one  a couple of times – in part because I think the very act of lobbying is counter to the gospel - in part because at times I have been critical of people alongside being critical of what they've said. But I will say again, as I have said above, and in previous posts – I do not doubt that the ACL is an organisation of my brothers and sisters in Christ. I agree with some of the criticism that has accused me of resorting to ad hominems on occasion – and I'll strive to do that less, and to apologise more. And I'll also be taking some principles from John Newton, cited in Keller's third post on the rules (and fourth post in the series).
"But no one has written more eloquently about this rule than John Newton, in his well-known"Letter on Controversy." Newton says that first, before you begin to write a single word against an opponent, "and during the whole time you are preparing your answer, you may commend him by earnest prayer to the Lord's teaching and blessing." This practice will stir up love for him and "such a disposition will have a good influence upon every page you write." Later in the letter Newton says, "Be upon your guard against admitting anything personal into the debate. If you think you have been ill treated, you will have an opportunity of showing that you are a disciple of Jesus, who 'when he was reviled, reviled not again; when he suffered, he threatened not.' "
Why I will criticise the ACL in Public: To equip others
Because I believe that Christianity, and especially Jesus, has an essential place at the table in public discussion, I want other people who want to participate in public discussion to have resources for thinking about how they might do that. I do have a certain level of expertise in this area that I haven't really seen demonstrated elsewhere in the evangelical scene in Australia – and I'm constantly reaching out to other Christian experts in this field, or even secular experts, for feedback on these posts. People have told me that previous posts have been helpful for them, people like Mike O'Connor, in Rockhampton, who had this piece published in the Rockhampton paper this week (you can read a little more about where the paper slightly exaggerated his position here (though I'm not sure if you need to be his friend to read it)):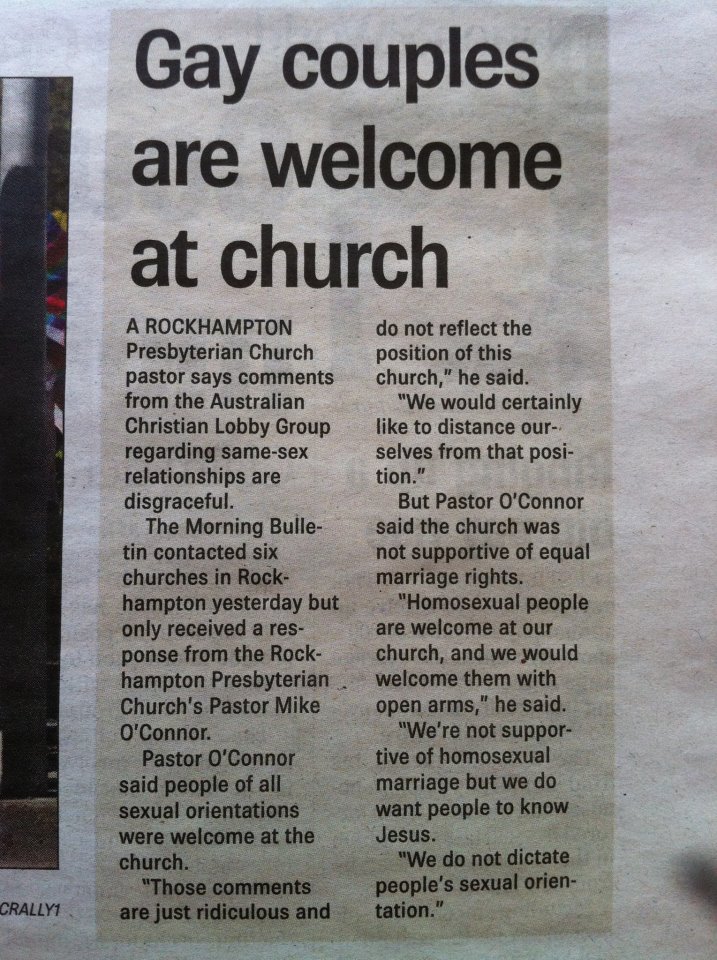 Why I will criticise the ACL in Public: Because we need to grow up and move past the bizarre idea that robust criticism necessarily indicates disunity
I'm fairly certain that apart from one unfortunate moment when I referred to the ACL as pharisees, I've never actually suggested they weren't Christians. I apologised for saying that, and even at that point I didn't think that the ACL weren't Christians, just that they were in danger of misrepresenting the gospel in a manner consistent with the Pharisees' understanding of how to relate to God.
Paul pretty publicly criticises people in his writings (Paul affirms Peter's apostolic authority (Gal 2:6-8) but also records, in writing, in the most public book of the last 2,000 years, that he "opposed Peter to his face" (Gal 3:1-19) because a moral position he has adopted is inconsistent with Christian unity in the gospel of Jesus, and he's doing their witness to the Gentiles a disservice. His words, I think are both pertinent and paradigmatic for this discussion:
15 "We who are Jews by birth and not sinful Gentiles 16 know that a person is not justified by the works of the law, but by faith in Jesus Christ. So we, too, have put our faith in Christ Jesus that we may be justified by faith in Christ and not by the works of the law, because by the works of the law no one will be justified.

17 "But if, in seeking to be justified in Christ, we Jews find ourselves also among the sinners,doesn't that mean that Christ promotes sin? Absolutely not! 18 If I rebuild what I destroyed, then I really would be a lawbreaker.

19 "For through the law I died to the law so that I might live for God. 20 I have been crucified with Christ and I no longer live, but Christ lives in me. The life I now live in the body, I live by faith in the Son of God, who loved me and gave himself for me. 21 I do not set aside the grace of God, for if righteousness could be gained through the law, Christ died for nothing!"
Paul also pretty publicly names Euodia and Syntyche, in the midst of trying to correct them, in a public document that was to be read in the context of the church gathering where there would be presumed to be a mix of Christians and non-Christians (cf 1 Corinthians 14:24-25)… urging them to be united in Christ – and he still regards them as co-workers in the gospel (Phil 4:2-3).
There's nothing to suggest that when the Bible suggests people aren't doing a great job at representing the gospel that they're not Christians (I'm thinking particularly of Acts 15:36-41 which records a sharp disagreement about John Mark's approach to ministry). It seems that calling one another out, in public isn't a threat to Christian unity. I'm not saying I wouldn't sit down and have a cuppa with people from the ACL, nor that I don't think they are Christians, simply that when they speak they are not speaking for me, because I don't think they're speaking the gospel.
This isn't a lawsuit between believers. I'm not taking the ACL to court to shut them up. I'm not launching any official action against them for falsely representing me as some Christians did with a political party calling itself Australian Christians, when they wrote to the Victorian Electoral Commission. And I don't think that's really the point Paul is making in 1 Corinthians. Corinth had a culture of vexatious litigation being used as a status booster where people would sue people for the boost in status a victory would bring – this was a problem because it denied the reality of who they were, in Jesus.
I'd feel convicted by this passage if my attacks on the ACL were in any way simply an attempt to boost traffic here by picking on an easy and unpopular target. But I feel sick to the stomach when the ACL makes it harder for people to know Jesus – and that's my motivation. I truly want the ACL to do a better job of talking about Jesus – if that wasn't the case I'd stop making that the substance of my criticism.
Further, upping your status at the expense of other believers – which Paul again deals with when he's talking about idol food in 1 Cor 8-11 – is bad because they distract people from the true basis of their unity – Christ. So from 1 Corinthians 8:
Now about food sacrificed to idols: We know that "We all possess knowledge." But knowledge puffs up while love builds up. 2 Those who think they know something do not yet know as they ought to know. 3 But whoever loves God is known by God.

4 So then, about eating food sacrificed to idols: We know that "An idol is nothing at all in the world" and that "There is no God but one." 5 For even if there are so-called gods, whether in heaven or on earth (as indeed there are many "gods" and many "lords"), 6 yet for us there is but one God, the Father, from whom all things came and for whom we live; and there is but one Lord, Jesus Christ, through whom all things came and through whom we live…

9 Be careful, however, that the exercise of your rights does not become a stumbling block to the weak. 10 For if someone with a weak conscience sees you, with all your knowledge, eating in an idol's temple, won't that person be emboldened to eat what is sacrificed to idols? 11 So this weak brother or sister, for whom Christ died, is destroyed by your knowledge. 12 When you sin against them in this way and wound their weak conscience, you sin against Christ.
He concludes this argument in chapter 10.
31 So whether you eat or drink or whatever you do, do it all for the glory of God. 32 Do not cause anyone to stumble, whether Jews, Greeks or the church of God— 33 even as I try to please everyone in every way. For I am not seeking my own good but the good of many, so that they may be saved.
My argument from these passages, and the whole of Corinthians, is that we're to be united around Christ, for the purpose of winning people over – and reading the conclusion of Paul's argument about how the Corinthians are living in the world back into chapter 6, I'm arguing that the problem with lawsuits amongst believers is that they ruin the testimony of what Christ is doing in our lives. My problem with the way the ACL approaches the public sphere is that they run the risk of ruining our testimony about Christ. That's why I don't think this passage applies.
I think it's possible to robustly criticise each other, in the public sphere, so that non-Christians know we take the gospel seriously. That we are prepared to be robust with each other, while in fellowship, because we want to get the gospel right. The idea that we should hide our divisions behind closed doors will lead to the conclusion that we don't actually care about this stuff enough to speak about our differences.
It's a product of our immature approach to politics in our country – where opposition is loud, adversarial, and dramatic – to think that any disagreement is bad and unhelpful. This plays out in all sorts of really harmful ways in society and leaves us with anaemic, politically correct, solutions to issues because nobody is passionate enough to come to improved resolutions through conflict. If we run away and bury our heads in the sand, say that criticism itself is wrong by nature of being public, or refuse to be sharpened through discourse then we're going to end up with a fairly weak presence in the public sphere anyway.
UPDATE: Also – a few other people have suggested that we should just be thankful the ACL does the hard work that the church isn't doing, and wear the cost of the gospel being obscured, or use the controversy they generate as opportunities for "conversations"… the main theme of these comments is that we should let God work through the bad teaching, or the imperfect vessel…
I'd say this is a little unhelpful, and short sighted – if you want the ACL to continue surely you want it to be getting ready as it responds to, and engages, with criticism from Christians as well as non-Christians. Plus part of the "conversations" it generates are conversations where we have to distance ourselves from the ACL anyway – if we want to be properly representing and proclaiming the gospel of Jesus. So this is, in a sense, exactly what posts like this are doing – they're continuing the conversation.
Letting such "imperfect vessels" go uncorrected is pretty dangerous and will lead to a weak, confused, and potentially liberal presentation of the gospel. Better to robustly and lovingly offer correction – whether in public (so that you're loving the audience of these "vessels" as well), or in private.
I have two more ACL posts to write. Including this one. And then I'm done on this round, and we'll return to normal programming.
A big part of the problem with how the ACL does business is that they go in to situations with a hostile posture and things go down hill – situations like TV debates, university debates, interviews where they're forced to defend something they've said or argue about how something has been interpreted – because they adopt an adversarial posture the conversation is immediately off the rails and unlikely to produce productive results.
They're remarkably better when that's not the case – it's much easier to have a gracious and winsome conversation if you're having a conversation. Which is exactly what happened when Wendy Francis sat down with SameSame editor Chad St. James. They had a civil conversation – and St. James has reported it with polite empathy. It's a nice read. It humanises both of them.
Wendy provides an interesting account of the blow up that followed a tweet sent from her account by a PR person.
"But I think the very concept of child abuse is always linked to sexual abuse, well in my mind it is anyway. That was the real tragedy of that whole tweet. If the staff at the office had tweeted legalising same-sex marriage is taking a way a child's right away to have a mother, then I probably wouldn't have been so upset about it. But I was livid and really, really upset about it. My children were upset about it. Because it certainly inferred sexual abuse I think. So that just unforgivable. But I don't think I handled the media well afterwards. But looking back I don't think I know how I could've avoided it.

I can 100 percent promise you, I had nothing to do with that tweet. I hated it, I absolutely hated it. I wished I hadn't been out of the office so I could've been there. I immediately sort of went into melt-down mode wondering what it was all about.

I was fuzzy with the responses afterwards, not really knowing what to. I had all these people advising me what to say. I had people ringing me saying "you should really go with that, that's a great comment" and I was saying I can't possibly go with that, it's an awful comment."
So that's nice. She does a really nice job of making her position on the GLBTI issues a product of social concern, rather than homophobia, and leaves St. James feeling vaguely sympathetic for her position. So that's nice. My one concern comes from her answer to these two questions…
What does the Australian Christian Lobby stand for?

It stands for being a voice for values. We see that there is a value set, that Australia has traditionally been built on, and that is the Judeo – Christian heritage. And that's like a lot of the west has been built on that as well. And the some of the policies that we have, if you look at what is at the heart of them its things from the Christian faith such as "do unto others as you would have them to do unto you" and the good Samaritan.

Those sort of things are built into the Australian psyche, the whole good Samaritan, going a further mile, all of those things are from a Christian heritage. As we moved as a society away from being just Christian, and I don't begrudge that, I think as we have had new immigration from other countries. In Brisbane for instance we celebrate Ramadan, we celebrate Buddha's birthday, we celebrate Christmas. So we have this really good multicultural link, but as we have moved away from any one faith-base then we've got a bit of a void of where our values are based. So for me that is what I believe the Australian Christian Lobby is doing, seeking to keep us on track with the value system that has stood us in really good stead.

What does Wendy Francis stand for?

Wendy Francis is a mum and a grandma, a wife. I have always felt strongly about justice issues, I also feel very strongly about children. I think as our society has changed, one of the things that have changed for me the most is that we used to do whatever we do was on the best interests of the child. I think that's changed, I think it's now very "me".

Mind you, I have to say I think your generation is turning that around a little. I think your generation is sick of that. I think it's the baby boomers who are a much more me generation. We've had it very good. We've all got houses, and now houses are out of reach for a lot of the younger ones. I think that "me, me" has impacted how we look outwardly.

So for Wendy Francis, I think a lot of my motivation is coming from getting back to what is best for children. If we look at what is best for children, then I think that's going to be what's best for society.
If you want to be the Australian Christian Heritage Lobby, or the Christian Values Lobby, that's fine. But if you call yourself the Christian Lobby, and you say you're on about Jesus – which I'm sure Wendy is – I think these are the questions where the gospel comes in naturally. Rather than the moral framework that Christianity has produced in our legal system.
There was also this bit…
"You operate on a set of beliefs, and I do, and both of us are vitally important in what we call democracy, because if we're going to have a true democracy every voice has to be heard. So I think it's vital that the Christian voice is heard because we represent a large part of the constituents. In the latest census I think there were 62 percent of people that identify as Christians. It doesn't mean that they're all practising Christians, it's probably more like 20 percent that are practising Christians, but still there is 62 percent identify in that way. So it would be ridiculous to think that there wasn't some sort of input from what people believe into our parliaments."
They need to decide if they represent the 20% or the 62% – and if the latter, they need to change their name and to stop pretending they're speaking for the church.
In this interview Wendy Francis has the second part of 1 Peter 3:15 sorted, the ACL still needs to work on the first…
15 But in your hearts revere Christ as Lord. Always be prepared to give an answer to everyone who asks you to give the reason for the hope that you have. But do this with gentleness and respect…
The ACL doesn't seem to get it. When you say the wrong thing you apologise. You don't blame people for taking offense. You don't hide behind being "misquoted" or "misrepresented" - you avoid saying unhelpful and offensive stuff that isn't the gospel.
Our job as Christians in public isn't to be offensive – it's to let the gospel cause offense where it will, by being faithful.
From the first Media Release the ACL issued…
"We rightly warn of the health impacts of smoking. Surely we cannot allow these aggressive activists to conceal the facts of a lifestyle that accounts for over eighty percent of new HIV cases in Australia annually.

"If we warn against smoking because it carries health dangers, we should also be warning young people in particular about activity which clearly carries health risks."
It's interesting that he's moved away from mental health issues and suicide to HIV/AIDs, which involves 1,000 new diagnoses per year. So that's more than 800 people. I guess he realised he couldn't possibly win on the first position and made a tactical withdrawal.
Mr Wallace said at no stage did he say that "smoking is healthier than gay marriage", as reported by some media.

"What I did say is that heterosexual sex and homosexual sex are different and have different health consequences. They should not be packaged the same way as marriage because, as just one of many reasons, they are different.

"If we warn against smoking because it carries health dangers, we should also be warning young people in particular about activity which clearly carries health risks," Mr Wallace said."
He overstates the case somewhat when it comes to the impact of Prime Minister Gillard's decision to pull out of speaking at their conference: "Australian Christian Lobby Managing Director Jim Wallace said the decision would come as a deep disappointment to Australia's Christian constituency."
I'm a member of that constituency and I'm not at all disappointed.
From the ABC... He said some interesting stuff here…
"I've been misquoted in trying to suggest that that means I'm comparing smoking with homosexuality. In the sense that, I'm not saying for a moment that homosexuality is more dangerous than smoking."

"I'm comparing the packaging. I'm talking about the packaging. What I'm saying is that packaging is important in how we present things to people… then certainly, the packaging of marriage, particularly the packaging of the heterosexual lifestyle and the homosexual lifestyle as one thing under it, and I spoke yesterday about a range of issues under it."

"I'm talking about the importance of packaging."

"I don't think all gay people have a choice." 
You can also watch him get torn apart on the Project. Here's what he says on the Project… after the story introduces the factoid that suicide prevention Australia says gay people are 14 times more likely to commit suicide than others. Then they asked him about why he compared homosexuality with smoking…
"That's not what I said at all. I'm really annoyed that this is another example of vitriolic gay activism…"

"The point of my comment is the importance of packaging… it would hide the fact of the consequences of it from the health point of view."
He also keeps saying that the struggle people experience with sexual orientation is "in their teens" – bizarre.
"We have to be able to discuss these issues… we can't close down debate by not discussing the issues associated with this lifestyle under the packaging debate…"
He doesn't prove that he's been misquoted or misrepresented at all. He blames everybody else.
This is interesting – and not uncommon – I'm yet to see the ACL issue a genuine mea culpa when they're caught out saying something dumb. Like in the furore surrounding a tweet Jim Wallace issued last Anzac Day which he called a "misrepresentation" before saying:
"I apologise – I would never want to politicise Anzac day – never my intention," Mr Wallace said.

"The interpretation that is being made of this – that I am saying that Australians didn't fight for everybody – is totally wrong."
Here's the tweet…
"Just hope that as we remember Servicemen and women today we remember the Australia they fought for – wasn't gay marriage and Islamic!"
Here's the statement where the "clarification" was issued.
"The tweet has obviously been seized on by everyone with an intention to discredit, but although ill timed, it did not and was never intended to suggest that veterans had not fought for all Australians," said Mr Wallace."
Then there was the time he said gay marriage advocates were comparable to Goebels.
Wallace has form for saying controversial stuff and then rather than backing away from the content, suggesting that he has been treated unfairly. Or using the furore to get more media coverage.
Anyway. Here's what he says about the current issue…
"This is a victory for the demonisation tactics of gay activism and it's a constant misrepresentation and spin of anything by people who support marriage as between a man and a woman."
Which would be great. If he was being misrepresented. He did compare smoking and homosexuality. Here's what he said. In direct quotes.
"I think we're going to owe smokers a big apology when the homosexual community's own statistics for its health – which it presents when it wants more money for health – are that is has higher rates of drug-taking, of suicide, it has the life of a male reduced by up to 20 years."
He still is, even if the heart of his issue is about packaging (whatever that means).
"What I was saying is that on one hand we are vocal on our discouragement of people to smoke and on the other we are suppressing public dialogue about the health risks associated with homosexuality."
That is a comparison – we do something on one hand, and something different on another. The very definition of comparison.
The first release also pointed to the study Wallace is quoting from – which is actually a "human rights complaint" a GLBTI group made against the Canadian health care system. These are the health issues the submission deals with:
Suicide.
Smoking.
Alcohol consumption.
Illicit drug use.
Depression.
Access to care.
HIV/AIDS.
Cancer.
Violence and bullying.
Blood donations.
Organ donations.
Senior's Health
Now, there's no doubt that some of those aspects – particularly the cancer and HIV/AIDS are related to homosexual practice itself, inherently, in the report. And it is possible that certain aspects of the gay lifestyle are related to lowered inhibitions and greater promiscuity – but points 1, 5, and 9, are causally linked to the homosexuals are treated (though not necessarily the only cause).
Anyway. This is all a very long preamble. None of this would be an issue if the ACL didn't have a strategy of going into, and out of, debates with the expectation that everybody is out to twist their words. Wallace provides enough rope in live interviews to make his accusations regarding "spin" and "misunderstanding" essentially meaningless.
It would be much better by a million times if they just stopped using combative adversarial styled arguments to promote their case. It would be infinitely better if their content was Christian, in any meaningful sense.
I'd love to see Jim Wallace publicly offend people with the gospel. It's not a mark of faithful gospel ministry if you offend people – it's a mark of faithful gospel ministry if the gospel offends people. Each gospel makes mention of the world's negative response to the gospel:
Matthew 10
"20 For it is not you who speak, but the Spirit of your Father speaking through you. 21 Brother will deliver brother over to death, and the father his child, and children will rise against parents and have them put to death, 22 and you will be hated by all for my name's sake. But the one who endures to the end will be saved." 
John 15
18 "If the world hates you, know that it has hated me before it hated you. 19 If you were of the world, the world would love you as its own; but because you are not of the world, but I chose you out of the world, therefore the world hates you. 20 Remember the word that I said to you: 'A servant is not greater than his master.' If they persecuted me, they will also persecute you. If they kept my word, they will also keep yours. 21 But all these things they will do to you on account of my name, because they do not know him who sent me. 22 If I had not come and spoken to them, they would not have been guilty of sin, but now they have no excuse for their sin. 23 Whoever hates me hates my Father also. 24 If I had not done among them the works that no one else did, they would not be guilty of sin, but now they have seen and hated both me and my Father. 25 But the word that is written in their Law must be fulfilled: 'They hated me without a cause.'
Luke 21
Which is particularly relevant to the ACL's case – because it is about how to deal with government…
12 But before all this they will lay their hands on you and persecute you, delivering you up to the synagogues and prisons, and you will be brought before kings and governors for my name's sake. 13 This will be your opportunity to bear witness. 14 Settle it therefore in your minds not to meditate beforehand how to answer,15 for I will give you a mouth and wisdom, which none of your adversaries will be able to withstand or contradict. 16 You will be delivered up even by parents and brothers and relatives and friends, and some of you they will put to death. 17 You will be hated by all for my name's sake.
Mark 13
10 And the gospel must first be proclaimed to all nations. 11 And when they bring you to trial and deliver you over, do not be anxious beforehand what you are to say, but say whatever is given you in that hour, for it is not you who speak, but the Holy Spirit. 12 And brother will deliver brother over to death, and the father his child, and children will rise against parents and have them put to death. 13 And you will be hated by all for my name's sake. But the one who endures to the end will be saved."
And what does the Spirit do – how do we know if the Spirit is speaking? More from John 15:26-27…
"When the Counselor comes, whom I will send to you from the Father, the Spirit of truth who goes out from the Father, he will testify about me. And you also must testify, for you have been with me from the beginning."
This is why it's seriously disappointing when the ACL speaks to our government. It has to start with the gospel. Even if it's about something else… The gospel is the first port of call. Starting there would remove a lot of stupid grounds for offence – and produce offence that is truly worthwhile… though Paul's words in Colossians 4 should prevent us trying to be offensive in how we speak.
"And pray for us, too, that God may open a door for our message, so that we may proclaim the mystery of Christ, for which I am in chains. Pray that I may proclaim it clearly, as I should. Be wise in the way you act toward outsiders; make the most of every opportunity. Let your conversation be always full of grace, seasoned with salt, so that you may know how to answer everyone."
That is all.
UPDATE 2 (update 1 is at the bottom of the post) – I have edited the post for clarity in a couple of places. The original paragraphs are at the bottom of the post.
It's been a while since I last felt the need to write anything about how disappointed I am in the way the Australian Christian Lobby claims to represent Christians, and Jesus, in the Australian public square. This should be understood as a sign that they were being less offensive than usual – because it's not as if I didn't keep checking their media releases… But today's clanger will take some undoing.
Jim Wallace, in a public debate with Greens leader Christine Milne, in question time, compared the health burden caused by the homosexual lifestyle with the health burden caused by cigarette smoking to essentially suggest that the government should be treating homosexuality like it treats smoking. He didn't say that specifically. But read this:
"I think we're going to owe smokers a big apology when the homosexual community's own statistics for its health – which it presents when it wants more money for health – are that is has higher rates of drug-taking, of suicide, it has the life of a male reduced by up to 20 years."

"The life of smokers is reduced by something like seven to 10 years and yet we tell all our kids at school they shouldn't smoke."
Even if this is true – and the health stats are pretty popular with organisations like the ACL, and he attributes them to the homosexual community's own research, so one expects they're based on some sort of research, and at least alluding to the spectre of HIV/AIDS – even if this is absolute fact – it's incredibly wrong headed and harmful for three reasons.
First. Smoking is a behavioural choice in a way that homosexual orientation is not – it is either environmentally (probably) or biologically (possibly) wired into the psyche. Comparisons between the two simply because they come with a health cost are a bit misleading on that front.
EDIT: This is not to say that those who experience unwanted same sex attraction as an orientation are unable to move towards heterosexuality, nor to say that homosexuality is never a choice. Sexual orientation is best understood on a sliding scale and is, to a degree, malleable – with the amount of change possible an individual issue END EDIT.
Second. The health issues associated with homosexuality are, at least in part (EDIT: neither as big a part as public perception suggests, nor so small as to be statistically meaningless END EDIT), the result of the posture and approach that members of the church, aspects of Christian doctrine, and unnuanced statements by people like Jim Wallace (in this instance), and those claiming to speak for all Christians have assumed with regards to this issue.
These health issues are not necessarily linked to homosexuality. But I would suggest that homosexuality is involved in a causal chain – both internatlly and externally driven – that can lead to situational depression, which can lead to drug use and suicide, I suspect the way the church has at times pushed guaranteed "solutions" to unwanted same sex attraction" in the form of conversion to heterosexuality can probably lead to an unhealthy amount of guilt associated with temptation – not even with homosexual practice. While these are possible for some individuals – at times an end point of a celibate struggle with natural orientation may be the more realistic, and Biblical, goal – see my Eunuchs for the Kingdom essay for more of my thinking, and research, in this area.
Want to make someone feel bad for what they are naturally inclined to do – tell the world that schools should be educating kids not to do it. I'm not interested in arguing that homosexual practice is good for one's health, or for one's standing before God – but the mental health issues associated with homosexuality are, so far as public perception and the accounts of members of the gay community, related to the way homosexuality is spoken about and treated, and the church has had a role in this by not carefully and pastorally dealing with the issue and by perpetuating, or not speaking out against bigotry conducted in the name of Jesus.
Third. Where is Jesus in all of this? This is my perennial criticism of the ACL. It's possible to talk about Jesus when you're talking about homosexuality. Look. Other people managed it on national television here. I did it here. And here. Before you get to defending marriage. If the ACL is more interested in banging on about the traditional definition of marriage at every turn, especially in the midst of a conversation about the tragedy of shortened life spans through drugs and suicide in the homosexual community, then it needs to CHANGE ITS NAME. Call yourself the Australian Traditional Marriage Lobby. Or the Traditional Relationships And Marriage Party (TRAMP). Get the word "Christian" out of articles like this.
It didn't get any better outside the heat of debate, when Wallace had a chance to nuance his statements.
"But what I'm saying is we need to be aware that the homosexual lifestyle carries these problems and … normalising the lifestyle by the attribution of marriage, for instance, has to be considered in what it does encouraging people into it."
He's perpetuating the idea that people will suddenly want to be gay – that's such a small percentage of people in studies of the etiology (origins) of homosexuality that it's practically an outlier. Then. He gets worse…
"I am very sorry for that. My heart goes out to those people. But it is a fact."
Those people? I can't help but interpret this as a bit of otherising. They aren't "those" people, as though a new category. We are people. It seems to me that it's only possible to capitalise on tragedy like this if you're prepared to make some sort of distinction between you and them.
Here's how the ACL promoted the debate on its website:
"Only in cutting through claim and counter claim to truth, can the rights of not just the loudest or the most powerful be guaranteed but the disenfranchised, the most marginalised, those without a voice. In this debate on same sex marriage there is such a voice – it is the voice of the child."
They could call themselves the Australian Children's Lobby without even changing their web address.
You don't re-enfranchise the disenfranchised and marginalised by marginalising others, and once again, you don't get yardage in the public debate by capitalising on human tragedy. This is a lesson the ACL needs to learn. Suicide is not a pawn in the chess game of Australian marriage legislation. You don't offer hope with a defence of traditional marriage – you offer hope with Jesus and the opportunity of a long term identity defining relationship with him.
UPDATE – Jim Wallace's actual speech from the debate is here. It's marginally better – because it doesn't you know, suggest that we should apologise to smokers for not taking the health risk of homosexuality seriously… But it's still bad. The only time he mentions Jesus is to establish the value of children…
"And not just that, but a mother and father that as much as the law is able to encourage, will love that child and sacrifice for its best interests as willingly as it biological parents should or would have.
Now unfortunately even with the best intent we have done this imperfectly – to the great detriment of children. Those who Jesus put on His knee and said it would be better for you to be cast into the sea with a stone around your neck than to harm one of these.
But this gay activists' agenda now means that we do it imperfectly intentionally."
The implicit take home message – though clearly unintentional – is that Jesus, like the ACL, only cares about children – there's nothing said about how a relationship with Jesus might help anybody else.
He mentions God once too.
"But thanks to politics, the support of parties scrambling in this unholy game we've turned the great idea of democracy into, politicians have decided to play God and deny a child its natural right and succumb to this selfish and increasingly vitriolic voice of gay activism."
Perhaps the worst part is that he starts, in his opening gambit, with the fall. And its impact on human society.
"Of course though we don't live in a perfect world – it's what Christians instead call a fallen world.  It's this imperfect state that the Church has wrestled with against tyranny and injustice, man's inhumanity to man in slavery and the civil rights movement, abuse of power even within the Church and today daily on its streets and overseas against poverty and injustice."
 AND THEN SAYS NOTHING ABOUT JESUS AS THE ANSWER TO THE PROBLEM OF THE FALLEN WORLD.
Let me say that again. He talks about the problem of sin – and offers no solution – except to make sure children live with their parents.
The only answer he provides is completely secular.
"In a secular world we have to ensure that everyone has justice and particularly that everyone's human rights are protected."
What's the point of being a "Christian" Lobby if all you're doing is claiming to protect human rights?
UPDATE 2 – the original paragraphs that have been edited above so that the comments below make sense…
First. Smoking is a behavioural choice in a way that homosexual orientation is not…
"The health issues associated with homosexuality are, at least in part, the result of the posture and approach people like Jim Wallace have assumed with regards to this issue. Want to make someone feel bad for what they are naturally inclined to do – tell the world that schools should be educating kids not to do it. I'm not interested in arguing that homosexual practice is good for one's health, or for one's standing before God – but the mental health issues associated with homosexuality are demonstrably related to the way homosexuality is spoken about and treated, and the church has had a role in this by not carefully and pastorally dealing with the issue and by perpetuating, or not speaking out against bigotry conducted in the name of Jesus."
"Those people? How's that for a bit of otherising. They're not a special category of people. They are people. We are people. It's only possible to capitalise on tragedy like this if you're prepared to make some sort of distinction between you and them."
I was talking to a friend this week about a statement his church might put out on gay marriage and he said "have you seen any good press releases on this issue" and I said "no"… which isn't entirely true, I could probably find one or two. So I wrote one (P.S – to that friend, I've tweaked this a bit since).
It's a bit wordy, and I'd want to edit some bits out depending on context, but it does, I think, incorporate our "key messages"…
---
CHURCH NAME seeks way forward in Same Sex Marriage Debate
CHURCH/DENOMINATION NAME apologises to LOCATION's Gay, Lesbian, Bisexual, Transgender, and Intersex community for any hurt caused to them in the name of Jesus when homosexuality has been singled out as a special sin. We recognise that this apology is particularly necessary given the heat involved in the current debate surrounding the redefinition of marriage.
As a church community we are interested in people of all sexual orientations, and from all backgrounds, meeting Jesus, and having a long term relationship with the God who created the universe, we believe all human relationships come second to this one relationship.
CHURCH NAME, Spokesperson name, said that while it will inevitably cause tension for people, CHURCH NAME must continue to define homosexuality as contrary to God's design, as the Bible is clear on the matter, but admits the church has done a bad job whenever homosexuality has been singled out for special treatment.
"As a church community we have to recognise that whenever the Bible discusses homosexuality as contrary to God's created order, it does so in long lists of sins too often given a free pass by Christians speaking out in the same sex marriage debate."
"As a society we need to work hard at fostering debate which is inclusive and loving, where loving disagreement is not just tolerated but encouraged. It's unfortunate that standing up for the current definition of marriage is inevitably framed as standing against those who seek changes to the definition. We are not seeking to question the personhood, or limit the freedoms, of the GLBTI community so much as seeking to uphold an institution that we believe was created by God."
"Perhaps, as a society, we should be taking stock of the heavy emphasis we put on sexual expression as a fundamental human right in the first place, this seems to inherently discriminate against those who are asexual in orientation, or the unhappily single. We believe that sexuality is important, but that it cannot function as the basis of one's identity."
"We believe, as Christian churches have for almost 2,000 years, that Jesus Christ, who claimed to be the son of God, was crucified by the Roman Empire, and was raised three days later. We believe that this historical event verified his claims."
"From the beginning of Christianity this event has been called the gospel, which means good news, because it has implications for every human, it makes a relationship with God possible because the fundamental truth of human nature is that we cannot avoid doing those things that the Bible calls sin, that is stuff that isn't in line with what the God who made all things would have us do."
"We're not arguing that homosexual orientation is a choice, simply that what is natural to us can still be wrong. All of us are naturally wired to do these things. And the Bible says Jesus undoes that wiring. Not in a way that means we don't do the wrong thing, but in a way that frees us from defining ourselves by those things."
"We believe, as churches have since the canon was established by councils 1,700 years ago, that the Bible is the word of God, containing the collation of documents necessary to guide us, but ultimately to tell, and foretell, the story of Jesus as the central event in history. Our calendar years still recognise Jesus arrival as a turning point."
"Jesus taught that marriage, from the beginning of humanity, was instituted by God as between one man and one woman. While we acknowledge that there are many cultures that have made modifications to this design, or that have no ties to the Judea-Christian tradition, we believe that this design is self evident from the anatomical sexual compatibility of men and women."
"Because we believe that Jesus, as God's son, and God himself, speaks as the creator of humanity, and we believe the Bible is God's word, we must continue to oppose the redefinition of marriage, and to continue to define homosexuality as part of the brokenness of our human nature."
"This is not a decision we take lightly because we recognise that some people in our community are hurt by disagreement, but it's a decision we must take in order to continue to offer the hope that Jesus offers to all people."
"While we believe strongly in the separation of church and state, and have no wish to legislate our belief system for everybody, we recognise that all people in a democracy have a right to participate in policy debate. We continue to oppose a redefinition of the marriage act on the basis that we believe that defining marriage as a lifelong commitment made between a man and a woman is the best way to enable human flourishing. We believe that this is the type of family structure that God intended, though we understand that families are complex and all families need love, support and care, which we humbly offer in our church community."
"We are always happy to have conversations with people who disagree with us, and will continue to offer love, support, and prayer to those people, and anyone struggling with any sin, or people who want to understand who Jesus is."
ENDS
For more information contact SPOKESPERSON on PHONE NUMBER
---
What do you reckon? Is it missing anything vital? What would you cut, or add?
We're really enjoying being part of Creek Road this year. I love the way we've got a clear vision about the role we'd like to play in our city – we want to help people in Brisbane meet Jesus (like every other church that loves Jesus)… But mostly I love that so many people in our congregation are fired up to serve God, serve our city, and be on mission together.
Its been fun to fuse my PR stuff with ministry in opportunities like this video, that the very talented Wade Iedema from Lifetone Media put together. I helped write the script, my friend Joe polished it, and came up with the idea of getting people from church to read it, and my baby girl, Robyn's knee, and my coffee machine, make little cameos.
What do you reckon?
Pairing up coffee with good causes is something I like to do from time to time. A few years ago we used Indian coffee to help Dave raise money for clean Indian drinking water, last year we used coffee to buy beehives and grain through Tear's Really Useful Gift catalogue, and now, you can buy some delicious Tanzanian coffee – a premium kind of coffee (it's more expensive) – to help partner with Arthur, Tamie and Elliot as they head to Tanzania.
You'll even get a magnet!
I have about 12kg of Tanzanian coffee up my sleeve, and would love to roast it all as part of this little initiative. So keep reading – and then buy up at the end – you can use Paypal, or, if you'd prefer, contact me by email to order some and pay via bank deposit.
I will be mailing this coffee out a little differently – I'm planning to send it on Mondays or Fridays (my days off) – so order close to one of those days if you want it fresh.
Here's some more about the project – you'll find this content duplicated on a dedicated page – and the Tanzanian coffee order form will sit where the old fashioned order form sits in the sidebar for as long as I've got coffee left to sell.
Help Tanzania Meet Jesus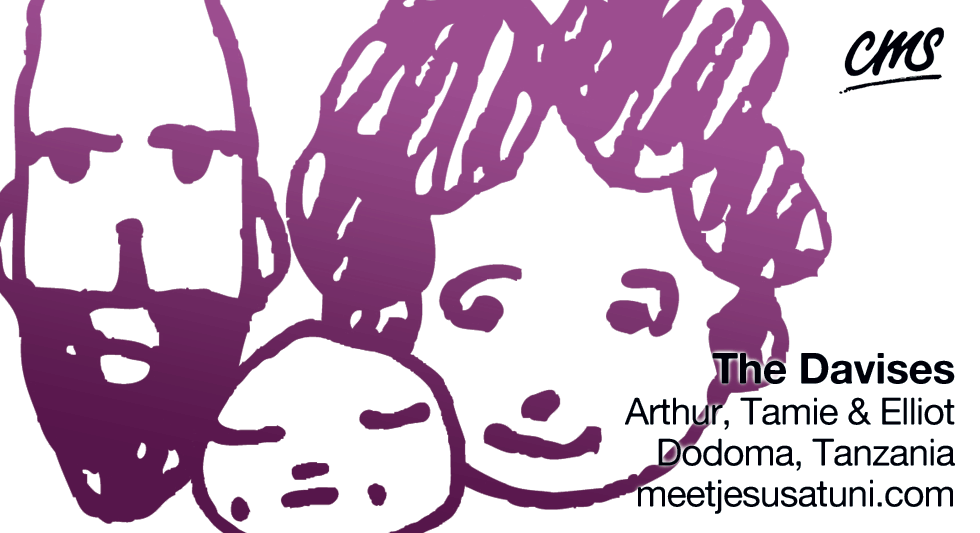 Arthur, Tamie, and Elliot, are heading to Tanzania next year aiming to introduce a generation of Tanzanian leaders to Jesus. You can purchase some delicious coffee to help them out, and to get better informed about what's going down in Tanzania, and what they plan to do there.
They've renamed their blog, what was Cyberpunk + Blue Twin is now meetjesusatuni.com, and they have a Facebook page that I highly encourage you to like so that you can follow along on their exodus (most people would use the word journey here. But that's so cliched).
They're raising support – and I'd encourage you to get on board, especially if you've benefited from the wisdom they've shared via their blog over the years.
Here's a little video, because lets face it, at 25 frames per second, a 3 minute picture is worth 4.5 million words (that's 180x25x1000).
So. That's all well and good. But I've lured you here using coffee, and now you're wondering what's the go with that.
Let me tell you.
Tanzania is home to some pretty special coffees – especially from the Blackburn Estate (here's Cup Coffee's tasting notes for Clouds) – we've got 10kg of Tanzanian coffee from this estate – in two lots – "Clouds of August" and "Pick of the Harvest" that we're going to offer as a way to support Arthur, Tamie, and Elliot. We're not looking to raise a huge amount of money – probably just enough to cover their postage costs for a year, or something like that. But here's the deal. This coffee is a premium variety. It costs about double what I'd normally pay for green beans. So that's why this little project is a bit more in line with the prices you'd normally pay for small batches of roasted coffee.
When you buy these beans you'll get a little bit more info on Tanzania, some tasting notes, and a magnet to remind you to pray for Arthur, Tamie and Elliot as they prepare for life in Africa.
Here are some tasting notes for each lot (from Ministry Grounds).
Clouds of August
A bright, sugary and lively coffee with nice peach acidity, notes of red apple and cocoa. A beautiful mandarin balance.
Pick of the Harvest
A complex and layered coffee with a buttery mouthfeel and notes of plums and red fruit.
Here's the Order Form – which you'll also find in the sidebar of the home page.
I don't know why the spaces are so big in this order form. Sorry about that.
This is useful, even if Ze Frank, the guy in the video, needs to blink…
In October last year, I stirred up a bit of a hornets nest when I wrote something that was admittedly deliberately provocative about "worship" and "music in church gatherings."
I've probably nuanced what I would say about "worship" since then – I think, and this is a working definition, that "worship is the sacrificial use of the gifts God has given you to glorify him by loving and serving him, and one another, and pointing people to Jesus." I think that best accounts for Romans 12, and Paul's approach to ministry and spiritual gifts, particularly in Corinthians.
I'm pretty convinced by the argument that singing in our gatherings is part of "word ministry" – it is designed to both express something about our faith in Jesus, express something vertically in terms of vocalising our praise to God, and express something horizontally in terms of encouraging our brothers and sisters as we sing together, and highlighting something for the non-Christian in the midst of our gathering (ala 1 Cor 14:22-25).
Singing is communication. Singing is word ministry. And laying aside all debates about the charismatic movement and whether flaying your arms around, or at least moving, is biblically mandated (or rather, warranted, ala what Bob Kauflin dealt with when he spoke in Brisbane last year), I think we I'd at least argue we're doing this communication part badly… or at least not communicating as fully as we could be… if we adopt the dour posture common in the reformed evangelical (Presbyterian) circles that I move in.
Here's why.

Image Credit: The Speaker's Practice
Most communications experts and consultants I've dealt with over the years – from uni lecturers during my undergrad degree, to consultants we hired in the workplace, to preaching lecturers at college – stress the importance of things other than words when we are speaking. Things we call "non verbal communication."
The number in the pie chart above seems pretty arbitrary – I've heard it said that non-verbal communication can account for up to 85% of what we communicate, or how effectively we communicate it, when we speak. That's what these guys claim.
They also claim that 90% of the emotional work is carried by non-verbals.
If this stat is true then it plays into another aspect of communication – particularly when it comes to the fine art of persuasion. And if communication is not "persuasive" in some sense, if you're just preaching to the choir – literally – when you sing, and you're not trying to reinforce or hammer home something using music as a teaching tool, then I'd argue that it's not really a particularly useful form of Christian encouragement, and you're not really treating music as word ministry.
Persuasion, since Aristotle (and later, my favourite, Cicero), has been divied up into categories of pathos (emotion), ethos (character), and logos (content) – here's a run down from another public speaking site I found via google. And a little diagram – I'd argue from the stat above, even if its inaccurate, that pathos includes convincing non-verbals…

Image Credit: Visual Books Project
In my experience of my circles our approach to music heavily invests in the logos element of our music, treats music as a ministry that requires a certain character test for members of the band (ethos), and maintains a deep suspicion of pathos because it's largely, especially in the absence of the other two elements, where manipulation goes down.
I've written something about manipulation and persuasion before. And personally I am deeply, and culturally, suspicious of any attempts to manipulate the way I think with bells and smells, ritual, minor falls and major lifts, or any little tools that bands might use – like clapping.
I'm not suggesting working our way through this chart until you find something that resonates with you.
Image Credit: TimHawkins.net (get the T-Shirt)
But I don't think this suspicion is the answer – and I think its stymying our ability to communicate the gospel clearly in everything we do when we gather. I'm trying to figure out what being mindful of what I'm communicating non-verbally when I sing looks like.
Good persuasion, following Cicero, means starting with character, and then tying logos and pathos together under that rubric. I think Paul takes Cicero's ball and runs with it in his letters to the Corinthians (my Corinthians essay) – arguing that the character test for Christian ministry is being sacrificially cross shaped in how they do life, and especially how they gather… and I think, if emotion is carried by non verbal communication, and assuming we've got issues of ethos and logos right in our singing, then we need to be thinking about how we do pathos well with our non-verbals when we use singing to communicate the gospel. In a way that is sacrificial and meets the definition of worship I floated above.
The call then, is for us to be genuinely authentic when we're singing together, rather than faking authenticity, pretending to be bought in to the emotional stuff, because we want to communicate something. There are heaps of people, particularly in our culture, who are just like me – suspicious of overtly emotional stuff, wary of manipulation through an increasing sensitivity to the tricks of advertisers, spin doctors, and other charlatans – so we can't do the pathos, or even the logos, right, without getting the ethos right first. But nor can we be so scared of this stuff that we avoid pathos all together – because a lack of emotional buy in amounts to an insincere and inauthentic approach to persuasion, and also fails at communicating as effectively as possible.
It's traditional for posts about doing non-verbal stuff while you're singing to say the Christian thing to do is to be sensitive to the people around you and not do stuff that will distract or offend them – which if worship is sacrificial service of others as well as of God – goes without saying.
The questions then are – if singing forms part of our word ministry – if it's communication – how do we communicate our thankfulness to God using the means of communication that he has given us,* how do we best use these means to encourage each other about the power of the gospel in our lives as we sing, and how do we use them to communicate the gospel to outsiders?
Interestingly, as a bit of a throwaway, this book chapter on gestures in communication, suggests that gestures are particularly helpful for overcoming a communication divide (from p 21) – I'm not going to hang the whole thesis of this post off this, but I wonder if seeing some familiar gestures in response to music (like the stuff you might see at a concert), rather than a room of dour people, may overcome some of the gaps between the inevitable Christian jingo and vocabulary some of our songs contain, and make the experience of corporate singing a little less weird – rather than more weird, though you could equally run with this point to justify interpretive dance… this book chapter also suggests we're generally reliably able to spot people who are performing "rehearsed" gestures, rather than spontaneous.
I don't think the answer is looking something like this…
* I'm trying to be careful here not to suggest a non-Biblical requirement where we must make gestures as we sing – I think the expression of the vertical aspect of our singing has significance for its effectiveness horizontally as a means of encouragement and communicating the gospel.