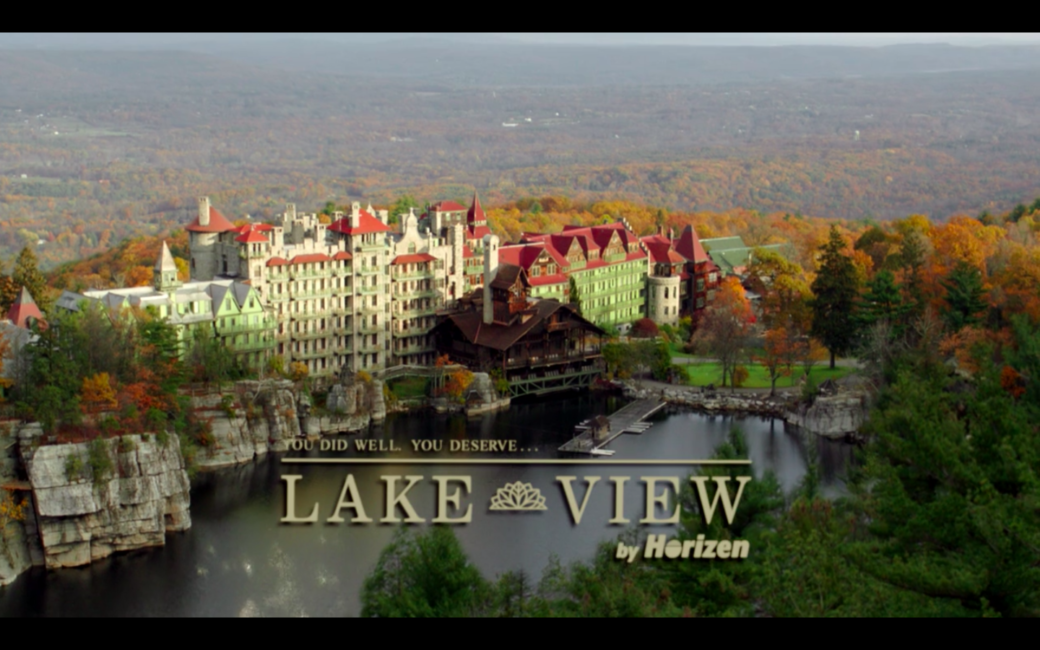 Upload dropped on Amazon Prime this week. It's like The Good Place, only there's no twist. Really, it's not that like The Good Place at all, except that it deals with life after death in a universe where God is mostly absent. Belief in a spiritual afterlife is a quaint hope held by some "Ludds" (from Luddites) pitted against the very real virtual hope peddled in Upload's universe — our universe, just in 2033.
There's some interesting dynamics right up front with this program being on Amazon Prime; Amazon's end game might look very much like the in show company, called Horizon. Amazon's smile logo can be found on packaging within the show, but their push into cloud computing, digital media, and Jeff Bezos' 'end game' (not to mention his exorbitant personal wealth — no seriously, click that, spend a few minutes scrolling it, and then come back) make them prime candidates for attempting to produce something like this for reals. It won't be Elon Musk who does it; probably; he believes we're already in this future; already characters in a computer program indistinguishable from reality. You can trust Amazon to find ways to keep making money from your consumption after you die.
In Upload, Horizon is the company responsible for the richest afterlife experience (an afterlife experience for the rich, where you have to keep paying for room service and minibar items by swiping left for your virtual pleasures. Horizon's prime afterlife location is called Lakeview. Residents pay big bucks to have their consciousness digitised and uploaded; stored on servers, so that their lives can continue not in the clouds with harps (like some poor Ludds believe), but in 'the cloud.'
As far as reviews go, we watched the whole first season over two nights. It's a fascinating (but not Good Place esque) dig into some philosophical questions about what it means to be human; leaning into Descartes' "I think therefore I am" to suggest that so long as a person's mind is still active, no matter what happens to their body, the person still is; and later probing whether a soul exists as a thing apart from a mind. We're in a sort of new gnostic territory most of the time, except that scientists are also working on synthetic bodies that can host a download of the individual's upload. There's a hint of the unnaturalness of life without a body, but even the Luddite hope of heaven is the hope of a disembodied soul in the sky when you die (where salvation, and immortality, is not secured so much by wealth, but simply by death).
The show's main upload, Nathan Brown, is hanging out for the availability of a download because he knows, deep down in his soul, that to exist as a person, a human, is to have a body. He's also died in a freak self-drive car accident (or was it), and lost some vital memories in the upload that also make him less than him. Uploaded beings are served by 'angels' — employees of the ultimate surveillance capitalism firm, who are voice activated. Unlike Siri and Alexa, these are real humans sitting at computers waiting for voice commands from now-digital beings. And so we meet Nora, Nathan's angel.
The show also has some fun pictures of technology in the not so distant future; including consent cameras for kicking off sexual encounters largely curated via Nitely, a future version of Tinder. The show handles sex and bodies in a fascinating way; the boundaries between the digital afterlife and the real world are almost totally porous, any avatar can cross over and connect in virtual reality, which means your loved one is never truly gone — even if they stop aging (so long as you don't pay for age up updates). Sex is excarnated, rather than incarnating — though for those on the meaty side of reality, feelings are reproduced by a frankly kinda creepy VR suit. When Charles Taylor observed that the 'disenchanted' world we now live in is an 'excarnated' world — he was describing a world that pushes us out of being enfleshed in bodies, and into 'being' in our heads. Where sex may once have been 'enchanting' — sacramental almost — as a good gift from God, in the disenchanted, excarnate, world it is simply transactional.
At one point in A Secular Age, Taylor notes that the more intimately connected we are with a person the less worried we are about cross contamination — we'll share a spoon with those we kiss — he suggests sex is the ultimate expression of such intimacy, that "love making itself is a mixing of fluids with abandon" — it's a bit gross; but as we become excarnate, culturally, our approach to intimacy gets a bit blurry, when our bodies don't matter anymore, we'll mix fluids with anybody. And yet, the VR 'sex suit' proves too much for Nathan's girlfriend, stuck in embodied life, because she sees them being cleaned in the hire shop — and hears all about the fluids they have to wash out — the suits are also used for people hugging dead grandparents; so there's a cocktail of snot, vomit, sweat, and other things. Gross. Bodies are gross. And yet, sex-as-intimacy, for two embodied people, can also be sacramental; Nathan's girlfriend, Ingrid, is prepared to overcome the ick factor because she "misses their intimacy." Touch matters. Bodies are essential to that, and while our approach to sex (think pornography, hookup apps, consent video cameras, VR suits etc) can 'excarnate' — we can push ourselves away from our bodies and into our brains, sex, like other embodied pleasures, has the capacity to re-incarnate us. To remind us of the goodness of our bodies, and even of something enchanted or transcendent; something meaningful. Taylor calls this 'haunting' we sometimes experience in the real world — the reminder of something beyond us a 'frisson' (sometimes called "skin orgasms") — that's the little thrill you get sometimes that makes your neck hairs stand up and your skin get goosebumps. That power of touch — even in the afterlife — gets explored too.
The fundamental question in season 1 of Upload is can a human be a human without a body; what are we? While the eschatological hope served up by Amazon Horizon is frictionless consumption in a digital eternity controlled by a corporation that exists to serve your every whim with a voice command ("Alexa…" I mean "Angel…"), the question Upload asks is just how satisfying such a future can be; and whether a download into an eternal body might not be a more desirable, human, outcome.
Those in the digital world have lost all the limitations of embodiment; there is no longer any mourning, nor crying, nor pain… it's a world made new. Digitally.
Except, you can pay to be sick — because after a stack of time in the digital afterlife, your yearning for a bodily existence leaves you wanting the feeling of pain or sickness, just to feel alive. So, you can pay to have a headcold…
_______
Zach: "Having a cold is no fun"
Nathan: "Why are you paying extra for this, isn't it like a dollar a minute"
Zach: "When you've been here a little longer you'll see that having no fun can be kinda fun. My nose is actually stuffed up. Just like real life."
_______
The conversation pauses here because a new afterlife experience pops up; it's pay to play, remember.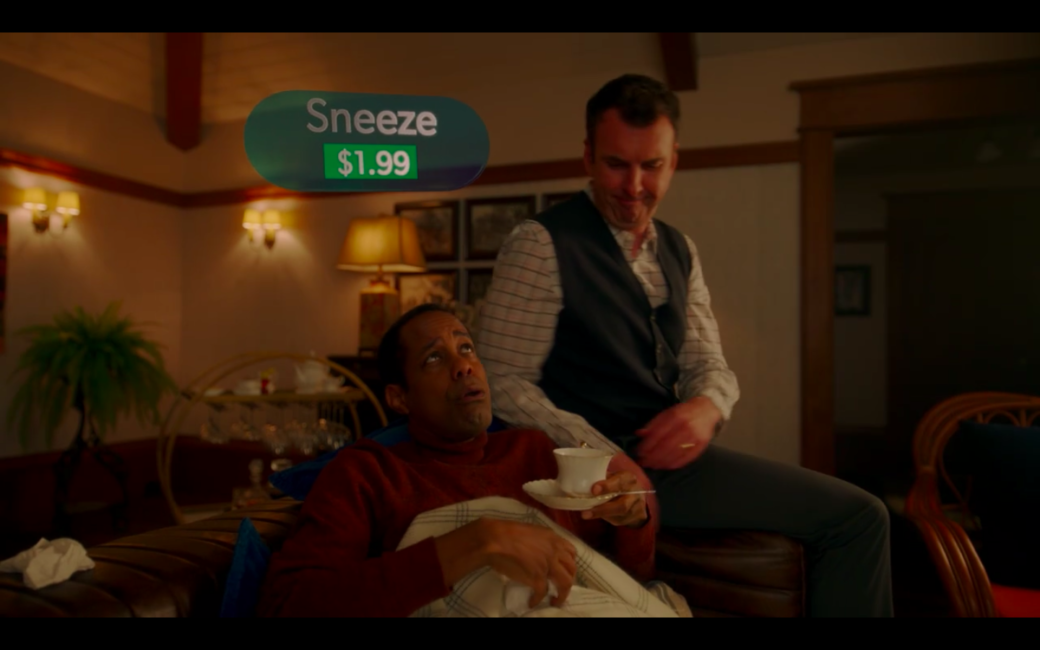 Trust Amazon Horizon to figure out a way to monetise a sneeze.
One of the more depressing sub-plots (and there are a couple, if you push too hard), is the story of Luke. Luke is a war veteran whose body was broken in conflict; he lost his legs, and rather than suffer life in the body, with no legs, he chooses to 'upload' early, and spends his digital life chasing experiences from the other parts of his body he gave up (mostly sex and food). Life without a body isn't all its cracked up to be in Lakeview. But he's also just a bloke desperately looking for connection. The show wants love to be enough for him, and for him to find compensation for the other bits, but it also leaves open the idea that life without a body just won't be enough.
There's a great dialogue between Nathan, and Dave, the Luddite father of his angel (it's complicated) about the nature of the person, the soul, the afterlife, and hope.
_______
Dave: "You see Nathan, when you died, your soul went to real heaven, so whatever simulation I'm talking to now has no soul. It's an abomination."
Nathan: "Ok, or, there is no soul. And there never was, and in a sense both of our consciousnesses are simulations. Mine on a silicon computer and yours on a computer made of meat. Your brain."
_______
Dave's hope is a tangible future where he might hold his wife in his arms again; an embodied resurrection even, but Nathan, like many good moderns, can't conceive of heaven as anything more than disembodied consciousness; eternal life for the soul, but not for the body. Like in the finale of the Good Place, the message from episode 1, to the end of episode 10, is that heaven is other people; the chance to spend eternity (or as much time as possible) with the people you love. God isn't in the picture — even in Dave's heaven — heaven is other people. For Horizon/Amazon — that's an opportunity to make some money…
There's an open source alternative to Horizon weaving its way through the storyline of Upload; the good guys who want heaven to be ad free. That might be the truly 'good place' — and Nathan hopes to be able to bring some of that open source goodness to Horizon; to hack away some of the overreach of his corporate overlords. Whether or not a 'good' digital afterlife is possible, Upload reminds us that we really want bodies for most of the stuff we love; which fits with the Christian understanding of the person. We are not souls in a meatsack — that's gnosticism or Platonism — we are people who have bodies. The Christian hope is a resurrected body; a body made imperishable because God's Spirit works not just with our soul, but on our body, to make us heavenly and immortal (1 Corinthians 15).
And while the show is billed as 'science fiction,' there are actually people out there seriously contemplating what such a digital afterlife could or should look like. Let me remind you again, Elon Musk thinks this is it; that the digital afterlife, where we exist not as people with flesh and blood, but as 0s and 1s in someone else's program (with Covid-19 a really weird glitch in the software; a virus even). This was also, taken in a more dystopian direction, the plot for The Matrix.
There's a question about what a good digital afterlife might look like, if the tech was available. We humans love the idea of being in control of our own end game; being able to work towards an eschatology (a view of the 'end times') where we, collectively (or corporately) are gods who can select our afterlife of choice and then consume our way to bliss. That fits the secular narrative pretty neatly. Amazon is a master of that narrative; a master of frictionless consumption and seemingly limitless consumer choice; which makes its involvement with the production of this program quite bizarre to unpack. Is being sucked into Amazon's mainframe a good death? A good afterlife?
In Greek, the letters 'eu' at the start of a word work as a prefix for 'good' — so 'euthanasia' is a "good death." In 1993, tech-philosopher David Porush published a journal article titled 'Voyage to Eudoxia.' It was an article exploring a potential escape to cyberspace; a good cyberspace. He suggested an obsession with cyberspace emerged earlier than he was writing (almost 30 years ago), after space exploration became a little passe. The next big tech things would be computers. Games were just starting to become 'immersive' (though nothing like they are now). He wrote then:
"Eventually, in the far-flung future perhaps, we may all emigrate, at least part time, to this new and gleaming electronic suburb, there to revel in an excess of sensory stimulation that today's cinema or MTV can only hint at."
He called this future place 'Eudoxia,' after Eudoxos of Knidos, and an invisible city in the work of an author he liked, Italo Calvino who wrote Cybernetic fiction. Porush used the term 'cybernetic' to describe a future "Cybernetic Age" where technology might enable us to capture (and maybe understand) the mind and how it works. Porush described a genre of science fiction exploring this potential as "cybernetic (or even better, "anti-cybernetic")" — Upload joins a long line of stories, like William Gibson's Neuromancer, exploring the potential that technology might free us from our bodies. Calvino, and Porush use the word 'Eudoxia' to describe the ability to write and create virtual worlds, or cities, built on 'good discourse.'
"We now have a word for a magic technology that will create a complete sensorium or virtual reality on a cybernetic platform; cyberspace, an accessible, self-referential, genre-destroying hyperspace, a soaring sensorium that will imitate, model, and link to its mirror image, the human brain."
Porush believed such a future technology, or place, Eudoxia, would render the story — TV or fairy tale — impoverished.
Lakeview, the 'heaven' in Upload, is a picture of a Eudoxia. And it turns out, people still want their bodies. That the mind itself is not enough; and that the sort of 'transcendence' Porush dreamed of, where we push out of our bodies and into our brains, is actually disenchanting rather than magical.
In a follow up piece, Hacking the Brainstem, published in 1994, Porush argued that (even then) our "centuries-long romance with technology" where we used technology to, for example, achieve intimacy with others, "has already cyberspatialised us," preparing the way for us to experience 'sensuous information bodilessly' — he breathlessly hoped that cyberspace would help us transcend our bodies. He said in the sort of science fiction that anticipated cyberspace — this cybernetic fiction — "Cyberspace already transcends the physical "meat" body by creating a simulated "meta" body in the brain and communicating with it directly via electrical implants." He said:
"Eudoxia is presently enacted in video games and cybernetic fiction, which will find their ultimate material marriage in the computer's cyberspace."
Whether or not this future can, or will, happen is immaterial. It's clearly a future that we like to imagine happening; an escape from the meat of our bodies into the meta. Life forever; freed from pain and suffering, beyond death.
That a company like Amazon is going to be best placed to deliver such a future is a scary thought Upload presents us with; but its story, like other anti-cybernetic stories, should cause us to pause and ask if this is the best good place we can imagine.
Porush describes the promise of cyberspace peddled in such stories in this reasonably long passage, it's worth it though…
______
The imminence of the cyborg is not a matter of speculation, it is a matter of reporting the news, a matter of postmodern sociology and introspection. We are already experiencing the reflux from a time twenty seconds into the future when our own media technologies will physically transcribe themselves onto our bodies, re-creating the human in their own images, forcing our evolution into the posthuman through a combination of mechanistic and genetic manipulations… yberspace will renovate human relations; it will unite art and technology; it will represent an altogether new and radical domain for improved social, psychic, and perceptual transactions. Bypassing the infirmities of the body, cyberspace will free the cripple and liberate the paralytic. Enabling multimedia and sensory access to the entire wealth of world data, cyberspace will deliver a universal education. Through its anonymity, cyberspace will invite the construction of a more ethical code and create norms for human interaction that strip distinctions of gender, class, race, and power. Cyberspace will provide a playspace for the imagination to roam free, liberating the mind from its inevitably neurotic relationship to the body. Cyberspace therefore has untold psychotherapeutic possibilities. Yet cyberspace will incapacitate destructive urges and consequences by removing our bodies. Cyberspace will create the means for a pure and perfect democracy and universal suffrage in which everyone can vote immediately on any issue. Cyberspace will present the possibilities for "virtual communities." Cyberspace will reconstruct the nature of the relationship between labor and time and labor and space and will reconstruct authoritarian technics as they are manifested in the workplace —although one wonders who is going to empty the garbage and build the roads after we have all emigrated to this new virtual suburb. While cyberspace will undoubtedly present new opportunities for criminality, rape and physical assault will become impossible. Cyberspace will present a new opportunity for our manifest destiny, a new frontier. Cyberspace will make war obsolete by turning it into a Desert Storm videogame. Cyberspace will create a totalized hypertextual platform that will cure what ails American higher education. We will become immortal there. It will enable us to combine work and play in a new way. Even the music will be better there. Cyberspace will be the new, clean, virtual Eden to which we will all emigrate when this physical world becomes an unlivable ecodisaster. In cyberspace we will finally perfect the academic's dream of sex: we will be able to indulge lust without the involving of our bodies (perhaps I should have said "the dream of sex that's academic"). The New World, World Without End, amen."
______
Cyberspace in Porush' vision, is the cyberspace on offer in Upload. A world built by Horizon Amazon.
In Hacking the Brainstem, Porush makes a pretty interesting point about 'utopian visions' served up in our stories; eschatologies, even. He suggests we create utopias, culturally, by 'modelling our view of human nature rationally and then inventing a technology to control or direct that model' — by 'technology' he says he means "systems that seek and project perfect control" — so when a human is placed in the system the system encourages the "best part and controls the worst part of human nature" while the human maintains the system by their participation. This is particularly interesting when one considers Upload's utopian vision; a digital world where the technology pictures the ideal human life as one of unfettered consumption in the pursuit of goodness and pleasure, surrounded by those people you love (such that you might consume them too).
The world we live in is one where corporations want that to be our utopian vision; because it's what keeps them profitable.
The corporate world wants to keep us disenchanted and placing our hope in a technological future — a eudoxia — because if we put our hope in some transcendent otherworld, heaven — clouds outside the cloud — then they lose us now. We no longer want to play in their system.
There's a reason there's no God in Upload — that the priest for hire at the funeral parlour offers up factoids about Nathan that he's gleaned from wikipedia, and no comfort beyond his digital avatar being there on the big screen behind him. God upsets the apple cart of these apple vendors.
Like in The Good Place, the 'eudoxia' of Upload — Lakeview — is in need of a good eucatastrophe. A "good catastrophe" — the term coined by Tolkien for the fantastic moment in a fairy story where the failure of our attempts to build our own utopian visions; craft our own ending to the story, our own 'afterlife' is met by an interruption; a good catastrophe. Tolkien's 'best catastrophe' — the one that means I'd be banking on fantasy novels outlasting cybernetic fiction — is the enchanting story; the story that reminds us that reality is not all there is; that the physical world points to a supernatural world; that sex in bodies is, like other experiences in our bodies, meant to throw us towards something 'enchanted' rather than excarnated, and to remind us that our bodies are fundamental to our personhood. Tolkien's best version of the good catastrophe is, of course, the version where the story of Jesus is true; where the heavenly future he offers is not disembodied life in the cloud(s), but an embodied life in a re-created and renovated world; this world; not a digital world; not a world fuelled by consumption and the pursuit of pleasure through choice where you have to keep paying a corporation; but a transformed world centred on the love of God for his people, and the love of his people for God and for one another. This is our hope. The real new eden — not the digital one.
"Look! God's dwelling place is now among the people, and he will dwell with them. They will be his people, and God himself will be with them and be their God. 'He will wipe every tear from their eyes. There will be no more death' or mourning or crying or pain, for the old order of things has passed away."

He who was seated on the throne said, "I am making everything new!"

Revelation 21:4-5
Who needs a Lakeview when you can have a river view anyway…
Then the angel showed me the river of the water of life, as clear as crystal, flowing from the throne of God and of the Lamb down the middle of the great street of the city. On each side of the river stood the tree of life, bearing twelve crops of fruit, yielding its fruit every month. And the leaves of the tree are for the healing of the nations. No longer will there be any curse. 

Revelation 22:1-3