There's a limited amount that an Aussie pastor with a blog can contribute to the religio-political situation in the United States right now, and I've been reluctant to say much at all with no real skin in the game; content, as I am, just to needle our own emerging 'Christian rightTM' here in Australia (not to be confused with Christians who are conservative politically).
Some insurrectionists carried 'Jesus saves' signs into battle, while others carried racially charged Confederate flags, and — including one woman trampled to death — Confederate themed 'don't tread on me' flags. This was, as David French puts it, a "Christian insurrection"…
My own non-expert two cents on the situation in America is that Trump is a symptom, not exclusively a cause, that white Christian nationalism is a heresy (and one that might need something like Critical Theory to unpick, and reveal, the heresy and how deeply embedded it is in institutions), that politics has become 'ultimate' for everyone in a world where something that 'transcends' material issues is no longer the assumed default (and ultimate even for those who believe in some transcendent reality), that we now live in an image based culture where very few people do the deep reflection required to understand the world, or the other, and where people see political action as 'image making,' such that we get this ultimate form of political expression…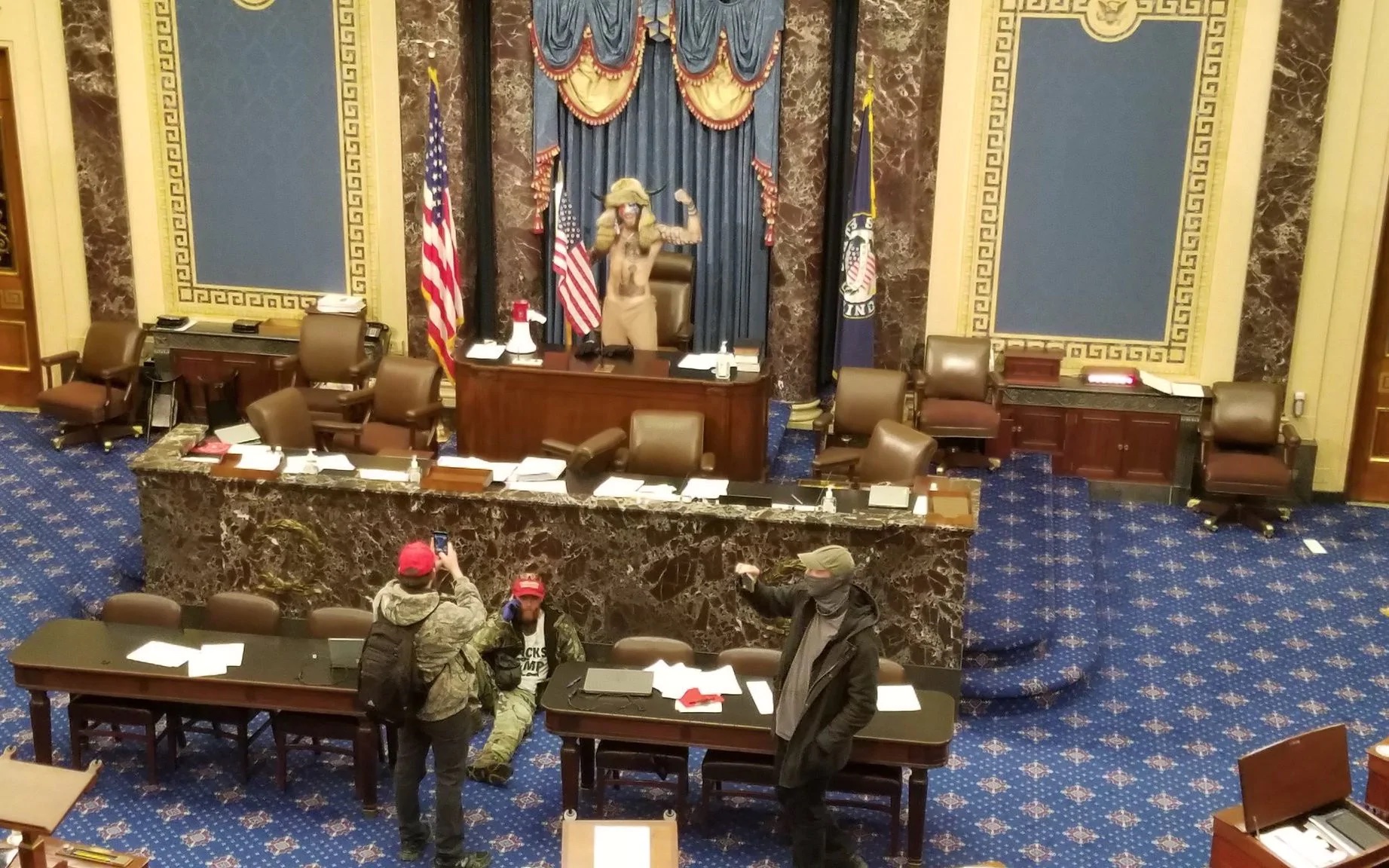 There are lots of better thinkers than I expressing these ideas elsewhere — Christopher Hedges on the image based culture thing two years ago, Jemar Tisby on white Christian nationalism v Critical Theory, Karen Swallow Prior on how little substantive integrative thinking happens, this is what James K.A Smith was on about in his book Awaiting The King, exploring how politics becomes an 'ultimate concern' in a secular age, what Walter Wink was on about when he wrote about 'domination systems' and the 'myth of redemptive violence,' and what James Davison Hunter warned about both when coining 'the culture wars' and talking about the 'politicisation of everything.'
There's been lots of fear-mongering by voices from the Christian Right TM that makes even handed engagements with critical theory and the potential overreaches of the progressive side of politics (or 'the Left') difficult to parse out and engage with. Christian leaders like Franklin Graham and Eric Metaxas have metaphorical, if not literal, blood on their hands — Metaxas is being called out, trolled even, by fellow Christian conservative Rod Dreher on Twitter, but Dreher's own anti-left rhetoric creates grist for this mill (see this Cardus review of his most recent book). There are plenty of voices out there deconstructing this particular political moment, and the best of these offer some alternative vision or 'political' way forward for us in our multi-cultural, multi-faith, secular, pluralist, democracies in the west.
These ways forward are problematic because whether one pushes into monotheism (either a Christian theocracy (Christian nationalism)), pluralism (where I think I'd sit short of Jesus' return), or a sort of 'polytheistism' (wokeness/CRT) all the political solutions offered are actually fundamentally 'religious' solutions with their own problems, pluralism, for example, has to grapple with the 'paradox of tolerance,' while polytheism necessarily exclude some voices from the public table (those being 'progressed from').
Who knew that this 'image based political culture' would not just produce a barbarian in the Capitol building wearing horns and wielding a flag on a spear, but an altogether more civilised barbarian wielding a sword, surrounded by flags, calling us to a more noble answer. This morning Governor Arnie released a stunning and stirring video in response to the Christian insurrection, drawing on his Catholic heritage, to call for 'public servant leadership,' and soul searching and repentance in his Republican Party.
Arnie went from this…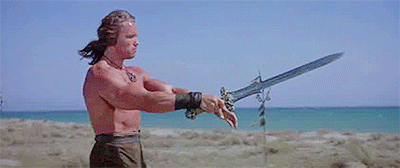 To this…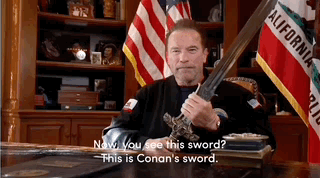 Now. His contribution, coming, as it does, from a prominent Republican Governor, reflecting, as it does, on his childhood experience in post-Nazi Austria, is being widely hailed as the sort of circuit breaker that America needs. And it is a beautiful and powerful speech.
"I grew up Catholic, I went to church, went to Catholic school, I learned the Bible and my catechisms. And from those days I remember a phrase that is relevant today: a servant's heart. It means serving something larger than yourself. What we need right now from our elected representatives is a public servant's heart. We need public servants that serve something larger than their own power, or their own party. We need public servants who will serve higher ideals, the ideals in which this country was founded, the ideals that other countries look up to."
Now. Arnie 'grew up Catholic,' but what he seems to advocate from here on in is the same old American exceptionalism that creates an American civic religion…
When he whips out the sword it's a picture of his vision of democracy. Tempered by fire. Swords become stronger through ordeals.
"Our democracy is like the steel of this sword. The more it is tempered, the stronger it becomes. Our democracy has been tempered by wars, injustices, and insurrections. I believe, as shaken as we are about the events of recent days, we will come out stronger because we now understand what can be lost."
Democracy is just another version of the sword. It's a power game. Democracy, especially American Democracy, is the ideal Arnie is putting his faith in.
We do need public servants who will serve higher ideals. He's right.
But what?
We've all got to serve something, or somebody, and the thing about the word 'serve,' is that Biblically, it's the same as the word 'worship' — and what kingdom we serve, or what kingdom our political leaders serve as ultimate is not just a political question, but a religious one. This is why the New Testament speaks of Christians as 'citizens of heaven' and 'citizens of the kingdom,' which positions us with a view that this world, and its political kingdoms, are not ultimate. We might exist in them as a faithful presence — ambassadors even. We might follow the examples of Daniel, or Esther, or Erastus in Corinth — but we also follow the example, ultimately, of our king, Jesus, who was put to death by the nation state operating 'the sword' when he was around.
But, while it nods back to the religious source of his conception of 'servant hearted leadership,' it's an expression of the same secular age politics that treats politics — or rather, in this case, nationalism, as the ultimate concern that will save America from itself. America can't save America. America can't fix Christian nationalism if the problem is worship of America… or a vision of it. America doesn't need a more correct form of Christian inspired nationalism, or a better nationalism, to fix a problem caused by nationalism; as David French argues in his piece, only the church can save the church — but really, only Jesus can save his bride, the church, from the clutches of the dragon.
It's Jesus who provides the template for servant hearted leadership — not the church — and it's ultimately reconnecting not just to his example, but his kingdom, that will save Americans (and us). The problem is that a secular state — including Arnie — keep wanting the fruits of Jesus' impact on the world, after disconnecting from Jesus.
We still want a sword to save us, just one swung by a more benevolent king (or President, or reality TV star), but what we need is a king who rejected the sword and took up his cross.
And the thing about Jesus…
He'll be back.
And he'll bring the ultimate kingdom, and yes, judgment.
He who was seated on the throne said, "I am making everything new!" Then he said, "Write this down, for these words are trustworthy and true."

He said to me: "It is done. I am the Alpha and the Omega, the Beginning and the End. To the thirsty I will give water without cost from the spring of the water of life. Those who are victorious will inherit all this, and I will be their God and they will be my children. But the cowardly, the unbelieving, the vile, the murderers, the sexually immoral, those who practice magic arts, the idolaters and all liars—they will be consigned to the fiery lake of burning sulfur. This is the second death." — Revelation 21:5-8
Deconstruction is easy. It's easy to tear down and diagnose the problems of the other, perhaps especially the 'political' or religious other… It's easy to pull apart the social factors that get us where we are — providing treatments that take root and transform are more difficult, because there's no silver bullet solution to these problems.
We can't just make beautiful videos featuring the ultimate counter-punch to a president who governed almost entirely by 'image,' in pursuit of ratings. One former host of The Apprentice taking down a previous host of The Apprentice… that doesn't address the problems facing us, it's another symptom of these same problems.
So, when it comes to choosing political voices to listen to — those who'll enable and activate your participation in the political sphere — pick voices who offer constructive visions of what it looks like to live as citizens and ambassadors of that kingdom. Not those who put our hope in the princes of this world — or in the democracies where we all become princes and princesses, but in the king of heaven and earth.