If you want to play the pied piper role for a city full of bacon lovers you need every possible bacony tool at your disposal. Including the subtle scent of bacon found in this cologne from fargginay.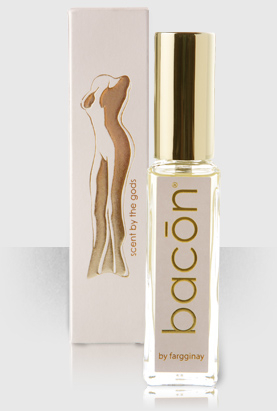 A common question, does this fragrance really smell like bacon? The answer is yes & no. Our Gold formula offers a memorable sizzling citrus aroma with an ever so slight hint of bacon and the fun… is in finding it. This artisanal Gold formula is lovingly crafted with a pure essential oil blend of mandarin, bergamot, grapefruit, lemon, nutmeg, pimento berry, black pepper & a touch of sweet, a smidgen of savory, and one pinch of Bacon salty goodness. What are you waiting for?
Like every magical product it has a magical backstory.
The year was 1920 and quite by accident John Fargginay, a Parisian butcher discovered the ability to dramatically elevate his customers' mood with a secret recipe blending 11 popular pure essential oils with the essence of…bacon. As the story goes, film stars & heads of state would frequent his shop to procure the magical elixir. With a wink of the eye and the secret code, "fargginay," customers would be slipped a discreet pouch containing the formula said to trigger pleasant memories. After a massive fire on July 4, 1924, the business was lost and so was the formula…Until now. Ladies & gentlemen, behold, bacōn fragrances, by fargginay. The time has come to uncover a new level of awesome.
Via Uncrate.