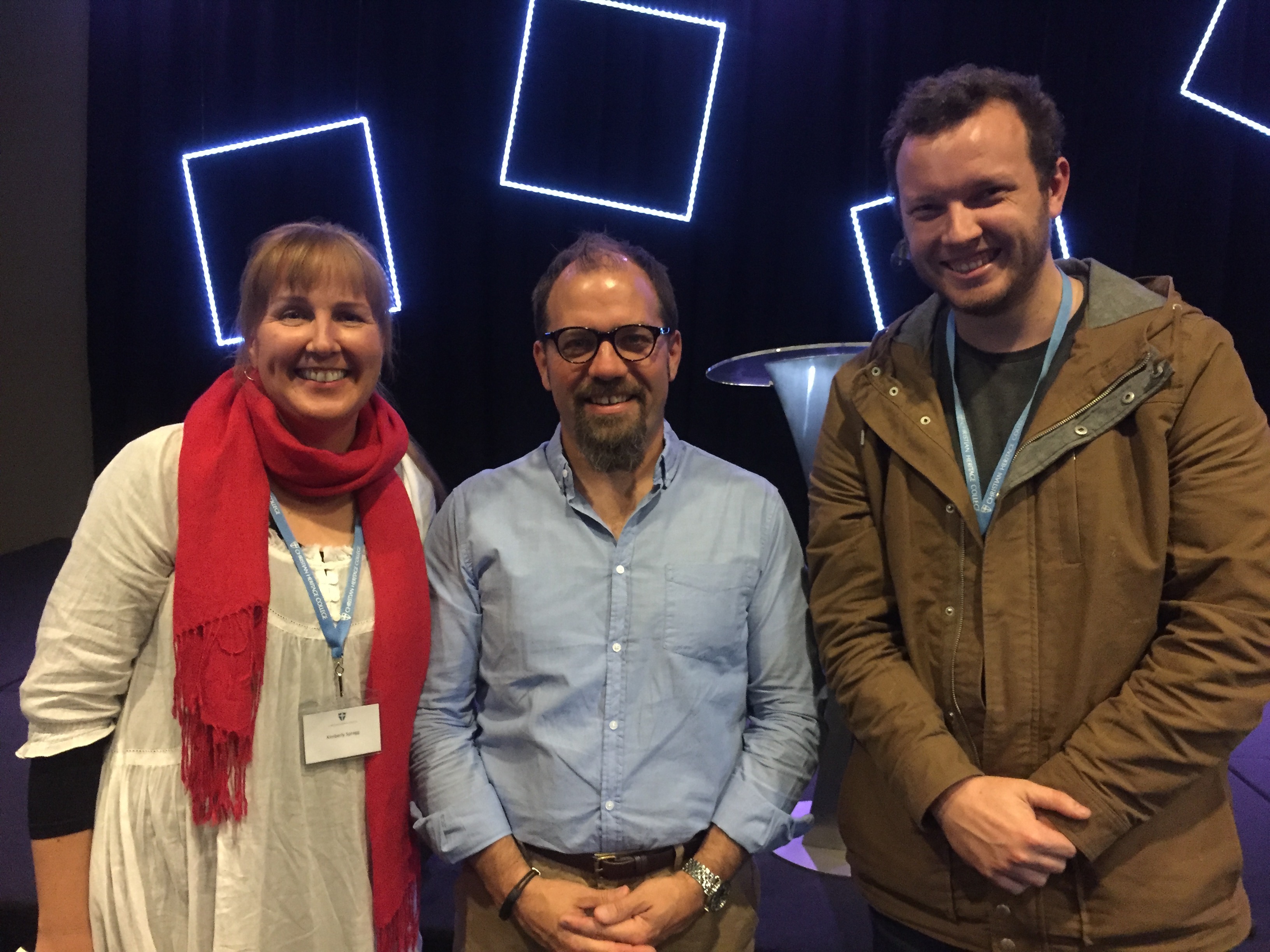 There aren't many writers whose works I've devoured with the enthusiasm with which I've devoured James K.A. Smith's work in the last few years. He has a way of both articulating and stretching the way I think, and his theological framework has rich potential in ways he hasn't even begun to tap into yet in his writing. I'm finding it incredibly useful not just in thinking about how we evangelise and disciple, but how I deal with people pastorally. So I'm thankful for him, and I was thrilled to interview him recently for the Bible Society's Eternity newspaper, and then to meet him in Brisbane yesterday as he spoke at a symposium at the Christian Heritage College; as a pastor I was a little out of place in a conference full of education practitioners, but I very much enjoyed the conference.
While I'm not an 'educator', I'm passionate about education  — Christians need to figure out how to live well, and speak well, in the world; and I'm increasingly on board with Christian education, despite being pretty happy with my public school/secular university educations. This is all to say I think this matters. We've got to teach our kids to engage well with the world for its sake, not keep them in a bubble for their own (here's the transcript of a talk I gave on why and how we should approach getting educated). And I don't think reformed evangelicals like me have done a great job of doing this — the schools my denomination is involved, around the country, with charge such high fees that they can't possibly be achieving this end for anyone but the very wealthy.
Smith's talk, summarised below, won't be new to those who've read his books or watched other talks on YouTube, but it's always nice to hear someone in the flesh, and, when meeting them, to find out they're both humble and willing to speak to people who approach them (even it it's for weird 'selfie' requests).
Any bits of this summary that don't make sense are a failure of my fingers to keep pace, and lots of this is as close as possible to direct quotes, while other bits are summaries.
Higher Education: What's love got to do with it? Longings, desires and human flourishing. 
Smith's 'axiom': Every pedagogy implicitly assumes an anthropology.
Every philosophy of education/strategy assumes implicitly/tacitly some model of what human beings are, and therefore what learners are.
The university has assumed an anthropology that is a lot newer than we might realize, that is contingent and challengable. Christian teaching and learning should work from a different model.
The water in which higher education swims is largely, now, a German production. The assumptions about what a university should be are post-enlightenment, 18th-19th German education, which became a model exported into the US, UK, and probably Australia. As an enlightenment institution the assumed model of the human person is the "thinking thing" model — the university model assumes humans are primarily brains on a stick. The task of education and the university is the depositing of beliefs into the intellectual recepticles of thinking things in order to equip them for a particular task. You get the prioritizing of the brain that is then wedded to a utilitarian/pragmatic view of what education is for. Universities become credentialing facilities for brains on a stick.
This is not what universities were meant for. It's not why they started. And we're free to challenge this model. This model has been ratified by government bureaucracies as 'the way a university should be'…
The university had a very different beginning, and a very different anthropology. It assumed a very different model of what learners were. The Desire for God and the Love of Learning a good book — a history of the pre-modern foundations of the university. Takes the history of Jesuit influences on education in Paris, and shows that it was meant to be an incubator for hearts and minds to learn to love the right things, in the right way, for the right reasons. To make people lovers of God who become image bearers in and for the world around them.
If we're going to push back against the paradigms of the university because we have history on our side. There is an older version of the university we're trying to recover.
A more biblical anthropology
Instead of imagining that humans are a static brain on the stick waiting for an information dump.
Let's imagine that there's a dynamic orienting of ourselves to some other thing — we're always aimed at something, we're always clawing our way towards some ends, some goal, some ultimate vision of the good life. There's an existential dynamism about us. To be human is to be 'after' something. This is a very ancient picture of the human person. Certainly Aristotelian. Every human being is oriented towards a telos. Oriented to an ultimate end.
Augustine captures this as well. The ancient Greek heritage is seized upon by the church. The 'centrality of the heart' as the fulcrum of this drive towards something else.
"You have made us for yourself and our hearts are restless until they rest in you" — Augustine, Confessions
Augustine makes a normative 'design' claim — we are made 'for' something. Human flourishing is found when we find our flourishing and end in the one who made us and is calling us. To be human is to become creatures whose hearts find rest in the one who has made us and is calling us; finding what you are made for.
The task of a Christian education is to help people find what they are made for.
The seat for this is not just the intellect. He doesn't say 'our minds are puzzled until they know you' — it's about the heart. Throughout his corpus Augustine emphasizes the 'seat' of the heart, because formation is not just a question of knowledge, but of love. The most holistic form of education will help us love what we're made to love. The centre of the human person is the heart.
Desire = love
Love, learning, longing, craving: are synonyms.
We need to get over the distinction between eros and agape.
The problem isn't desire per say, but the direction of it. Agape might be best understood as rightly directed eros. Christian agape is the right orientation of our 'erotic' centre, which is actually made for God.
This restlessness — every human creature is created as a lover. With this engine of desire that drives us towards something ultimate. But that's no guarantee that they find their end in the one that has made them. The effect of the fall; of sin; brokenness, is not that we turn off love, but that we start loving the wrong things in the wrong way. We take created things and vault them up as if they were the creator. We absolutise them and seize upon them as if they were something ultimate. Idolatry. The dynamics of idolatry are not primarily intellectual; they are erotic. We desire the wrong things in the wrong way. These things aren't wrong in themselves. If you love them in a way ordered by your love for the creator, that's 'rightly ordered love'…
How do I learn to love?
If I am what I love, and if you are what you love, then the crucial question is how does my heart get aimed? How does this orientation happen?
We've not always had the best resources at our disposal in the protestant tradition. You learn to love by practice. Your ultimate longings are not just the outcome of ideas and beliefs deposited in your mind. They are more like habits that you acquire through being immersed in rituals and routines that train your loves at an unconscious level.
Your loves are more 'caught' than 'taught' — there's a problem with this expression that we have a narrow view of what teaching is.
What would teaching look like if we did it like this?
The indexing of our desires towards something ultimate is not just about what you know or believe, it's a disposition that arrives from the rituals and practices that you are immersed in. They find your way to your heart through your body. You are conscripted into ways of life that come from your practices.
We're taught to love in all sorts of places that are not schools. This kind of learning of a passion — this acquisition of a heart's disposition happens in a holistic experience where we are immersed in a story of what the good life looks like; of what flourishing looks like.
All kinds of institutions and practices are 'pedagogies of desire' that are training us to love something that is not ultimate. These things get hold of us in tactile, visceral, experiences that conscript our hearts without us realising.
The competition for Christian education is not public education, it's less the other sorts of institutions, it's an array of cultural institutions and practices that we didn't even realize are pedagogies of desire that are teaching them to long for pedagogies of desire. Secular liturgies.
Every time Smith's kids ask to go to the mall they ask to go to the temple. Which means his ideas, in some small way, are sinking in for his kids… The mall is one of the most religious sites in the city. It wants you to love something ultimate. The mall pictures for you a vision of the good life that captures your imagination and your longings; you don't even realise you've been conscripted to the vision of the good life based on 'stuff'; the gospel of consumerism. Nobody thinks their way into consumerism, there's no good argument for it. You are conscripted into it. The mall has a model of outreach called 'marketing' — marketing knows that you're lovers and desirers. Marketing doesn't give you information. It's hard to watch an ad about a product and acquire information about it; what happens is you see a product embedded in a story. This story pictures for you a vision of the good life, and you start, over time, to picture yourself in that life. You don't even realise you're learning to love something else. The repetition, the immersion, conscripts you into a rival gospel. If I ask you — there's a disconnect between what we know and what we love — if I ask you "what do you love" — you'll give me the right answer: "I love God"… there can be a gap between what we know we believe because we underestimate the impact our desires have, and our conscription to other desires, that get in the way.
What we're really talking about is rehabituation. Love as we're describing it here isn't an emotion, or a feeling, it's a habit.
We use the word 'habit' in a way that is different to the philosophers, and how it has been used historically; the habit is actually the internal disposition/the inclination to some end, we acquire through different rhythms and routines. Putting the left sock on first every time is a practice, a ritual, they inscribe in you a habitual disposition; you become the kind of person whose default leans in that direction. To have a habit is to be so disposed towards doing something that you do it without even thinking about it.
Your loves, your most fundamental inclinations of your heart, aren't just trickled down, but are caught bottom up from something that inscribes in you a disposition. Secular liturgies teach us to love certain goods; Christian education should be about a rehabituation of the heart. You can't think your way to new habits. If I've acquired disoriented habits of love and longing because they were caught through the practices I've been involved in, I can't think my way out; I have to practice them. This lecture won't give you new habits, a book won't give you a new habit; the best that might happen is an idea might become the catalyst to a commitment to a new habituation that will move you towards a love of God.
If your fundamental loves are shaped by the practices you are immersed in; we need to realize you can be being habituated without realising it. Realising that the world is not a neutral place can be the beginning of the rehabituation. You can be acquiring dispositions without recognizing it. How does this affect those who teach? What are the ways we pick up habits that shape us as we teach.
We are creatures of habit, who are made to love, and our loves are shaped and acquired through the rhythms and practices we are immersed in; none of this is a surprise to God. What does God do? He's an incarnating God who meets us where we are and comes to us not just with a message, or the information that we need, we see that the Gospel is an invitation for us to find ourselves anew in a community, which is the body of Christ, an invitation to be welcomed into a reforming body; a reforming community of practice, animated by the power of the Holy Spirit who gives us new rituals by which we might habituate ourselves into a new way of living in the world.
If we have a negative take on rituals and liturgies; the devil gets all the good ones. Cultures are more than happy to offer us rituals. You can't undo the deformative power of cultural practices by giving people new ideas. It won't work. We're desirers, not just thinking things. One of the ways we've gone wrong is that we thought the way to fight the fire of cultural deformation was through intellectual formation. What you need is Christ-oriented, spirited, reformation. Fighting fire with fire. Inviting people into communities of practice and liturgies that are reforming our hearts. It has to be an invitation for the whole person to learn to love again; it has to meet us as whole creatures.
Worldview? Smith has two cheers for the concept of world view…
The goal of a gospel centered approach to education isn't just a narrow focus on soul rescue, or a particular understanding of ministry; God's concern is as wide as the world itself. There is no learning that isn't animated by some confession, outlook, or perspective on things. A Christian education brings the Gospel to bear on all of creation; there is no education that isn't confessional. I'm all for that.
My only pushback on worldview paradigms; it tends to do all this in an intellectualist way; equipping people with a view, and ideas, to see the world so they can act in it in a particular way. It has tended to miss all of the dynamics of habituation, deformation and reformation of habit. We need more than 'worldview' — with all of that right emphasis in place, we need to see that a holistic, radical, Christian education will also take into consideration the heart. Reformation is a shift in our centre of gravity.
Scandal of the Evangelical Mind — Mark Noll — what happened in that movement was that nothing pushed back on the basic Germanic model of education. It basically said Christians can play that game too. We did. Plantinga, Wolterstorff, etc. A bunch of scholars showed we could play that game, but this isn't entirely the game we should want to play, even if we value research.
A shift in the centre of gravity that expands from informational perspectives so that the scope of our concern includes the gut.
We're remembering something about the university that the university forgot in modernity.
"The glory of God is a human being fully alive" — Iraneus.
Packer once co-authored a book Christianity: The True Humanism. The power of the Gospel is that we learn how to be human again. Jesus shows us what it looks like to be human. A Christian education should be a way to realise human flourishing. In our age the opportunity may be that Christian colleges and universities are the last outpost to remind us how to be human.
The practices of worship have a missional power about them. It's important that we frame them so they don't become superstitious. If these practices are animated by the Spirit there can be certain virtue in going through the emotions.
The kind of liturgies; there's always going to be something about words. Posture, bodily posture, captures and teaches us something. Practices can have a dynamic that we don't realise.
Q&A
If we know all this, in Christian schools, how do we not 'indoctrinate' so that we engage with the free will of the person?
We need to be honest and up front about why we do what we do, and what we're inviting people into. The freedom moment is in choosing to come here, where you'll be committing yourself to these practices… there's a lot of room to work out 'Lord I believe, help me in my unbelief'…
Practice hospitality. Really, really, important. What does it look like for us to welcome other faiths into what is an unapologetically Christian project?
Indoctrination is a particularly 'intellectual' project. It's a risk of every mode of education. That sort of institution is less inclined to be upfront and honest about what you're being inducted into.
How do we physically shape our learning institutions to enable the sort of 'learning' in community that you spoke about?
Architecture: the material environments of where we learn will foster the way we see the world, the way we do community, etc. Thinking about how the material conditions of a space foster community would be one thing. Micro-rituals have macro significance. The university might have a thousand different routines that collectively constitute an ethos. It has to be a concert between all the teaching and cultural spaces; they have to be animated by the same story so people don't feel like they're inhabiting different worlds as they move around, but nor should things just 'repeat' — there's no 'extra curricular' there's just 'co curricular'… nothing in here is meant to undercut curriculum. All the gears of an institution, ideally, move in concert with each other.