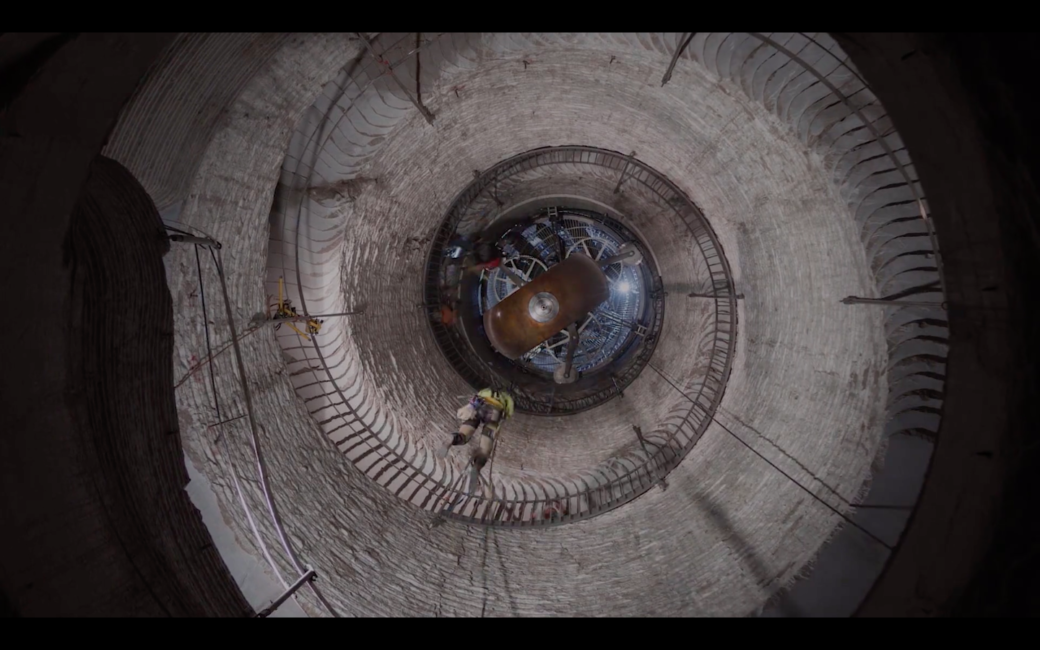 Clocks cause secularisation.
This might seem like an odd flex; but that's the argument I ended up settling on in an essay I wrote recently in a subject unpacking Charles Taylor's A Secular Age and its implications for being the church in the secular world.
One of Taylor's basic starting assumptions is that our shared 'social imaginary' — the way we approach reality — has been 'disenchanted' — and while an inclination towards magic, the supernatural, and even religion might still exist in our world, part of what he means is that even in churches (where some belief in the supernatural is foundational) our view of time and space has been flattened. Where once churches marked a spiritual calendar as well as the passing of actual time, we now just see things in linear terms — and, like the rest of society — we're increasingly particularly interested in the present reality; in the moment, or the instant. Our horizon for action and decision making has been massively reduced. We see this in the work of other thinkers too, and the way we make short term decisions, the way we view ethics in utilitarian or bureaucratic  terms rather than the virtue ethics of the past where we were less focused on the instant an ethical decision was being made, and more focused on shaping ethical character that would be brought to bear on those decisions. We've also flattened out our understanding of space so that only our present, observable, physical reality really matters — not only do we not conceive of space as both natural and supernatural (and of God as being present in the natural world as well as some supernatural order), we seem to have lost the ability to think long term about the shaping of space and its ability to provide for more than just our immediate needs and pleasures (see 'climate change').
We live in an age of instant gratification; where our horizons for decision making have been pushed into the very 'here and now' at the expense of the future (and certainly with an increasing, often optimistic, ignorance of the past). We've lost a sense of time and space being part of some grand narrative; partly because along with that disenchantment of space and time came a loss of the sense that God is at work, playing a very long game, as the author of space and time. The God who meticulously orchestrated history to centre on the death, resurrection, ascension and rule of Jesus — the lamb slain before the creation of the world — has been pushed to the margins, and so too has any sense that the world exists as a stage for a grand story that is bigger than the stories we write for ourselves.
This shrinking horizon is fed by what and how we consume; we live in an age where our whims and desires can be virtually gratified almost instantly; want the thrill of orgasm; no longer do you need to invest years in cultivating a relationship that leads to marriage; you can open your browser and self-sooth with pornography, or there are apps for hook-ups, or apps that take the hard work out of dating. But it's not just sex, our consumer whims can be satisfied in ways that appear to satiate our hunger temporarily (think Uber Eats), but on that front we're increasingly removed from the physical means of production of our food (we're not even going to the restaurant where the food is made any more, let alone the paddock or the meatworks).
It might even be bugging you, as a reader, that you've already read 600 words and I don't seem to have done anything with that initial statement that clocks cause secularisation. You're too busy for this. Your attention span has been stretched. This format of information delivery does not mesh with your desire to understand the point of this piece right now. Why are you even bothering with this, you might be asking. How many tabs are open on your browser? And how many notifications are displaying on your email tab, or your Facebook tab, just beckoning you to click away (for me it's 4,300+ on my gmail tab, and (1) on my Facebook tab).
700. How many of those words did you skim?
In his book Present Shock: When Everything Happens Now, Douglas Rushkoff describes the way the collapse of narrative and the rise of the 'present' has led to a certain sort of apocalyptic fascination (the type also explored in How to Survive the Apocalypse by Alyssa Wilkinson and Doug Joustra). Towards the end of his book he describes the relationship between 'present shock' and living as though the end of the world is imminent; what would you do if you found out you had a day to live? Chances are, you're already doing it… because that's how we live.
"Present shock is temporally destabilizing. It leads us to devalue the unbounded, ill-defined time of kairos for the neat, informational packets of chronos. We think of time as the numbers on the clock, rather than the moments they are meant to represent. We have nothing to reassure ourselves. Without a compelling story to justify a sustainable steady state for our circumstances, we jump to conclusions—quite literally—and begin scenario planning for the endgame."
We don't say no to our impulses for a variety of reasons; but one of those is that in our liberal, enlightened, secular world — where there is no grand story, no God, no reason to limit our freedoms (or in the Christian version, God died to totally set us free so we can do whatever we want within the boundaries of his love) — we have become the gods of our own lives; the authors of our story. Our job, as humans, is to be who we were made to be (and who our inner self tells us we should be). To be true to thyself; and to express that truth by living freely and authentically in the moment, as an individual.
This is the pattern of this world.
Now imagine applying that pattern to the church.
Is it any wonder that our approach to church — to relationship with God and others — is mediated through the question of what's best for me in an instant? A church doesn't have the means to supply my needs or the needs of my family right now, so right now I'll decide to go to one that does. A church isn't helping me to grow in my knowledge or godliness or chosen metric right now, so right now I'll go to one where there's a better alignment with my priorities. A church doesn't feel like deep community right now, and I don't feel connected to the people, so I'll leave and start a whole batch of new relationships right now hoping for instant community.
We make our decisions based on the minute hand of the clock; not viewed through the prism of a lifetime, but if Rushkoff and Taylor are right this is because we are being formed this way by a culture that has lost its narrative, and that bombards us with stimulus that keeps our social imaginary truncated not just by disenchanting space and time and their relationship to God's eternal plans, but by promoting both 'freedom' and 'choice' as the essential basis of the good human life, and 'right now' as the ultimate horizon for that freedom. This stops us placing limits on our immediate individual freedom for the sake of others, and the sake of ourselves. It means our ethical paradigms and our approach to decision making are built entirely on pragmatics or utility. This is the spirit of our age; this is the pattern of this world.
We're meant to be different. God's grand story is one where individual freedom is not the chief value; relationships are. Love is. Love of God, and love of neighbour. The desire for freedom and instant gratification were the motivations behind the fall of mankind in Genesis 3, and they've been a debilitating and deadly problem for us ever since. We are not made for freedom but for self limiting for the sake of others. In a great article titled 'The Ethics of the Fall: Restoring the Divine Image through the Pursuit of Biblical Wisdom,' Brendon Benz makes the case that to limit ourselves, freely, for the sake of relation is to be truly human; to manifest the image of God. Which is to say that the image of God is not something we bear purely as individuals; but something that we bear in communion with one another; which challenges a modern sense of "I" or "self" as God. Benz says of the idea that "that God is imaged only when two or more are gathered in the freely self-limiting relational character of God," that this means:
"… An individual neither posses the divine image as a substance of his or her own being, nor images God in isolation. Rather, the imago Dei is manifest only in relation (Bonhoeffer 1997: 64–65; Barth: 228–30; MacDonald: 314–20; Sexton: 187–206). In the words of Moltmann (1993: 218), while "the self-resolving God is a plural in the singular, his image on earth—the human being—is apparently supposed to be a singular in the plural."

Consequently, the "one God, who is differentiated in himself and is at one with himself, then finds his correspondence in a community of human beings, female and male, who unite with one another and are one." Such an account serves as an important corrective to what E. Gerstenberger critiques as "the heightened sense of 'I' in modernity," which he partially traces "to Old Testament origins" and "the anthropological doctrine of" individuals "'being in the image of God'" (287)."
The fall, then, is a failure to self-limit both in terms of humanity's relationship with God, and this image bearing function, and, to self-limit for the sake of the other; a failure to give up freedom, but instead a choice to be an "I".
The story of the Gospel is the story of Jesus' self-limiting sacrifice for our sake; as an act of mercy; with his eyes on an eternal future, not the short game. This is what we're meant to have in view as we give our own lives in worship to God (and as we do that together — offering our bodies (plural) as a living (singular) sacrifice.
Therefore, I urge you, brothers and sisters, in view of God's mercy, to offer your bodies as a living sacrifice, holy and pleasing to God—this is your true and proper worship. Do not conform to the pattern of this world, but be transformed by the renewing of your mind. Then you will be able to test and approve what God's will is—his good, pleasing and perfect will. — Romans 12:1-2
Benz concludes his piece with an observation that our image bearing nature is restored in the church, by the Spirit; which restores our task of imaging God in the world, in and through our relationships to each other — not simply as heroic individuals; and, in fact, not as an "I" at all. To image God we have to give up some of our freedoms to one another, in relationship — our bodies have to become a living sacrifice. Benz sees this transforming our relationship with each other, and with space (so also, with time).
"Thus, in the creative, life-giving encounters among humans, and in the creative, life-giving encounters between humans and the rest of creation, Spirit does not stem from the self, but is present when those involved freely self-limit in order to relate."
We Christians need limits; not unfettered individual freedom — which is the pattern of the world; the good life according to our neighbours in the secular age we live in where everybody is experiencing present shock, and so feeling utterly disconnected from a big story and living every moment as though it is our last. We Christians have an utterly different view of space, and time.
One of my favourite books this year was The Common Rule by Justin Earley. Earley makes the case that true freedom doesn't come from doing what you desire in any given moment (in part this is obvious because our desires are so profoundly shaped by external stimulus, especially our environment and culture), but rather from doing what we were made for (or being who we were made to be). His book lines up nicely with the thesis of Benz's piece.
Earley says the common narrative of our time is that to "ensure the good life, we have to ensure our ability to choose in each moment," he asks "What if true freedom comes from choosing the right limitations, not avoiding all limitations?"
Now. I was accused of sounding like a cult leader in my recent piece about church because I was encouraging people to limit their freedoms; the freedoms won for them via the Gospel. I think this is such an anaemic picture of the Gospel and the Christian life. We are free from slavery to sin and death, but we are freed to become servants of God. We are freed to give ourselves to the life-giving work of the kingdom of God. This is what happens when we individualise the Gospel so that it's a message of personal salvation and freedom from all responsibilities, rather than seeing the good news as the good news of a new kingdom with a good king. A king who calls us to loyalty, who pours out his life-giving spirit to transform us into his image — the image of God again — and invites us to start living in his kingdom now not just as freed people who do our own thing, but as children of God who are united to God, and so to one another, by the Spirit. The Spirit which is a spirit of unity, that draws us together into the body of Christ so that we might self-limit in relationships to manifest the image of God in the world. If I was wanting people to 'self limit' to submit to some human authority or institutional structure (like 'my leadership,' or 'my vision' or 'my church'), then that would be cult like. But the New Testament clearly expects us to submit to one another, and that submission, like a marriage covenant, involves a self-limiting of one's freedoms for the sake of a relationship and a function in the world. My marriage covenant limits the expression of my sexuality, and of my economic freedoms, and all of my decisions really because Robyn and I make our decisions as 'one' rather than as 'two'; and in doing this we reflect the relationship between Christ and his church, but also we reflect the image of God as Adam and Eve were meant to. Church communities, as they come together as the body of Christ, and self-limit for the sake of relationship with one another do the same — and this self limiting starts with the leaders. If leaders aren't doing this then the community they lead isn't a body of Christ, it's a group structured around the leader.
2,500 words, and still nothing about how clocks cause secularisation. So now, let me explain.
The first mechanical clocks were created in monasteries to help the monks track sacred time; they were designed so that monks could follow their 'common rule' and pray at the designated times each day. They regimented life in the monastery with a new sort of precision. They changed our ability, as humans, to measure time — bringing more precision, and ultimately they started to shift the monastic account of time from 'kairos' to 'chronos;' and they spread out from the monastery into the villages. Town squares started being dominated by a large clock, which brought synchronicity to the village's practices, workers would leave home in lockstep, and arrive home at the same time — becoming more like automatons than people were previously; the way people spent time began to be ruled by these machines that operated like clockwork. Village life began to operate like clockwork. More precise measuring of time made for more precise accounting of time; workers, and then all village life, was ruled by the clock. The more linear and measurable and machinelike time felt, the less enchanted it felt. The pressures of the clock, of being in the right place at the right time, of productivity, of machine like efficiency began to shape people; the mechanical advances that produced the clock began to be applied in factory settings, and soon machines were more prominent features of people's lives and imaginations. At some point the presence of clocks and their effects on time started encroaching on how people conceived of space; of the physical universe. We started viewing reality as machine like, and God as a clockmaker. The clock, and then other pieces of technology, started to dominate our social imaginary, and eventually the clockwork-like processes of space and time produced deism, the idea that God had created the universe and then stepped back, that space and time were just 'natural' products of a God and we didn't need to worry about an enchanted, supernatural, dimension of space and time, and then eventually we kept the clockwork model but did away with the need for a clockmaker; and as this all happened clocks were becoming more and more precise, and present, ruling more and more of our lives, and ultimately helping to contribute to our fixation with the moment; with the now and what I'm doing this second, at the expense both of an enchanted understanding of the universe where the clockmaker intervenes with reality, and of the future.
The clock began to set a limit for our thinking and imagining, tying us to this space and this time. Flattening and hollowing our experiences and our decision making. Producing (or being partly responsible) for the conditions Taylor describes in A Secular Age and that Rushkoff describes in Present Shock. The patterns of this world.
Patterns we Christians need to break.
Our approach to church, as leaders and members, is so often dominated by the short game. We want silver bullets. We want growth. We see a culture obsessed with the immediate and bombarding us with stuff. There are so many messages out there clamouring for our time and attention in this distracted age and our instinct is to get the Gospel out there amongst the distraction, and the way we think will get the greatest cut through is to compete with that distraction with the forms of the world; the forms that give us 24 hour news cycles with no time for developing connections to a bigger story; that give us 'instant' hits for our desires whether via pornography, Tinder, Grindr, or UberEats; that truncate our attention span; that pull us out of any sense of a big story in order to have us consume our way to (momentary) happiness; that rely on our addiction to that happiness with quick fixes and instant gratification; and that then apply this schema to our relationships — whether family, or church, rather than valuing a long, slow, obedience in the same direction with the same people.
The patterns of this world are broken. Deadly.
We don't need unfettered freedom; the Gospel is not just a message of freedom from your personal sin, it's a message of freedom to be who you were made to be. And you were made to be in relationship with God, with others, and with God's world — as cultivators of fruitfulness. People who plant orchards and bed down into places as a testimony to the God who authors a story that takes more than one life time to be revealed, and to the nature of his kingdom. A God who is patient, and careful, who orchestrates, who sweats the small stuff. Who doesn't value character above results, but for whom character is the result.
There are people out there deeply concerned with how much our clocks are shaping our experience of the world; people determined to break us from present shock. Ironically, one of those people is Jeff Bezos, from Amazon, who ultimately is the person profiting most from the patterns of this world and our obsession with instant gratification, and whose whole company is designed to make consumption as frictionless and fast as possible… Bezos has joined a group of other people sponsoring a clock that aims to alter our 'social imaginary' — to break us out of short term thinking; to free us from captivity to the instant and to silver bullet solutions to our problems. This group of people realise that problems like Climate Change are systemic and don't need individuals making short term consumer decisions (like recycling), that we need more than mindfulness and things that offer momentary escape from the status quo built on self-denial (McMindfulness by Ronald Purser is a good book for showing how much we're told that individuals are the solution to the world's problems, and then we're given mindfulness as a form of medication against the anxiety such an overwhelming challenge produces, by the very corporations who should actually be making the changes). This group wants us to see time differently, to approach problems playing the long game. To encourage us to realise that change of any substance, whether in ourselves or society, takes a long march in the same direction, not a flitting about following every whim, distraction, or better option that presents itself. They're a group called "The Long Now" and they're developing a 10,000 year clock; built inside a mountain (pictured back at the top, all those words ago). They're hoping to shift how we assess our decision making by reminding us that we're part of something bigger; part of a story even — they want to challenge us to be good ancestors. The inventor of the clock said:
I cannot imagine the future, but I care about it. I know I am a part of a story that starts long before I can remember and continues long beyond when anyone will remember me. I sense that I am alive at a time of important change, and I feel a responsibility to make sure that the change comes out well. I plant my acorns knowing that I will never live to harvest the oaks.
Perhaps we Christians don't need a clock because we already have an entirely different sense of time because we know the author of the story, and we know the ending of the story we belong to, but perhaps there's something we can learn from this project to challenge the way we've been suckered into a world dominated by the clock (and then the computer screen, smart phone, and smart watch; the 'I' things).
What would happen to our churches if we rediscovered 'kairos' time so that we weren't ruled by 'chronos;' and if we organised our lives and relationships, and visions, around the long now, not the present shock we find ourselves living in. What if we need a new sort of monastic approach to life where we refuse to be totally ruled by the moment?
What if at exactly the point we start to feel 'tired' of the same people, and routines (or liturgies), and songs, and we're itching for a change in environment, that's the moment that those parts of our life are most capable of working on us deeply? What if a rut is a good thing and freedom to choose whatever gratification we're looking for in any given moment is the enemy of genuine godliness and contentment? And the sort of relationships where we bear the image of God as we limit ourselves?
Maybe the change worth celebrating in the Christian life comes from a deep and abiding connection to God and to his people. Maybe connection to God and to people takes putting down roots rather than chasing a quick fix that will produce fast 'growth' in a particular metric. Maybe it's actually the walking together with your brothers and sisters that produces the growth, the love, and the self-limiting, that will present the image of God to a distracted world disconnected from a deeper sense of time and place; a world that has lost the organising idea of a story for our lives, let alone the idea of a story authored by someone else; let alone a story authored by God, that we're brought into by his Spirit.
Maybe we need to change our thinking so that our questions are "what will I look like, and this church look like if I'm still here in 20 years" rather than "will this church meet my needs next year". Maybe we need to imagine our relationships, whether we feel deeply connected or not, with an entirely different horizon to 'right now'… Maybe we need to give things time to germinate, and flourish, before cutting ourselves off from them and grafting ourselves in somewhere else. Maybe that's actually what love is — not just a feeling, not just short term gratification, not just an orgasm, but long term commitment through the ups and downs of life; and maybe that's where transformation actually happens.
So look, to the people who suggested that the Spirit might call us to leave a church, and that this is an expression of individual freedom, I want to say that if there's a spirit causing disunity, and if that call can't be discerned by more people than just you — that is, by those you are called to image God with in relationship, as you self limit (or love) for the sake of the long term growth, maturity and fruitfulness of one another — then this is more likely to be the "spirit of the age" than the Spirit of the living God. And you should be careful. Maybe we should take the clocks down, and our watches off, and start measuring time and seeing space differently; as enchanted again; so that we aren't conforming to the patterns of this world one tick or tock of the second hand at a time.