I don't really get excited by Star Wars – which is why I mercifully (or mercilessly) flogged off my garage sale haul of Star Wars figurines rather than putting them in a cupboard to look at once every couple of years.
But, I do see weird Star Wars merchandise from time to time as I trawl the internet for blogworthy goodness – to be honest they've all fallen into my lap via Google Reader. Now I am collating them for your reading pleasure… in no particular order.
Yes, a Plush robot. Probably life size, but who can tell.

A backpack…

A Pepper Mill…
A pool toy – available in Target apparently…

A USB Hub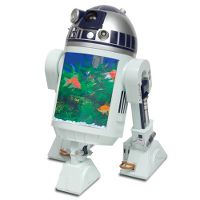 An aquarium…

A Nutcracker…

A USB drive.

An all in one remote controlled media centre, DVD drive and projector


An iPhone controlled life sized robot companion…