There's a new movie (Public Enemies) coming out about John Dillinger – amongst other achievements the guy managed to escape from prison with just a painted wooden gun (another time he escaped using actual guns).
He sounds so cool that a band called themselves The Dillinger Escape Plan – they're a mathcore band… heard of mathcore? No?
"Much like math rock, mathcore incorporates heavy usage of unusual time signatures, jarring tempo changes and unconventional song structure. The influence of metal and metalcore is what sets it apart from math rock."
I hope that has cleared things up.
Prisons are hotbeds of ingenuity. Prisoners have endless time on their hands (particularly the lifers). Over time prison guards have confiscated various pieces of prison grown technology – like this crucifix/sword…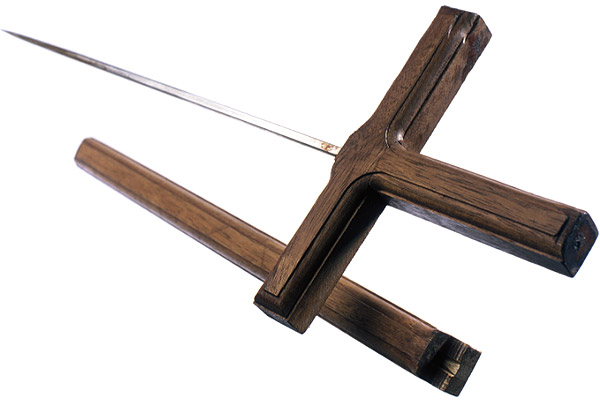 A guy named Marc Steinmetz has photographed a bunch of these prison creations. They're pretty interesting. Take this shotgun for instance…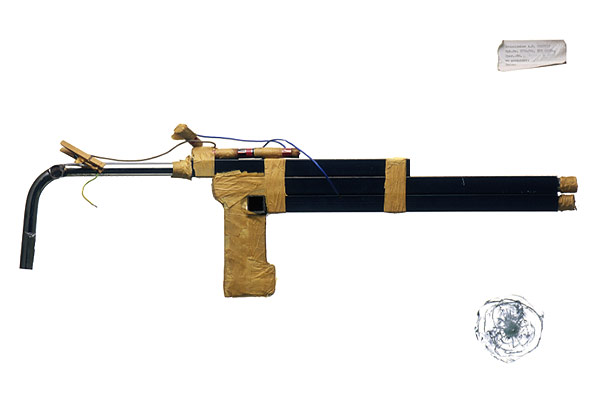 SHOTGUN
made from iron bedposts; charge
made of pieces of lead from
curtain tape and match-heads,
to be ignited by AA batteries and
a broken light bulb.
On May 21, 1984 two inmates of
a prison in Celle, Germany, took
a jailer as a hostage, showed off
their fire power by letting go at
a pane of bullet-proof glass, and
escaped by car.