I was all set to end my blogging hiatus on Friday night, and then our world changed. Briefly. Let me tell you the story…
We have pet turtles (you can read a little about keeping pet turtles here). There names are Franklin (Frankie) and Roosevelt (Rosie). You can't tell what gender turtles are until they're a few years old – and, like Swedish parents, we didn't want to impose gender identities on them – so although they're female, I sometimes accidentally call them "he," and that's pretty interchangeable.
We feed our turtles in a bucket – because their food stinks, and it dramatically cuts down on the amount of time one needs to spend cleaning their tank.
On Friday night, at 2000 (these stories are best recounted in 24 hour time), I put Frankie in the bucket for a feed. I forgot about her. A bit. And at 23:00 I went downstairs. I noticed that our garage door was open… there was a breeze blowing. It was a still night. The moon was full. The scene is now set.
I walked into the man cave – the home of the turtle tank – and the bucket – and reached in to the murky brown bucket to grab Frankie – she's the bitiest of our turtles – so I was cautious. And the water was stinky. So I didn't want to keep my hand in the water for too long. But I couldn't find her.
She had escaped.
Vanished. Like a ninja.
I spent 20 minutes frantically checking every nook, cranny, and sock (a favourite hiding place when they were younger, and free range… It became pretty clear she wasn't in the house.
These turtles are Robyn's – they were a birthday present four years ago. She likes them. She was asleep. I had to break the bad news… Frankie was gone. She was outside.
I'd read that if you don't recover a kidnap victim, or find a missing person, in the first few hours – the prospects aren't good. I think that was in a Jack Reacher novel. Frankie's prospects weren't good.
I grabbed a torch. I spent 2 hours walking around outside checking garden beds, drains, under cars – looking like a creepy prowler. I gave up. I went to bed at 0200.
We had friends coming round for breakfast. I was a little dejected. Frantic. I woke up at 0600. And spent another hour combing the yard looking for our little amphibious friend. A water main had busted up the street – I wondered if we'd find Frankie causing a blockage in the pipe.
But of our turtle there was no sign. I pulled downstairs apart. Turned every stone – and piece of furniture. I spent the day peering out the window, looking for any sign of our turtle – or circling vultures (metaphorically speaking – they were more likely to be myna birds). But alas. There was no sign.
At 1600 I was ready to give up the search. We resolved ourselves to the idea that our little turtle friend was gone. And not coming back.
But still. I stared into the middle distance.
I considered making a lost poster. Maybe a neighbourhood kid had picked her up. It would have looked something like this…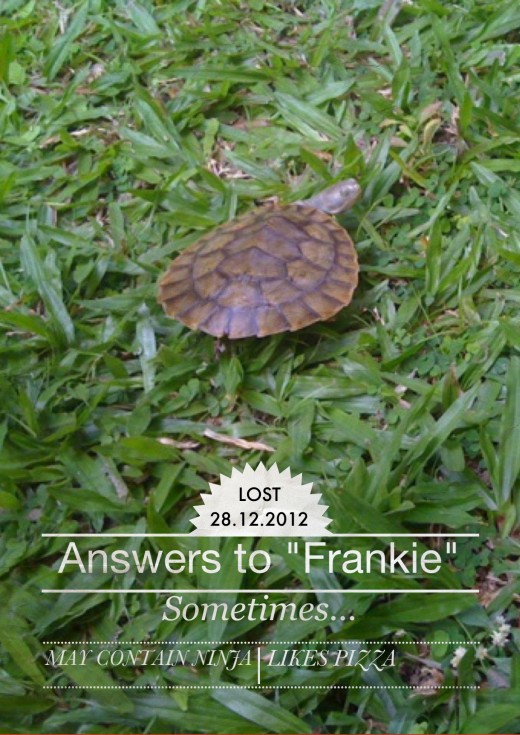 I was doing anything to cling on to hope. We were picturing Frankie eating food, and frolicking in a local creek. Happy. Consoling ourselves with anything we could hang on to.
But we kept staring off into space. Unfocused eyes glancing at the road – in the hope that we'd see our turtle wandering the street. Adventure over. Coming home to comfort.
At about 1700 – the photographer's golden hour – the sun hovering above the horizon, casting a radiant glow over our suburban street, I looked again.
I shouted. I jumped. A car swerved. Birds swooped – a flock of them. And there. Wandering casually towards a drain, head tucked under her shell to avoid the dive bombing sky-rats, was Frankie. Covered in bark chips after a day spent hiding in a neighbourhood garden. Making her move. For freedom.
Bravely – I ran through the swarm of aerial cane toads – risking neck and eyes (where I imagine myna birds targetting – they are evil) – to save our little turtle.
Frankie is home. The lost is found. She's now happily hanging out with her turtle buddy. Home. Safe.
We are happy. Elated. Having traversed the kind of emotional roller coaster you might find in the world's smallest and lamest emotional theme park. We develop all sorts of emotional attachments to pets – and that's probably healthy. They bring joy, and they are delightful lives created by God. But this gave me a little bit of a taste of the emotions the father in the famous story of the Prodigal Son was feeling as he looked down the road to see his son returning. The lost found.
And that, dear friends, is why there hasn't been much action here these last few days.