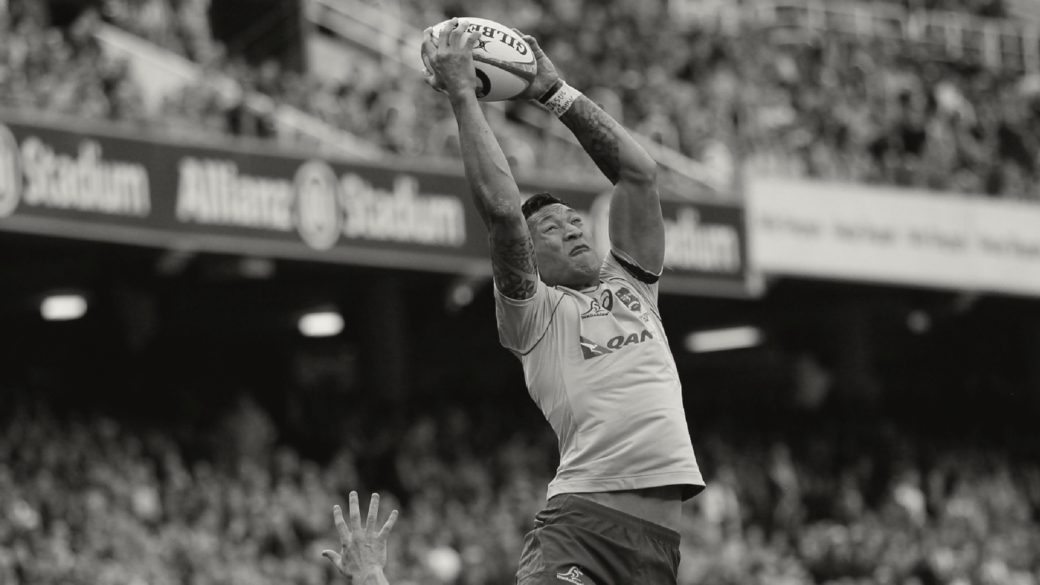 God's plan for gay people is the same as his plan for everyone else; and his offer for gay people is the same as it is for everyone else: Jesus; forgiveness and eternal life in and through Jesus. If a gay person rejects God's plan — and this offer — then their destiny is the same as the destiny of every person who rejects God. Death and judgment.
Israel Folau found himself in a little bit of hot water during the same sex marriage plebiscite; earning some anger from the wider community, and some comparisons to the prophet Daniel (who refused to bend the knee to an idolatrous regime in the Bible and ended up facing lions who were meant to eat him for his troubles) in the Christian community.
The temperature of that water is heating up a little more after a tweetstorm this week, following this instagram post.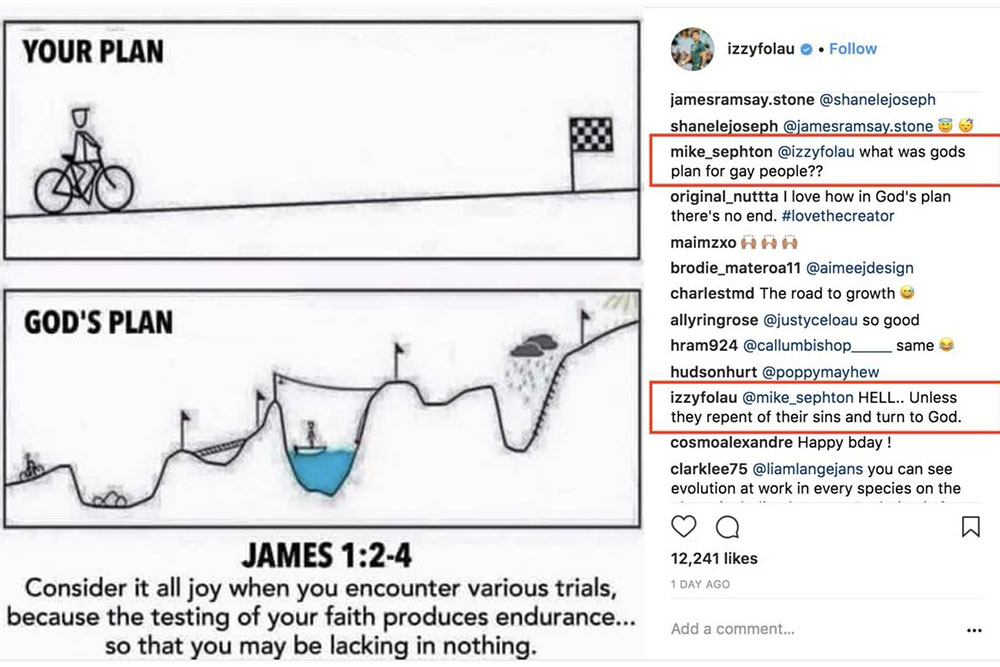 If the image quality isn't up to scratch on your device; a commenter asked 'what was God's plan for gay people?'
And Folau, perhaps still inspired by the Daniel story, courageously answered (emphasis his):
"HELL… Unless they repent of their sins and turn to God."
Now; the Aussie equivalent of Nebuchadnezzar's royal guard (King Neb was the king who reluctantly threw Daniel to the lions), Rugby Australia will be 'speaking' to Folau about his tweet — and perhaps the corporate danger presented to Australian sporting bodies when sporting superstars cause community outrage… this story ominously mention's Qantas' sponsorship of the Wallabies, Rugby AU CEO Raelene Castle said:
"We are aligned in our view that rugby is a game for all, regardless of sexuality, race, religion or gender, which is clearly articulated in Rugby's inclusion policy.

"We understand that Israel's comment has upset a number of people and we will discuss the matter with him as soon as possible."
So. What's wrong with Israel speaking out to articulate his religious convictions? Nothing. Really. The marketplace will decide what views are and aren't acceptable — and how to accommodate difference; and it might be lions for Israel (just not the British variety), though ultimately his on field talent will probably protect him (in ways that it might not your Joe average, with similar views).
But, just as Rugby AU would like to talk to Israel about how he uses social media, I'd have a few tips for him from Team Jesus. These are offered humbly from my experience in Public Relations, and as a pastor who cares about how Christians engage with the LGBTI+ community
The first is: don't make the mistake of reducing a person's identity, or standing before God, to their sexuality.
Israel should've rejected the premise of the question — if he was going to answer at all. By answering he turned 'gay people' into something other than 'people' — and singled them out in a way that makes it seem like God has a special plan just for their lives; just for being gay, when he says 'their sins,' it's hard not to see it directly connected to just the sins he is being asked about.
Not reducing people to their sexuality (or not accepting the premise of the question — which was obviously a trap) might've avoided a bunch of controversy — because it's not being gay that earns judgment from God… it's the very sin that Daniel refused to commit that earns judgment — idolatry — turning from God to worship anything else. Because that idolatry leads to death and earns us the death penalty. It's ultimately rejecting Jesus, and so joining in with the world as it crucified him that makes God's punishment just — it wasn't Jesus on trial before Pilate on that first Easter; Jesus is the judge of the universe; it was humanity — us — on trial.
In Romans 1 which is a text in the Bible that talks about homosexuality and God's design for life, the root cause of God's judgment is, essentially that we humans "exchanged the truth about God for a lie, and worshiped and served created things rather than the Creator." Now; sex is a created thing, so our desire as modern western types to find our satisfaction and identity in sex, and pursue life — or 'worship' — on those terms rather than pursuing God above all, and having him shape our lives (including how we deal with sex and our sexual attraction) is what earns us judgment. To buy into the idea that being gay earns you God's judgment is to somehow treat a particular group of people as worse than all the rest of humanity; it's not a thing the Bible does (you won't find a verse that isolates gay sex from any other sin — including straight sex outside of marriage, nor will you find it outside an explicit reference to idolatry). Gay, straight, or bi — we earn God's judgment because we reject him; and, because none of us meet his standards for eternal life — absolute perfection (sinlessness).
Sexuality is complicated too — inasmuch as sexuality is part of a person's identity, there are plenty of same sex attracted Christians around who have chosen to put Jesus first, so they are 'gay Christians' — their attraction and identity are part of what they bring to Jesus, and part of what they sacrifice when they turn from worshipping other stuff to worshipping him. Their sexuality is not what condemns or saves them, what they do with Jesus is. Gayness isn't what earns people judgment; what someone does with the Bible's teaching on sexuality is an indicator of who occupies their hearts and shapes their desires.
The second thing Israel should've done was to be really careful to make it clear that all have sinned. Including him — there's less distance between me and my gay friends (or him, and his) than this tweet suggests. 
To sin is to fall short (that's literally what the English word means)… it's also to transgress God's law — and the first commandment in Israel's ten commandments (the nation, not the footballer) is to have no God before God (Exodus 20:3), and to worship him only. Sure. Many gay Aussies put many things (not just sex) before God in their lives… but so do many not-gay Aussies. God's plan for all people who reject him is judgment; death, even… but that's not just for gay people (and, it's not even because of someone's sexuality). Here's a couple more things Paul says in that same letter to the church in Rome.
"There is no one righteous, not even one;
    there is no one who understands;
    there is no one who seeks God.
All have turned away,
    they have together become worthless;
there is no one who does good,
    not even one." — Romans 3:10-12

… all have sinned and fall short of the glory of God, and all are justified freely by his grace through the redemption that came by Christ Jesus. — Romans 3:23-24
It might seem tricky to capture this in an instagram comment or tweet — but I'll put a suggested response at the bottom…
It's not that Israel was totally wrong about the destiny for people who sin (had he broadened the category of people he was talking about to 'all sinners' — well, Romans says:
"For the wages of sin is death, but the gift of God is eternal life in Christ Jesus our Lord." — Romans 6:23
Here's my third suggestion; and it's probably the biggest.
Make a bigger deal about the goodness of Jesus so that repentance is about the positive step of turning to him because he is better than alternative gods, and the turn involves good news not just escaping punishment. 
Israel's tweet holds out a little bit of the good news of life following repentance, but it's kinda buried under his leading words. There's a good case to be made that Israel has the order of operations a bit wrong in his picture of what God wants for people — the idea that we repent of our sin and then turn to God rather than turning to God and away from our sins (because of the goodness of God revealed in Jesus) is an interesting one; especially if God actually calls us to him, so that coming to life (away from death) is at God's invitation while we're still sinners. Here's a couple of things Israel might consider.
But God demonstrates his own love for us in this: While we were still sinners, Christ died for us. — Romans 5:8
It's unlikely (though possible) that fear is going to motivate people who've rejected God to switch worshipping pleasure, sex, and self-determination — which seems to be the strategy in Israel's comment — what's perhaps more likely is understanding exactly who it is they've rejected — the God who gives life and love, and sent Jesus to reconcile us to himself. The truth that should set people free is that Jesus is better than sex, or any alternative 'created thing' we put in the driver's seat of our life; the other truth is that it takes a work of God's Spirit to make this change possible. Because when it comes to God's plan for people, ideally, Paul has a bit more to say:
Therefore, there is now no condemnation for those who are in Christ Jesus. — Romans 8:1

And we know that in all things God works for the good of those who love him, who have been called according to his purpose. For those God foreknew he also predestined to be conformed to the image of his Son, that he might be the firstborn among many brothers and sisters. And those he predestined, he also called; those he called, he also justified; those he justified, he also glorified. — Romans 8:28-30
So. How would I have answered the question: what was God's plan for gay people? If I was Israel…
"That's an interesting question — because it assumes somehow that God's plan for gay people is different to his plan for anybody else just because they're gay. It's not. God's best offer for all people is Jesus who came so we might 'have life to the full' forever — his plan for people who trust him is good and loving. Turning to Jesus changed how I think about life, including sex — but what we Christians believe about sex doesn't make much sense without him. My hope is that all my friends — whatever their sexuality — might have a look at the life and teachings of Jesus. I'd be happy to help you find out more."
My fourth piece of advice, as an added bonus, is the suggestion that with great social media power, comes great responsibility — and Israel, as a public Christian, should be stewarding his platform (and his talents) with wisdom and boldness for God's kingdom. He's got the boldness bit right; and we should applaud him for that. It's clear he's more worried about God than man… but his words have the power to do more than just turn off some sponsors, or have his contract torn up… It's interesting to read the rest of James in that light. It has wisdom for how to use social media, like:
"My dear brothers and sisters, take note of this: Everyone should be quick to listen, slow to speak and slow to become angry…

Those who consider themselves religious and yet do not keep a tight rein on their tongues deceive themselves, and their religion is worthless. Religion that God our Father accepts as pure and faultless is this: to look after orphans and widows in their distress and to keep oneself from being polluted by the world." — James 1:19, 26-27