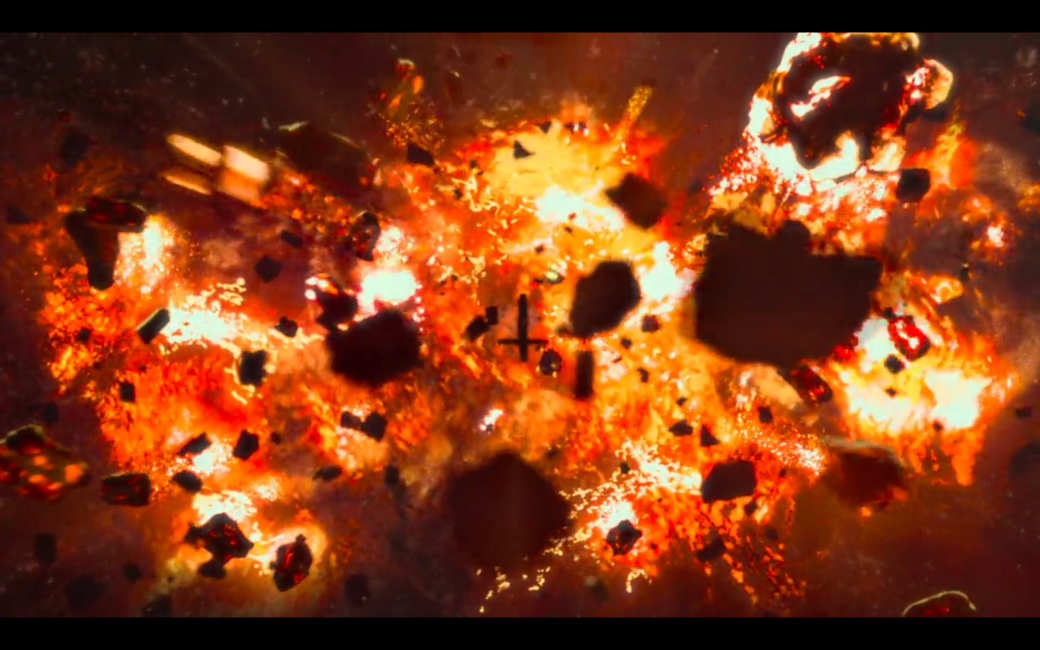 "Though I cry, 'Violence!' I get no response;
    though I call for help, there is no justice.
He has blocked my way so I cannot pass;
    he has shrouded my paths in darkness.
He has stripped me of my honour
    and removed the crown from my head.
 He tears me down on every side till I am gone;
    he uproots my hope like a tree." — Job 19:7-10
The writers of Daredevil sure know their theology.
In season 1, Matt 'Daredevil' Murdoch went toe-to-toe with Wilson 'Kingpin' Fisk with both initially identifying themselves as the 'good samaritan' — reaching out to help the beaten and bloodied citizens of Hell's Kitchen out of a ditch… only for Kingpin to end up declaring himself the 'man of malicious intent' (identifying with the characters in Jesus' famous parable who put the poor, bloodied, citizen in a ditch, before the good samaritan came by). Plenty of people 'generalise' the figure of the Good Samaritan, as a picture of the 'good neighbour' — the sort of heroic person we're all called to be, but this heroic figure who does what the religious leaders of Israel can't, or won't do is the archetypal good neighbour in Luke's Gospel — a Christ figure; a picture of the despised outsider who pulls broken humans out of the ditch to restore them… This was pretty sophisticated stuff identifying Matt Murdoch with a certain messianic vision – superheroes are often thinly veiled Jesus figures, with Daredevil the veil is essentially transparent.
In season 2, Daredevil identified himself with the 'suffering servant' — taking the pain and suffering of his people on his own shoulders; sacrificing and suffering to deliver his people, believing there was some good in them, where The Punisher and the sinister 'The Hand' were more hellbent on slaughter. Isaiah's 'suffering servant' is another messianic/Christ figure. Daredevil has consistently been Christlike in his Netflix iteration — right up to his apparent 'victorious' sacrificial death on behalf of his team, and the city, in The Defenders.
This is the opening image of season 3 — where a cross visually resolves itself into Matt's cruciform body, emerging from flames, through water, and back into the land of the living. Matt has been through his own personal crucifixion. Death. Hell. Resurrection. But has he kept his soul? That's in many ways, the driving question behind the narrative in this season.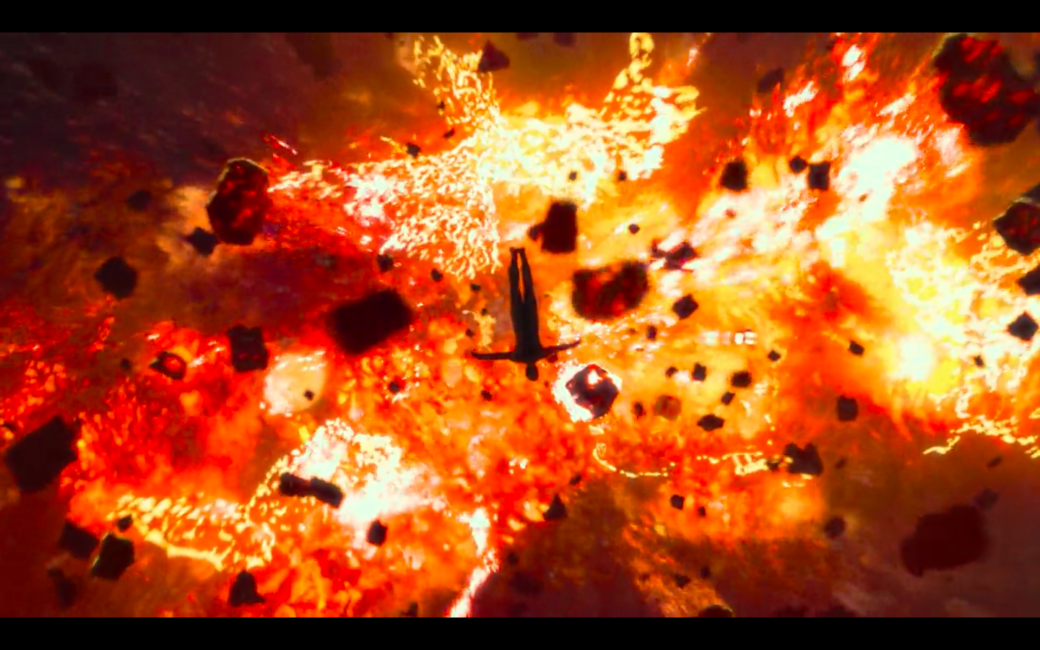 Season 3 of Daredevil is every bit as theologically rich as the first two outings, while there's a fascinating problem with a show being both deliberately theologically astute, and having a messianic protagonist who occupies the place of Jesus in the narrative (who can't turn to Jesus to understand God's character and plan)… this season links Matt to the Old Testament character of Job, in order to consider suffering, the question of God's apparent absence, and the place of friendship.
Across three seasons Daredevil invites us to connect Matt Murdock, and so, by extension, Jesus, with the Good Samaritan, the Suffering Servant, and now Job. This is a rich reading of the narrative unity of the Bible — in fact, it's cutting edge Old Testament scholarship to see a connection between Job and Isaiah's servant — and if the writers aren't making that connection deliberately, they are certainly providing rich fodder for viewers to explore how the Bible holds together… so long as Matt manages not to lose his soul. 
Old Testament academic (and now faculty member here in Brisbane, who, disclosure, is also a friend and member of my church), Dr Doug Green, gave a series of guest lectures in Brisbane while I was at college where he proposed a link between Job and Isaiah's suffering servant (I wrote his lecture up here). He points out several linguistic links between the portrayal of both the Servant, Job, and righteous, God-fearing, Israelites in exile — those who shared the fate of disobedient Israel, and suffered, while still being faithful. He also makes the case that Job's restoration is framed as a 'return from exile' — a resurrection. Job, and the suffering servant, become the figure who will lead Israel out of exile from God — death — and into life. A shared resurrection. The Good Samaritan is this sort of figure too — if the person in the ditch is also exiled Israel. In his lecture notes (that he provided, which were received in thanks) Doug says:
"Just as the Suffering Servant points forward to the intercessory – and more deeply, the atoning work of Christ – the same is true for Job. And because of this parallel to the Suffering Servant, as we see Job praying for his friends, we get a faint picture of Christ's intercession on our behalf. In fact, Job's prayer on behalf of his friends finds an echo in Jesus's prayer for those who crucified him: "Father, forgive them, for they know not what they do" (Luke 23:34)."

"…we should not interpret Job as a stand-alone piece functioning as a sourcebook for theological reflection on the general problem of human suffering. Instead it should be interpreted in close connection to Israel's covenantal history. Combine this with the numerous connections to Isaiah's prophecy of the Suffering Servant, and that inclines me to understand Job (the character) as a righteous Israelite who experiences suffering (a metaphor for exile) but is brought out the other side to experience a double blessing (a picture of the end of Exile and the Age to Come). And ultimately this experience of inexplicable suffering in some way makes him fit to function as an intercessor (or mediator) for those who are the object of God's anger…

… this intertextual and prophetic reading of Job as Suffering Servant allows us to at last draw a connection between Job and the eschatological suffering Servant, Jesus Christ (and ultimately to Christ's Suffering people). It allows us to go back and read it as a pre-told story of Christ – the truly righteous and blameless one who suffers "unfairly," as it were."
This framework makes Daredevil's theological arc, across three seasons, particularly rich, and yet, having Matt operate as the Jesus-figure, participating in an essentially Christ-less Christianity, in the story creates a mind-bending paradox. There are plenty of crucifixes on display around the place, so it's not that Daredevil invites us, visually speaking, to ignore the place of Jesus in Christian practice, but he is curiously absent from the overt displays of religion — he's not mentioned in Father Lantom's homily, he's absent in Matt's musings about the place of suffering for the righteous, and, in many ways, he's absent from Matt's messianic vision — beyond bearing the suffering of the innocent while punishing (though not executing) the redeemable guilty. Matt, as 'the Devil of Hell's Kitchen' doesn't embody the cruciform pattern of Jesus life — though Matt the lawyer, the Matt who looks for non-violent solutions and justice, is perhaps closer to the mark.
When we're tackling questions of theodicy — God's relationship to suffering, evil, and violence, in the real world — you just can't do it without appealing to God's self-revelation in Jesus; Daredevil's answer is profoundly theocentric (particularly centered on God the father) and anthropocentric (particularly centered on humanity's position with regards to evil and suffering). Jesus, in his full divinity and full humanity holds those two aspects of any answer to the question in tension. He's more than just 'God's soldier' acting in suffering, in the cross, God himself suffers. What Daredevil is good at, so long as we recognise the big answer to the big question of suffering involves this tension, is focusing on the humanity of suffering — and how Jesus is an archetypal sufferer. The servant. The Samaritan. Job. Daredevil. They are all 'types' that provide anticipation or echoes of the human life of Jesus. It's legitimate for us to ask why suffering and evil happen, and where justice will be found if God appears to be stepping back — questions Daredevil explores — but, these questions are profoundly answered in the life of Jesus. The experience of Job, and righteous Israelites suffering in exile (the suffering servant), anticipate the suffering of Jesus.
Job is not just an account of suffering — but of exile from God, and restoration. It's not just a theodicy, but is specifically connected to the suffering of the righteous. It's legitimate for us to ask why the righteous suffer — as Matt does… but we have to consider that none of us can claim the righteousness of Job. But on with the show… which is also most rewarding if it's not just about suffering — but about whether Matt is able to function as a hero while he is in exile from God.
At season's opening, Matt has lost his mojo — more specifically, his powers that he saw as part of God's calling, what made him a 'soldier' for God; capable of delivering justice, opposing evil, facing death, and helping the residents of Hell's Kitchen out of their ditch. His loss of these abilities, and questions about what happened to Elektra in The Defenders' finale, sets up a conversation with the nun looking after him in his convalescence (another Good Samaritan; though it turns out this nun has significant vested interests in his wellbeing, both spiritual and physical). Matt frames his crisis as 'finally understanding' where he stands with God. And he launches into a retelling of Job with himself as the 'telos' of the narrative; the one Job's experiences point to… he is a new, and different, Job.
"The book of Job. The story of God's perfect servant Job, who prayed every day at dawn with his knees on the ground and his face in the dirt. Slaughtered ten goats. One for each of his children, and burned them at the altar in God's honour. Of all God's soldiers, Job, he was the most loyal.

Sister: I know the story Matthew.

Matt: Well, then, you know what happens next. God murdered all ten of his children in cold blood, scorched every inch of Job's land, lashed at his body until his skin was covered in bloody welts. God rained shit and misery on the life of his most perfect servant, and still, Job would not curse him. You know what I realised. Job was a pussy…

See. That was me sister. I suffered willingly. I gave my sweat and blood and skin without complaint, because I truly believed I was God's soldier. I don't any more. I am what I do in the dark now. I bleed only for myself… I'd rather die as the devil than live as Matt Murdoch."
Matt has lost his connection to God; he's now explicitly not a Christ figure… or at least, he bleeds 'for himself' and not for God… but somehow still wants to heroically bleed for others. He is not God's 'suffering servant'… He is not Job; or he is, but a different kind of Job. A Job who can't fathom God's plan and so, in his suffering, in God's apparent absence — in exile — Matt turns his back on God… or tries to.
In the story of Job, Job is visited by a bunch of friends who try to explain Job's suffering. Friends who visit him in his misery, and, rather than being a comfort, pile on more misery… mostly by giving horrible advice. Job's friends speak as 'wise' voices from the nations around Israel… all except Elihu; who speaks with the pious, naive, voice of an Israelite who claims to speak for God. These friends seek to uphold God's goodness, and blame Job… while Job defends his righteousness. Job is ultimately vindicated by God, he is a 'righteous sufferer' — a 'suffering servant'. He is not suffering because he did something wrong. God has not abandoned him. And yet… he suffers.
Where Job, for the most part, is devastated, bemused, and conflicted by his suffering — and afflicted by his friends — while remaining confident of God's goodness even in suffering, Matt goes another way, losing confidence with God… and where Job's friends are useless in guiding him to a right way of understanding his suffering, Matt's friends are redemptive and useful. And it's his friends and their relentless presence with him in his suffering — and their good advice — that chart the path to redemption; in their faithfulness to Matt, they start to taste redemption for themselves.
The central moral dilemma in this season is the question of what should happen to Kingpin. There's lots to this season around the development of a foe for Daredevil — Bullseye — who, incidentally, is the only character to don the red leather suit in this season — and there's the thread around the mysterious nun and her interest in Matt… but Matt's real dilemma isn't how to take down Bullseye, or how to deal with the secrecy around this nun; it's whether to stray from the path of righteousness; to truly enter the darkness.
In an interaction Karen Page has with Father Lantom while taking refuge in the church building, Father Lantom, Matt's priest, articulates Matt's theological vision — "whatever it is that you've done, or haven't done, it can still be redeemed" — Karen says "I'm not so sure I believe that." As Matt embraces the darkness he tries to push his friends away — he isolates himself from their counsel — like most of us do with our wise friends, or even that internal voice that says 'stop' as we embrace sin… he has decided to kill Kingpin, and doesn't want to be told otherwise. He says he's pushing them away in order to protect them from what he might become, to keep them 'innocent'… While Karen and Foggy Nelson, Matt's two friends, are initially convinced that Matt's vigilante justice is not the answer, and that he should go 'through the system,' Karen starts to think that Matt should kill Kingpin. But Foggy… Foggy knows what straying from the path of righteousness would do to Matt's soul — and, what it would do to their friendship as a result. His friends are true friends in the face of suffering — they won't let him go, even when he tries to push them away, they are determined to be there for him, and to lead him out of darkness into the light — not just because he depends on that, but because their friendships do. His friends are faithful.
Foggy: Matt's Matt because he believes that everyone deserves a shot at redemption.
Karen: Except Fisk.
Foggy: Everyone. It's a Catholic thing. That's why he doesn't kill people. If he crosses that line Matt will never be able to forgive himself.
And being around us will just remind him of who he was and what he's done.
Karen: Yeah, we'd really lose him, wouldn't we? — Forever, this time.
From this point, Matt's friends are relentless in their counsel that this would be disastrous; profoundly because it would represent him truly abandoning God, and his claims to be a righteous, suffering servant… for Matt to kill Fisk would represent his becoming Fisk. The visuals throughout this series on this note, where Fisk is presented in white (and as obsessed with a particular white artwork) and as a 'warrior of the light' — operating under 24/7 scrutiny as an FBI informant, while Matt dons the black, and occupies the shadows, are compelling. The tension in the narrative, shaping Matt's decision, is the question 'is there anything 'white' in Fisk? Is there anything that can be redeemed? And once he decides that there is, he can't kill him — and in this, Matt finds his own redemption.
Matt's showdown with Fisk is his apocalypse — it reveals who he truly is, and where God really is in suffering — that God is at work in redemption, forgiveness, and friendship. Where he has Fisk truly at his mercy, in that crucible moment, he stays his hand.
God knows I want to, but you don't get to destroy who I am.
From this moment on the tension in the series is resolved; it's the denouement, much like the epilogue at the end of the book of Job. Matt is restored. His relationships are mended. His rediscovery of his faith — his compass — doesn't just put him back on the path of light, but Karen and Foggy are now linked with him again, sharing in the light and life of Matt's discovery. He returns to the light. Bloodied. But restored. Truly resurrected. He has listened to his wise friends — and in his restoration, his redemption, they are all redeemed. They all discover the power of forgiveness and reconciliation. Much like Job ends up making sacrifices to restore himself and his friends to relationship with the life-giving God. And much like Jesus, the suffering servant, offers himself as a sacrifice to restore us to life and relationship with God and one another…
Matt connects his suffering to the moment that made him — the moment he was blinded as a child. There's still no Jesus explicitly found in his theodicy, but there is the answer Job receives from God amidst his questions; that God is the artist and architect of this world, and our sight, like Matt's, is human and limited.
See, I was pretty angry at God and bitter towards his world.
How could a loving God blind me? Why? Anyway, he told me God's plan is like a beautiful tapestry.
And the tragedy of being human is that we only get to see it from the back.
With all the ragged threads and the muddy colors.
And we only get a hint at the true beauty that would be revealed if we could see the whole pattern on the other side as God does.
Matt realises that God's redemptive plans for the world might involve a suffering servant; that they might involve a faithful Job, a Good Samaritan… it's not just an 'everything happens for a reason' trite answer, but rather a discovery of who he — and we image bearers — were made to be in a world where suffering and evil exist. That we were made for life-giving friendships that allow us to enter in to the suffering of others, and to stand against evil, as we reflect God's presence in his world.
"I realise that if my life had turned out any differently, that I would never have become Daredevil. And although people have died on my watch, people who shouldn't have, there are countless others that have lived. So, maybe it is all part of God's plan. Maybe my life has been exactly as it had to be."
Matt realises that his priest, Father Lantom, modelled sacrificial love — the death of self — and that this sort of posture is freeing; that it drives out fear in the face of suffering. Matt can be the 'man without fear' again. Matt is now free to be Job; free to trust God. Free to suffer. Free to be a servant. God's soldier… He is truly restored. Finally resurrected.
But Matt's answer would be richer and fuller if he wasn't totally occupying the place of Jesus in the story; if he, like Job, could respond to suffering — even suffering as one who is righteous by trusting God as redeemer, looking forward, like the rest of the Old Testament, to the truly righteous suffering servant; the Good Samaritan. Light in the darkness. God's true answer to suffering, and the moment we see the real picture woven in the tapestry of our existence. Jesus.
I know that my redeemer lives,
    and that in the end he will stand on the earth.
And after my skin has been destroyed,
    yet in my flesh I will see God;
I myself will see him
    with my own eyes—I, and not another.
    How my heart yearns within me! — Job 19:25-27
In Jesus we see real redemptive friendship. We see God. We see God, our friend, stepping in to our suffering — and taking on suffering, death, hell and exile, for us, to bring not just his resurrection, but ours, to end our suffering, exile from God, and death, by giving us life with God forever, so that we might face what comes without fear. Because our redeemer lives, and so shall we.