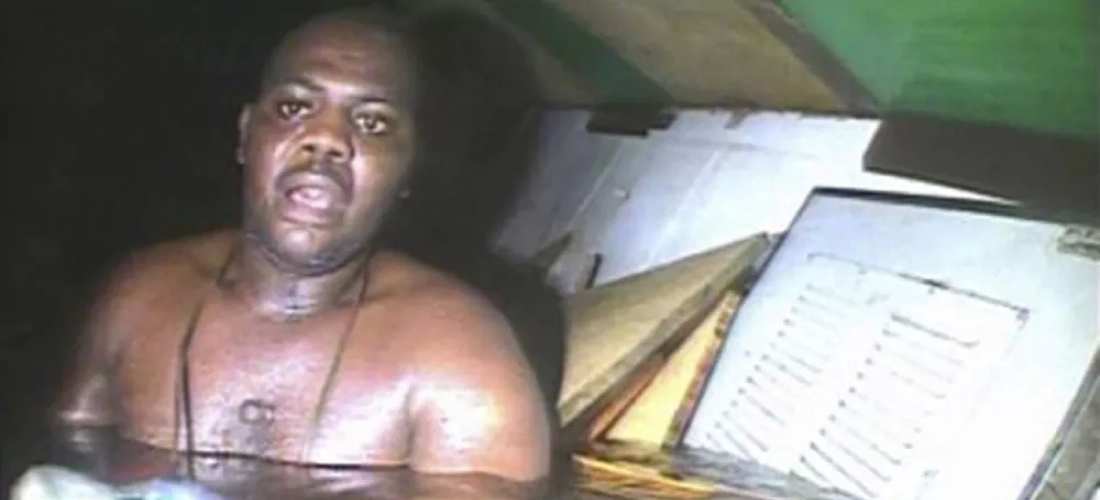 Call him Jonah.
This is the look of a man confronting his rescuer after three days believing he was going to die. Trapped in the belly of a boat.
Back in June, a tugboat cook named Harrison Odjegba Okene spent almost three days in the upturned hull of the boat he'd been sailing in. 30 metres below the surface. A rescue diver sent to retrieve bodies found him. And was sufficiently freaked out when the hand he suspected belonged to a floating corpse grabbed him.
The story is here. But the really stunning bit is the footage of the rescue. Hooray for ubiquitous cameras.
He'd been on the toilet when the boat sank.
"He groped his way out of the toilet and tried to find a vent, propping doors open as he moved on. He discovered some tools and a life vest with two flashlights, which he stuffed into his shorts.

When he found a cabin of the sunken vessel that felt safe, he began the long wait, getting colder and colder as he played back a mental tape of his life — remembering his mother, friends, mostly the woman he'd married five years before with whom he hadn't yet fathered a child."
To make the sermon illustration complete, Okene is a Christian.
"I started calling on the name of God. … I started reminiscing on the verses I read before I slept. I read the Bible from Psalm 54 to 92. My wife had sent me the verses to read that night when she called me before I went to bed."
Psalm 57 seems particularly apt.
1 Have mercy on me, my God, have mercy on me,
for in you I take refuge.
I will take refuge in the shadow of your wings
until the disaster has passed.
2 I cry out to God Most High,
to God, who vindicates me.
3 He sends from heaven and saves me,
rebuking those who hotly pursue me—
God sends forth his love and his faithfulness.
4 I am in the midst of lions;
I am forced to dwell among ravenous beasts—
men whose teeth are spears and arrows,
whose tongues are sharp swords.
5 Be exalted, O God, above the heavens;
let your glory be over all the earth.
6 They spread a net for my feet—
I was bowed down in distress.
They dug a pit in my path—
but they have fallen into it themselves.
7 My heart, O God, is steadfast,
my heart is steadfast;
I will sing and make music.
8 Awake, my soul!
Awake, harp and lyre!
I will awaken the dawn.
9 I will praise you, Lord, among the nations;
I will sing of you among the peoples.
10 For great is your love, reaching to the heavens;
your faithfulness reaches to the skies.
11 Be exalted, O God, above the heavens;
let your glory be over all the earth.
As does Psalm 61…
1 Hear my cry, O God;
listen to my prayer.
2 From the ends of the earth I call to you,
I call as my heart grows faint;
lead me to the rock that is higher than I.
3 For you have been my refuge,
a strong tower against the foe.
4 I long to dwell in your tent forever
and take refuge in the shelter of your wings.
5 For you, God, have heard my vows;
you have given me the heritage of those who fear your name.
6 Increase the days of the king's life,
his years for many generations.
7 May he be enthroned in God's presence forever;
appoint your love and faithfulness to protect him.
8 Then I will ever sing in praise of your name
and fulfill my vows day after day.
The moral to the story must surely be read Psalms when you're on a boat.