For the word of God is alive and active. Sharper than any double-edged sword, it penetrates even to dividing soul and spirit, joints and marrow; it judges the thoughts and attitudes of the heart. — Hebrews 4:12
I love this picture of God's word. The Bible. Chuck in a couple of other ideas from Hebrews, Paul in 1 and 2 Timothy, and John in John's Gospel and you've got a pretty good rationale for any Christian ministry being about opening up God's word and hearing him speak; having him do something to us. More on these ideas a bit later…
But for now, lots of Christian Twitter TM (and Facebook) is overjoyed by Kanye West's public celebration of 'expository preaching' in a podcast. Stephen McAlpine has a good take on this over at his eponymous corner of the internet. I'll give you a couple of minutes to open that in a tab and go read it.
Kanye said:
"One of my pastors, pastor Adam, who is, the way he preaches is called Expository, it's like one to one by the word. I like all different types of preachers, but there's some types of preachers, they have the Bible in their hand and they close the Bible and they just talk for two hours. And. Some do have annointing. But the expository preachers go line for line. And for me it's like, I come from entertainment, I got so much sauce. I don't need no sauce on the word. I need the word to be solid food that I can understand exactly what God was saying to me through the King James Version, through this translation, or the English Standard Version."
Cue rejoicing not so much in the heavenly realms, but certainly amongst the reformed evangelical Christians who jumped hard onto the Kanye bandwagon last year. It's instructive that when I watched this clip on YouTube, the next clip autocued for me was Kanye on stage with Joel Osteen.
Look. Expository preaching is better than the sort of preaching that Kanye describes where a person shuts their Bible and just starts banging on about other stuff; BUT, expository preaching is not a silver bullet or an iron clad guarantee that someone is actually treating the Word of God as it should be treated. Expository preaching is also not made any good-er or true-er because it has been endorsed by Kanye…
In fact, I'd argue that rather than being a silver bullet for faithfulness, or even the best form of preaching, expository preaching is a tool that we might bring to a text only when the genre of the text we're reading supports the use of an expository model to unpack the meaning of a text.
When Paul talks about the task of the preacher, he says:
Do your best to present yourself to God as one approved, a worker who does not need to be ashamed and who correctly handles the word of truth. — 2 Timothy 2:15
This was a favourite idea banged into us by our principal at Bible college, especially in the slightly more accurate representation of the Greek, that the 'worker' is meant to "rightly divide the word of truth." Expository preaching takes a particular approach to 'dividing the word' — typically working verse by verse, line by line, or sentence by sentence, or phrase by phrase, or word by word. It atomises. It treats the truth of Scripture as being found in the detail, properly understood. It weighs all words of scripture equally because one spends time unpacking the meaning of each phrase. A verse by verse exposition of Job is going to get interesting if one fails to acknowledge that the vast majority of the text in Job is bad advice from unwise friends.
At it's worst (and possibly even at its best, where it is appropriate because of considerations like genre), it sees the task of 'dividing the word' as 'pulling it into pieces to understand them' not necessarily as 'seeing how all the bits fit together.' Exegesis, the work of interpreting every word and every phrase in a passage you are preaching on is vitally important, exposition that simply replicates your exegesis is not; in fact, exegesis needs to balance the atomising of the text into clauses and ideas with understanding the function of a text in its context; sentence, paragraph, idea, book, and canon — and it should ask questions about rhetorical purpose, not just content.
I'm mindful that one could tilt at all sorts of windmills by extrapolating a short quote from Kanye West about the goodness of expository preaching, and using that to critique not just those who're on the Kanye bandwagon, but to use his definition to misrepresent expository preaching and so critique the whole thing, so here's a quote from John Stott (quoted in this journal article) about the absolute importance of expository preaching for faithfulness, that contains, I hope, the best definition of what expository preaching is, or isn't. Stott, up front, is opposed to exactly the sort of exercise this little(ish) blog post represents.
"I cannot myself acquiesce in this relegation (sometimes even grudging) of expository preaching to one alternative among many. It is my contention that all true Christian preaching is expository preaching. Of course, if by an 'expository' sermon is meant a verse-by-verse exposition of a lengthy passage of Scripture, then indeed it is only one possible way of preaching, but this would be a misuse of the word. Properly speaking, `exposition' has a much broader meaning. It refers to the content of the sermon (biblical truth) rather than its style (a running commentary). To expound Scripture is to bring out of the text what is there and expose it to view. The expositor prys open what appears to be closed, makes plain what is obscure, unravels what is knotted and unfolds what is tightly packed. The opposite of exposition is `imposition,' which is to impose on the text what is not there. But the `text' in question could be a verse, or a sentence, or even a single word. It could be a verse, or a paragraph, or a chapter, or a whole book. The size of the text is immaterial, so long as it is biblical. What matters is what we do with it."
I'm going to suggest that there is more to faithful preaching than simply exposing the text, that is, that preaching is not just about making plain the meaning of the text, line by line, but it involves trying to produce the same impact as the text — that the meaning of a text rests not just in its content, but in its function or purpose. And so, that 'exposition' itself, as a technique is sometimes an 'imposition' on texts written, as they were, to be read in particular ways and to achieve particular ends.
Here are three reasons I'm not sold on classic 'expository preaching' as the only, or most, faithful version of the preacher's task — sorry Kanye — not just why sometimes you might need sauce (thanks Stephen McAlpine), but why sometimes a burger needs a bun, and lettuce, and sauce to be a burger, not just the meat patty (that I understand some places sell as 'burgers'). If you don't bite into the whole thing, you're not really eating a burger, you're just chewing on some meat. You're not 'rightly dividing the word' but distorting the ultimate meaning of Scripture-as-Scripture.
It's a 'technique' that we often treat as a silver bullet
Though my talks are often 'expository,' or at least parts of them are, I'm not sold on 'expository preaching' as the Holy Grail or silver bullet or absolute model of faithful proclamation.
Faithful proclamation is important; and for mine, faithful proclamation involves a faithful proclaimer, faithfully understanding the text and re-presenting its meaning. Faithful proclamation is about more than technique or method; and, inasmuch as it is about content, faithful proclamation — specifically preaching — of God's word will proclaim Jesus as the fulfillment of God's revealing act through the Scriptures.
The catch is, we live in an age that is obsessed with technique. We want to reduce faithfulness, often, to bringing the right tools to the job. Expository preaching is a reasonable modern tool, when you look at 2,000 years of preaching.
Histories of preaching, like this article, that champion expository preaching, often see a long dark ages in the church starting in the post-apostolic period with true 'Biblical' preaching then emerging with the Reformation. What's interesting to me is that there isn't a huge amount of evidence in the New Testament that the preaching of the apostolic age looked 'expository' (think the sermons in Acts, with their sweeping big picture story-telling of the Old Testament, or from creation (eg Paul in Athens), or the way the epistles use the Old Testament, and especially Hebrews, which plenty of scholars see as a sermon transcript — it might be that it's a new medium that arrives with a Protestant understanding of Scripture (including the printing press and the Scriptures being available in the vernacular), the church, the nature of truth, and the task of the preacher. This doesn't make it wrong, it may be that it is a faithful way to proclaim Biblical truth, it just means it might not be the way to proclaim Biblical truth.
Other ages may have brought bits of the world into the pulpit — the article linked above is critical of Augustine and his ilk for emphasising rhetoric and other Greek forms of speech; but that critique also needs to apply to our own modern sensibilities; our fusion of certain forms of speech or persuasion with 'faithfulness'. Any critique of expository preaching as a product, mostly, of the Reformation — an approach unfamiliar to the people closest to the time the text of the Bible was produced, and the sermons of the first century preached — could equally apply to the historical-critical method of exegesis, and our rejection of any prior model; there's a sort of chronological snobbery at play in some of our thinking about 'faithfulness,' so in that history of expository preaching article, the writer also throws Augustine under the bus because "his interpretations were usually allegorical and imaginative, as was true of others of his day."
But, what if being imaginative is a legitimate approach to the task of preaching, and perhaps, within some boundaries, the task of interpretation? What if we have to attempt to imagine ourselves into the ancient worldview of the author and audience, not impose ourselves and our modern obsessions on an ancient text?
One of our modern obsessions, described by Jacques Ellul in The Technological Society, and rehearsed by others who think about communication mediums from oratory, to the alphabet, to the printed word as technologies, is with finding the right technique. When we drop this emphasis on technology and technique into the church ecosystem informed by the modern world, we get a belief that 'faithfulness' looks like employing the right techniques. Expository preaching becomes a particular sort of 'technology' or technique we turn to to shape the church, and shape us as people. Here's Ellul:
"Technique has penetrated the deepest recesses of the human being. The machine tends not only to create a new human environment, but also to modify man's very essence. The milieu in which he lives is no longer his. He must adapt himself, as though the world were new, to a universe for which he was not created. He was made to go six kilometers an hour, and he goes a thousand. He was made to eat when he was hungry and to sleep when he was sleepy; instead, he obeys a clock. He was made to have contact with living things, and he lives in a world of stone. He was created with a certain essential unity, and he is fragmented by all the forces of the modern world."
What if we view the expository sermon as a technique and ask how it has modified our very essence? Our understanding of the living and active word of God? What if we were made for something different and this technique, as a medium, imposes something on us as a 'force of the modern world'?
If Ellul's critique of the technological society was on the money in 1954, and others like Neil Postman took up his critique in works like Amusing Ourselves to Death and Technopoly, then we moderns need to be careful to identify where our particular socio-cultural moment is shaping the way we approach the living and active word of God. We should avoid the mistake of thinking that our particular moment has either the 'silver bullet' methodology, or a monopoly on 'faithfulness' because we can defend our technique.
The expository talk, with its propositions and focus on the detail, often comes at the expense of sweeping narrative (like the sermons in Acts). It, like the linear nature of the printed word (and how it changes the way we speak and remember), is actually a modern technology that has penetrated and reshaped our psyche.
Expository preaching often treats content — not content, form, and intention — as the essence of the text (and so, the sermon). 
Here is an exposition of a sword. It's an exploded diagram that names and labels every part.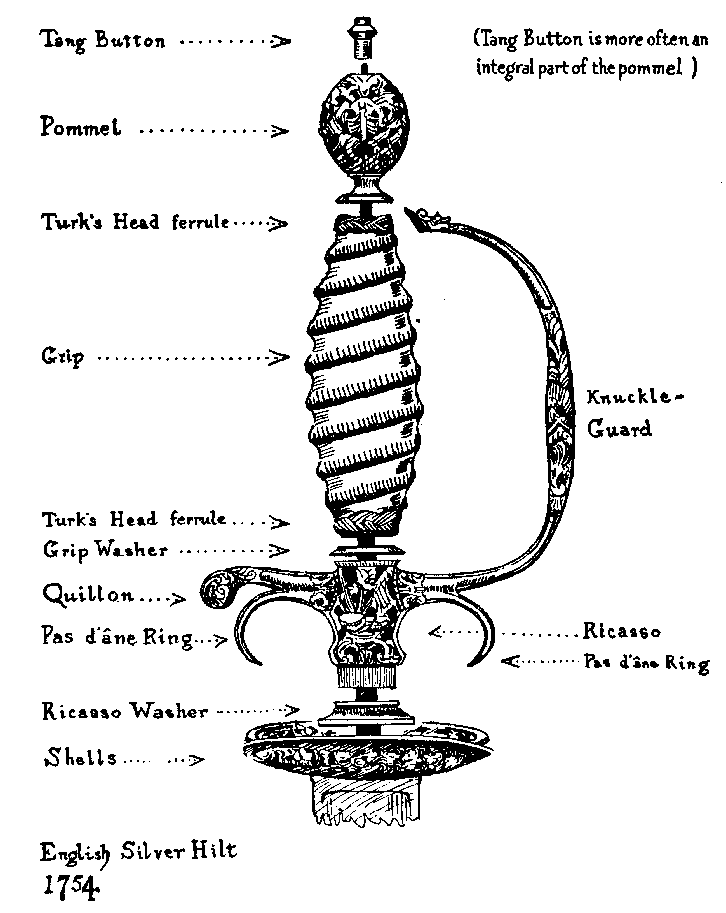 If a sermon did to a passage what this diagram does to a sword it would leave you with a good understanding of the composite parts of the sword, and maybe even the building blocks to allow you to jump to the concept of what a sword is for. But it's not going to cut you. Or move you. Or penetrate into the centre of your being.
What if faithful preaching isn't just a description of a sword, but the swinging of a sword?
What if we were made for the sort of communication that resonates not just with our rational brains, but our hearts, emotions and experience as well; for Logos, Pathos, and Ethos, in the Greek rhetorical schema; or for 'locution, illocution, and perlocution' in modern speech act theory? In speech act theory an act of speech is broken down into the content (locution), the delivery (illocution), and the intent (perlocution).
Sam Chan's Preaching As The Word of God (reviewed here) digs in to some of the issues with robbing the word of anything but the bare 'locution' (the words themselves), because to do this limits the communicative act to only its content. It's a fascinating approach to any sort of media; and not the approach you might learn in an arts degree, or something literary. It feels like a method of preaching divised by engineers who want the Bible to act as something like a manual for life, rather than something like a sweeping piece of artistry; a narrative, or cosmic drama, or even a persuasive text (and, for example, John's Gospel is up front about its intent — it is written so that we might believe). Sam quotes Bryan Chappell's Christ-Centered Preaching, which defines the technique of expository preaching, or 'Biblical exposition':
"Biblical exposition binds the preacher and the people to the only source of true spiritual change. Because hearts are transformed when people are confronted with the word of God, expository preachers are committed to saying what God says."
Sam Chan, in a work outlining how speech-act theory might help us approach preaching faithfully, identifies a few issues with this approach (one of these I'll unpack a little more below). First he acknowledges a strength, one that resonates a little with Kanye's appreciation of exposition.
"Although proponents of this approach would never suggest that preaching should be the mere quoting of Scripture passages verbatim (which would be akin to a "dictation" theory of preaching), they are not too far from asking a preacher to merely paraphrase a Scripture passage. The merits of this approach are that it is founded upon a high view of Scripture—for Scripture is the word of God—and it emphasizes the need for objective controls in preaching, namely, Scripture itself."
One of the problems he identifies is that the nature of exposition inevitably breaks down the text into chunks that are then explained, particularly as 'propositions'; there is nothing inherently wrong with propositions (that statement, is in itself a proposition), but "much of the literary genres of the Bible are not easily reduced to propositions or principles." I'm not convinced, for example, that exposition allows the faithful re-presentation of narrative, or poetry.
Part of the issue I have with 'Biblical exposition' that focuses on taking up the 'locution' of a passage, rather than the preacher faithfully reproducing the illocution and perlocution (or even adapting the ancient model of perlocution with methods that achieve the same outcomes in a different context) is that it has a truncated picture of who we are as humans. It is the product of a particularly modernist anthropology; the sort of thinking about what it means to be human that has reduced the path to formation to education, and that sees education not as an apprenticeship built on life together and imitation, but on getting the right information. We're not simply computers who need the right data downloaded into our mental hard drives, or brains on a stick who need the right information  in order for transformation to occur. Faithful preaching will recognise the nature of God's word (as living and active), and the nature of people as living and active, and work to bring the word of God to bear on living and active people — not killing the text, or the hearer.
If Scripture is living and active, we understand it best when it is unchained to do its work on us, not when it is dissected. Dissecting scripture is like trying to understand a lion by dissecting it, you might get some sense of how sharp its teeth are by holding them in your hands, but a greater sense if the lion bits you with its powerful jaws. We can provide diagrams of swords, or textbook descriptions of how swords work, and call that preaching, or we can swing them.
The Bible, God's word, is God's word about Jesus — exposition won't always get us where we need to go
Once one acknowledges that expository preaching might not do justice to a passage of narrative, it also opens up the possibility that expository preaching is an insufficient technique if the Bible has a metanarrative; a big story that each part contributes to. If expository preaching involves an explanation of the particular text and its particularities, then the move to connect the text not just with the immediate, but the canonical, context is already a move away from pure exposition. Without that move one ends up weighting all parts of Scripture equally, and while all of Scripture is God's word, all verses are not equal in significance.
So, for example, Deuteronomy 14:19 should not receive as much weight, in the diet of a church, as a verse in a Gospel or an epistle. Being good readers, and so good preachers, of God's living and active word involves understanding how his word fits together. There'll be more fruit in digging in to a verse by verse treatment of Romans, for example, as a result of its genre, than a verse by verse treatment of Job.
But also, the Bible provides us with an interpretive grid, in the words of Jesus in Luke 24. The Law, the Psalms, and the Prophets are written about him; our job as interpreters (and preachers) is incomplete if we have not connected the text to this context. Pure exposition of, for example, Isaiah, is not a faithul presentation of the living and active word of God if it does not connect us to the living Word of God, Jesus. And it's actually this sort of preaching, rather than line by line exposition of the Old Testament, or the words of Jesus in the Gospels, that we see modelled by the Christian preachers in the New Testament. Where expository preaching can essentially be traced back to the Reformation (even by those who believe it is the faithful model), there is a sort of preaching that is faithful to the Old Testament scriptures modelled in the New Testament that looks a whole lot more like swinging the sword around than death by 1,000 propositional cuts.
Faithful preaching properly understands God's word, and so proclaims Jesus as saviour and king, and calls for a response to him — for repentance and faith; for hearts and minds changed so that we become more like Jesus as we are called to love and worship God, and see our lives the way his story calls us to.
This is the pattern of the sermons we find in the New Testament — whether the teaching of Jesus (repent for the kingdom of God is near — and the Old Testament is being fulfilled), the apostles in Acts (repent, for the kingdom of God has come with the crucifixion, resurrection, and ascension of Jesus as the fulfillment of the Scritures), and in Hebrews — which is soaked in Old Testament quotes and imagery, and shows their fulfillment in Jesus as saviour and king.
An expository sermon can do this, absolutely — but the sermons in the New Testament aren't line by line expositions of Old Testament passages, they are deep reflections on the entire weight of the Old Testament testimony about Jesus — the law, the Psalms, and the Prophets — being brought to life in order to call people to repentance and faith; they often cut to the heart of the people listening (this is the explicit description of the response of the audience in Acts 2 to Peter's sweeping re-telling of the Old Testament narrative (quoting Prophets and a Psalm).
"Therefore let all Israel be assured of this: God has made this Jesus, whom you crucified, both Lord and Messiah."

When the people heard this, they were cut to the heart and said to Peter and the other apostles, "Brothers, what shall we do?

Peter replied, "Repent and be baptized, every one of you, in the name of Jesus Christ for the forgiveness of your sins. And you will receive the gift of the Holy Spirit." — Acts 2:36-38

Faithful preaching is preaching that moves people towards faith in Jesus because it does what the Scriptures do, aiming for what the Scriptures aim for… sometimes that will require exposition, other times it will require other techniques. Don't chop up the living and active (s)word into little bits. Swing it like you mean it.