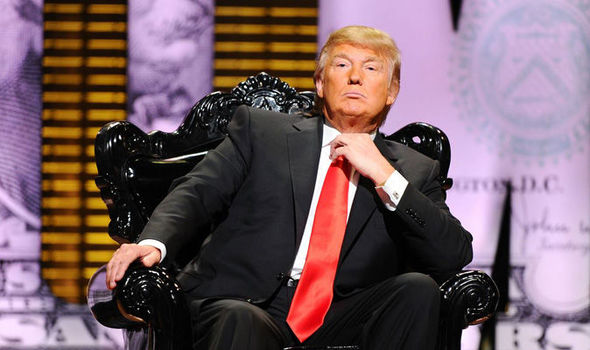 Trump has been president-elect for a week now. And Jesus is still on his throne.
The fallout from the election has been pretty interesting, but perhaps the thing I've found most frustrating in it all… apart from the damage Trump's election may or may not do to Gospel proclamation when it turns out the white evangelical American church was seduced by a narcissist who'd promise them anything and everything so he could get into power, and perhaps that he doesn't really want to share that power with anyone… apart from that the thing I've found most frustrating is the rush to the Spiritual high ground in the midst of genuine lament. Which is what the statement "Jesus is still king" actually feels like (even if its well-intentioned and absolutely true).
One of the great failings of our modern western version of Christianity is the death of lament. I know this because this was one of the things I fought hardest against in college before giving up my objections. I didn't think lament was important, I thought truth and the enlightenment that comes from it was what should give us comfort in the mess of life and suffering. But that's terrible and inhumane. I'm now convinced from how we see lament play out in the Bible (in the wisdom literature and the prophets but especially in the words of Jesus on the cross) that lament in itself is part of the process of being human, and being comforted.
About three in the afternoon Jesus cried out in a loud voice, "Eli, Eli, lema sabachthani?" (which means "My God, my God, why have you forsaken me?"). — Matthew 27:46
This is pure lament. In fact. It's a quote from one of the Psalms of Lament (Psalm 22). It's a deep irony that in the moment that Jesus is enthroned; he laments. We've lost that paradox. I suspect it might have been of little comfort to Jesus if someone had run up to him at that moment and said "but you are now on your throne" and "this is God's grand and infinitely complex plan for the salvation of the world"… what sort of jerk would you have to be to do that in his moment of great suffering, in his moment of lament.
There is much to lament about when it comes to Trump's election, especially if you're already feeling marginalised in a society that favours the strong and dominant, or if you care deeply about such people, especially perhaps if you'd love more people at the margins of our society to know that the Gospel of Jesus is good news when many spokespeople for the Gospel of Jesus have started also proclaiming the counter-gospel of Trump. And by this I'm meaning 'gospel' in the political (and original) sense in which it is good news — the proclamation of the arrival of a king and their kingdom; and by counter-gospel I mean compare everything Trump says and stands for with the Cross and the beatitudes and anything Jesus ever said or did… There's lots to lament, and perhaps some things to celebrate if you like your Supreme Court judges conservative and if that's why you voted the way you did…  but that you are celebrating (which 81% of the white evangelical church may well be, though most of them apparently voted while holding their noses) does not give you space to invalidate the lament of others, or to simply proclaim this fundamental truth — the real Gospel — about Jesus being enthroned as though that should pull them from their grief. There are much better ways to make that truth ring out as a comfort to the grieving. Here are two things I think need to happen before people will hear this proclamation in any way that is helpful; those words are a necessary comfort, this isn't a 'preach the Gospel, when necessary use words' thing, but a recognition that preaching is never just words. Ethos and pathos are part of the package of any proclamation of the 'logos'. That is who we are, and how we say things, will always shape the way what we say is received and whether it is heard and effective.
Listen to, and join, people in their lament.
Evil sucks. Suffering sucks. Lament is a good response to that because the God we lament to does not stand apart from our suffering. Jesus is king, and that is meant to make a difference in the world, starting with the church. I'm as keen as the next person to scoff at the universities who are giving their students playdough and colouring in books to help them through grief… or to think people taking to the streets and looting probably isn't really helping… that represents our prevailing culture's paucity of resources when it comes to genuine lament and processing tragedy. And perhaps we'd have a counter-example to offer if we hadn't systematically beaten lament out of the life of the church in pursuit of nodding head-smart piety. We need to rediscover how to lament; we need to make space for it, which means we need to listen to those voices who haven't given up lamenting… those people who are suffering, without simply shouting truth into, or over the top of, it. And this, the election of Trump, is an opportunity.
Just because you aren't lamenting doesn't make lamenting invalid; maybe the victims of injustice have a better proximity to that injustice to decide how to respond… maybe, for example, white evangelical men (like me) aren't actually in the best place to assess what Trump's election means to women, or people of colour. Maybe we should listen to stories like this one about being an abuse survivor in church and reacting to Trump's election before jumping in with the platitude that Jesus is king. We could also have listened to abuse survivors talking about the detrimental impact of Christian support of Trump before his election too… it wasn't like there was no warning that a significant portion of our community would feel like this. Maybe we should be listening to the communities at the margins — the non-white communities, the LGBTQI communities, etc, and hearing their concerns — whether they're in the church or not, before jumping in with proclamations that seem to make no difference to their day to day experience of marginalisation and fear? There is a way to make a difference, I think, and we'll get to that, but the first step is to listen before we speak. To understand. And to join in the grief and lament we hear from our friends at what is wrong with the world.
What I learned in college, and continue to learn as I pastor people who are suffering, is that sometimes saying technically correct things can be true but unhelpful. Sometimes it's best just to sit in and share the pain for a while; and to cry out in protest, anger even, to the God who is sovereign and the king who is enthroned. Sometimes you should shut up for a while and listen. Sometimes you should live out a truth in such a way that it allows you to enter suffering because you know it is temporary not just invalidate the reality of that suffering because you know it will pass.  One time where this is true is while people are grieving. And that's one of the lessons we learn in the book of Job.
Job's friends are jerks. Some of them say things that are just wrong; they tend to spiritualise a bunch of Ancient Near Eastern wisdom and give Job answers for his suffering that are just totally off base; that he's being punished for doing wrong. That he's not the righteous dude he thinks he is. That he's experiencing retribution from God for sin. But the narrative of the book of Job consistently upholds Job as actually being a righteous man. The first three friends are rebuked for having Job wrong… but there's this other guy, this other friend, who I think isn't speaking Ancient Near Eastern truth to Job, but Biblical truth, only I think he's not speaking this truth in a commendable way, and the narrative helps us get there if we read it carefully. Elihu, says things that are true, but just seems to be not all that much of a comfort or a friend to Job. Elihu is the guy who posts "Jesus is king" the day after Trump is elected. Elihu turns to the lamenting Job (who is lamenting for very good reason) and instead of being a human shoulder to cry on, he claims to speak for God, and he says:
"His eyes are on the ways of mortals;
he sees their every step.
There is no deep shadow, no utter darkness,
where evildoers can hide.
God has no need to examine people further,
that they should come before him for judgment.
Without inquiry he shatters the mighty
and sets up others in their place.
Because he takes note of their deeds,
he overthrows them in the night and they are crushed.
He punishes them for their wickedness
where everyone can see them,
because they turned from following him
and had no regard for any of his ways.
They caused the cry of the poor to come before him,
so that he heard the cry of the needy.
But if he remains silent, who can condemn him?
If he hides his face, who can see him?
Yet he is over individual and nation alike,
to keep the godless from ruling,
from laying snares for the people." — Job 34
Basically he's saying: "God rules. You won't understand what he's doing but he's doing something so shut up with your yammering"… the pre-Jesus equivalent of "Jesus is king."
I read Elihu's words and think about the scale of tragedy that's just been inflicted on Job — he's lost his whole family, his wife, his children… everything. And I think "Elihu, you need to get out more" and many other swear words that I can't write. When I read the opening of Job I imagine myself in his shoes, and the loss of all those I love… and that's precisely what his friends should be doing when they approach him. Imagining and empathising. And it's precisely where they fail… and where we often fail too.
There are plenty of pietistic readings of Job that jump on board with Elihu because he's a brash, young, truth teller who seems to be doing the Biblically wise thing of starting wisdom with the fear of the Lord and speaking accordingly. But being a brash, young, hothead isn't typically what a wise person looks like (when wisdom is described in Proverbs), so that Elihu is described as a bit of a hot-head should be a warning sign that all is not well when it comes to his words, even if they're totally right (for more on this see my friend Arthur's analysis of how the narrator treats Elihu). Pietism like this often feels like a case of leaving your humanity at the door and being God in a particular situation — seeing the world God's way — and that's a problem because we can't throw our humanity out, and we're not called to. A significant amount of the Biblical response to God ruling through evil despots is lament at God's judgment even amidst the knowledge that God's judgment is just and that God does rule. Habakkuk, for example, opens up his book with lament…
"How long, Lord, must I call for help,
    but you do not listen?
Or cry out to you, "Violence!"
    but you do not save?
Why do you make me look at injustice?
    Why do you tolerate wrongdoing?
Destruction and violence are before me;
    there is strife, and conflict abounds.
Therefore the law is paralyzed,
    and justice never prevails.
The wicked hem in the righteous,
    so that justice is perverted." — Habakkuk 1:2-4
He's totally on board with the idea that what's going on via powerful foreign kings who don't stand for God's kingdom is part of God's sovereign plan, but he asks this totally legitimate question… And even if this suffering is God's judgment, that doesn't mean we just sit on the sidelines while people are suffering because it's God's job to judge and our job to be the cheer squad. Our job is to be human, and to love our neighbours. Or, as God condemns those who stand on the sidelines while his judgment is playing out in Obadiah 1… not being moved by the plight of those under judgment earns us judgment…
Because of the violence against your brother Jacob,
    you will be covered with shame;
    you will be destroyed forever.
On the day you stood aloof
    while strangers carried off his wealth
and foreigners entered his gates
    and cast lots for Jerusalem,
    you were like one of them.
You should not gloat over your brother
    in the day of his misfortune,
nor rejoice over the people of Judah
    in the day of their destruction,
nor boast so much
    in the day of their trouble.
You should not march through the gates of my people
    in the day of their disaster,
nor gloat over them in their calamity
    in the day of their disaster,
nor seize their wealth
    in the day of their disaster.
You should not wait at the crossroads
    to cut down their fugitives,
nor hand over their survivors
    in the day of their trouble. — Obadiah 1:10-14
Our job isn't to jump in to God's judgment as sword wielding head kickers like a little brother keen to dob on his sister so she gets more anger (and credit to Mark Baddeley from QTC for both pointing this out, and this example), our job is to be brother and sister, to be the friend who comforts our loved one as we see them suffering… whether they deserved the smack or not.
Now back to Job and Elihu… and the question of responding the right way to lament and suffering…
The God of the Bible, the God who speaks to Job, and who Job trusts in, is more than a distant God who sometimes chooses to remain silent. He is a God who lives, and who speaks, and who enters in to our suffering. That's what Job's friends should've done. Job's friends — including Elihu — could've learned a lot from Jesus who joins us in lament to the point of his crucifixion where he takes those famous words of lament upon his own lips… as he suffers the world with us, and death for us. Jesus both models the human response to suffering, and speaks and lives God's response to suffering… and it's not simply platitudes. He gets alongside us in our suffering, and he also joins in the lament… then he does something about it by pointing us to what is good, and true, and beautiful, and eternal.
Cultivate a kingdom-within-the-kingdom where an alternative to Trump is lived out in a compelling and comforting way
When Trump was elected last week there were a bunch of people rushing to be 'Elihu'; running to the Spiritual high ground to piously speak real truth in the face of genuine lament as though truth alone is enough to pull people from their grief into comfort. The spiritual high ground isn't actually where Job wants us to end up though… it wants us on the ground looking up at truth about God, next to the grieving, not speaking down at them. The low ground might just be where real spirituality, and real knowledge of God, can be found. Especially if in Jesus we see the face and hands of the God who speaks to Job… and the answer to Job's confident declaration in the face of his friends' terrible advice (and terrible friendship).
"I know that my redeemer lives,
    and that in the end he will stand on the earth.
And after my skin has been destroyed,
    yet in my flesh I will see God;
I myself will see him
    with my own eyes—I, and not another.
    How my heart yearns within me! — Job 19:25-27
Speaking truth is really important; but so is where you speak it from. Truth without the attachment and emotion that come from empathy doesn't actually comfort (in my experience giving or receiving it). Life doesn't work like that. We're more than simply brains on a stick waiting for a good argument to pull us out of our feelings. Feelings pull us out of feelings. Truth is helpful for this — but we feel truth emotionally as much as we know it intellectually; and providing an intellectual answer to someone who is lamenting, whether you think they should be lamenting or not, is a pretty jerky thing to do.
When we say "Jesus is king" and aren't really living like it we're actually undermining the truth of this statement and its power. We're putting all our persuasive eggs in the basket marked 'head'… When we say 'Jesus is king' to an abuse victim grieving that a bloke who turned abuse into a badge of honour, or worse, simply 'locker room talk' is now the most powerful man in the universe but aren't at the same time creating a church community that thoroughly repudiates that sort of behaviour, well, I'll let this anonymous storyteller's words do the job…
"So when I hear Donald Trump talking degrading women and talking about using their bodies, that's not objective for me. He's the representation of my abuser, writ large on a television screen and given a powerful platform.

However, my abuser wasn't the only one by whom I felt violated. Christians failed me badly as well. When I revealed what had been going on, my family and I were advised by the pastor to leave the church. In our absence, lies, rumours and accusations circulated the church which were eventually fed back to us. "Everyone knows he's a bit handsy – why is she being so sensitive?" [Why was the 'handsy' guy allowed to be a youth leader if everyone knew?] "Maybe she asked for it." "It was just once." [It was 2 years of planned assault, by his own admission.]

So when I hear Donald Trump brag that the women he assaulted enjoyed it, it's personal, because the same things were said about me. And when I hear others minimise what he did, it's personal, because my testimony was also despised."
The way this case was handled is terrible, and we can't say it's isolated (nor is it perceived to be isolated). We have a Royal Commission going on in Australia that makes it pretty clear that our house isn't in order on this stuff. This story is terrible precisely because it represents a failing to live the truth that Jesus is king — the king who came to bring sin to light and destroy it — in such a way that might bring comfort and security to this victim or to others… So when Christians say "Jesus is king" in response to genuine lament, what this person hears is something quite different.
When we say Jesus is king and aren't living it by pursuing a community that looks like his kingdom (especially if we're not living it by running to attach ourselves to the centre of worldly kingdoms) the effect is the same on every community marginalised by the community-at-large; and when we respond to tragedy just with these true words, but without pursuing his kingdom with our actions, we're not actually engaging with where real truth and change and comfort happen. This is a failure of our church to fully imagine the sort of world that this deep truth will ultimately create; that it starts creating through us now.
Imagine a church where abuse victims feel not just heard, but safe. Where their testimonies bring real change because they are taken seriously; where the community is committed to bringing dark things into the light on the big stuff, and that shapes how we approach life together on the small stuff.
Imagine a church that is able to thoroughly, and with real integrity, speak against the abuse happening outside its community because we're known for taking it so seriously within our community.
Imagine how much more comforting this proclamation would be if our ethos matched our logos; if our community matched our proclamation. If we were a place where the LGBTQI person grappling with their identity and their sense that despite the popular rhetoric they're oh so very different from their neighbour felt loved and welcomed and safe and able to explore what "Jesus is King" might mean for them?
Imagine if we were a community not just dedicated to treating people as equal regardless of their skin colour, but pursuing justice even at the cost of our own privileged place in the world, and our own comfort.
Imagine if we were trying to tackle racism not just in our affirmation of the image of God in all people at an individual level, but in figuring out what it means for our gatherings and communities to be shaped by different cultures and hearing different voices, not just the dominant white male voice that has tended to make marginalised or minority communities feel like participating in church means becoming white or leaving their own cultural expressions at the door (or not creating the phenomenon of churches that are mono-ethnic and drawn from these minority communities, who create these communities for various reasons that mostly look like our failure to imagine church life together in which the Gospel is plausible for different cultural groups, thus meaning we lose the opportunity to hear their voice).
Imagine the richness of a church community that made space for many voices and many cultures rather than building mono-cultures. Imagine the comfort that'd come from those many voices together proclaiming "Jesus is king."
Imagine if those words; which are basically the message of the Gospel; were not an empty platitude but a political mantra that described our approach to life in the world; lives dedicated to living out his coming kingdom together.
Imagine if we understood the words "Jesus is king" as where real power lies, and the source of real politics and so didn't run as fast as we could to attach ourselves to worldly power; be it the democratic process, popularity, or the powerful leader; but instead ran to our suffering neighbours to live with them and comfort them in their suffering, and to the powerful to rebuke them; where in both cases our lives and words model the truth we proclaim.
Imagine how those words "Jesus is king" would be heard then, if they weren't simply a detached platitude, unmoored from the life we live in the world; or a social media 'hot take'… the words of young angry hotheads (typically removed from the suffering) who are desperate to tell the world that God really is in control (and he is) in a way that shows how very wise we are.
You may have just imagined what the church should look like. What's it going to take to get there?
I think it's going to take less people rushing to be wise like Elihu, and more people responding to suffering and lament, like Jesus. Who joined the chorus while absolutely doing something about it; while securing a lament free future by becoming the enthroned king.
About three in the afternoon Jesus cried out in a loud voice, "Eli, Eli, lema sabachthani?" (which means "My God, my God, why have you forsaken me?"). — Matthew 27:46
That Jesus is king is a great comfort; but it is made truer and greater still when you sit with the suffering and look up, understanding what's really at stake, than it is when you stand apart from suffering and look down.