Lance Armstrong has confessed and apologised, which, as we all know, is the first step to a public redemption. He did so with what seemed like as much genuine contrition as possible for somebody who has been pretty much tarnished as a pathological liar – it's a classic paradox.
He did it to Oprah, who I guess is the secular religion of the public self's closest thing to both a deity and a confessional…
I can't help but feel like calling Lance Armstrong "Al" such is the resonance with the classic Paul Simon song – if only his drugs were administered by a roly-poly little bat faced girl…

Image Credit: BBC, Armstrong's doctor Michele Ferrari, Bat-faced? Maybe. He denies being the administrator of the doping campaign anyway…
The song begins at where Armstrong is now…
"The rest of my life is so hard
I need a photo-opportunity
I want a shot at redemption
Don't want to end up a cartoon
In a cartoon graveyard"
He's also hoping the public will forget about all of this… because of our short little spans of attention… but here's pretty much the dilemma we face…
"Who'll be my role-model
Now that my role-model is
Gone Gone
He ducked back down the alley
With some roly-poly little bat-faced girl
All along along
There were incidents and accidents
There were hints and allegations"
Armstrong really does risk falling from being the character at the centre of a perfect story – which was part of his rationale for cheating – to being a cartoon in a cartoon graveyard of broken and forgotten men. Especially because the media does enjoy destroying idols almost as much as they enjoy building them up – that's the celebrity news cycle.
Lance and the broken "perfect story"
Here's a bit of the transcript…
You were defiant, you called other people liars.

"I understand that. And while I lived through this process, especially the last two years, one year, six months, two, three months, I know the truth. The truth isn't what was out there. The truth isn't what I said, and now it's gone – this story was so perfect for so long. And I mean that, as I try to take myself out of the situation and I look at it. You overcome the disease, you win the Tour de France seven times. You have a happy marriage, you have children. I mean, it's just this mythic perfect story, and it wasn't true.

Was it hard to live up to that picture that was created?

"Impossible. Certainly I'm a flawed character, as I well know, and I couldn't do that. But what we see now and what's out there now.

But didn't you help paint that picture?

"Of course, I did. And a lot of people did. All the fault and all the blame here falls on me. But behind that picture and behind that story is momentum. Whether it's fans or whether it's the media, it just gets going. And I lost myself in all of that. I'm sure there would be other people that couldn't handle it, but I certainly couldn't handle it, and I was used to controlling everything in my life. I controlled every outcome in my life.
Lance, and Me
I can relate to that. In a lot of ways I am like Lance Armstrong. I'm not really interested in throwing stones at him – in a way I'm guilty for the standards he set for himself. I want my sporting idols to go harder, faster, stronger, and for longer.
I think this bit, where he talks a little bit about his state of mind as he cheated, is honest, and scary – but it's scary because I can completely relate.
Was it a big deal to you, did it feel wrong?

"No. Scary."

It did not even feel wrong?

"No. Even scarier."

Did you feel bad about it?

"No. The scariest."

Did you feel in any way that you were cheating? You did not feel you were cheating taking banned drugs?

"At the time, no. I kept hearing I'm a drug cheat, I'm a cheat, I'm a cheater. I went in and just looked up the definition of cheat and the definition of cheat is to gain an advantage on a rival or foe that they don't have. I didn't view it that way. I viewed it as a level playing field."

But you knew that you were held to a higher standard. You're Lance Armstrong.

"I knew that, and of course hindsight is perfect. I know it a thousand times more now. I didn't know what I had. Look at the fallout."

What do you mean by you 'didn't know'? I don't think people will understand what you're saying. When you and I met a week ago you didn't think it was that big? How could you not?

"I see the anger in people, betrayal, it's all there. People who believed in me and supported me and they have every right to feel betrayed and it's my fault and I'll spend the rest of my life trying to earn back trust and apologise to people."
I am Lance Armstrong. I am a wretch – a wretch who wants to be the center of attention. We all are. We all want to be characters in the perfect story, but we're all deeply flawed.
Lance and Me and the perfect story of redemption
But Lance Armstrong is wrong – he can't earn redemption – he can't earn anything back. And neither can we. We're all accountable – not to the media, not to Oprah – but to the real God. The God who created us. The God who humanity turned on.
The God who authors the perfect story. The one perfect story. The only perfect story.
It's the perfect story of redemption.
The perfect story of overcoming those flaws.
The perfect story with the perfect character at its centre.
And it's this perfect story that, to continue the Paul Simon motif – might help Lance Armstrong see "angels in the architecture" it might see him "spinning in infinity" and all it takes – for us to see Graceland (to borrow from another song) – is to say "amen and hallelujah" – I could really spin this out a bit longer with some hackneyed line about Jesus being our bodyguard, who doesn't always stop us getting into trouble – but gets us out of it… but the story is better than that.
I am Lance Armstrong. I am human. I know what it is to not do the things that I want to do – I have no doubt that when Lance Armstrong says he wishes with hindsight that he'd fought against the culture, rather than pretending to when Hollywood came calling (see his cameo in Dodgeball)… because to err is human… To want to do right is human. That's what Paul expresses in Romans 7 – our natural state is to be caught up in the tension between wanting to do right, and desperately wanting to paint ourselves as perfect people by putting ourselves on a bit of a pedestal – serving our flesh…
19 For I do not do the good I want to do, but the evil I do not want to do—this I keep on doing.

20 Now if I do what I do not want to do, it is no longer I who do it, but it is sin living in me that does it.

21 So I find this law at work: Although I want to do good, evil is right there with me.
This is what it means to be human. We're all made in God's image – we're all at least partly wired to do good things, which creates a tension because our very nature, tainted by the effect of sin, means that we can't.
We can't earn our redemption – because this is a pretty vicious cycle. And Paul sums up the good news like this, in the same chapter…
"24 What a wretched man I am! Who will rescue me from this body that is subject to death? 25 Thanks be to God, who delivers me through Jesus Christ our Lord!"
The best part of the story, I reckon, is that we're not just rescued – we're perfected. By centering our story around Jesus, rather than ourselves, we start to become part of the greatest perfect story. The gospel really is the best story. It's a redemption story.
It's a story that unravels the human condition – the human condition that lead Lance to drugs, and leads us to all sorts of bad stuff – that all changes. And the notion of the "good life" and the "perfect story" changes too – because that tension at the heart of humanity starts to disappear. That's where Paul goes in chapter 8…
"28 And we know that in all things God works for the good of those who love him, who have been called according to his purpose. 29 For those God foreknew he also predestined to be conformed to the image of his Son, that he might be the firstborn among many brothers and sisters. 30 And those he predestined, he also called; those he called, he also justified; those he justified, he also glorified."
In Jesus we become part of God's purpose – and achieve something greater than the sort of unblemished humanity that was around when we were just run of the mill "children of God" when humanity was created. We're now being "conformed" to the image of Jesus. We have a role model – one who'll stick around. And we are being made like our role model – the perfect role model. We're redeemed – and we'll be perfected, or glorified… We're not faced with the prospect of being a cartoon in a cartoon graveyard – we're loved, in three dimensions, by the God who calls us his children.
That's a heaps better redemption story than anything Oprah offers.
Public figures fall hardest. Possibly because they fail more spectacularly, or at least in front of more people. Possibly because tall poppy syndrome means we're waiting for the fall to happen, and ready to throw stones when it does… It's always disappointing when someone you've pinned some sort of hopes on, or affiliated with your dreams, does wrong – but it's oh so inevitable. Call it the selfish gene, call it original sin, call it human nature – we're all wired to do the wrong thing, especially when we think we can get away with it, or the benefits outweigh the risks, and celebrities get more opportunities to do the wrong thing.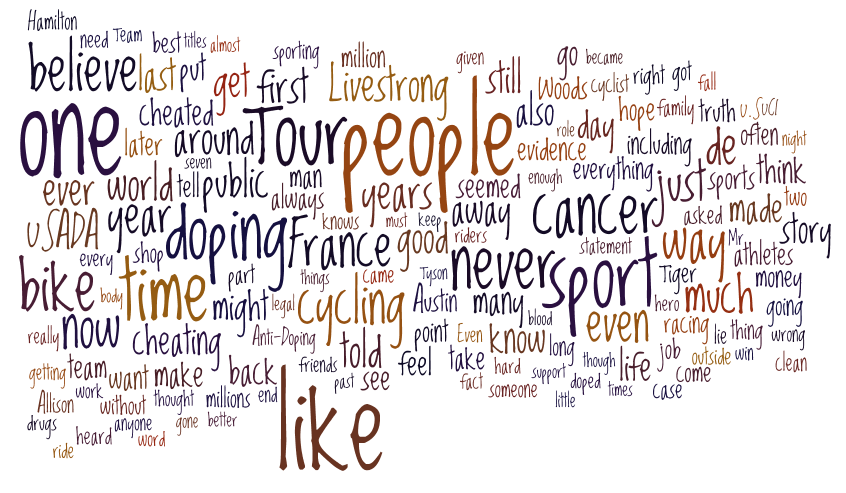 Image Credit: Wordle.net – a tag cloud featuring every article I link to in this post, minus "Lance" and "Armstrong"
Sometimes doing the wrong thing is even written off as the cost of success. Our sporting contests have penalties built in, and for people playing at a high level, half the battle is making snap decisions about whether or not fouling your opponent is a better decision than letting them past. Degrees of misbehaviour carry greater penalties. Diving in football is an example of people trying to game the system in the other direction. It too gets punished. It's part of the economics of sport. So much that a Formula One team was able to tax deduct its 40 million euro fine for spying on an opposing team.
Enter Lance Armstrong. Sport's current whipping boy. His story represents the human, and now economic, cost of cheating, and the price of a win at all cost pursuit of sporting success. He's been abandoned by sponsors. Abandoned by his sport. Abandoned by some fans. He's lost his titles. He's lost the respect of most cycling fans. It looks likely he'll lose his prize money, endorsement money, and interest. Part of the problem with Armstrong is that he's, by the power of his self-proclaimed narrative, set himself up as a symbol of hope. And worse a role model. A position most athletes shouldn't occupy. This means he's falling from a greater height than most.

Credit: ABC
His brazen cheating – conducted by an incredibly complex operation, and carried out with horrifically narcissistic and vindictive attacks on anybody who dared speak out – was one thing, and arguably, according to this Grantland piece, relatively easy to cop, given that most people don't really care about cycling:
Lance Armstrong became one of the two or three most transcendent American sports stars of his generation despite the fact that hardly anyone in America cares at all about his particular sport. The ratio of passionate Lance Armstrong fans to people who have ever actually watched Lance Armstrong race except for maybe a few minutes during this one Tour de France is just crazily out of whack.
Grantland points out that Armstrong's charity work, and the cancer-triumphing narrative, were what made him a hero:
"…it was his story that made him a superstar: his comeback from near-fatal cancer, the hope he offered other cancer patients, his charitable work through the Livestrong Foundation, the yellow bracelets, the sense of larger purpose. Cycling wasn't the cause here so much as the arbitrary venue in which the cause could prove itself noteworthy…

…That's what's so tragic about what turned out to be Armstrong's charlatanism. He had to cheat to win. But he had to win primarily to validate the narrative, not because the consumers of the narrative liked watching him do it. One of the reasons he could be so inspiring, in other words, was that for all practical purposes he barely existed at all."
It seems unlikely that this narrative and charity work will save his image, though someone appears to be advising him that it might (and some utilitarians seem to suggest the ends of fighting cancer justify any means). Armstrong appears willing to ride out the storm – pointing to his good deeds. But it's not likely to work. Interestingly, you could make the case that an interview Armstrong gave seven years ago was paving the way for a guilty verdict and his current plea to leave his charity out of the muck. In doublespeak, the interview given by a guy who is, more than likely, guilty, is a pre-emptive damage-controlling non-disclosure.
He said his sponsors and charity would disappear if he was caught.
"All of them. And the faith of all the cancer survivors around the world … And don't think for a second I don't understand that. It's not about money for me. Everything. It's also about the faith that people have put in me over the years. So all of that would be erased."
And his sponsors have. The impact on his charity is yet to be determined. Some people, the people he has helped over the years, are still in his corner.
But I also can't stop noticing that many of the people still defending him — not denying that he cheated, just knowingly rooting for him anyway — are cancer survivors or the family members of cancer patients. Robert Lipsyte wrote about this for The New Republic, how the thought of Armstrong helped get him through chemotherapy. And once you start thinking along those lines, that he meant that much to people, that it's not a trivial thing to be a hero of feeling, this becomes one of those problems you can't think your way outside.
This has been true in my observations of discussions of Armstrong amongst my friends and contacts on social media.
Grantland has an interesting reminder for those of us who follow Jesus… it should change how we think about stories like this.
Or maybe not; but it's always hard to remember that there were victims in cases like this, and what you do remember — hypocrisy and rule-breaking — doesn't always look so bad a few years down the line. How you feel about that probably depends on what you think heroism means in America, and whether you picture Halloween or Jesus when you hear that the dead are rising from their graves.
This is profoundly true – knowing that all people do the wrong thing, and that this is part of being human – and the foundation of our need for redemption through Jesus – means it's pretty hard to throw stones at Lance, because, there but for the grace of God, and the cycling ability, go we.
But if there's one thing we seem to like more than a public scandal, it's a public story of redemption. People are already making interesting links between the narrative arcs of Lance Armstrong and Tiger Woods (and here), and Lance Armstrong and Mike Tyson, especially because Tyson is in the news because he's coming to Australia on a charity tour.
Mike Tyson has had a complete rebrand – he doesn't eat meat, or ears, any more. He's apologised for stuff (but apparently still denies he committed the crime he was jailed for). He appears in movies. And now he's raising money for indigenous communities in Australia – which some people, as they do in Armstrong's case, suggest covers over a multitude of sins. I don't think charity work as PR penance works. Unless it's built on an acknowledgment of wrongdoing after the fact. And even then. You can't rely on the charitable stuff you were doing while you were cheating to excuse your cheating. That Armstrong could only have the profile he has, and the charitable impact he has, because of the drugs he took, doesn't really justify the taking of drugs, or the empire of deception built up around it. Tyson "redeemed" his brand, in the eyes of many, through an apology.
Tiger Woods apologised, and now seems to be working pretty hard to win back public affections by doing what he does best, golf, it is hard to go past a compelling "redemption narrative." Story after story about sports people who've behaved badly use this r-word. In many cases they focus on on-field performance, and express a desire for unparalleled talent to have the opportunity to shine once more – almost as if the tragedy is the furore, not the act. This isn't really possible in Armstrong's case – because his talent is forever tainted – which may even make his redemption impossible in some eyes.
But we want an apology.
Most of us are realistic about the human condition, and aware that celebrity doesn't do away with humanity. So we're prepared to cut people a fair bit of slack. If only they'd apologise. A bit of hard work atoning for your wrongdoing is nice, but apparently redemption requires contrition, not just sporting excellence.
And this idea is Biblical (from Psalm 51)… and one of those times where I think what works for one's relationship with God, transfers to how one relates to the public (a reverse of plundering gold from the Egyptians if you will).
"16 You do not delight in sacrifice, or I would bring it;
you do not take pleasure in burnt offerings.
17 My sacrifice, O God, is a broken spirit;
a broken and contrite heart
you, God, will not despise."
This is part of one of the biggest redemption narratives of all time – David writes the Psalm after being confronted by the prophet Nathan about his adultery. Arguably only Paul undergoes a bigger character rebrand in the Bible. It might sound like a contrite heart is some sort of meritorious act that immediately produces a desired result – but there's nothing worse, when salvaging a brand, than inauthentic contrition – like a non-apology apology.
Calvin's commentary on Psalms gives a similar take on these verses… which I like.
"The man of broken spirit is one who has been emptied of all vain-glorious confidence, and brought to acknowledge that he is nothing. The contrite heart abjures the idea of merit, and has no dealings with God upon the principle of exchange."
Genuine contrition isn't produced to secure a result – because it can't. It's about admitting that you're no longer in control of the result – it's about asking for mercy. And this only really works if you genuinely realise you've done the wrong thing. It's not a lever you pull to secure an outcome… as much as brand managers and spinners want to manipulate public goodwill with carefully architectured apologies.
The big debate surrounding Armstrong, at the moment, is not whether his good deeds off the track are enough to cover the sins on it, but whether he'll man up and admit he did wrong, and make the apology people seem to feel entitled to. PR expert after PR expert is trotting out this same advice (this one includes "six apology basics"), though some people think the moment has passed. One cycling company is assuming the inevitability of Armstrong's redemption, and has circumvented the process by offering him a job, which is, in itself, a PR exercise for that company. The media agrees.
"Only one way out of this mess, Lance Armstrong. America can love a fallen hero, but only if he admits the fall — and apologizes for lying about it. Do those two things, Lance Armstrong, and we'll love you again.

At the moment? We're disgusted.

It's not the cheating, because lots of world-class athletes cheat. We've come to grips with that generality, and particularly with the notion that cycling is the dirtiest sport of them all. That's what we think, and even if we're wrong, it doesn't matter. What matters is, people truly believe cycling is dirty — as in, everyone is dirty. You can't get to the top of that sport without cheating. History has shown us that."
If Armstrong wants to recover his brand, or salvage anything from this situation, rather than relying on his past good works, or even future good works, it seems, from the punditry, that he needs to be personally convicted that he's done the wrong thing – he needs to admit it, and he needs to ask for mercy. The principle is the same whether your're trying to salvage your multi-million dollar personal brand, or, more importantly, turning to God for true redemption. The best news for Christians is that the hard work atoning for our wrongdoings has been done for us, by Jesus.
With every drug saga in cycling come the enlightened souls who suggest drugs should just be legalised, and drug companies should become sponsors. Or people who write off the cheating as the cost of doing business. Or moral failings as a human touch that we're not in a position to judge. And in a sense, both responses are legitimate intellectual responses to the human condition. There are plenty who want to insist that Armstrong's charity work means he's a good guy, no matter how deep down.
The complexity of this moral situation is heightened by his refusal to confess. It leaves the situation ambiguous. It's interesting that contrition and repentance – not working hard to atone for what you did wrong (though that comes after) is so universally seen as the precondition for redemption – because in one sense, that's the Christian gospel being mirrored in the world. Lance isn't a role model. He isn't the messiah (there's even some question about the value his charity actually produces for fighting cancer – it seems more focused on style than substance (ie research into a cure)). He's also a very naughty boy. But he's human. Like us. He does wrong. Like me. He cheats like me – just on a bigger stage with a bigger scale. He lies, like me – it's just that more people listen to him. He needs redemption like me – not just for his career, but for himself. But I'm thankful that someone paid for my wrongdoings – of which there are many, though they're seen by a much smaller number of people. Lance and I are the same though – because everything we do is seen by God, and real redemption, for both of us, doesn't come from apologising and being contrite – though that's a start – real redemption comes from turning to the guy who didn't stuff up, the real role model, the guy who did the atoning for what we did wrong.
Lance Armstrong doesn't need a superficial PR rebrand driven by false contrition and a long road to redemption. He doesn't need a long record of doing good stuff for other people. He needs Jesus. Like all of us.