I've been on some pretty awesome camps in my life. Mid Year Camps and National Training Events were the highlights of my time at university. They were life changing events. But I'd probably swap half of one of those experiences for a trip to Camp Bacon. Activities include bacon bingo, bacon trivia, sharing bacon recipes, and all you can eat bacon.

The camp is run by a guy with serious bacon credentials – the author of the Zingerman's Guide to Better Bacon.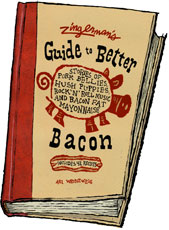 The Washington Post covered the first event…
One family travelled 21 hours to be there. That's dedication. The group shared bacon recipes, bacon making tips, and bacon poetry:
The Pig, if I am not mistaken,
Supplies us sausage, ham, and Bacon.
Let others say his heart is big,
I think it stupid of the Pig.