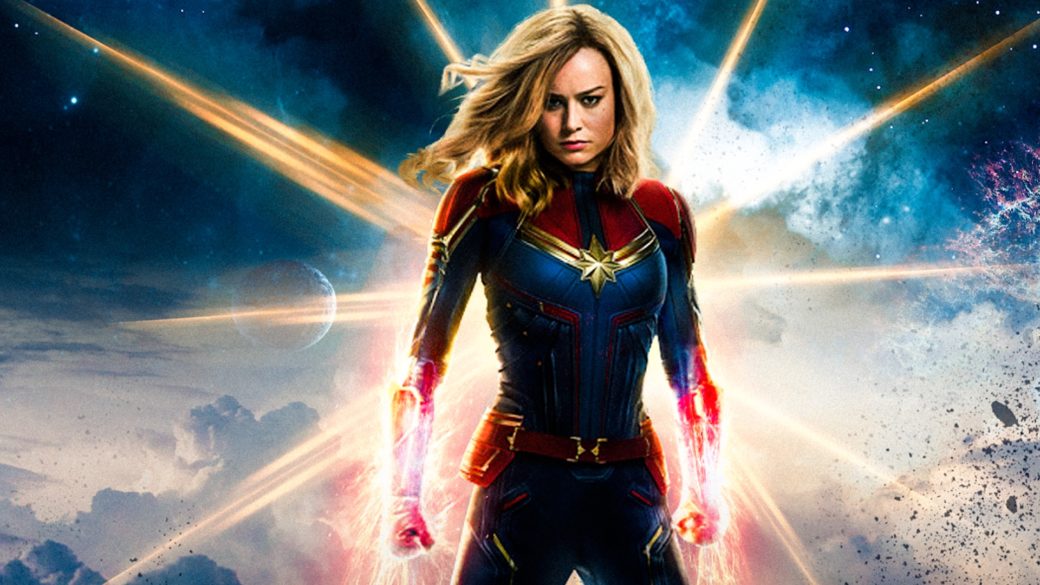 "Fairy tales, then, are not responsible for producing in children fear, or any of the shapes of fear; fairy tales do not give the child the idea of the evil or the ugly; that is in the child already, because it is in the world already. Fairy tales do not give the child his first idea of bogey. What fairy tales give the child is his first clear idea of the possible defeat of bogey. The baby has known the dragon intimately ever since he had an imagination. What the fairy tale provides for him is a St. George to kill the dragon. Exactly what the fairy tale does is this: it accustoms him for a series of clear pictures to the idea that these limitless terrors had a limit, that these shapeless enemies have enemies in the knights of God, that there is something in the universe more mystical than darkness, and stronger than strong fear." — G.K Chesterton
Captain Marvel is the most powerful superhero in the Marvel Cinematic Universe (MCU). Captain Marvel is a woman. Captain Marvel is a human woman named Carol Danvers whose origin story is the latest instalment in the MCU because she's going to be a major player in the next instalment of The Avengers. You can't go far in a review or commentary on Captain Marvel as a cultural text without referring to Wonder Woman, the comparisons in terms of the function of these movies and these characters within their respective comic universes are obvious. We saw Captain Marvel yesterday, and Robyn's analysis of this comparison was that Wonder Woman was a better movie (and funnier), and perhaps because it came first it felt more revolutionary — but that doesn't mean Captain Marvel is not the sort of empowering movie we'd want our kids to see. Much of what I wrote in a review of Wonder Woman can be said about Captain Marvel.
Stories are powerful, and super hero movies, like it or not, are our modern myths, so stories that provide representation for people who aren't used to seeing heroes who look just like them are powerful stories (think Black Panther). They don't teach us that we need superpowers to save the world, because most of us know superpowers, outside of science (hello Iron Man) are unlikely to happen; they do teach us that evil can be overcome though, by good, often by love. And that's a wonderful thing.
Stories that feature women as heroes have, until recent times, been exceptionally rare. Especially women that aren't sidekicks. Back in 2016 I went looking for stories where women undertake what has been called 'The Hero's Journey' (following a guy named Joseph Campbell) in a Facebook thread— there aren't many, even though that thread had hundreds of comments. Finding stories with strong female characters who exist in their own right, not as trophies for men, is tricky. Which is why Wonder Woman and Captain Marvel are such powerful texts — but I'd argue they're more powerful because despite the godlike powers of Wonder Woman or Captain Marvel in these movies, they don't function independently but in cooperation with supportive men. They aren't stories of independence but interdependence, in a way that very few movies with male heroes pull off. There's a danger with any super hero story that peddles a myth that individual heroism will destroy dragons (and this is where I think Jordan Peterson's use of mythology to promote individual heroism miss fires, even if he wants a balance of "feminine chaos" (emotion) and "masculine order" (reason)). I want my daughters to watch this movie for the same reason I want them to read Rosie Revere, Engineer, or to watch this astronaut, a real life Carol Danvers, Kate Rubin, read Rosie Revere from space. Representation is powerful and it helps girls imagine their place in the world counter to the myths that come from curse.
It's too early in the piece for substantial spoilers of Captain Marvel, but I'll just say, as you watch it, pay attention to the way the evil empire tries to control Carol Danvers by limiting her ability to embrace her emotions — she's basically told the same thing as Elsa in Frozen — 'don't feel' — she's told that reason will be her greatest weapon, and that her head, not her heart (or not the combo of both) is what must guide her and restrain her use of power. This is wrong. It's when she embraces her emotions, driven by love and a pure hatred of evil and injustice, that she becomes the most powerful figure in the MCU; that's when she escapes the voices that want to control her (embodied by the Kree General Yon-Rogg). Yon-Rogg, her malevolent mentor, wants to harness her power for himself and his ends, he's contrasted with Nick Fury, the future leader of S.H.I.E.L.D, who's happy to wash the dishes with Carol, to empower her, and take her lead on saving the world and beating the bad guys.
The moral to this story is that if you have great powers — like the ability to blast energy from your hands, and fly — and you have a good heart and mind — you should use them to fight against evil, joining other people who want to fight against evil.
Of course, our 'friends' at Desiring God didn't see the movie this way. The man who brought you 'effeminate men use plastic forks' (which I responded to here) now brings you this hit piece on Captain Marvel and all it stands for. In an earlier edition he bemoaned the loss of trophy-princess role models like Sleeping Beauty (that's been edited because someone must have pointed out the problems inherent with a story where a princess is kissed without her consent by a strong man she didn't know she needed). This one scored a positive retweet from John Piper too. So there's that. Here's a few choice quotes.
"I do not blame Marvel for inserting the trending feminist agenda into its universe. Where else can this lucrative ideology — which contrasts so unapologetically with reality — go to be sustained, if not to an alternative universe? Verse after verse, story after story, fact after fact, study after study, example after example dispels the myth of sameness between the sexes. The alternative universe where an accident infuses the heroine with superhuman powers, however, seems to stand as a reasonable apologetic for the feminist agenda…"

"As I consider Disney's new depiction of femininity in Captain Marvel, I cannot help but mourn. How far we've come since the days when we sought to protect and cherish our women.

The great drumroll of the previous Avenger movies led to this: a woman protecting men and saving the world. The mightiest of all the Avengers — indeed, after whom they are named — is the armed princess turned feminist queen, who comes down from the tower to do what Prince Charming could not.

Am I nitpicking? It is a movie after all. I wish it were. Instead of engaging the movie's ideology as mere fiction, a fun escape to another world, we have allowed it to bear deadly fruit on earth. Along with Disney, we abandon the traditional princess vibe, and seek to empower little girls everywhere to be strong like men. Cinderella trades her glass slipper for combat boots; Belle, her books for a bazooka. Does the insanity bother us anymore?"
Now, there are some bits to what Greg says that I'm sympathetic to — I do think there are physical differences between men and women that play out in the world as we experience it; unlike Greg I think these differences, when met by the cursed pattern of relationships in Genesis 3:16, create a world that is harmful for women in a way that it isn't for men (though it is also harmful for men). This is what terms like 'toxic masculinity' and 'patriarchy' are describing — a world where men use their power to dominate and control women. Greg wants men to be men — for us to step up, not armed with plastic swords or forks, but real metal ones, to slay dragons on behalf of women everywhere. I do think men have a particular responsibility in a cursed world to choose to not benefit from the cursed status quo, but fight against it… Greg Morse is big on dragon slaying. It came up last time — and fair enough, because the story of the Bible from Genesis to Revelation is the story of the slaying of a dragon; but I fear Greg misses the point of that narrative. Especially, I think he misses the point that the dragon is slayed not by metal swords or heroism, but by a wooden stake (or cross), and that the design for men and women is that we take part in battle together, just as Jesus and his bride do…
"God's story for all eternity consists of a Son who slew a Dragon to save a Bride. Jesus did not put his woman forward, and neither should we. Where Adam failed, Jesus succeeded. He is the Good Shepherd who laid his life down for his people. Even from the cross, God's wrath crushing him, he saw to the welfare of his mother (John 19:26–27). Should we so cowardly send our women to protect our children and us? Protecting our women with our very lives is not about their competency, but their value."
Greg wants men to fight battles and it seems that while he sees 'laying down his life' as a paradigm, he kinda wants men to do that while holding on to swords.
"Where can we more clearly display our ultimate resolve to love our women as queens than to step into hell on earth as sacrificial pawns in their defense? Generation after generation has mobilized its men to be devoured — that its women might not be."
If a man with a sword (or gun) comes knocking on our door, I'm not going to send Robyn to face him alone… but I do wonder if there's a better picture than the 'solo warrior' that Greg Morse might be blind to with his emphasis on individual heroism. I think he's missing a vital part of the dynamic of Adam and Eve's failure in the garden. Let me recast that story somewhat…
Genesis 1 tells us that God makes humanity — male and female — in his image; not just males, with females as trophies to be protected and kept at home. He tells us humans to 'fill the earth and subdue it' — it's clear that both males and females are involved with filling the earth with living images of God in procreation, why then do we think the 'subduing' or 'ruling' — as God's regents, his living representatives — is suddenly the man's domain? Not a thing we do together?
Genesis 2 tells the story of a particular relationship — within God's garden sanctuary — a heavenly place where God dwells with people that Adam is told to 'expand' (he's told to cultivate the garden and keep it, following Genesis 1's instruction to 'be fruitful and multiply'. Adam can't do this alone neither the expanding or guarding/keeping. So God makes him a 'helper' who completes him. They become one. There is no heroic individual in Genesis 2, but an heroic pair. Interdependent. The word 'Ezer' which is translated as 'helper' (Genesis 2:18) is used in places like these, in the name of one of Moses' sons after God rescued Israel in his might:
"and the other was named Eliezer, for he said, "My father's God was my helper; he saved me from the sword of Pharaoh." — Exodus 18:4
And, as Israel is about to enter the promised land…
Blessed are you, Israel!
    Who is like you,
    a people saved by the Lord?
He is your shield and helper
    and your glorious sword.
Your enemies will cower before you,
    and you will tread on their heights. — Deuteronomy 33:29
In both these cases 'ezer' is used of God and is used in a military sense; a helper is involved in the combat.
Adam and Eve were made to fight a dragon — the serpent — just as Jesus was — and they were to do that together; exercising God's rule over the world — his dominion even over serpents. And they failed — because they failed to cooperate. And the price for their failure is that rather than cooperating and ruling together, they (or we) compete for rule over one another, the sort of male heroism Desiring God describes is cursed not blessed.
"Your desire will be for your husband,
    and he will rule over you." — Genesis 3:16
The thing about Desiring God and its battlefield mentality in framing gender roles is that they're focusing on 'battles' and missing the real war — the war we're all called to fight as redeemed humans.
Note, that in Ephesians, Paul doesn't say 'finally, men'… but 'finally,' note also that he sees our enemy not as soldiers with guns but the devil and the 'spiritual forces of evil' — dragons are real. Note, that he also doesn't expect women to sit behind enemy lines, but rather, to be dressed for battle. The real battle. The battle he doesn't expect 'the bride of Christ' to sit on the sidelines for, but to be fighting — even as we know the real victory has been won.
Finally, be strong in the Lord and in his mighty power. Put on the full armour of God, so that you can take your stand against the devil's schemes. For our struggle is not against flesh and blood, but against the rulers, against the authorities, against the powers of this dark world and against the spiritual forces of evil in the heavenly realms. Therefore put on the full armour of God, so that when the day of evil comes, you may be able to stand your ground, and after you have done everything, to stand. Stand firm then, with the belt of truth buckled around your waist, with the breastplate of righteousness in place, and with your feet fitted with the readiness that comes from the gospel of peace. In addition to all this, take up the shield of faith, with which you can extinguish all the flaming arrows of the evil one. Take the helmet of salvation and the sword of the Spirit, which is the word of God.

And pray in the Spirit on all occasions with all kinds of prayers and requests.With this in mind, be alert and always keep on praying for all the Lord's people. — Ephesians 6:1–18
In Revelation, John draws all this together for us, the real battle and the real victory — a victory that is secure not because Jesus took the sword, but because he went to the cross.
Then war broke out in heaven. Michael and his angels fought against the dragon,and the dragon and his angels fought back. But he was not strong enough, and they lost their place in heaven. The great dragon was hurled down—that ancient serpent called the devil, or Satan, who leads the whole world astray. He was hurled to the earth, and his angels with him.
Then I heard a loud voice in heaven say:
"Now have come the salvation and the power
    and the kingdom of our God,
    and the authority of his Messiah.
For the accuser of our brothers and sisters,
    who accuses them before our God day and night,
    has been hurled down.
They triumphed over him
    by the blood of the Lamb
    and by the word of their testimony;
they did not love their lives so much
    as to shrink from death.
Therefore rejoice, you heavens
    and you who dwell in them!
But woe to the earth and the sea,
    because the devil has gone down to you!
He is filled with fury,
    because he knows that his time is short." — Revelation 12:10-12
That's our paradigm — that's our  truth, our readiness, our shield, our helmet, and our sword — that Jesus has won the victory. That's what men and women co-operate with as we bring this message of victory to the world and so see God's image bearers spread across the face of the world in opposition to Satan. Heroic independence is result of the curse — thinking that we should maintain that approach to this real battle is a lie of the Devil. Our inter-dependent following of the example of Jesus, together, one in him because the victory is won in him is what sees the devil and his schemes defeated, and the blessing of the new kingdom coming here and now.
The Desiring God piece cites C.S Lewis as an example for why women shouldn't go into battle — and yet, C.S Lewis gets it — he gets the power of stories, or myths, that they don't teach us just about heroism in real world conflicts, but about the enchanted world we live in and the Spiritual battle. This is the point of the Narnia series; you know, that series where a group of brothers and sisters — Peter and Edmund joined by Lucy and Susan — go to battle, armed, against the White Witch (the serpent figure), behind Aslan (the Jesus figure), their victorious leader who wins a victory by death.
This quote is, unfortunately for the purpose of this piece, from an era where the most frequent pronoun for talking about an individual was 'he' — but it applies to the power of stories in all our lives, and it's why we need Captain Marvel, and Wonder Woman, and the Chronicles of Narnia.
"…the fairy tale stirs and troubles him (to his life-long enrichment) with the dim sense of something beyond his reach and, far from dulling or emptying the actual world, gives it a new dimension of depth. He does not despise real woods because he has read of enchanted woods: The reading makes all real woods a little enchanted." — C.S Lewis
I want my daughters, my wife, my sisters, and my friends who are women to see and be inspired by Captain Marvel. I want them to be inspired by Lucy and Susan (though not, ultimately, Susan — who ends up choosing "feminine" things like lipstick and stockings (you know, what the princesses Desiring God misses would spend their time pursuing in order to not accidentally be masculine), rather than the 'last battle' and Narnia — the things of this world rather than the kingdom). I want my daughters to read stories and watch stories where there are brave heroes who represent them so they take up their place in the real war. Fairy tales are powerful not because they teach us how to navigate a world where bullets fly, but how to face the one who drags us in to curse and away from blessing.