"Ok. Let's start CPR"
Breath.
We take it for granted right up until the moment that it is gone.
I'm in hospital this week, celebrating the incredible miracle of new life. New breath. For the third time I was there. Physically. Emotionally. Present. There. In the room. Waiting. Watching. Listening.  There, as a mouth opened, and filled a set of lungs with oxygen for the first time.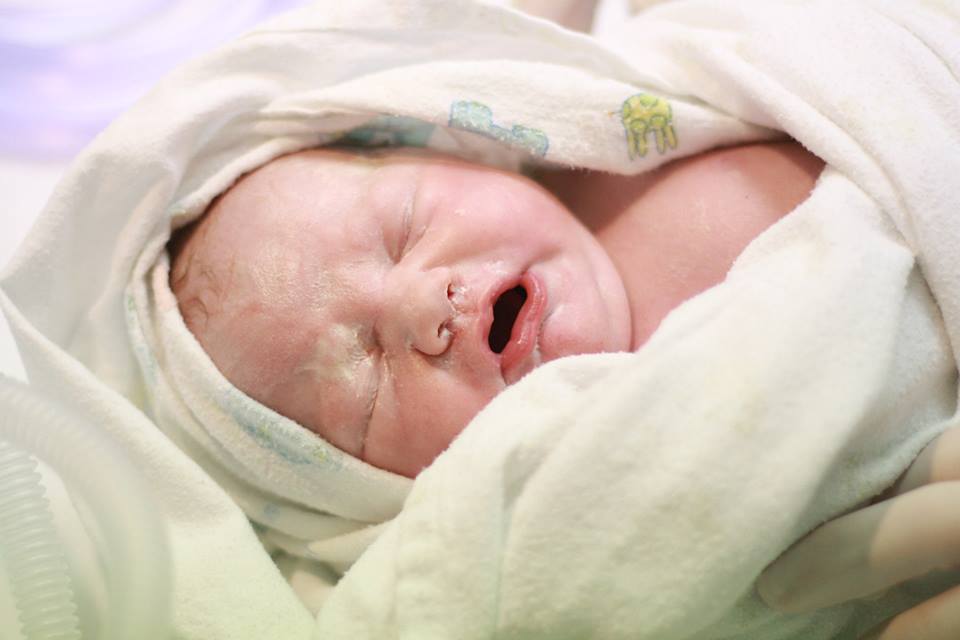 Breathe little girl.
Thankfully, our little one, has not required CPR. But in a hospital there are many who do. In hospital, life and death exist as the start or end point of different journeys. Hospitals beat airports when it comes to the scale of human emotions. When I walk the corridors I remember the training I was given for news reading — bizarrely — whether its bad news or good, people like the comforting empathy of a warm smile. The smile conveys a subliminal wink and a nod, from a third party, to the idea that life will go on, that everything will pan out. Even if its patently obvious that it won't. Even if it's clear that everything has, or will, change. I walk around the hospital with my empathetic newsreader smile plastered on my face, trying not to make eye contact. Just in case. But I listen as I walk. Because the hospital experience, tied up as it is with life and death, is something that feels almost sacred.
"OK, let's start CPR."
Life is incredible, and, linked as it is to breathing, breath is incredible. The capacity for the very atmosphere that surrounds us to sustain life is remarkable. Yet like good typography, breath often goes unnoticed. We take it for granted.
I notice it when I'm short of it — in the throes of exercise, or on a cold winter's night as my mild asthma starts constricting my chest — but other than that its simply automatic. I find myself thinking about breathing if I'm trying to exercise some control over something that I feel like I ought to be more invested in, when I feel the need to still my heart and my thoughts, or when I want to sneak out of a sleeping child's room unnoticed.
But breath is a miracle.
Breathe little girl.
Nothing reminds you of that faster than a hospital. Where breath is there one moment, and gone the next. Or, more happily, where a breath is taken for the first time.
My newest progeny, Elise, is three days old now. She is alive. She is healthy. She breaths. She is a wonder to me. A beautiful marvel (just like Sophia and Xavier before her).  I've spent three days reflecting on that moment where her mouth and lungs opened to receive breath, autonomously, for the first time. It's true, of course, that Elise has been living on vicariously delivered oxygen for many months now. But this was life without breath. Another miracle.
Breathe little girl. 
It's interesting how much you pay attention to the breath of another. One that you love. Whether its the breathing of a loved one, a spouse or significant other, when you're in close proximity, or the breath of a child whose life you suddenly feel (and are) responsible for. There's some sort of nerve-jangling response hardwired into a parent that comes as an automatic response to every cough, whimper, or choking sound. Nothing gets you breathing faster than hearing something abnormal in the breathing of your child. And yet I have no idea how many times I've inhaled or exhaled while writing this sentence. Have you counted your breaths while reading this? Of course not. Though maybe you will. And every breath counts.
Our breaths are numbered — whether by an all knowing divine being, or simply by the period of time we're alive, and the number of times we inhale and exhale before expiring — we only breath a certain, finite, number of times in this world.
As I write these words I'm sitting next to my wife, Robyn, watching Elise sleep and listening to her breath. Listening for abnormalities. Sure. But listening and celebrating the marvel that is human life.
Breathe little girl. Keep breathing.
Breathing is so fundamental to our human experience.
"OK. Let's start CPR." 
These words are a terrifying reminder that one day breathing will cease. For me. For you. That breath will leave your body for one last time, leaving it, if you can believe what you see in the movies, 21 grams lighter. But dead. Lifeless. 21 grams might not be the weight of the soul, that's a weird sort of dualism that leaves body and soul more separate than I believe they are. But, if that movie (21 Grams) is right, it is the material difference between a dead person and a live person.
Whatever you believe the soul is, that which vivifies a bunch of cells, it departs with your last breath.
Death sucks. It's like a black hole that sucks the life and oxygen out of what would otherwise be a pretty spectacular universe.
"Ok, Let's start CPR"
I heard these words as I walked the corridors of the hospital, on my way from my living, breathing, miracle to the cafeteria which serves up a bunch of salty deep-fried rubbish, and sugar — delicious though it all is — that will inevitably lead to a few fewer breaths for me if I keep indulging in them.
As I left the maternity ward I was aware of a piercing, repeating, alarm, and a bit of motion around the doors of a room at the end of the corridor in the ward I walk through to get to the cafeteria. I heard those words.
"OK. Let's start CPR." 
They're stuck in my head. A twin memory, juxtaposed to that precious moment from the birth suite. Clanging. Jangling. Butting up against the reality of new life. Intruding on a celebration.
I purchased my wedges and waited as the hot oil turned them golden brown. I walked back past the room. It was still. Empty. Without breath. I don't know what happened to the resident, whether they were rushed away for treatment, or how that story ends. But I do know it's a stark reminder that all is not right in this world.
Those breaths my daughter took as she entered the world, the breaths she takes now as I sit beside her, will one day cease. As will mine. My wife's. My other children. Breath is fleeting. Life is fleeting.
Breathe little girl. 
The writer of Ecclesiastes, let's, for the sake of argument, call him Solomon, reflected on the existential dilemma that this dependence on breath places us in, against the backdrop of just how temporary our breathing is in the grand scheme of things.
Breath. Over and over again he repeats the word 'hebel' — a word our translations render as "meaningless," but a word that means breath. Fleeting. Inhale/exhale. You breathe in. You breathe out. And it's all over.
"Breath! Breath!"
    says the Teacher.
"Utterly breath!
    Everything is breath."
What do people gain from all their labors
    at which they toil under the sun?
Generations come and generations go,
    but the earth remains forever.
The sun rises and the sun sets,
    and hurries back to where it rises.
The wind blows to the south
    and turns to the north;
round and round it goes,
    ever returning on its course. — Ecclesiastes 1:2-6
This leads to a pretty depressing place.
"So I hated life, because the work that is done under the sun was grievous to me. All of it is breath, a chasing after the wind." — Ecclesiastes 2:17

Surely the fate of human beings is like that of the animals; the same fate awaits them both: As one dies, so dies the other. All have the same breath; humans have no advantage over animals. Everything is breath. —Ecclesiastes 3:19
Here one minute. Gone the next.
Breathe little girl. 
Why?
Why is it that breath does not last? That life does not last?
This miracle of new life, and new breath, that I witnessed for the third time this week, why isn't it an eternal miracle?
Why does life end?
If Solomon had been able to answer these questions adequately, then perhaps Ecclesiastes would be a little less morose. He does turn, in the face of futility, to the only one it makes sense to turn to. The one who gives life.
Remember your Creator
    in the days of your youth,
before the days of trouble come
    and the years approach when you will say,
    "I find no pleasure in them"…

Remember him—before the silver cord is severed,
    and the golden bowl is broken;
before the pitcher is shattered at the spring,
    and the wheel broken at the well,
and the dust returns to the ground it came from,
    and the spirit returns to God who gave it.
"Breath! Breath!" says the Teacher.
    "Everything is breath!"…

Now all has been heard;
    here is the conclusion of the matter:
Fear God and keep his commandments,
    for this is the duty of all mankind. — Ecclesiastes 12:1,6-8, 13
Solomon's dad, David, was also confronted by this same existential crisis, the question of what life means in the face of the stark reality of death.
"Show me, Lord, my life's end
    and the number of my days;
   let me know how fleeting my life is.

You have made my days a mere handbreadth;
    the span of my years is as nothing before you.

Everyone is but a breath,
    even those who seem secure.

 "Surely everyone goes around like a mere phantom;
    in vain they rush about, heaping up wealth
    without knowing whose it will finally be.
 "But now, Lord, what do I look for?
    My hope is in you.
 Save me from all my transgressions;
    do not make me the scorn of fools." — Psalm 39:4-8
Breathe in. Breathe out. Expire. And yet, David speaks of hope and salvation… The Psalms, not all of them are written by David, end up a little more hopeful, relying on God's life-giving character as part of the answer to death.
"All creatures look to you
    to give them their food at the proper time.
 When you give it to them,
    they gather it up;
when you open your hand,
    they are satisfied with good things.
 When you hide your face,
    they are terrified;
when you take away their breath,
    they die and return to the dust.
When you send your Spirit,
    they are created,
    and you renew the face of the ground.

May the glory of the Lord endure forever;
    may the Lord rejoice in his works." — Psalm 104:27-31
God gives life. God takes it away.
We humans can prolong life by artificially breathing into someone's lungs.
"Ok, let's start CPR"
Sometimes by moments, sometimes by years. But never eternally. We just don't have enough breath, or life, to give. CPR, at its most basic, is the giving of some of the oxygen allocated to yourself, in terms of the finite number of times you'll breathe in your lifetime, to someone else. It's incredible. The transfer of life giving breath from one person to another.
But CPR is a temporary fix. It'll always be followed by death. This, in part, is because we've all only got a finite amount of oxygen to spare. CPR is a dying person giving another dying person a bit of their life. Real life needs living breath, the sort that Psalm speaks of, the sort that creates and renews, when God sends his Spirit — breath that comes from the infinite life giver. It's God and his glory, and his breath-created works that will endure forever. This sort of breath seems the only answer in the face of death, which only entered the world because we rejected God.
This is not how it was supposed to be. The link between life and breath is no accident. For those who take what the Bible says about life and breath and death seriously, our breathing was not meant to cease. We were made to live. We were made to live in such a way that our very life — the essence of our existence — reflected the greatness and glory and existence of the one who breathed life into us. Whatever points Genesis is making about the origins and function of human life, one thing is clear — breath is what separates us from dust. From dead matter. Breath is why we matter, it's what gives life in this world — first to the animals (Genesis 1:30), then to humanity.
"Then the Lord God formed a man from the dust of the ground and breathed into his nostrils the breath of life, and the man became a living being." — Genesis 2:7
This breath is what gives us the capacity to live out our function as living images of the living God. Not simply images fashioned from clay, or precious metals. And, Christians believe the living God continues to fashion every human life.
For you created my inmost being; you knit me together in my mother's womb. I praise you because I am fearfully and wonderfully made; your works are wonderful, I know that full well. My frame was not hidden from you when I was made in the secret place, when I was woven together in the depths of the earth. Your eyes saw my unformed body; all the days ordained for me were written in your book before one of them came to be. How precious to me are your thoughts, God! How vast is the sum of them! — Psalm 139:13-17
The other gods of the Ancient Near East had their dead statues. Idol statues that were formed and fashioned by craftsmen, then ceremonially "quickened" in a mouth opening ceremony so they could act for the god they represented— despite this ceremony they remained still, mute, and dead. Breathless.
Idols don't speak. In part because they don't breath (have you ever tried breathing without speaking?). And they don't breath because they don't live. They don't help us answer the existential dilemma we're confronted with at the sound of inspiring or expiring (and just how cool is it that these words are related to breath entering and leaving the lungs?). The consistent testimony of the inspired writers of the Old Testament is that Idols do not speak, or breath, so they cannot inspire… they leave us bereft and helpless in the face of the fleeting nature of life. That's why the writer of Ecclesiastes finally turned to his Creator.
I look but there is no one—
    no one among the gods to give counsel,
    no one to give answer when I ask them.
See, they are all false!
    Their deeds amount to nothing;
    their images are but wind and confusion.— Isaiah 41:28-29
Everyone is senseless and without knowledge;
    every goldsmith is shamed by his idols.
The images he makes are a fraud;
    they have no breath in them. — Jeremiah 10:14
The idols of the nations are silver and gold,
    made by human hands.
They have mouths, but cannot speak,
    eyes, but cannot see.
They have ears, but cannot hear,
    nor is there breath in their mouths.
Those who make them will be like them,
    and so will all who trust in them.— Psalm 135:15-18
Replacing the living God with other stuff is what started the long, slow, march towards death for all people. And eventually we'll become just like the dead, dusty, stuff we replaced him with.
"OK, let's start CPR"
Death sucks because in suffocating us of life and breath, it robs us of something that is intrinsic to our humanity and its essence. It consumes the life that was given us in order that the one who gives life might be seen.
Even if we do all in our power to be shaped by other gods, idols that we live for and reflect instead, until breath is taken away, until death happens, we still, in our living, breathing, existence point to the existence of the life-giver. The breath-giver.
The gods of the nations around Israel were represented by dead images, fashioned from dirt. But not the God of the Bible. The living God. The God who could not, and would not, be represented by dead statues. Statues with no breath in them. The living God needed living representatives.
Idols are dead. And dumb. As we follow them, or simply turn away from the life-giving God, that becomes our destiny. Dumb death. This future is all we can inflict on others on our own steam (or breath). This is why CPR is only a temporary fix. We are expirers by our nature, not inspirers.
The living God, on the other hand, speaks and gives life. Rather than death.
Where people make images of dead gods, the living God gives life to living images.
Humans.
That we die is an affront to what we were created for. God is a living, breathing, God — who gives and sustains life through breath, and ends life by taking that breath away (Numbers 16:22, 27:6, Job 12:10, 27:3, 33:4). As long as we live and breathe, by God's design and as his gift, we still actively bear his image. Whether we like it or not…
If it were his intention
    and he withdrew his spirit and breath,
all humanity would perish together
    and mankind would return to the dust. — Job 34:14-15
God takes life, because God gives life.
This is what God the Lord says—the Creator of the heavens, who stretches them out,

    who spreads out the earth with all that springs from it,
    who gives breath to its people,
    and life to those who walk on it. — Isaiah 42:5
God gives life to all people. In this sense, all living, breathing, speaking people, whether they remain turned away from God and towards things that kill or not, continue to represent something true about God. But temporary life isn't really a complete testimony to the eternal life of the life giver, given eternal life is. Psalm 104 delights in the idea that the glory of God will endure forever as God rejoices in his works. Adam and his descendants don't truly carry out the role of image bearer.
Jesus does.
The humanity Jesus reveals in his perfectly obedient life, death, and resurrection, is a truer humanity than our natural, death-riddled, humanity. The humanity offered to us in Jesus, the new life, and new birth, offered to those who turn to him and receive God's Spirit, is a fuller picture of God, and the answer to the crisis of existence that confronts us in the face of death. It solves the shortness of our life, by offering eternal life. A share in the true essence of God's life. In the Old Testament story, turning away from God and towards idols leaves people metaphorically (or perhaps metaphysically) with stone hearts, and as dry bones. God's promise to his people is that he will re-enter the scene to renew and recreate life (which echoes the hope of Psalm 104).
"'Dry bones, hear the word of the Lord! This is what the Sovereign Lord says to these bones: I will make breath enter you, and you will come to life. I will attach tendons to you and make flesh come upon you and cover you with skin; I will put breath in you, and you will come to life. Then you will know that I am the Lord.'" — Ezekiel 37:4-6
This is divine CPR. CPR that works because the infinite one, with lungs of infinite capacity, who breaths life, not death, is the one administrating the life-giving intervention.
The beauty of the Christian story is that as God breathes his Spirit back into us we start reconnecting with the divine, inspiring, purpose of human life, powered by God's breath. We become his workmanship again. Consider Ephesians 2, the whole chapter, or even the whole letter, is gold, of course… but these bits:
But because of his great love for us, God, who is rich in mercy, made us alive with Christ even when we were dead in transgressions—it is by grace you have been saved… For we are God's handiwork, created in Christ Jesus to do good works, which God prepared in advance for us to do… For through him we both have access to the Father by one Spirit… And in him you too are being built together to become a dwelling in which God lives by his Spirit. — Ephesians 2: 4-5, 10, 18, 22
We become work that will endure eternally. Inspired, rather than expiring. The effort put into knitting us together in the womb meets its divinely inspired purpose. Breath and life intertwine as we become God's image bearers again. Presenting a living image, and pattern, we see perfected and demonstrated in Christ (see Colossians 1:15-21). The weird thing about the pattern of Jesus life, the way he demonstrates that he is God's craftsmanship (and the way I think Paul follows his example, cf 2 Corinthians 3-4), is that it's caught up in being prepared to stop breathing for the sake of others. It's about being prepared to lay down life now, confident that the one who gives life will take it up again (John 10:14-18). It's on the Cross where the pattern for life-giving humanity that reflects the life-giver is laid out for all to see. On the Cross the one who connects us with the life-giving God shows exactly what it looks like to truly trust and obey God. He demonstrates what it looks like to simultaneously and perfectly love God, and love your neighbours, and your enemies. At the Cross Jesus defeats death, and he does that by putting his breath, and life, in its place. In the hands of God. Showing us what it is to trust God in the face of the apparent meaninglessness of a short existence.
Jesus called out with a loud voice, "Father, into your hands I commit my spirit." When he had said this, he breathed his last. — Luke 23:46
Through Jesus, God's life giving breath — his Spirit — comes to dwell in us, not us alone, but us his people — giving us life again. God's life. Eternal life. The promise of the Old Testament prophets and the hope of the Psalms (even the hope of Solomon), meet their fulfilment.
Paul, who wrote that stuff from Ephesians, ties up all this stuff— idols, images, and God's relationship to life and death, and breath in Jesus — as he speaks to the leading thinkers of Athens, in Acts 17. These thinkers are those who spend their time grasping and grappling with the existential question death presents to us. Like the writer of Ecclesiastes, Paul turns to the Creator of life to find a way to answer this question without being all-consumed by existential angst.
"The God who made the world and everything in it is the Lord of heaven and earth and does not live in temples built by human hands. And he is not served by human hands, as if he needed anything. Rather, he himself gives everyone life and breath and everything else. From one man he made all the nations, that they should inhabit the whole earth; and he marked out their appointed times in history and the boundaries of their lands. God did this so that they would seek him and perhaps reach out for him and find him, though he is not far from any one of us. 'For in him we live and move and have our being.' As some of your own poets have said, 'We are his offspring.'

"Therefore since we are God's offspring, we should not think that the divine being is like gold or silver or stone—an image made by human design and skill. In the past God overlooked such ignorance, but now he commands all people everywhere to repent. For he has set a day when he will judge the world with justice by the man he has appointed. He has given proof of this to everyone by raising him from the dead." — Acts 17:24-31
Breathe. 
Life is found in and through the one who the creator, the living, breathing, God raised from the dead. Jesus.
My prayer for my kids, for Elise, for Xavi, for Soph (and for all those I love), is that they might know that they are fearfully and wonderfully crafted by God, as his workmanship, that they might stay connected to his purpose for them through Jesus, and grow to love God, and live by his breath. Not our on their own steam. Because this is what lasts. And as a dad, it's the only thing that gives me hope knowing that one day the lives I hold in my hands, and in my heart, will end.
Breathe little girl. Keep breathing.