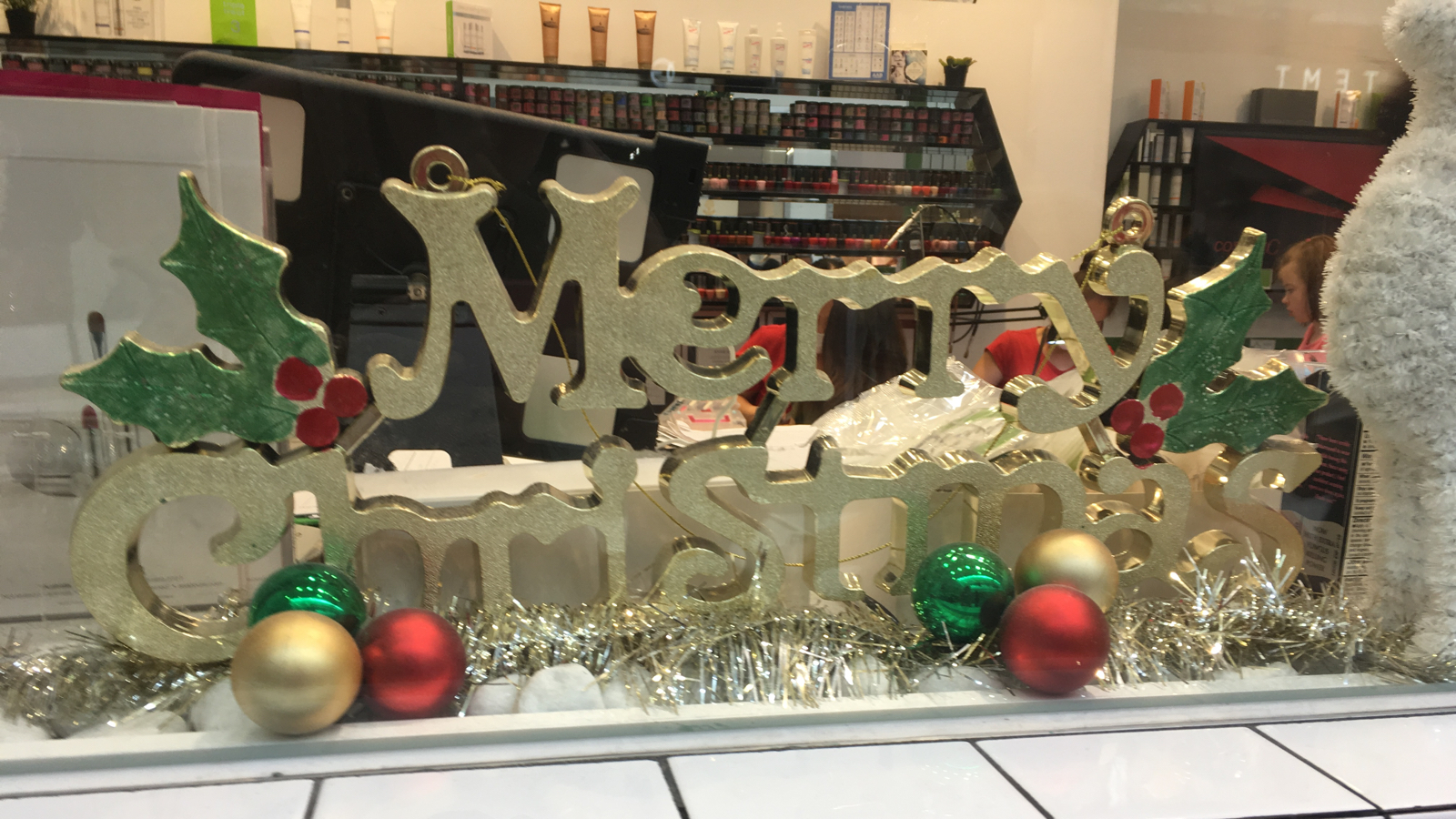 I went to the shops again this Christmas. If there is a war on Christmas, I reckon we Christians should sign up. And it there's not. We should start one.
Like millions of other Aussies I found myself in the 'temple' of Westfield to participate in the pilgrimage of 'annual Christmas shopping' and the liturgies of handing over my plastic membership card and saying 'paywave please'… to then be handed my relics and with a prayer-like wish or blessing, urged to have a 'happy Christmas'… Walking through Westfield is character building; if nothing else.
My local Westfield,  'Garden City,' was awash with Christmas cheer. Not just holiday season cheer, but good old 'Christmas' — I even heard Chris Tomlin's new pepped up version of Joy To The World while I was browsing the bookshop.
Joy to the world, the Lord is come
Let earth receive her king
Let every heart prepare Him room
The windows of the shops; and the 'halls' were well and truly 'decked' out for Christmas; Christmas wreaths marked with stars hung overhead, lit up to guide shoppers to whatever Christmas treasures or baubles they hoped would help them celebrate a merry and meaningful Christmas.
Many of the windows carried overt references to Christmas — not 'X-mas' and there were only a few 'season's greetings' or 'happy holidays' to be found. There was the title of Jesus; the king; the Christ; in gilded letters or lights. Glittering. On display. Celebrated; or at least patronising our celebrations of a holiday festival that still bears his name in our calendars. It seemed to me that the war on Christmas in Australia was won, before it was even started, even if Scott Morrison got a little bit fired up at the Greens for their provocative banner this week.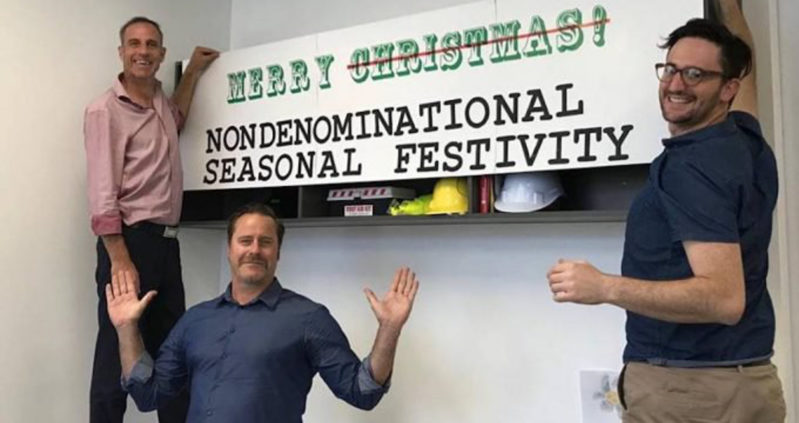 But as I walked through the halls, and the shops, of Garden City — passing statues and images of happiness and a more ideal version of me; pictures and banners in windows, salespeople explaining how their items would meet my desires, or satisfy my loved ones — I saw a city that is very religious. It's just a different type of religion — and it became clearer than ever that Christmas, as practiced in Australia, is a particularly religious holiday; but one that has been (as so many religious holidays before) annexed from an older religion and appropriated for the new. I saw the title 'Christ' displayed prominently, but no sign that his story was at all connected to the comings and goings of these modern worshippers. Before James K.A Smith described a trip to the "mall" as a modern temple structured 'religiously' and filled with modern visions of the good life and liturgical practices (which I wrote about last Christmas), the Apostle Paul walked the streets of Athens, a particularly religious city; and noticed the overt displays of religiosity — the ritual habits and practices of the people of Athens and where they looked for the fulfilment of their desires — in short, what they loved or worshipped, and he said:
"For as I walked around and looked carefully at your objects of worship, I even found an altar with this inscription: to an unknown god. So you are ignorant of the very thing you worship—and this is what I am going to proclaim to you." — Acts 17:23
I saw plenty of inscriptions honouring the Christ; but no sense that people were particularly cognisant of the very thing they claim to be worshipping — and just how inconsistent the modern Aussie practice of Christmas is with the first one; and not just with the first one, but with the back story of the arrival of this Christ; the king.
Paul was reasonably gentle with the Athenians as he introduced this 'unknown God' to them; if they'd been Israelites — people familiar with God's story, having inherited the legacy of his nation-building redemptive acts in history — he probably wouldn't have been quite so patient. He said:
"The God who made the world and everything in it is the Lord of heaven and earth and does not live in temples built by human hands. And he is not served by human hands, as if he needed anything. Rather, he himself gives everyone life and breath and everything else." — Acts 17:24-25
These are some incredible claims about the bigness of God; that he is so utterly transcendent that our human-made temples can't contain him; nor anything in the universe. God is the giver. It's worth noticing that — he gives us life, breath, and everything else. Christmas is, if nothing else, meant to remind us of this fundamental truth about God's nature… In a few verse Paul says that we actually live, breathe, and have our being in him. Paul starts by painting the picture of God as infinite and worthy of worship, but also as generous.
If Christmas is about an act of God; it is this God, the God revealed in Christ, who it reflects. The God who though he is infinite, Paul says created us and designed the world so that humanity "would seek him and perhaps reach out for him and find him, though he is not far from any one of us." God is not just infinite and generous but wants to be found by us. Which ultimately leads him to draw near to us.
Our temples; our Westfields; our attempts to satisfy the sort of inbuilt longing that Paul suggests might actually come from God, our attempts will fail. In approaching the 'Unknown God' this way, Paul seems to suggest it's this inbuilt 'seeking' that leads us to build altars to 'unknown Gods,'  to temple-building, or to religious festivals — our attempts to satiate this inbuilt craving will fail if we turn to created things to satisfy it. It's this inbuilt seeking that has us battling traffic, struggling to find a parking spot, then wading through crowds while listening to bad music every year hoping that this one will be the Christmas that lives up to the hype. Spending money we don't have on stuff we don't need, that will ultimately neither last nor satisfy.
And we fall for it. Every year.
Think of the stuff you've picked up for Christmas into your temple forays this year — or from the 'virtual temple' of online shopping — how much of your Christmas shopping could be described in the terms Paul uses to describe how we fill this existential hole… "We should not think that the divine being is like gold or silver or stone—an image made by human design and skill." (Acts 19:29). Pandora charms anybody?
What Paul is talking about as he speaks to the Athenians is idolatry. He sees us as worshippers; that our hearts are inevitably drawn towards something or some thing, if not first drawn to the God who created us (and these things). He sees the answer to idolatry coming in that first Christmas… but it comes with a warning that we should be paying heed to each time we see the declaration that Jesus is the king — the Christ — in a shop window while we're pursuing these baubles; these trinkets; these idols.
"In the past God overlooked such ignorance, but now he commands all people everywhere to repent. For he has set a day when he will judge the world with justice by the man he has appointed. " — Acts 19:30-31
The story of Christmas is the story of God's judging king coming into the world; not just a story about giving and generosity but about a particular gift from God. Jesus.
Joy to the world, the Lord is come
Let earth receive her king
This song has been around so long that these have become such cliched ideas, but these words should be a little ominous. This king has come to bring peace, and joy, and as a sign of God's life-giving nature; he has come to make God known and answer this longing of our hearts. Yes. But also to judge.
These are ominous words about the omnipotent and omnipresent God making himself known, in human flesh, bridging the gap to us — ominous because they are not without cost; because this leaves us 'without excuse'… We can't plaster the name of Jesus around our shopping-temples and pretend not to have heard God's story of sending a king into the world; a king who would make him known as 'Immanuel' or 'God With Us'… And they should give us followers of the king a bit of pause when it comes to how we celebrate Christmas, but also, perhaps particularly, when it comes to picking a side in the war on Christmas. We Christians are a bit like Israel — we know God's story of salvation and redemption, first for Israel and then for us in Christ. If Paul was going to speak to us Christians about the way we approach Christmas and Westfield, what would he say? Idolatry is one thing for people for whom God is unknown, it's a totally different kettle of fish for those who are the people of the king. Idolatry is the subject of the first three of the ten commandments for God's people in the Old Testament. The first two are obvious — they're about worship (not putting other things, or gods, in God's place), and not making created things into representations of God to worship those instead of God… but the third one isn't just about saying 'Jesus' when you hit your thumb with your hammer or 'Oh My God' when you're on reality TV (or Gogglebox)…
"You shall not misuse the name of the Lord your God, for the Lord will not hold anyone guiltless who misuses his name." — Exodus 20:7
What could possibly be a greater misuse of the name of Jesus than to attach it to an idolatrous festival of greed, consumption and indulgence?
What could be more offensive to the nature of God's generous saving act than to use it to boost the bottom line of big corporations at the expense of the minority world whose shoulders we trample down on? What could be a greater misuse of the name of Jesus than to use it to sell soaps and housing wares? The same Jesus who was born in squalor and shame in a stinking animal feed trough rejected by his father's own home town who couldn't even make a guest room available for his pregnant mother? Perhaps only politicising the name of Jesus to support worldly 'empire building' rather than owning the full implications of Jesus being Lord and king. You don't have to look far abroad (cough Trump cough) to see political leaders politicising the name of Jesus to their own worldly ends… our most pernicious modern idols are that deadly cohort of sex, greed, and power… and the 'war on Christmas' inevitably involves people grasping for two of these three…
There's an 'unknown God' element for many of the Aussies wishing one another a merry Christmas today; and an opportunity for us to say 'hey, this holy-day we're celebrating and that name you're saying, let me proclaim what that's all about to you' — and we can do that gently and in a way that answers the deep longings of our hearts that we reach for in all sorts of rituals and cliches each Christmas. There's a very fine line between cliche and comforting, habit forming, ritual or liturgy. A cliche was a printing tool used to quickly replicate common words or phrases in the printhouse so that characters could be stamped onto paper quickly — ritual or habit is what stamps a certain sort of character onto us. The word character actually comes from the Greek word for stamp… for cliche even. It doesn't take much to give proper character forming meaning to the rituals we Aussies repeat each Christmas — the acts of generosity and hospitality — of gift giving; but disconnected from the original story they quickly become deforming rather than transforming — it takes connecting these rituals to the little baby in a manger (who'd grow to be a man on a cross) who the Bible says is the exact stamp/character of God's nature — that's the Greek behind Hebrews 1's claim that in Jesus, at Christmas, God bridges the gap from infinite to finite to make himself known:
"in these last days he has spoken to us by his Son, whom he appointed heir of all things, and through whom also he made the universe. The Son is the radiance of God's glory and the exact representation of his being, sustaining all things by his powerful word" — Hebrews 1:2-3
This is the Jesus of Christmas. The Christ. It's one thing to use the opportunities afforded by idol worship to make Jesus, the Christ, known to people in a way that answers what they crave; that connect them to the infinite, life-giving God — the source of our existence and being… it's another thing entirely for Christians to try to fight a war on Christmas to keep the name of Jesus attached to an idolatrous festival that, without Jesus, is utterly deforming people; taking them from being people made in God's image and re-shaping them through rituals of greed and consumption to represent utterly different God's. Using the name of Jesus to pursue 'gold' or 'silver' or 'stone' or things made by human hands in temples to the modern day gods of greed and self-fulfilment is an abominable misunderstanding of the original Christmas — the incarnation — the drawing near in vulnerable human flesh — of the the one who made the universe.
It is reprehensible for Christians to fight for 'Christmas' to be put on the lips of more Australians this year without the character of Jesus answering their desires and reworking their hearts. If there's a war on Christmas, then I'm siding with the Greens and drawing a line through the word Christ.
I don't want the name of Jesus attached to silver baubles and golden trinkets to pay the temple taxes and make the rich richer. Just after Paul visits Athens he heads to Ephesus where the proclamation of Jesus as he really is upends the economy — it starts to cost the silversmiths who mould idol statues — characters even — and they revolt. That'd be embracing the true meaning of Christmas — upending the status quo, trotting in to your local Westfield with wheelbarrows full of cow manure, and inviting our equivalent of poor shepherds — our society's nomadic outcasts — to Christmas lunch.
But in the meantime… Merry Christmas. In all its fullness. I hope you have a great day celebrating life, gift-giving, and sharing time, in the flesh, with those you love. There is nothing more Christmassy than this… I hope, even, that you found some delightful expressions of creativity and beauty to give and receive as gifts.
What's fascinating about Joy To The World is that it sees these created things — nature — combining with the heavens to celebrate the birth of Jesus; these created things are meant to point us to Jesus, and the father who sent him into the world, not away from them. Their song is a song of joy; and they repeat it as our song bounces around, echoing through our lives and shaping our loves.
And Heaven and nature sing
And Heaven, and Heaven and nature sing
Joy to the world, the Saviour reigns
That all their songs employ
While fields and floods, rocks, hills and plains
Repeat the sounding joy
There's so much about goodness and creativity and generosity and love and the spirit of this new (appropriated) secular festival we can and should affirm; the virtues at the heart of an Aussie Christmas are still things that repeat the sounding joy of that first Christmas even if only as an echo… just let these be a cliche in the right way…