When you're fighting a culture war it seems that your enemy's enemies become your friends.
Also when you're fighting a culture war it seems any ammunition served up to further your cause should be fired without question.
This makes for really strange bedfellows.
My Little Pony is a cult TV cartoon phenomenon — based on the line of toys. This show is also popular amongst adults, perhaps feeling nostalgic, perhaps those who believe 'friendship is magic'. A male who loves My Little Pony is often called a 'brony' — a delightful little portmanteau of 'bro' and 'pony'… The show is big on inclusivity, and recently introduced its first lesbian pony couple. There's a well documented subset of bronies in the alt-right; neo-nazi bronies. They have a chat room called 'The Horse Reich" (content warning of course). There are a couple of stories covering this cultural movement over the last few years at Vice and Medium — and lest these articles feel like they're from the left, you can get a bit more insight straight from the horse's mouth, so to speak, from the Alt-Right Brony page on Facebook, or check out this truly 'DeviantArt' tribute to My Little Pony.
The Alt-Right has been working its way into western democracies for a few years now, and it enjoys an interesting relationship with Christianity because of the profound impact Christianity has had on western culture (especially institutional Christianity which has established significant western institutions like schools, universities, and hospitals, and even provided the building blocks for democracy, especially post-Reformation). Its presence in Australia has felt more 'fringy' to the conversation than influential — consider, for example, the almost universal condemnation of ex-senator Fraser Anning, both after his maiden speech and his response to the Christchurch massacre. This doesn't mean the Alt-Right is not an issue, its influence is growing and will continue to grow so long as we (either from the left, or the right) buy in to the 'culture war' approach to politics; where the Alt-Right are either allies because they're our enemy's enemy, or they are friends. Given the interesting relationship the Alt-Right has to Christianity, we Christians need to be particularly discerning about how we approach people who may, at times, share some cultural convictions we hold as a result of our faith (the Alt-Right is vocally opposed to abortion, and to the 'LGBTQI+ agenda' and the boogey man of 'cultural marxism' — which is a label that is in itself an alt-right conspiracy that has a racist (anti-semitic) heritage), the Alt-Right also tends to be racist; though some of its 'thought leaders' have been shifting to 'pro-western' rhetoric rather than 'pro-white' — so people of other than European heritage can join in if they love "western values"; the Christchurch shooter was, according to his manifesto, not attacking a mosque because of the ethnicity of the worshippers, but rather, as part of a pro-European act; a very real example of shots being fired in a 'culture war' — a war that starts in political rhetoric, that eventually produces action.
There's nothing Christian about the Alt-Right. The political vision of the Kingdom of God is people from every tribe, and tongue, and nation, gathered in the throne room of God worshipping the God of all creation, and the crucified and resurrected Lord Jesus. The Kingdom of God is not 'western' — though the west does owe lots to the faithful presence of Christians within its institutions. Christendom did produce some good stuff, even if seeing the church and state as coterminous is increasingly a pretty obvious historical and geographical anomaly, and a theologically questionable exercise — a properly Christian 'political theology' needs to work as well in a small town in China in 1300 as it does in Australia in 2019. Because Christianity is neither 'white' nor 'western' we Christians need to be careful about our relationship with the Alt-Right; it's not symbiotic. They are parasites; seeking to suck the good from Christianity to prop up a racist or 'western' ideology at the expense of all others. This is why the ACL choosing to endorse One Nation in its how to vote card is such a problem. But it's also why this week has seen a fascinating display from one of Australia's leading proponents of the culture war narrative; the Australian Conservative's Lyle Shelton. Lyle, of course, was the former Director of the Australian Christian Lobby, and the leader of Australia's official campaign against Same Sex Marriage. He failed in his bid to win a senate seat, which means he has more time on his hands now, as communications director of the Australian Conservatives, to tweet random grenades in a culture war that nobody else seems interested in fighting… but every time he does that, because of his prominence as a "Christian" voice in politics he further entrenches the relationship between Christianity and the Alt-Right; and the problem with parasites — like ticks — is they don't just get sustenance from the host body, they'll eventually kill the host, or, like mosquitos, they'll leave the host with a bunch of strange diseases that might lie undiagnosed if the symptoms aren't recognised.
Here are two tweets from Lyle from this week. They're screenshots in case at some point in history they are removed (so far Lyle has doubled down on the Proud Boys one).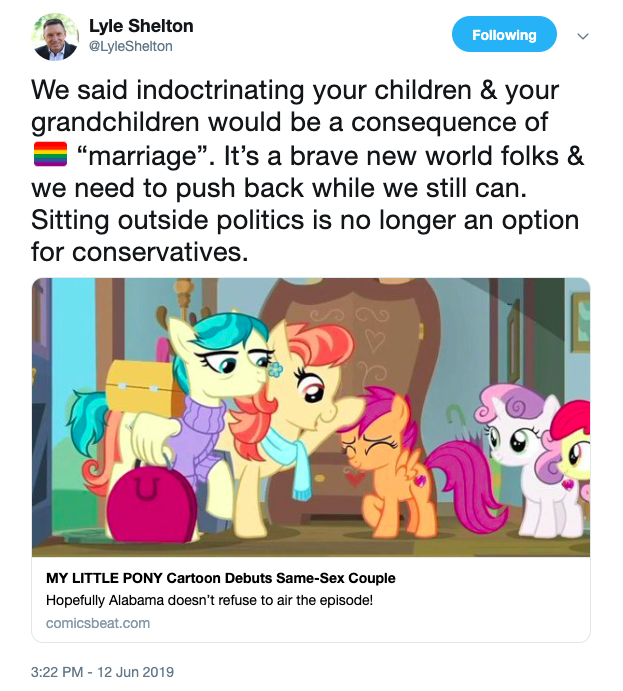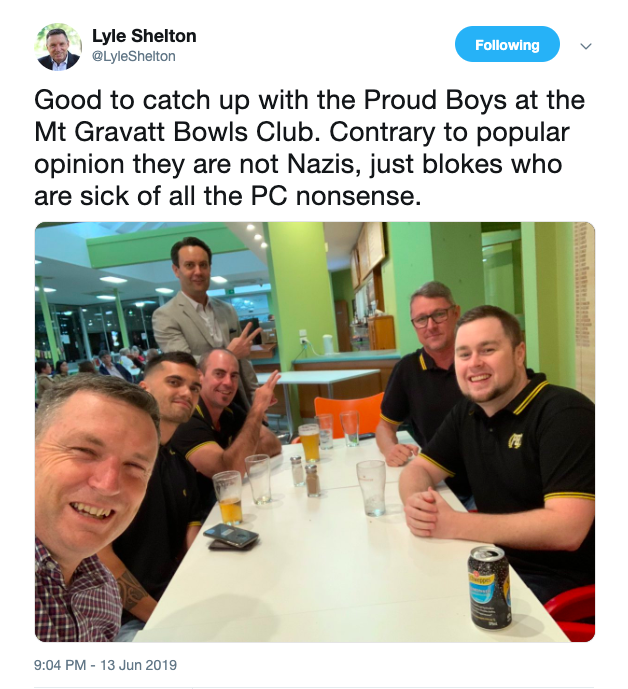 Now. I could write a whole post on the oddness of Lyle's logic in the My Little Ponies one. Firstly, gay couples existed before same sex marriage; and existed in cultural texts before same sex marriage. In fact, most people who are good at politics — unlike Lyle — recognise that politics sits downstream from culture, and it's not same sex marriage that has produced gay characters in television programs, but gay characters in television programs that led to same sex marriage being acceptable in the electorate. This means, if you were outraged by this, you'd be better off devoting your energy to producing popular cultural texts that represent Christianity well, not, as Lyle suggests, that you'd jump into the political fray aka the Culture War TM. This is very much a 'call to arms' — and, sadly, it's the kind of call to arms that leads to violent people in the Alt-Right taking up arms (ala Christchurch, and several shootings in the U.S). What's also odd is that the implication of Lyle's argument that same sex couples and families should not be represented in popular television programs leads to weird extrapolations about the place of such couples or families in societies. It's a dog whistle. It's a terrible one. I have regular conversations with my kids about the kids in their classes, or at their schools, who have two mums or two dads — having these families represented on television is a blessing, not a curse, for Christian parents who understand that it's our job to form or indoctrinate our kids; not the state's. Using 'indoctrination' as a pejorative is, for a Christian, a very odd thing — especially because Lyle is a fan of Christian education as an alternative and possible stream for Christians who want to approach the world like he does (who can also use their religious freedom to keep the atmosphere 'pure' from any families who might threaten the nice little monastic walls he wants built around our kids to free them from the indoctrinating power of culture and the state. Let's, instead, focus our energy on teaching our kids to be part of the Kingdom of God, to follow the Lord Jesus as their example because they worship God and find human flourishing, or fullness, in that relationship. Let's be parents who use TV and schooling as an aid for our parenting, rather than a substitute…
But then, the second tweet, where Lyle is pictured with a bunch of blokes from the Proud Boys — an Alt-Right group whose leader was banned from visiting Australia earlier this year. What's worse is that the 'Proud Boys' are proudly making 'white power' hand symbols. It's also not just Lyle Shelton caught up in this mess; Bob Katter made the news this week for his 'larrikin' pledge of allegiance to the Proud Boys. It's not clear to me if it's worse for a Christian involved in politics to share an ideology with the Proud Boys and the neo-nazi Alt-Right, so that a photo like this is a meeting of the minds, or to see them as allies in the Culture War and so lend credence to their platform rather than deliberately and clearly disavowing the movement. Lyle did neither. After a tweetstorm (and a deleting of the photo on Facebook), Lyle issued this 'non apology' to clarify his position.
"I'm skeptical when the Left brand people Nazis, haters etc. So when a group of "Proud Boys" invited me for a drink, I was happy to have a chat. I share their disdain for PC. If there are elements of white supremacy or advocacy of violence in the PBs, I obviously reject this. As a target of violence from the Left (my office was bombed, meetings disrupted, family home address placed on the internet, death threats etc), I abhor violence. I also campaign against eugenics as practiced in Australia against disabled & female unborn babies. I'm no Nazi."
Now, some will see this as the sort of disavowal required; but I don't think so. Lyle might claim he rejects 'white supremacy' and any of it associated with the Proud Boys; but there's very much a 'the enemy of my enemy' (the politically correct left) thing going on here, and the sort of non-apology/non-condemnation that allows him to have his cake and eat it too. He can pander to the political support of the Alt-Right while maintaining some sort of clean-skin mainstream 'rightness'. No thanks. Let me say it again; there is nothing Christian about 'white supremacy', dogmatic nationalism, or using 'anti-PC' as a way to disguise hate speech. So Christians have to call this out for same reason it's worth calling out the hateful origins of Israel Folau's meme, and the ACL's endorsement of One Nation, and the 'culture wars' as a phenomenon; legitimising hateful words in the name of one's ideology scoring points in a culture war leads people to take up arms; the Christchurch shooter made the same hand symbol the Proud Boys do in this photo. There's no place for this in any politics that claims to be Christian. It's definitely possible to be a conservative who loves good things about the west and wants to hold on to them; but not like this. Lyle doesn't need to ally himself with these lads in order to win some 'greater' victory; to do so is a loss for the Gospel, and as Jesus said "what good is it to gain the whole world and yet forfeit your soul'. Proud Boys or members of the Alt-Right who find themselves in our churches because they share a conservative political ideology and love for the fruits of Christianity in the western world need to be clear about where that fruit comes from — the Holy Spirit being poured out on people of every tribe and tongue and nation, going to the ends of the earth, as people put their trust in the victory and rule of the resurrected Lord Jesus. The fruit without the tree is poisonous.
But maybe this is actually all quite innocent; maybe Lyle was at the Mount Gravatt Bowls Club with the Proud Boys for a Brony convention. Maybe he's a closet brony and it's more socially acceptable to be a racist than be outed that way. That might explain his anger at the new couple on My Little Pony. Maybe it's actually My Little Pony fans, not Christians, who should be up in arms about their 'identity' being co-opted and destroyed in the name of some culture war. Strange bedfellows indeed; but it kinda makes more sense to me than trying to fuse the worship of a crucified Jewish man, put to death by the western state (Rome), in the non-western world (Jerusalem) with white supremacy or the defence of 'the west' and its values.