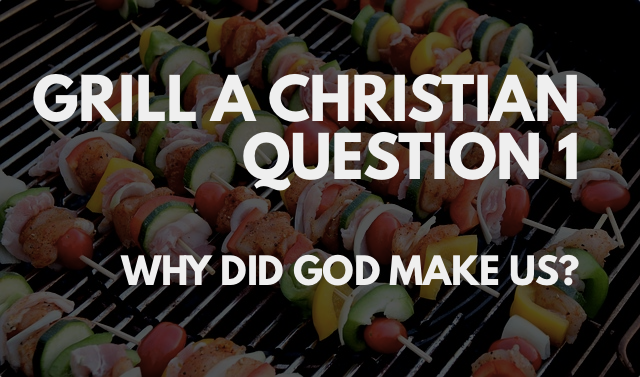 Question: Why did God create us, and does the answer 'so we might glorify and love him,' mean God is selfish?
God created us because he is, by nature, a creator of life. I believe the catechism answer is true, but a little limited, because it focuses on our response not on God's free action in creating. I think it's wrong to think of God as creating us outside himself for the purpose of having little minions who worship him. We exist 'within' God's infinite being, and he gives us life and breath, and being, and love.
In one sense, this question is like asking why Shakespeare wrote the characters he created into existence. How could he not when he had such magnificent stories to tell. How much more must God be compelled to create when he wanted to create the Gospel story (Revelation talks about the lamb slain before the creation of the world — the Gospel was always God's plan).
As a little side note on this one — I don't think sin was always on God's agenda, but I think resurrection and glorification was — I think Adam and Eve were meant to 'be fruitful and multiply' and expand God's perfect garden throughout his good world. I think the serpent was always on the agenda. And my super speculative thoughts here are that if Adam and Eve had turned their backs on the serpent, he would've done what Satan orchestrated with Jesus — he would have killed them. Eventually. And resurrection and glorification would've been how God defeated Satan. That's the sense, I think, of how the verse from Revelation can work without God orchestrating the Fall (though I ultimately don't think he was surprised by the Fall). This opens up a bunch of other questions about God's knowledge. Which would be a tangent from a tangent…
Let's assume that God is love. Like the Bible says. That he acts, makes, and creates, out of love. This love is directed, at first, within the Trinity, but it pours out from that. Creation is an act of love, an act of love overflowing — creating more things for the infinite/eternal triune God to direct his infinite love towards. It's also, if Colossians 1 is a good summary, a gift from Father to Son, an inheritance, which, because God's love is an overflowing or abundant love, overflows to those parts of his creation redeemed by Jesus, and united in the love of God.  Creation is also an act of the Son, the 'word' who was with God in the beginning as God spoke the beginning, and the cosmos, into existence.
The Son is the image of the invisible God, the firstborn over all creation. For in him all things were created: things in heaven and on earth, visible and invisible, whether thrones or powers or rulers or authorities; all things have been created through him and for him. — Colossians 1:15-16

In the beginning was the Word, and the Word was with God, and the Word was God. He was with God in the beginning. Through him all things were made; without him nothing was made that has been made. In him was life, and that life was the light of all mankind. — John 1:1-4
Creation is not an act by which God the Father glorifies himself, but by which God the Father glorifies and celebrates the Son, and by which God the Son glorifies and shows his love for the father, and by which the Holy Spirit glues both together. Creation is a Trinitarian love story, and an outpouring of that to us. So when Jesus prays that we might share in the love of the father and son we're being brought into this eternal, infinite love story not just as spectators to God's 'cosmic love story' but as actors in it. With parts to play as we celebrate and experience the overflowing of this love… Here's a thing Jesus prays about us which is incredibly profound — that we might share in the unity of the Trinity, becoming one as they are one. God's creative act is generous and other-seeking, and inclusive, rather than self-seeking. It is also measured in that it never forces this conclusion — this drawing together — on anybody who doesn't want it.
As you sent me into the world, I have sent them into the world. For them I sanctify myself, that they too may be truly sanctified.
 "My prayer is not for them alone. I pray also for those who will believe in me through their message, that all of them may be one, Father, just as you are in me and I am in you. May they also be in us so that the world may believe that you have sent me. I have given them the glory that you gave me, that they may be one as we are one— I in them and you in me—so that they may be brought to complete unity. Then the world will know that you sent me and have loved them even as you have loved me. — John 17:18-23
Also, because God is not a 'self' in an individualistic sense, but is found in the perfect interwoven, overlapping nature of the Trinity (there's a Greek word that captures this best 'perichoresis', which means interpenetrating), the pursuit of glorification isn't the same as when we seek glorification. And God's non-self-seeking nature is on display in how he extends the invitation for us to participate in his divine, eternal life, by completely 'un-selfing' — at the Cross. There is no Christian God apart from the God whose nature and love is on display at the Cross. God the father is 'cross-shaped' as much as God the son is crucified, as much as God the Spirit is — perhaps especially in his desire to completely throw light on Father and Son — cross-shaped. There is no self seeking part of who God is. Because we know God best as we meet him in Jesus, and we know Jesus best as we see him nailed to the cross. That's what 'glory' looks like.
Ulitmately, God is a story-teller. A creator. This is part of who he is. We know this because what we know most about God is that he creates and reveals (we know this from the world, and his word — and his 'Word' who the written word points to).
In the past God spoke to our ancestors through the prophets at many times and in various ways, but in these last days he has spoken to us by his Son, whom he appointed heir of all things, and through whom also he made the universe. The Son is the radiance of God's glory and the exact representation of his being, sustaining all things by his powerful word. After he had provided purification for sins, he sat down at the right hand of the Majesty in heaven. — Hebrews 1:1-3
He creates things that reflect who he is, and because of who he is that can't really produce anything but glorification or contempt. The world God made is a finite thing made by an infinite thing to reveal something of the infinite. Things we make, and stories we tell, serve a similar function for us, they're an outpouring of who we are in an attempt to make ourselves known (even to ourselves, if we never share them beyond ourself), an attempt to capture and reveal something of ourself in a moment in time. Jesus as 'word' and 'image' written into creation is the ultimate version of what God always does when he creates, a pointer to who he is. It's also worth saying that an infinite, creative, mind could create an infinite number of possibilities, God didn't have to make what he made. But he loves what he made so much that he wrote himself into creation, in a finite way that actually forever changed the nature of Jesus such that, even now, he is embodied in a glorious, resurrected body as a taste of the future work of re-creation God will do when we are resurrected to share in his next creative project, the New Creation, with him.