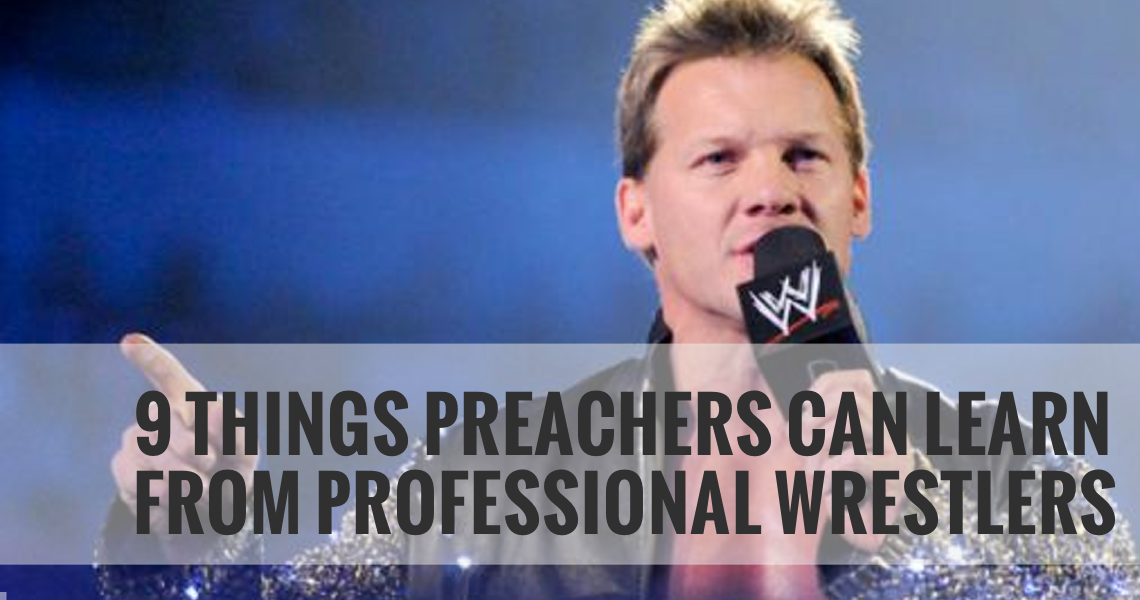 When you think about it, very few people in this world stand and fall on their ability to stand and deliver a compelling public speech. The field narrows somewhat when you're talking people performing largely as themselves, or under their own names (not in character). Comedians. politicians. TV and radio presenters, motivational speakers, preachers… and Professional Wrestlers. In this post I'm going to air some dirty laundry – revealing that I know more about (and think far more about) professional wrestling than I should… but bear with me.
I suspect there's stuff preachers can learn (given the right approach to learning) from the cream of each of these crops – be it Jerry Seinfeld and Ricky Gervais, Barack Obama, Ira Glass, or Paul Heyman.
Who is Paul Heyman?
This guy.
He's not even a wrestler.
He's a manager (essentially paid to be a mouth piece to help people who can't speak for themselves get over with the crowds).
In that video he's standing next to Brock Lesnar. He's a bona fide fighter. WWE might be 'sports entertainment' – but Lesnar was the UFC Heavyweight World Champion. He just can't speak (he's not mute, he's just not interesting). Paul Heyman has built a career out of speaking for guys like Lesnar.
A speech, in wrestling parlance, is called a promo. Promos are up there with in ring ability when it comes to advancing WWE storylines. Here's another Heyman special.
There's obviously a fair bit of bombast involved in the professional wrestling world. It's over the top. And that sets the stage, and frames the delivery. But the audience is along for the ride. Hanging off every word. Booing and cheering when they should.
They are in the palm of Heyman's hand. What's extra impressive is that this speech is happening in the slot a typical WWE episode reserves for the 'main event' – the much hyped (but usually unresolved) match between two (or more) guys who will headline the next pay-per-view. It's prime time in this prime time programming. And instead of over-muscled, juiced-up, meatheads grappling with one another for the cursory few minutes before outside interference renders the match void (to hold the finish over until a bigger pay day), we have a speech. This "speech in the place of a fight" both is, and isn't, unconventional. Despite ostensibly being all about wrestling the WWE is nothing without speeches. Because the WWE's product is the stories it tells. And the stories it sells.
The WWE, and its component superstars, are modern day story tellers. They use words and choreographed action to tell stories – much like the opera, the ballet, or the theatre. They might be a little oafish and ham-fisted in their delivery (of both lines, and blows). But they're telling stories and selling out seats. Wrestling is a cultural event. Its a billion dollar business (changes within the company can wreak havoc with WWE's market value – a recent change in the company's broadcasting approach saw owner Vince McMahon lose something in the order of $750 million in a very short amount of time). It's serious, even if it's not 'real.'
The WWE stands in a long and rich history of pugilistic endeavours being played out as the circus element of 'bread and circuses.' Cajoling an audience into cheering for the hero who is coming up against an exaggerated pantomime villain (while they hand over fists full of money) is an old formula , but it still works. The WWE is big business. And it relies on guys like Heyman (and the more articulate wrestlers – like Chris Jericho, pictured above) to sell tickets and move merchandise by telling compelling stories that the audience buys in to – with their money, their voices, and their emotions.
There's some really nice writing underpinning this second Heyman speech – the building of intensity with a nice use of cadence and the escalating repetition in the paragraph quoted below which works because of the punchiness of the verbs, and the way they're doing the heavy lifting when it comes to advancing the storyline.
If you want to overthink wrestling – Grantland's Masked Man is a stunningly interesting commentator and historian on the phenomenon of professional wrestling. His book The Squared Circle: Life, Death, and Professional Wrestling
is worth a read to get a handle on this quirky corner of the entertainment world. The Masked Man spends a few thousand words explaining why these promos from Paul Heyman are the archetypal pieces of wrestling oratory, there's something nice, for instance, in the way Heyman plays with the fourth wall (in wrestling this is called 'Kayfabe') he mixes truths about wrestling and its fakery/scriptedness with fiction, and even with a bit of a hat tip to exactly what it is he's doing as he speaks…
"I don't just stand out here and spew hype and hyperbole; I exploit historical facts to shove my points down your throats. To wit, I offer you what happened the last time my client Brock Lesnar zeroed in on someone and decided to give them a beating."
This para throws to a video clip of Lesnar's very surprising (and totally scripted) win over the indomitable Undertaker at Wrestlemania. It's driving the storyline towards the next pay per view, where Lesnar won't be facing the WWE's perennial pin-up boy, John Cena. Lesnar is a part timer. The time allowed for his stories to get traction with the audience is contracted, Heyman's job is to throw fuel on the fire – giving the story significance as quickly as possible.
"At SummerSlam my client Brock Lesnar will take John Cena down. Brock Lesnar will punch John Cena's face in. John Cena, you're going to be hurt by Brock Lesnar. Brock Lesnar's going to injure John Cena. Brock Lesnar is going to mangle John Cena. And then, and only then, Brock Lesnar is going to F-5 John Cena and strip John Cena of the dignity of being the WWE World Heavyweight Champion, the same way Brock Lesnar stripped the Undertaker of his dignity and exposed the streak as just being a myth — the same myth that Brock Lesnar hears every week on television when John Cena is referred to as being the greatest WWE Champion of all time. Fifteen world titles in 10 years: Now that sounds like something worth conquering."
So. I contend. There is much that preachers can learn, should we so choose, from the WWE. I'm not suggesting we ditch church and start up Christian Wrestling Federations (as some are in the habit of doing), or that we recruit preachers from the ranks of the WWE (a road surprisingly well-travelled – hall-of-famers Ted DiBiase and Shawn Michaels are engaged in various preaching gigs). When Paul wrote to the Corinthians about the flashy orators he wasn't going to be like as a guy preaching about the crucifixion of Jesus, it's likely the flashy orators he had in mind were oiled up guys who shaved their chests after spending too long in the gym… but it's also fair to say Paul's writings and the records of his speeches suggest a fairly sophisticated understanding of the guys he positioned his approach against… his opponents… the 'heels' (wrestling term for bad guys) to his 'face'…
… And, if you want to get really technical with the wrestling stuff – Paul had a pretty massive 'face turn' – where Acts positions him as one of the worst of the bad guys – a Pharisee shooting up the ranks, and then depicts his conversion into the leader of the Gentile church. Paul's biography is the stuff wrestling promoters have been copying for years. But I digress…
I'm also fairly convinced that Paul knew about oratory, that he learned from orators, and as a result (and because he was also being led by God) he was able to present the story of Jesus in a bunch of compelling ways that varied depending on his audience (as you see in Acts). And so I'm convinced that we, like Paul, should be looking around at people who are telling stories in ways people find compelling in our day and age. I'm not an expert preacher – and I'm so not experty that I'm prepared to learn from anyone who might help.
1. Understand your audience(s)
Wrestlers know they can get the crowd on side (if they're good guys) or off side (if they're bad guys) with a quick bit of contextualisation. If you're a good guy you know who the local sporting teams are, you give them a shout out, you praise the town, and you get a 'cheap pop.' If you're the bad guy you insult the town, insult the sporting heroes, and you get 'cheap heat'… but there are more audiences to consider at every event. The beauty of Heyman's speeches are that they play to the 'cheap heat' stuff, while also tapping into the genuine loathing of John Cena amidst the fans who consider themselves 'insiders' – people who see past the surface level fakery of wrestling and still choose to invest themselves in the WWE universe. Heyman nailed his appeal to these guys, because he understood their language and their disposition, and spoke to them.
There's something in this for preachers – not just in reaching sub-cultures via their idiosyncrasies, but also in knowing what your audience is expecting from you and choosing to either deliver on expectations or subvert/exceed them. I like the idea that preaching needs to be sufficiently local that the people who you are preaching to feel like you're speaking to them, especially if they've never heard preaching before, but also rich enough that people who think they know how preaching works are surprised by what you're doing with a genre of communication they believe they're familiar with.
2. Tell a story that connects the audience to something bigger (than you, and them).
The really good wrestlers – the ones that get big and headline big events – are the ones who've managed to achieve something like wrestling transcendence. Historically, these are the guys that non-wrestling crowds recognise. They get into movies or reality TV. They start movements of fans who influence the writing of the shows (most recently an anti-hero named Daniel Bryan managed to get so popular with the fans that he became WWE World Champion). They do this by capturing the imagination, by being relatable, and by including the fans in their stories. Incidentally, the WWE has poured bucket loads of money into building a presence online, especially on social media. It's not uncommon for WWE storylines to be trending on Twitter, and for the Twitter stuff to become part of the storyline. WWE has democratised its product, giving certain amounts of control (or the illusion of control) to its fans. The more enfranchised the fans feel, the more connected to the process, the more they feel involved in the stories, the more they invest themselves into what's going on. Emotionally, and, more importantly for the WWE, financially. Fans identify with wrestlers in these storylines – and they buy the T-Shirt to prove it…
There's something about the power of the good v evil story that wrestling tells over and over again that gets the audience engaged. And you know who has a better good v evil story to tell than professional wrestlers? Christian preachers. We have a big story, our preaching should always connect to it, or we're telling small stories that might move some people, but will (if the wrestling world is any reflection on reality) be a flash in the pan. There are plenty of wrestlers who didn't cut it because their stories never became significant, multi-episode, entities, and as a result never reached the stage of including or exciting the audience.Sometimes I feel like I'm so caught up in the facts of the Gospel story that I forget how much the story is my story, and is also the story I'm inviting every body listening to belong to. Christianity is about more than buying a T-Shirt that says 'Team Jesus' – but the story is so compelling it can produce radical transformation to those who become part of it.
3. Play to the emotions (not just the head)
Part of the whole story-telling to get buy in thing involves moving the audience to cheer for the good guys (or the smart audiences to cheer for the bad guys), and boo the bad guys. Listen to the crowd in the Heyman speeches, watch the faces of the kids (and adults) in the crowd when their favourite wrestler loses a match, and you'll see the real emotional connection people make with these wrestlers through these stories. Here's a photo of the crowd response to the Undertaker losing to Brock Lesnar (before that he'd been 21-0 at Wrestlemania).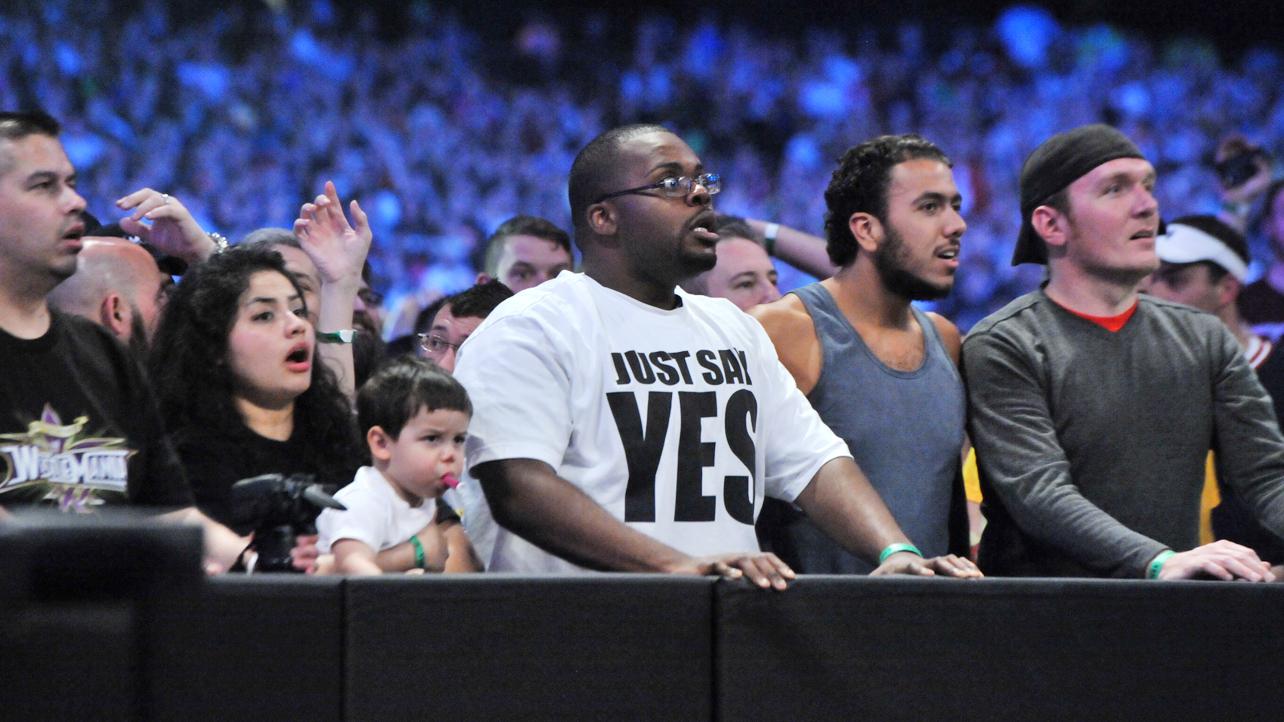 Image Credit: This post cataloguing responses to the surprise finish.
The thing about preaching is that we want people to be making an emotional connection like this – but not with us. With Jesus. I think we want to move people's emotions, but we want our emotions to be moving in the same way. There's a Cicero quote about his desire to never producing an emotional response in his audience that he didn't feel himself first. Which is a good rule of thumb (or voice).
The great thing about preaching about Jesus is that we're not the main event, we're the fans who help shape the story of our hero as we tell people about him and participate in his victory. We feel emotions (or we should) when we're talking about Jesus like those kid fans do. This means we're in a position to deal in the emotional space with real authenticity. Unlike in the fake world of professional wrestling.
All too often I've found myself avoiding dealing in the emotional space. I think this is often because I forget I'm the kid in the stands and think I'm a vital piece of the show – where the pressure is on me to deliver. It's not. Jesus wins the cosmic wrestling match. We cheer. We know the outcome. We wince with every blow now, as the bout carries on. But his victory is assured and we share the spoils. We will experience the emotional highs of victory. Our emotions need to ride this rollercoaster for us to really appreciate the story, and for us to really tell it. I think part of my inability to engage the emotions as I preach is, in part, because I'm worried that being emotional makes the story (or my preaching) about me. The nice thing about remembering that preaching is telling Jesus' story (that it's not about me at all) is that it frees me to respond emotionally as I tell it. I can be the fan who feels like my fate is caught up with the guy I'm cheering for – because it is.
4. Understand your character (and your role)
Using Paul Heyman as the example driving this piece is interesting because he's not a conventional wrestling orator, by today's standards. Most wrestlers do their own talking, and their success (in the ring, and out of it) depends as much on their ability to tell a story as it does on their in ring prowess. In fact. Because wrestling is scripted – even the stuff in the ring – wrestlers are judged on their ability to 'sell' the in ring action as well. They have to be able to tell a compelling story with everything they do. They have to be part of the story.
Every wrestling character has a role to play. And the story – like a piece of theatre – depends on them playing that role. These stories don't work if everyone wants to be the good guy, or if everybody wants to be in the spotlight. In the normal wrestling equation there can only be one hero.
Heyman has made a career out of shining the spotlight on others (sort of, he's never far from it, or from controversy). Even when he's focusing the spotlight on others he is in your face and part of the main event. Preachers need to know our role in the story of the Gospel. It's not about us, but we do have a part to play – as do the people we're speaking to. The pull to make myself the star of the show is something I'm constantly aware of – partly because I like being the centre of attention, partly because sometimes I believe I should be…
5. Don't write cheques with your mouth that your body can't cash.
One of the enduring truths about wrestling – even with its occasional David v Goliath underdog victory – is that if you're going to run your mouth, you need to match it up with action. There's a stereotypical heel character who runs his mouth, and then runs away (or relies on underhanded tactics to get cheap victories). These are probably the least popular bad guys. The lowest of the low. The really famous wrestlers – guys like Steve Austin, The Rock, Hulk Hogan – they were able to deliver on the mic, and believably back up the talk with action.
There's something in this for preachers. Wrestlers can't live by anything that looks like "win the match, where necessary use fists" any more than preachers can "preach the Gospel, when necessary use words" – but both words and actions are necessary for in ring and in pulpit success. It's a credibility thing as much as an authenticity thing. For compelling wrestling, and compelling preaching, words need to meet deeds with sublime consistency.
6. Be different.
Wrestlers don't get attention by copying the gimmicks of those who have gone before. They might borrow the occasional move, in tribute to past greats, or to align themselves with wrestling lore and history. But originality is important. Finding a balance between imitating the people worth imitating and developing your own voice on the mic, and moves in the ring, is part of winning the crowd and influencing people. The really fun wrestlers know what the mould looks like but choose to break it. They innovate on the mic, they innovate in the ring. They figure out what sort of unique contribution they can make, and what sort of unique stories this enables them to tell.
I think this is true in preaching too. There's a massive temptation the more other preachers move sets and voices dominate the podcast airwaves to borrow too much. To be a clone. That might work on a local scene where nobody has heard of the big famous guy, but it doesn't work when everybody else listens to the same guy you're imitating. People can spot fakes who are faking it in a fake world, I think it's probably more damaging if you're caught faking it in the real world. I heard some advice once, I forget who it was from, that preachers who are just starting out should listen to as many preachers as they possibly can, rather than just a hero. There's something insightful in that. But I'd rather figure out what it looks like for me to preach as me, than for me to preach as a pastiche of my favourite preaching heroes.
7. Practice on the 'indie' scene
Practice makes perfect. There's that (potentially debunked) Malcolm Gladwell theory about 10,000 hours being required to master something, and this could well be true for wrestlers. The best wrestlers hone their skills for years in small halls, regional promotions, wrestling has beens (ala Mickey Rourke's character in The Wrestler) and wannabes until they get noticed. This is the 'indie' scene. It's where the guys who have tasted success in the WWE in more recent years have cut their teeth. Especially the 'original' guys – not the carbon copy muscular supermen who can't string sentences together but look tough in speedos so experience a certain degree of success naturally guys – but the guys who tell unique and different stories. Guys like CM Punk, Daniel Bryan, and Dean Ambrose (guys the Masked Man and other internet commentators write about with a certain degree of admiration bordering on obsession – see, for example, this treatment of the rise of Daniel Bryan).
I suspect part of finding your voice is using it. As much as possible. Wherever possible. To whoever possible. And getting a sense of what flies and what doesn't. I don't know what this looks like when it comes to training for preachers in this day and age, but I certainly haven't racked up 10,000 hours of preaching (even with the equation including prep + delivery). That's a 10 year project, assuming one preaches every week for 48 weeks of the year and takes 20-25 hours to prepare and deliver a sermon. So I'm comfortable that it's going to be quite a while before I feel like I shouldn't be preaching to 12 people in a dank school hall.
8. Always stay in character
The line between in-show character and real life person/actor is pretty blurry when it comes to your typical WWE superstar. The world of 'kayfabe' means wrestlers are meant to only ever appear in public in character. Personas in tact. This is doubly true for what happens during a show – the wikipedia article on 'breaking' (which Jimmy Fallon was hilariously notorious for on Saturday Night Live) has its own special section reserved for professional wrestling.
It's as important for my preaching as for the success of a wrestler committed to 'the business' that I stay in character. The difference between wrestling and preaching is that preaching isn't fake. I am my character. I perform under my own name – for Jesus' name. I don't perform under a stage name for a multi-billion dollar company that depends on my ability to uphold an act. As a preacher I genuinely want everything I do to be telling the story of Jesus. In the pulpit or at home with my kids when visitors pop in. Christianity is part of who I am. I am part of the story of Jesus in every sphere, there is no room for breaking for the preacher (that's not to say there isn't room for stuffing up – part of the great news of the Gospel is that God forgives sinners like me through Jesus' victory).
9. Try not to gasp
Because somebody might do this to you. And that would be bad.