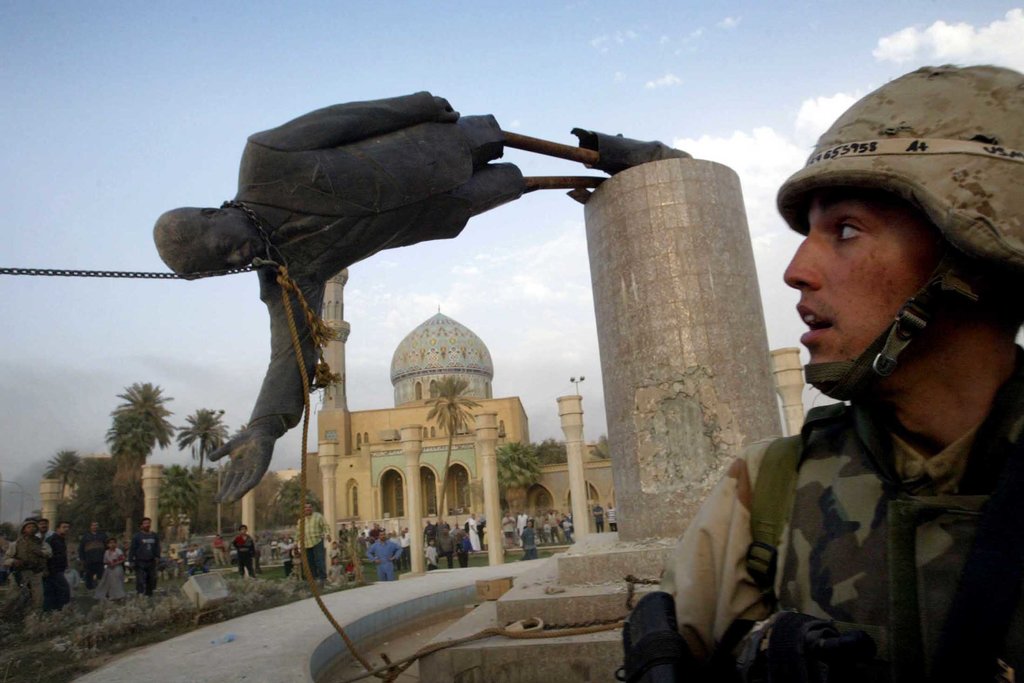 When Jesus was executed by crucifixion there were some particularly interesting political dynamics at play. The Pharisees who hated Roman occupation almost as much as the zealots; or pretended to; cuddled up to the Roman empire and got Pilate and co to get their hands dirty in a state sanctioned murder where both sides had political justifications; in Luke's Gospel we even hear that the execution of Jesus brought Pilate — Rome's official presence in the region — and Herod — a kind of vassal king — together as friends, where previously they had been 'enemies'.
It's funny what a common enemy can do for us, in terms of getting us on the same page.
And so I'm wondering — what would it be about Jesus that would lead your side in the culture war, your politics, to kill him — as a natural extension of what you're holding dear, or seeing as ultimate? What standard would he offend that would see you join a mob baying for his blood and pulling him down in an act of desecration?
The culture wars that we're seeing played out in recent times; amplified by race rallies, the destruction of public idols statues, and figures from the right coming out against "Cultural Marxism" and the 'long march of the left' through our civic institutions, feel like something out of the pages of the first century A.D, and even before.
The contest of ideas has, almost forever, been fought out in public space. Public space is an interesting phenomenon in the battle between left and right — the question of who owns such space; the public, private enterprise (and its outdoor advertising), the government (on behalf of 'the public' at large, or its ideology), is an interesting one, and we've very much lost the idea of the commons; but in the past, public space was also contested, and explicitly religious. Now it's contested and implicitly religious; it has the same function, but we want to pretend that graven icons have suddenly lost their function as permanent visions; images of the good life and our story etched into our public psyche.
The erection and destruction of statues has always been both political and religious, because almost all politics (if not all politics) is actually religious, in that it comes from a vision not just of 'the good,' but the relationship of 'the good' to 'the gods.' In the ancient world we see this in, say, statues of Gudea, a Sumerian king (circa 2100BC) who became a god through his propagation of statues — literally "images of God" — to spread his rule and influence. He was a king (politics) whose reign was justified by 'the gods' (religion) who became a god (religion) by spreading statues throughout public spaces in his empire (religion and politics). Here's a sample of one of his statues and its inscription. This became a pretty solid move in the political playbook in the ancient world; but it wasn't just rulers-as-gods that propped up empires; an empire's gods and how widely and well represented they were (partly in public space) propped up political regimes too. So you get, for example Esarhaddon, king of Neo-Assyria (680ish BC), who plays games of 'capture the flag' with idols from the surrounding nation; such that we have inscriptions about revivifying god statues that have previously been captured, but returned to life, prominence, and public space, through conquest. In an inscription, Essarhaddon boasts about the restoration of statues in Babylon. An expression of political achievement or dominion over his enemies; and a justification of his reign as 'beloved by the gods.'
"I, Esarhaddon, led the great god in procession. I processed with joy before him. I brought him joyfully into the heart of Babylon, the city of their honour. "
Esarhaddon boasts that his public statues to the gods legitimise his reign; they form part of the story or myth that justifies his political position.
Before Gudea and Esarhaddon, we have Dagon, the "Lord of Canaan." Dagon emerges in the historical record from around 2500 BC. He's a reasonably constant visual presence in the public spaces of the Ancient Near East until he pops up in the story of the Bible (he's around after that for a little while too). Dagon is the god of the Philistines; who play their own political-religious game of 'capture the flag' when they capture Israel's Ark of the Covenant and treat it like an idol. They pop it in their temple (the same temple they later pop chopped up bits of King Saul, a king who does politics like the nations around Israel).
There's a political-religious critique going on in this story captured in 1 Samuel; and it's part of the same story that made Israel politically different from the nations; Israel was a country built on a different sort of public architecture; it had architecture that supported its belief; absolutely — the Temple, and its adornments — all of them — told a story in public space. But it had no political or theological statues; no idols (just altars, and the politicisation of altars for personal gain became problematic, again, see King Saul). Israel's lack of statues was a novelty; but also a profound critique of the surrounding nations. Israel's God could not be reduced to dead images; Israel's God was not just represented by one king who was the living image of God; Israel's God had a whole nation of living images; not a "priest-king" whose reign was justified by the gods, but a "priest-nation"…
"Then they carried the ark into Dagon's temple and set it beside Dagon. When the people of Ashdod rose early the next day, there was Dagon, fallen on his face on the ground before the ark of the Lord! They took Dagon and put him back in his place. But the following morning when they rose, there was Dagon, fallen on his face on the ground before the ark of the Lord! His head and hands had been broken off and were lying on the threshold; only his body remained." — 1 Samuel 5:2-4
Israel was meant to engage in a purging of public spaces; a toppling of statues — because public space, and how we order it, is inherently religious, not just political. Because Israel was to be a monotheistic public space with a story testifying to the one true God, their public spaces — their commons — were not to be pluralistic; they were to destroy all statues (and certainly they weren't to build their own, see Golden Calf, The).
'When you cross over the Jordan into the land of Canaan, then you shall drive out all the inhabitants of the land from before you, and destroy all their figured stones, and destroy all their molten images and demolish all their high places; and you shall take possession of the land and live in it, for I have given the land to you to possess it.' — Numbers 33:51-53
They weren't meant to be worried about preserving history, or 'preserving the story' of these other political/religious systems. That was the point; to keep these statues around was to keep these religions alive. To legitimise the story. To be captivated and captured by the gods they were meant to be removing. They were to not make statues or images of living things, or people, and give them religious significance; but they were to seek God by being people shaped by his story and his presence with them, first through the Tabernacle, and then the Temple. They were the images. The promised land was to be their new Eden; where they would be God's priestly presence to the world. Their use of space was meant to tell that story. In Deuteronomy 4 the Exodus is described as being like the fire used to make statues or images, on Israel as a nation, while they're told not to make their own images in these fires. And then we get the 10 Commandments restated in Deuteronomy 5 (because remember how well that went last time, see Golden Calf, The).
"You shall not make for yourself an image in the form of anything in heaven above or on the earth beneath or in the waters below. You shall not bow down to them or worship them" — Deuteronomy 5:8-9
While we're on public space, it's interesting to see how the 'architecture of belief' is a factor that Deuteronomy raises for Israel; there aren't really neutral uses of public space, it has to be approached in connection with a story. So Israel will find itself with a new architecture: "a land with large, flourishing cities you did not build, houses filled with all kinds of good things you did not provide, wells you did not dig, and vineyards and olive groves you did not plant" (Deuteronomy 6:10-12), and they'll be tempted to forget God, the God without statues, and his story, and so be shaped instead by these things (and maybe, any statues they don't knock down). To help this memory exercise; to help public spaces (and private spaces) testify to their place in the world, Israel was to: "Break down their altars, smash their sacred stones, cut down their Asherah poles and burn their idols in the fire. For you are a people holy to the Lord your God" (Deuteronomy 7:5-6).
Public space matters; statues aren't neutral or simply 'political' — they're religious. They're also not simply 'religious' — they're political. They shape our stories and our shared vision of life together.
In the time between the Old Testament and the New Testament, the Israelites have been returned (like a captured flag) from exile in Babylon (then Persia); they've rebuilt a temple (see Ezra-Nehemiah (as the separate books in the Old Testament) under Persian rule, but then they've been smashed again and occupied. The "Second Temple" built by Ezra and crew (in the 400s BC) has been radically renovated by the Herod family (specifically Herod the Great, in the late first century BC). Before this rebuild the Greek king Antiochus Epiphanes, learning from the playbook of the ancient world and the religious/political use of public space, has, in an invasion of Jerusalem, set up idol statues on the altar in Israel's temple, rededicating it as a Temple to Zeus. The book of 1 Maccabees tells the story of Alexander the Great's conquest of the world as they knew it, and Antiochus Epiphanes succeeding him as king of the Greek empire; including Israel. It's here that the writers of the Maccabees see this as the fulfilment of a prophecy in the book of Daniel about a future 'Abomination that causes desolation' or a 'desolating sacrilege':
Then the king wrote to his whole kingdom that all should be one people, and that all should give up their particular customs. All the Gentiles accepted the command of the king. Many even from Israel gladly adopted his religion; they sacrificed to idols and profaned the sabbath. And the king sent letters by messengers to Jerusalem and the towns of Judah; he directed them to follow customs strange to the land, to forbid burnt offerings and sacrifices and drink offerings in the sanctuary, to profane sabbaths and festivals, to defile the sanctuary and the priests, to build altars and sacred precincts and shrines for idols, to sacrifice swine and other unclean animals, and to leave their sons uncircumcised. They were to make themselves abominable by everything unclean and profane, so that they would forget the law and change all the ordinances. He added, "And whoever does not obey the command of the king shall die."

In such words he wrote to his whole kingdom. He appointed inspectors over all the people and commanded the towns of Judah to offer sacrifice, town by town. Many of the people, everyone who forsook the law, joined them, and they did evil in the land; they drove Israel into hiding in every place of refuge they had.

Now on the fifteenth day of Chislev, in the one hundred forty-fifth year, they erected a desolating sacrilege on the altar of burnt offering. They also built altars in the surrounding towns of Judah." — 1 Maccabees 1:41-54
Here's a foreign king practicing Deuteronomy style conquest on Israel.
Here's a foreign king altering (altaring) the public architecture of Israel to change its religion and politics.
Here's a foreign king conducting the 'desolating sacrilege' of altering a people's public religion by putting up statues.
In the ancient world, politics was sacred business.
We're kidding ourselves if we think this isn't true today. History unfolded religiously, and continues to; the church played a part in this as the Roman empire Christianised. The Medieval period was one where rulers continued to be viewed as those appointed by God to rule (ala Romans 13); the Reformation survived and thrived thanks to the political protection of rulers and movements won over by its theological (and political) vision. In Dominion, Tom Holland argues that even the secularity of the modern west is a fruit of religious convictions (specifically, Christian ones). While our public landscape in the late, secular, west isn't as explicitly Christian in its architecture (you won't find many statues of Dagon, Gudea, or Zeus), our public spaces are still surrounded by the architecture of modern religion — city halls, clock towers, sky scrapers, casinos, banks, and statues. Statues of people because modern political-religion in a particularly secular form is not pluralist — we don't recognise that our culture is one where many religions come together in both contest and tension — it's humanist, our civic religion doesn't happen in a contest of "transcendent" visions of the good, where our statues throw us beyond ourselves to a vision of the good that comes from the gods; in our secular vision we are the gods, and these figures from history serve our political agenda; we just forget that our politics is inherently, still, an expression of our religion.
The statues Antiochus Epiphanes erected in Jersualem are part of the city's history — but they were rightly torn down as its history continued. The tearing down of the statues of Zeus were also a form of desacration — a denial of the sacred vision of the Greek empire; all tearing down of statues is religious and desecrating; because public space is actually sacred space; it's just our vision of the sacred has collapsed to 'the political' not 'the political as an expression of the religious'… This is a slightly different view of the distinction between secular and sacred offered by, for example, Mirsolav Volf in his critique of those rejoicing that Donald Trump conducted his own desolating sacrilege recently, with his Bible-in-hand photo opp (the criticism that the church he's standing in front of has long abandoned traditional Christian teaching about the literal resurrection of Jesus is, in itself, another desecration).
Volf says (on Facebook):
"Some evangelicals think that public religious gestures (e.g. Trump's holding the Bible) will halt secularization. They won't. They ENACT SECULARIZATION: they put the sacred to profane use that's contrary to the character of the sacred. That's desecration and secularization." 
There's something to this critique; but it does reinforce a secular-sacred divide that just isn't actually there. Trump's act was explicitly political and religious — it just wasn't Christian. It was more like Gudea, and the conquering God-kings of the ancient world, than Jesus. His act in public space, for an image-opp — creating a statue-like moment in the form of pixels — like the tearing down of statues — was both desecration of a religious view (in his case, Christianity, rather than "secularism"), and its own expression of a view of the sacred. The 'Right' and 'Left' — locked in a culture war, are actually locked in a religious-political war; a war built on acts of desecration of the other's religious architecture and attempts to replace those icons with one's own. Modern expressions of the ancient game of capture the flag; modern attempts to create the most egregiously offensive or "triggering" acts (photo opps or statue destruction) to both demoralise the other and radicalise one's own base. ISIS has been playing the same game in its destruction of what are now seen as only religious symbols (and only from history) — rather than political and religious symbols of previous regimes; at least they're being theologically (and historically) consistent.
And so I wonder, if Jesus were to walk onto the battle field of the culture war, would both sides unite to execute him all over again.
Because that's what happened in Israel.
The side who were all about religious and moral purity and the Temple (but who had turned the temple into a house of robbers; desecrating it) conspired with the side who had built the Temple to secure political power, while killing any from Israel who would oppose him (Herod and family put to death those opposed to their rule on the basis that they were Idumeans, Herod the Great's son Archelus, erected a statue of an eagle on the temple, killed those who took it down, then massacred 3,000 people in the following riots in the Temple, and then cancelled Passover), conspired with the Romans (who were busy deifying Caesar, installing images of Julius and Augustus all over the empire) and had Jesus executed for political and religious reasons.
Jesus claimed to be the Son of God. Caesar did too, and the Jews knew he was claiming to be divine, in that claim; a threat to their religious and political status quo.
Jesus claimed to be king of the Jews. Caesar and Herod did too. This was the charge brought to Pilate, who had no choice under Roman law but to crucify someone committing this sort of treason, to make them a public image of what happened to opponents of Rome; a sacred statement, not just a political one, and for the leaders of Israel an act of desecration to remove any sacred claims Jesus was making.
Here's the thing.
In the Gospels, Jesus predicts the destruction of the temple; the ultimate desecration of God's sacred presence in the world. In John's Gospel we get the explicit interpretive guide that he isn't talking about what Rome will do in 70AD, but what Rome, and Israel, will do to him in 33AD. That he is the Temple. That the crucifixion then is the ultimate act of desecration; an ultimate political and religious expression. Perhaps when Jesus, after talking about the 'destruction of the Temple' in Matthew 24, says:
"So when you see standing in the holy place 'the abomination that causes desolation,'spoken of through the prophet Daniel—let the reader understand…"
He's not talking about a new Antiochus, dedicating the Temple to Zeus. He's not talking about Nero rolling through Jerusalem with his armies in 30 years… He's talking about the sacrilegious destruction of God's most sacred image.
He's not talking about Trump with a Bible.
He's not talking about the tearing down of statues in public spaces.
He's talking about the destruction of God's divine image, orchestrated in the place that is meant to be his presence in the world; by those whose job it is to manage his house, the Temple.
The crucifixion is the abomination of desolation. It is the ultimate statue toppling act. A political and religious statement.
A profound treatment of a religious image — one that has ultimate significance not just to those who worship him; but to God — "the image of the invisible God" — the one true priestly representative of God, the "exact representation of his being"… To follow Jesus and enter his kingdom is both a religious and political act. And the political systems of this world — that aren't the kingdom of God — are geared up for his execution.
And maybe, just maybe, our politics — as people who claim to follow Jesus — should be shaped by how we treat images of God, and where how we do politics and religion as those made and given the vocation of being images of God; and maybe as our politics gets distorted so that we see other image bearers of God as enemies in a "culture war" so that we get caught up in games of capture the flag or 'desecrate their idols' (like those excited at pulling down statues of dead humans) or 'defend out idols' (like those excited to keep statues in public spaces to prop up an idolatrous civic religion), while 'making our own idols' or defending those who make them (like those excited about Trump holding up a Bible in front of a church and the 'Christianisation of space') — maybe we're just becoming those people who wouldn't recognise Jesus if he looked us in the eye; but would kill him instead. And maybe that's what actually unites those people playing culture war politics games, politicising religion — a rejection of the kingdom of Jesus, in favour of little man made gods. It was stupid when it was Gudea; stupid when Antiochus Epiphanes did it; and it's stupid now.
It's interesting to ask what political or religious idolatry would lead those on your 'side' of politics — of the culture wars — if that's the game you're playing — to kill Jesus? Because all the sides of the first century's culture war suddenly agreed on that being the absolute best thing to do in the moment; so they could go back to fighting each other undisrupted.
You might want to pretend that Jesus plays the culture war for the right team, or the left team. But that's to create a Jesus in your image. There were 'righties' and 'lefties' in Jesus' day too; and the idea that your side has exclusive access to the truth and an exclusive mandate to conduct divine political and religious business here in the world, by building an empire, well… that gets to some ugly places fast in history — and it's tricky to maintain when other followers of Jesus have different politics to yours.
Maybe our call isn't to play the game of 'idol building' or 'idol destroying' but pointing to the one God raised up? Maybe we should trust this to hollow out the value of other idols? Maybe we should see this as the task of building our own alternative polis, in and through the church (as a people).
Maybe we should look to Paul in Athens; who didn't come in to a public square saturated with political and religious imagery with a sledgehammer; but seeking to understand why they'd carved the things they'd carved out of stone; what good might be affirmed in the quest for truth he saw in their political and religious systems, so that he could connect the good with the search for God, and maybe we could help people meet the unknown God behind their religiousity, their politics, their pursuit of the good, in 'the man God has appointed' through his resurrection, so that we might find the God we're reaching for. Maybe we're not meant to be culture warriors — because that's a path to killing a Jesus who doesn't line up with our cultural expectations — maybe we're meant to be peacemakers, who follow Jesus and so make space for others. Paul introduces a new God to the Athenian landscape, not by building a temple, but by being an image bearer of that God who speaks in a way that heralds his truth, and tells his story.
When he gets to Ephesus (a couple of chapters later) he disrupts the statue making economy of Ephesus — a city built on a more monotheistic love for one particular God — by, again — proclaiming the one true God. The city riots. He doesn't smash Artemis statues down, and melt them in the fire, he pronounces a better, more loving, God — the God we meet in Jesus. Public space occupies a profoundly interesting place in the narratives in Acts, and Paul introduces Jesus to crowded and contested public space not by knocking other gods down, but by hollowing out their value, and pointing the hearts that find meaning in alternative religions and political systems to Jesus and his kingdom. By joining, by affirming, but also by differentiating, and offering a better story — not just hard opposition — and he doesn't even get out the sledgehammer when his (right) methods fail to see others take up the sledgehammer.
He is not a cultural warrior; he's an ambassador for the crucified king.