This is a great bit of link bait, infographic style…
The people who made this, who happen to be some sort of T-Shirt Company, have also compiled a list of where to get each shirt.
I may have featured this before. But if you've got me in some sort of Secret Santa thing, or just want to buy me a Christmas present that I'll enjoy… you could do worse than this XKCD special.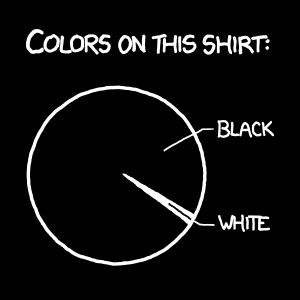 And on the back…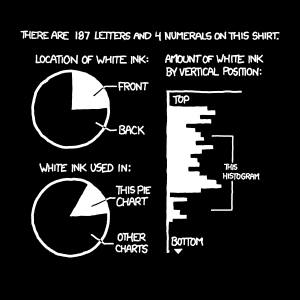 It's a platypus playing a keytar. In Venn Diagram form…
From Threadless, designed by Tenso Graphics.
Made in the Now is seriously cool. They turn around a T-Shirt design a day, based on current quirky news events from around the globe.
Here's a few samples.
The other day scientists invented a new lighter than dandelion substance…
Here's the shirt.
Here are a few more…
I like this one, which was released when Rebecca Black put our her second single (you know she's got a third out now…)
This is the one about an Amish beard cutting rampage recently.
Each shirt is only available for 24 hours.
Sadly, they're a little expensive (at $40 a pop).
Words can't describe how awesome I think this picture is. I want to eat his many arms.
From Flickr, it was apparently a shirt on woot back in July. I need to pay more attention to Woot.
You may also like this Homer Simpson version…
And Inspector Gadget – a Threadless Shirt.
Brilliant. For a bit of pirate chatter/an explanation/product details check out the post on the woot.com blog.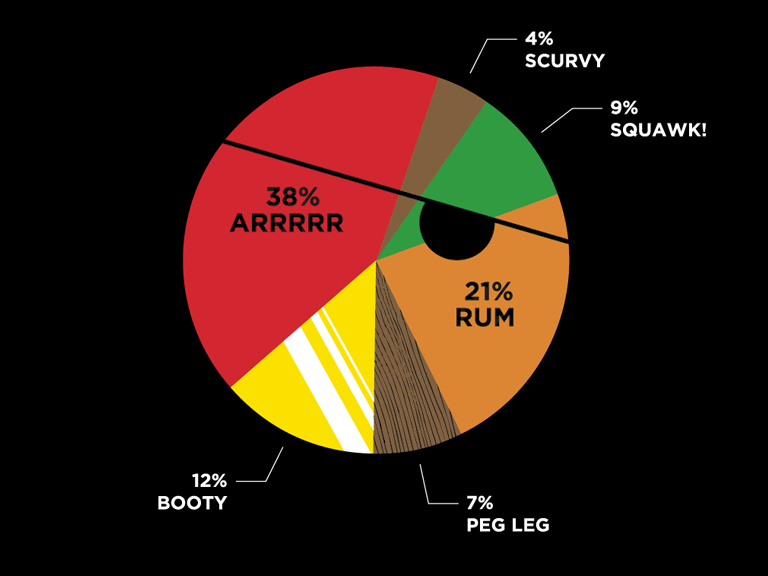 Sadly Woot.com shirts aren't available all year round, almost worth subscribing just in case it comes up again.
From what I can gather this shirt doesn't exist yet. But doubtless, by the power of the interwebs, it soon will. Here it is part of a "Rebranding America" design challenge.
I can't believe they buried Osama at sea. How will we know he's dead. Conspiracy. Shenanigans…
But at least there's a T-shirt (probably several) already online for the occasion.
You can buy it here. This one's from CafeDave who emailed me the tip – keep those tips coming people.
Pop Chart Labs have put together a comprehensive guide to musical hairstyles…
And turned it into a shirt. Which you can wear.
The other day I tracked down ten health benefits of caffeine for a post I wrote on thebeanstalker.com – 10 majestic pieces of scientific proof that drinking coffee is good for your health. Caffeine is good for you. And that article proves it.
So, here's a shirt to go with it, a nice play on the Rick James sketches from the Chappelle Show.
You can get it here.
So, hands up if you want to be a breakdancer? No, too busy busting a move all over those polished floorboards hey…

Apparently breakdancing is one of the four components of the hip-hop lifestyle – so says one of my friends when I asked what the difference between rap and hip-hop is. The answer "rap is something you do, hip-hop is a lifestyle"… the other two components (in addition to rap and breakdancing) were, from memory, graffiti and DJing… anyway… if the above shirt (one of my favourites) doesn't do it for you, perhaps you'll appreciate this list of breakdancing moves on wikipedia. Seriously. Hundreds of them.
Including:
"Coffee Grinder/Helicopter: Go down on one bent leg standing on your toes with your hands on either side of your bent knee. Other leg is lying flat out on the floor beside you. Swing the leg that's on the ground. To avoid being hit by your swing leg; you pick up your hands and put them back on the floor, then use them to pick the rest of your body up lifting it over your swing leg. Drop your body and repeat."
I'd buy this if it didn't only come in pink.
From here.
Here's an assessment of your personality on that basis. I have a Muse Shirt. I've liked them since 2002. So there. All you bandwagon jumpers and kiddies…
Don't fear dirt. Embrace it. Every white shirt I ever owned ended up looking like this anyway, so you may as well make it deliberate. Right?
From Threadless.
This is both funny, and true.
"I have a T-shirt problem: after years of buying them, my house is now full. Whilst recently trying to tidy up the situation I realised that I was subconsciously categorising them. As with everything on the internet, it ain't a 'thing' until it's visualised in an infographic. "
From Sleeping in My Head – where you'll get a bigger version.