I have a confession.
For the couple of months I've poured more hours than I care to count into The Sims 2. I even built this cathedral with the aim of turning young Jonesy Jones into a mega-church planter (for a while he was appropriately employed as 'Cult Leader'). In a triumph of church architecture, I built him his own light-filled 'crystal cathedral,' with couches for pews, a cruciform layout, a podium as a pulpit, a buffet table as an altar, and state of the art musical instruments in the wings. Jonesy drives a not-too-ostentatious car (the second most expensive in the game, lodged between 'people mover' and 'sports car' in cost, but high on 'approval' from those who track his spending), which is parked in the driveway of his modest, though comfortable, manse, on site.
He, ironically, lost all his friends in the move to this building (I clicked the wrong button), so needs to rebuild his little human empire congregation; though he has maxed out his charisma skills, and he's a naturally fun guy, so that shouldn't be a problem. It's dangerous, because Jonesy Jones also craves human affection, so his happiness is going to depend lots on how people respond to this project.
In short, I'm hoping Jonesy is nothing like me — but there's a danger that, at my worst, he is a projection of who I think I should be in my darker moments…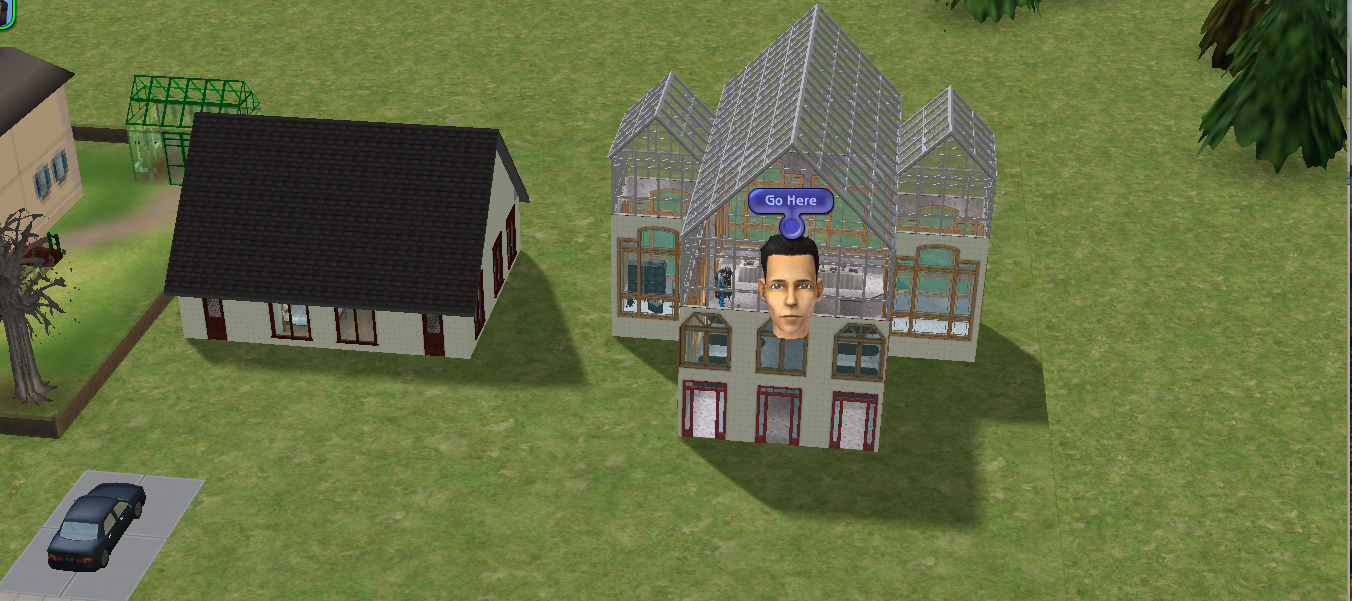 It has taken me a little bit to figure out why I find the idea of clicking and controlling the lives of little simulated people so compelling; and to figure out what it is that drives the choices I make as to how they live, and the jobs they do, and the families they create and the homes they build.
So much of it is about control.
Unlike in the real world where I exercise almost little to no control over the lives and decisions of the real people around me — kids, family, colleagues, or congregants — and where that can feel like I'm flinging myself around a sinking ship trying to peg gaps if I'm not careful to remember I'm not God… the Sims lets you play at being God in a controlled environment. Though you're mostly 'in control,' it's still a matter of 'life and death' — a sim can die if you accidentally deprive them of the essentials of life — food, rest, friends, and fun — or if there's some sort of 'divine' action where, for example, repairing an electrical device goes wrong, or a meteor strikes you while you're looking through a telescope — but you know these risks and love your little sims, so you direct them away from harmful behaviour and towards the straight and narrow… mostly… I might have deliberately killed a sim or two in my time by swallowing them up with a meat eating plant, boxing them in to a room with no doors, or removing a ladder from a swimming pool — I mean, who hasn't… but I've never killed a sim who didn't deserve it.
I really have been pondering my addiction; there's perhaps nothing more repetitive than the accretive clicking of the mouse required to build a little Sim empire, and so there's something oddly liturgical about this game and the story it tells about what life as God is like, or perhaps what life 'in control' in the real world might feel like. There's a danger a game like The Sims feeds a certain dissatisfaction about real life — not just that conflict in the real world can't be solved by a few pillow fights, or hangouts, or some time around the pool table — but that other people aren't so easily directed. I can't just click a mouse and make my problems, or theirs, go away. I can't organise the lives of others to achieve collective goals or to pursue my own personal narrative.
And, as dad, pastor, and colleague, this bothers me. There are so many spheres of my life where, if I were honest, I'd prefer life to be more like the Sims.  There has never been a time in my life where I've felt less in control of the decisions and actions of others, nor more like I'd like to be in control of those decisions in some sort of 'ideal world'. I've been solo parenting two of our kids as part of a 13 day trip for Robyn and our oldest; and our house looks nothing like the carefully curated houses I build in the Sims (with excess space and plenty of distractions, plus a paid cleaner to keep things in order).
I don't have a highly cultivated 'personal influence' ability that allows me to direct and influence sims who aren't even under my Godlike powers as part of the 'family'… I'm not a cult leader. I don't cultivate a following because of my charisma which means people will literally stand for many 'sim hours' to hear me speak (I'm lucky if I can hold a room for 15 minutes of my allotted 25 and actual 30).
Our little church community doesn't have a building to call our own, not a cruciform cathedral with a glass roof like my Sims one, or just a humble hall. And so we've been subject to the whims of other hosts (though God has providentially provided an alternative meeting place in fairly bizarre circumstances) — as of January 7 we'll have moved venues twice in a four month period. We live, it seems, in a perpetual state of spatial flux. Never knowing where home is, and making the best of whatever spot we're in (or looking for something more suitable), but it's not ultimately up to us where we land. We don't own a space, and buying one with the right zoning would require an act of powers greater than mine (both God and the Brisbane City Council).
I can't click a button to make people sit in the (comfortable) pews. People are leaving our community for reasons from the practical to the political to the theological; and if I could click and send them somewhere — if I were God — I'd keep them and have those decisions resolved around a table and in conversation (or if none of that worked out, my Sims like temptation would be to find some button I could click to make them think like me). People are also joining our community and changing the 'family ecosystem' in ways that are great, but also part of the challenge of a dynamic and moving organism — ways that reduce 'control' for any one person (me) as we grow.
And yet, in these moments of uncertainty and this growing sense that I'm not in control, I guess I've had two options. I could've spent these many hours of 'down time' responding to these circumstances in many constructive ways (not just virtual reality contructive ways), and yet, I've chosen to play a stupid computer game as some sort of catharsis (I'm sure it has worked, and I'm not the sort to be negative about the power of games, or about their entertainment value and the need for rest and recreation). The Sims could teach me to be frustrated about life outside the virtual realm, or it could point me to the one who is in control.
In the midst of my addiction to The Sims I went along to a discussion night on James K.A Smith's You Are What You Love, which, along with Smith's other 'Cultural Liturgies' works provides a useful Augustinian (and Biblical) account of human behaviour and how people change; the idea that we feed our desires and our sense of how life is to be lived by repetitive action — or liturgies — the best, most powerful, and most dangerous of these liturgies, in terms of formation, are the ones that suck us in through our imaginations and our feelings, not through reasoned repetition… but the mindless stuff. When I was asked what habitual actions I hadn't really assessed in a sort of behavioural audit, I was tempted to gloss over just how many hours I'd spend in this alternate reality. This fantasy world.
This made me wonder what it is my repetitive clicks and the story they are attached to in my imagination — my participation in The Sims and its world and stories — what it forms in my desires and my approach to the world beyond the computer screen. Am I picturing my little sims as real people? Projecting my control into the real world and assessing reality through escapism? Am I feeling dissatisfied that the real world is not like this virtual one? Perhaps not consciously, but am I turning to this game and others like it where I know I am totally in control to escape from a world where I know I'm not… probably… that's what escapism is all about (and it's not always a bad thing to escape — a point Tolkien makes brilliantly in On Fairy Stories).  Am I overthinking this? Perhaps… or does this complete control feed a dissatisfaction about the way things are in relationships with real people? Am I likely to idolise control — or a world where I wield godlike power?
Probably.
Is this dangerous?
Definitely.
In exactly the same way as trying to play the superhero pastor… trying to be God, or any recognition that you are not… is absolutely toxic to a healthy life in the real world, but especially deadly in the context of Christian ministry where so many churches have fallen apart because of an approach to leadership that looks just like the pastor is trying to play the Sims with a congregation that isn't 'their flock' but God's. It's this desire to be in control (and perhaps a belief a leader should be) that I suspect leads to abusive practices in both public and private. Feeding this desire is dangerous; especially if the desire is focused through a lens of self-pity, or the flip-side, entitlement and self-interest.
There are fleeting moments when I believe I want to be in control. To be able to direct people, to 'helpful' places of course. Those are the times when I am sinfully tempted to act like a cult leader, or to get a pattern for leadership from something other than the cross of Jesus. The cross isn't just a pattern for good Sims church architecture. It's a way of being in the world; of being 'in the church' that teaches me that it's not by my might or power than anything happens, but by the willingness of God to send his son into the world in a picture of leadership that looks a lot like self-emptying service of others.
I am not in control. I am not the artist or the author — the creator — creating a world with the lives and images of other people.
Other people don't exist to play my game or be clicked into place.
Other people should be thankful that life is not The Sims, and that I am not the mouse-like God in such a world.
I don't type these as a mantra to remind myself of things I ought to believe are true (in case you're worried I'm some sort of narcissist trying to talk myself out of cult-leading). I type these as truths that are fundamental to how the universe actually is… but that are counter to the bit of the human heart The Sims might feed if we let it.
I do not have the sort of control in the real world that I do in the Sims, and I do not want to…
But more than that, I should be thankful that I do not.
What a crushing responsibility that would be to bear — to be responsible for the decisions of every individual in my orbit, or of the rhythms and life of any community or family. I need more chaos in my gaming diet to remind me that I am not in control (so I started playing Zombie survival/horror game 7 Days To Die, which is reminding me that having literally no control over life or death is just as debilitating and frustrating), but more than that I need to keep prayerfully remembering that it is God who authors both my story and the stories of those in my life  — whether they're in or out of the church community he has placed me in — as part of his story… Or as Paul put it in his sermon in Athens, from Acts 17… that he gives us life, and breath, and everything else — even the sense of how little control we wield — so that we might seek and find him, the grand architect of the cosmos.
"The God who made the world and everything in it is the Lord of heaven and earth and does not live in temples built by human hands. And he is not served by human hands, as if he needed anything. Rather, he himself gives everyone life and breath and everything else. From one man he made all the nations, that they should inhabit the whole earth; and he marked out their appointed times in history and the boundaries of their lands. God did this so that they would seek him and perhaps reach out for him and find him, though he is not far from any one of us. 'For in him we live and move and have our being.' As some of your own poets have said, 'We are his offspring.'

"Therefore since we are God's offspring, we should not think that the divine being is like gold or silver or stone—an image made by human design and skill. In the past God overlooked such ignorance, but now he commands all people everywhere to repent. For he has set a day when he will judge the world with justice by the man he has appointed. He has given proof of this to everyone by raising him from the dead." — Acts 17:24-31
I need to keep seeing my job (as parent, pastor, and person) not as exercising control (or even influence) but as pointing people to the one who is in control. I like another thing that Paul said about how he approached this task knowing that God is God, and we are not. He doesn't click people into place, or persuade and manipulate through power, coercion, or deception. He lives and preaches the Gospel of the crucified Jesus, and lets God be God.
"Therefore, since through God's mercy we have this ministry, we do not lose heart. Rather, we have renounced secret and shameful ways; we do not use deception, nor do we distort the word of God. On the contrary, by setting forth the truth plainly we commend ourselves to everyone's conscience in the sight of God." — 2 Corinthians 4:1-2