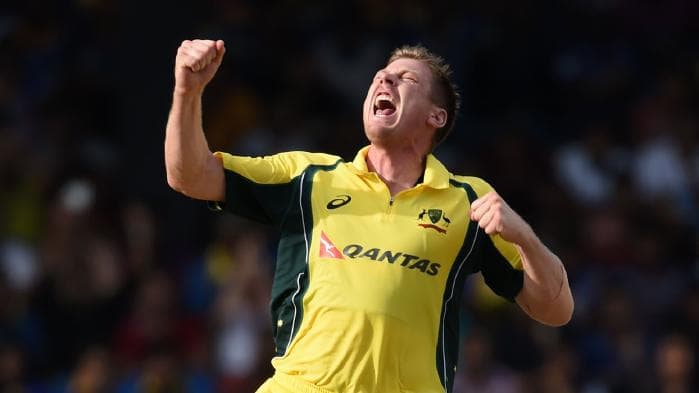 Aussie cricketer James Faulkner set tongues wagging this morning with an instagram post; a post that in many ways may have initially seemed a breath of fresh air from the Folau controversy, but, that ultimately will just further entrench the axiom that our athletes probably should get off social media, or we should stop holding them up as champion representatives of some 'ideology' or 'ideal' rather than just as representative players of sports.
Faulkner posted a picture from his birthday celebration with his mother and "boyfriend" — and the internet (including some teammates) went gangbusters seeing this language not in the way that women can talk about each other as 'girlfriends' without it being immediately sexualised, but as a coming out; this reading was especially fed by his hashtag #togetherfor5years. Faulkner seemed to initially seek to bring clarity and to temper the reaction when he edited the post a few hours later to add the words "("best friend")" next to boyfriend.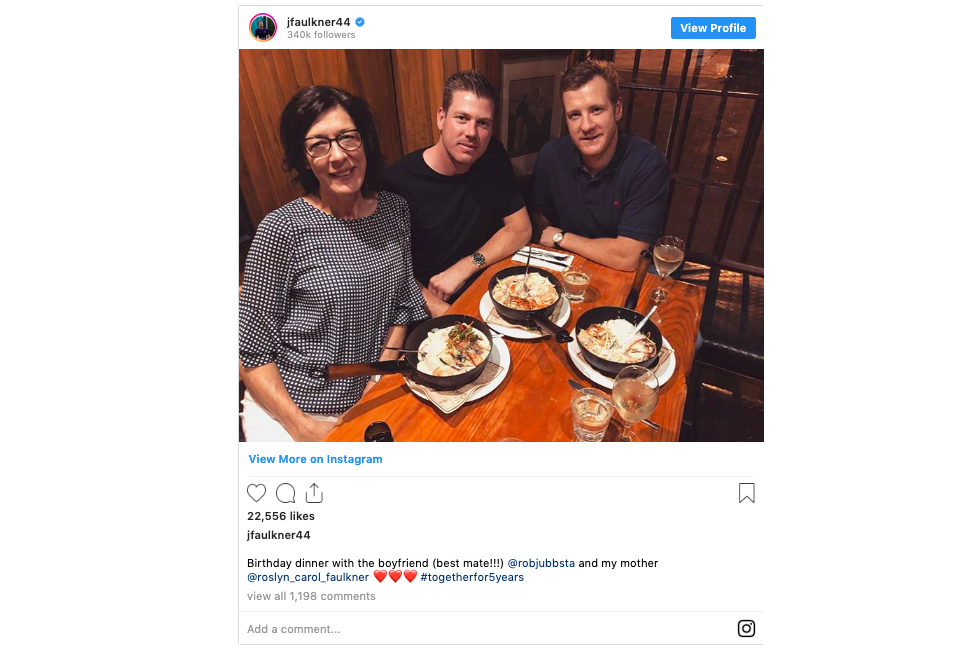 One of the conditions of our hyper-sexualised age is that we don't do platonic relationships; every relationship is shot through with sexual tension and re-interpreted through that grid. This gives rise to, for example, the 'Billy Graham Rule' where men won't be in a room alone with a woman because the sexual tension will be impossible to overcome, and to the re-reading of historical same sex friendships as homosexual (think David and Jonathan in the Bible, or Jesus and the disciple he loved — or Jesus and Mary Magdalene). This view of the world is fed by a culture of objectification and pornography that does turn any innocent scenario or engagement into an opportunity for an interaction to degenerate into sex. We saw this play out on the sporting field a few years back when football legend Craig Foster put his hand on a pre-teen girl standing in front of him during the anthem, and twitter blew up, and continued to blow up as people doubled down even after it was revealed she was his daughter and he was comforting her; we also saw the 'objectification' culture play out closer to home when fly-in-fly-out T20 star Chris Gayle hit on a reporter as she tried to do her job in a post-match cricket interview.
In our new view of the world, every relationship, unless clearly defined otherwise, is inherently possibly sexual, so it doesn't take much for us to jump into assumption.
So Faulkner has had to 'come out' today as straight; clarifying that the bloke in the photo has been his housemate for five years, that he's his business partner and best mate, and also having to, with Cricket Australia, find ways to appease the LGBTI+ community or Spirit of the age, lest his clumsy wording become a transgression worthy of judgment.
There seems to be a misunderstanding about my post from last night, I am not gay, however it has been fantastic to see the support from and for the LBGT community. Let's never forget love is love, however Rob is just a great friend. Last night marked five years of being house mates! Good on everyone for being so supportive.
We know what happens when athletes are insensitive about the culture's sexual gods on social media. Cricket Australia has jumped into damage control with its statement.
"His comment was made as a genuine reflection of his relationship with his business partner, best friend and house mate of five years. He was not contacted for clarification before some outlets reported his Instagram post as an announcement of a homosexual relationship

"James and CA are supportive of the LGBQTI community and recognise coming out can be an incredibly emotional time. The post was not in any way meant to make light of this and, though the support from the community was overwhelming and positive, Cricket Australia apologises for any unintended offence."
An apology for 'unintended offence' is an interesting one; and while I suspect Faulkner was probably playfully transgressive in his presentation of his relationship in the terms he used, complete with heart emojis, there's a real fear at the heart of this apology that Faulkner has committed a transgression that will earn him the judgment of the modern day online inquisition. He's definitely been potentially unhelpful in playing with an issue that matters in substantial ways to real people (and starting to see some backlash on that). Whether that backlash translates into outright condemnation and being 'excluded' — tossed into the fires of the modern day Gehenna — does remains to be seen at this point. But this scenario is super interesting coming on the heels of the Folau scenario, and one has to ask whether Faulkner faces Hell on Folau's terms now for lying rather than for homosexuality, but more than that, what sort of hell his casual instagramming will earn in the form of judgment from the modern world. Will he escape the treatment Folau has received for his insensitivity, or is his repentance (and the vicarious repentance on behalf of his peak sporting body) enough to earn him 'salvation' from the Internet, and perhaps more importantly, the games' sponsors.
Perhaps instead of asking questions about Faulkner's future, or social media policies for our national athletes, we might start asking ourselves questions about the role sexuality and sex play in the 'spirituality' of our modern age, and if they can bear the weight of defining who we are, and what is sacred, to the extent that a new orthodoxy wants to insist they do; perhaps we could be asking how healthy our view of the world is if every relationship has to be interpreted through the grid of sexuality, and if we might all end up running the risks of pornifying every interaction (seeing and collapsing all relationships the potential for sex), and so avoiding intimacy or deep friendship (boy friends and girl friends) as a 'Billy Graham Rule' that will ultimately rule out any deep connections with anybody. We can't say "love is love" about a friendship when our prevailing culture believes and teaches, in a reinforcing echo chamber/circular force, that love is sex. Faulkner runs the risk of elevating his friendship with his housemate to a place that only a sexual relationship is allowed to hold in the lives of the modern 'believer' in the sexular religion; this post was potentially a form of sexular idolatry. A heresy.
For us Christians this presents some interesting challenges because we've adopted the sexualised view of relationships in our churches in pretty damaging ways; ways that idolise marriage as 'the relationship' that carries all the expectations we have for intimacy (and sexuality), and correspondingly reduce friendships to superficial, we're just as likely as the world to sexualise the relationship between James Faulkner and his housemate (and to ask questions about David and Jonathan). We're also likely to have the Billy Graham Rule operating as a cultural norm in male/female relationships, so we're not 'brothers and sisters' first — spiritually in a way that is truer than biologically — but every relationship was the capacity to be sexualised (partly because we've been 'formed' by our pornofied culture, certainly, and how to unwind that is tricky)… but we haven't yet come to terms with what that looks like for the same sex attracted in our midst. Bizarrely, it's probably actually the voices of the only people our present culture might consider more transgressive than Folau, or, now, Faulkner, those who refuse to participate in our 'sexual' worship at all; the celibate, same sex attracted, Christians who can guide us through this journey. Voices like Ed Shaw in his book The Plausibility Problem, or Wesley Hill in his books and blogging, especially at Spiritual Friendship, or the Revoice movement and its statement, or locally, someone like my friend Tom Pugh who has just launched The Integrate Project. He posted yesterday about why the church needs Same Sex Attracted/LGB+ people.
"If marriage and the nuclear family has become an idol in our churches, then how important is the celibate gay Christian in reminding The Church of central Gospel truths regarding sacrifice, waiting, and community? And if sex has been elevated to the level of godhood in western culture, then this kind of person is testament to what it is to be whole and human outside of our sexual obsession, confusion and entitlement.

The LGB/SSA Christian often finds themselves in the crossfire between the most prevailing narratives in our culture: the heteronormative narrative versus the sexual liberation & gender non-conforming narratives which usually go hand in hand."
I think this is true, but I'd also add that it's not just marriage and family that is idolised, but sex and sexuality as the ultimate forms of meaning and our ultimate access to 'transcendence' or something 'heaven-like' — and that part of teaching us about waiting and community is about teaching us about seeing these created goods as having an 'ends' beyond themselves, but also teaching us the practices of intimacy and friendship that aren't defined by the sex act (though they might involve 'attraction').
Our whole culture is going to Hell. Hell isn't 'other people' as much as it's 'other people with no intimacy, love, or friendship'… because it's other people without God… and we're all heading there together if we don't start repenting and trying something new. Perhaps something more like James Faulkner and his housemate. Good on them. Happy anniversary. But more than that, it's about finding how our desire for intimacy, friendship, and sex aren't ends in themselves, but part of our human experience that echo the image of the Triune God who is, in the three persons of God, love, intimacy, and friendship — and from whom these characteristics flow as blessings to us; and alongside those blessings there's an invitation out of 'hell' or even the false-heaven of sex, and into that eternal intimate relationship through the death and resurrection of Jesus. The 'oneness' or intimacy he offers is a fuller experience than any romance, or bromance… Check out these words from Jesus (the sort of thing where if we were to express them about another person some questions might be asked on Twitter).
"My prayer is not for them alone. I pray also for those who will believe in me through their message, that all of them may be one, Father, just as you are in me and I am in you…I have made you[e] known to them, and will continue to make you known in order that the love you have for me may be in them and that I myself may be in them." — John 17:20-21, 26