"… he used often to say, that the way to heaven was the same from all places, and he that had no grave had the heavens still over him.." ― Thomas More, Utopia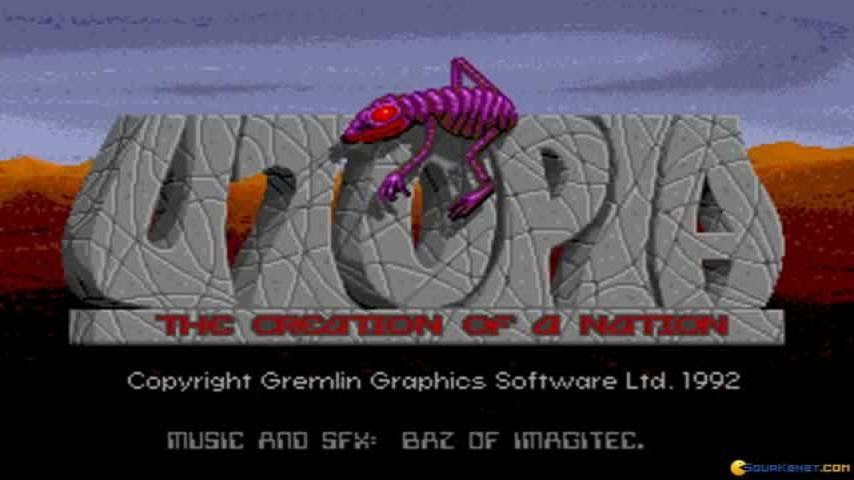 The first strategy computer game I ever played was a relatively obscure Amiga game called Utopia. It introduced me to Pachabel's Canon in D, to real time strategy games, to the idea of space colonisation and at least conceptually to the concept of utopia. Utopia comes from Thomas More's book of the same name; it literally means (from the Greek) 'no place' (there's a bit of a play on 'eutopia' which is pronounced the same and means 'good place'; but it's a sort of ideal place that one either hopes to create, or that we use as the sort of vision of what could be that we compare all other places against; it's like the platonic ideal of what any community, city, or nation could be. In some sense when we try to make the world a better place; or to create some sort of new place, be it in our homes or communities, we're working towards some sort of utopian vision.
Its opposite is dystopia, or in the Greek 'bad place'; and so much of our modern angsty teen fiction is dystopian; taking places in the sorts of worlds pictured by Aldous Huxley and George Orwell; where everything is falling apart, but most especially human civilisation.
Most of us, more or less, as we get older, feel like the world we live in is more dystopian than eutopian; that's why the '2016 sucks' thing is a meme, but it's also true in our personal lives the more we confront death, illness, disease, and human corruption and evil.
Most of us like the idea of striving towards a (e)utopia; so dystopian stories have protaganists who are challenging the status quo to inspire us while offering a sort of resonance with the world we live in, or some explanatory power for why life is what it is, utopian stories invite us to imagine the world as it could be, but they feel so other-worldly and distant.
In Utopia (the game) you play a commander tasked with establishing a colony on a series of planets inhabited by alien races; these races are always hostile, and so your Utopian vision is eutopian only for your own colonists; and it is achieved by military might and conquest, while the island of Utopia in Thomas More's Utopia was created via conquest; Utopia's Hythloday, returning to England, suggests that utopias built by princes committed to war are no eutopia at all, and this is part of the problem a true utopia must address.
"In the first place, most princes apply themselves to the arts of war, in which I have neither ability nor interest, instead of to the good arts of peace. They are generally more set on acquiring new kingdoms by hook or by crook than on governing well those that they already have." — Thomas More, Utopia
Michel Faber's The Book Of Strange New Things is both a utopian story and dystopian story; and brings both the space colonisation of Utopia (the game) together with More's utopian vision. It is a story straddling two world and telling two simultaneous inter-woven stories about a married couple living 'places' apart; Peter, the husband, in a potential eutopia, a new space-colony where he's sent as a Christian missionary to evangelise the indigenous residents (the humans are the aliens here) at their own request, Bea, the wife, stays at home as the world falls apart in an cataclysm that looks much like John's apocalyptic vision in Revelation.
Faber wrote this story, what he says will be his final novel, as his wife fought terminal cancer; apparently composing, and reading her, six lines of the novel a day towards the end before sending off the completed manuscript as she died. This real-world dystopian story adds a degree of poignancy to the novel where the strain of being galaxies apart with very different missions in very different places proves costly to Peter and Bea's marriage.
The Book Of Strange New Things is a deeply religious book, in that it's not just about the difference between eutopia and dystopia, but where God is in both, and where he is in the gap between our hope for reality and reality itself (or perhaps even how God bridges, or doesn't, certain gaps). It's a powerful and challenging story; there's some theological stuff in there that is thought-provoking, and some that I found grating.
Faber is not a Christian, but he grew up in a Christian family and he's certainly trying to salvage some of the more beautiful and hope-giving parts of his upbringing as he processes the real world of pain and death through the lens of a corporation working towards its utopian vision on a new planet, and his dystopian earth. His Christian protaganists embody the very best things about liberal-evangelical Christianity; there is much to Peter and Bea's approach to God, church, faith, and mission in the book that I love, but some stuff in how they approach the Bible, humanity, prayer, and God that might have made Christianity more comforting, not less, for the protaganists and for Faber and his wife, Eva.
It's hard to write about just how profound The Book Of Strange New Things is without talking about the story in a way that might involve spoilers.
Peter is selected to travel to this far away planet, dubbed 'Oasis' to be a missionary to the native Oasans; hominoid creatures with faces that look like walnuts. The colonisation program is run by a corporation dubbed USIC; it is dependent on the support of the Oasans who provide food, but USIC's utopian vision (largely true to More's) requires the colonisation be peaceful and non-imperialistic (how else can the corporation sell its vision to the sort of 'good' people it requires to build a new eutopian society?). The Oasans have previously had contact with another missionary, originally supplied as a chaplain to the colonising team of engineers and construction workers to help with their displacement from life back home. They've heard bits of the Bible, which they call The Book Of Strange New Things, but the first missionary has gone AWOL and, in protest, the Oasans cut off supply of food. Peter is very important, pivotal, to the Utopian vision; but he doesn't know it. Bea, his wife, is not selected to go with Peter on the journey, so the novel opens with their goodbyes, and establishes just how difficult a move to communication-in-absence will be for them; Peter highly values intimate face-to-face contact, and is suspicious of technology; the deep intimacy their marriage is built and thrives on will be supplanted, for a time, with communicating via a text-only tool called 'the shoot'. Both Peter and Bea came to Christianity from messed up 'origin stories' — Peter was a drug dealing, drug stealing, addict, while Bea was abused by her family, and then, it seems, by others. They are very real; and their descriptions of life in their church and community are quite beautiful reflections on what it means to be Christ to others.
Once he makes the 'jump' to Oasis, Peter grapples with life in the USIC compound, and its utopian vision, while finding something like a sense of a eutopian vision as he lives amidst the Oasans. The Oasans have largely learned english through Bible studies, and trade with USIC (for medical drugs); they're particularly excited about Jesus (and not at all excited about Old Testament stories of war and victory); they re-dub themselves, by order of conversion, as "Jesus Lover Number X". Peter concludes that these aliens are largely without sin; but that their fervour for Christianity is driven by the hope of avoiding death. They are genetically frail, with no capacity to heal themselves so that any wound is fatal. These are bodies that need escaping… While Peter is coming to terms with his mission to the Oasans (which is flourishing) and the USIC colony (which is struggling), and the different utopian visions he's encountering on Oasis; Bea's world, earth, is falling apart. There are deadly storms, volcanoes, and wars. There's economic collapse which sees the system in the home city in England totally collapse (starting with the banks and supermarkets). Crime is rampant. Peter and Bea's church falls apart when the pastor who replaced Peter embezzles money and has an affair. Their pet cat which is something like a child to them is tortured by local teens and put down. Rubbish piles up. People turn to alcohol and the street smells like vomit. Wild storms break their windows and fill the house with mould. Everything is 'not good'… it's dystopian. It's armageddon. It's exactly the sort of thing USIC is relying on to drive demand for their Utopia.
The gap between Peter and Bea widens not just because of the physical chasm between them, but because their experience, their communication, their realities are so different; and it's not just a question of whether their love can survive, but whether faith and hope can survive too across this gap. There's also a real question being asked about where real hope is found for humanity; because death continues in the utopia of Oasis; and communities built without friction, conflict, intimacy, or love, don't seem to offer much hope to anyone. Everyone in USIC compound operates as the sort of 'buffered self' described in Charles Taylor's A Secular Age. They don't share their stories with one another; in fact, to do so is discouraged. They just do their jobs; they're homo economicus; humans whose sole purpose is to produce results that will create USIC's utopia. Peter needles away at their buffering layers of protection; always on the look out to bring the barriers down, to learn something of the more porous, more dependent, humans within these artificial shells. But at the same time he's buffering himself when it comes to communicating with Bea; she is porously leaning on him for support in processing dystopian earth, while he can't, or won't, put words to what's going on for him, or in his mission and he struggles to care about anything that isn't totally proximate to his day-to-day reality, and his pursuit of his own personal utopia; a community of Oasan Jesus Lovers. His buffers are down in the Oasan community; where he sub-consciously 'goes native' such that he achieves a certain amount of clarity about USIC's vision.
---
As a brief aside, I'm not sure aliens can be 'preached to'; nor are they necessarily in need of 'redemption'… redemption, in the real book of strange new things, the Bible, is for the whole frustrated creation but it comes via the redemption of God's fallen image bearers (Romans 8). Sin, ultimately, is about humans deliberately choosing not to bear God's image; to represent him. It's a human thing caught up with our telos; our created purpose. It's quite possible that if alien life is found those aliens will be 'without sin' (I tend towards thinking this won't happen, because I think because the universe is centred on Jesus, it's also geared towards being 'centred on humanity'). This, to me, undermined the premise of the story a little, though the story is fiction and does at least imply they aren't sinful…
---
Bea, who'd led Peter into Christianity, ultimately tosses in her faith, or seems to; the dystopian reality becomes too much, especially in Peter's absence. The story ends with Peter handing the Oasans his Bible, tearing down his 'buffers', and making a hasty return to earth; because he realises his place is by Bea's side. He'd rather be in a dystopia offering hope through intimate love, than removed from the face of suffering in a 'Utopia' still confronted with the reality of death. But we're left hanging on the question of what he finds when he gets there; and even whether this was the right thing to do.
Death looms large in this story. One of its defining and haunting messages is perhaps that no eutopia can be found in a world where death happens, only dystopia. Real hope has to confront death head-on. It can't just sanitise the information we receive and hide us from messy and sick people so that we pretend it's not there. People on Oasis still die; sometimes suddenly, and death still hurts and haunts even in a culture where attachment is discouraged (USIC selects its workers largely on the basis of having no attachments at home, and a likelihood that they won't forge them on Oasis).
The tension in the narrative hangs on what a good life looks like in the face of death; and whether this goodness is best expressed pursuing a potential utopian future, or amidst the suffering in the dystopian reality; a tension no doubt supplied by Faber's own life. Questions within this frame are raised about where God is in proximity to death, and what hope looks like amidst death with or without God. This is also where protaganist Peter's Christian faith, and mine, significantly diverge, and where, perhaps, some real hopeful answers to Faber's questions; human questions can be found. One thing I love about The Book Of Strange New Things is that there's enough ambiguity in the ending, and Peter's journey, that I'm not totally sure where he ends up on this particular question. Peter is essentially a neo-gnostic; his belief is that we're a soul in a sack of meat; where, in a recent post, the secular neo-gnosticism believes we're a sack of meat driven by our 'mind' and our 'feelings', Peter still believes there's a transcendent part of us waiting to escape to a truly Utopian future (the last bit of The Book Of Strange New Things he translates for the Oasans is Revelation 21-22). Peter's hope is not in the resurrection of our bodies; bodies destroyed by our dystopian existence and ravaged by sin, disease, and death; but in our soul's return to God. And this hope is not enough.
Not for Peter. Not for Faber.
Peter loses his faith; or at least embraces doubt. In part because he is confronted with the miracle of embodied existence, but also because he consciously decides that real treasure; real 'utopia' is embodied, and is about being with the one you love in the midst of dystopian circumstances. His closing words are extra poignant given what was happening in his life are a powerful account of where Faber may or may not have found some sort of utopia in the midst of his suffering. After his wife sends him a message urging him to stay on Oasis and not return, Peter says:
"Safe or unsafe, happy or unhappy, my place is by your side. Don't give up. I will find you."
And as he prepares to board the ship back to earth, he ponders the words of Matthew 6, and 28, that he has committed to memory.
"For where your treasure is, there will your heart be also.' He thought of Matthew's last words, and the meaning they could have for two people who loved each other: I am with you always, even unto the end of the world. Amen."
He's turned those words in on themselves; made their focus embodied life here and now, but this is a product of Peter's emaciated Gospel; his neo-gnostic gospel offers no real hope in the face of death, and it's that Gospel Peter was leaving; the idea that hope in the face of death is about escape from this existence, and the miraculous reality of our bodies, left Peter running towards embracing this embodied existence. I don't feel like either of these options offer real hope in the face of death and dystopia; certainly not the sort of hope that makes our hearts sing, and our bodies strive. It's not the stuff dreams can be made of; because our dreams, and the singing hearts that inspire us towards anything are the product of our embodied existence.
Faber is right that real hope in the face of death must be embodied. I'm just not sure this means we need to toss the Christian God out of the picture. Because the Christian story is the story of God's embodiment; that a divine person, Jesus, fully becomes a human person.
Real hope in the face of death isn't about changing Jesus' promise "I am with you always" to be about your presence with the person you love (though it might shape your presence with the one you love); it is found seeing 'God with us' as a fundamental promise that begins now, and stretches into eternity, beyond death; a promise that creates a utopia.
Real hope doesn't just confront death head-on, it confronts it fully acknowledging that we are embodied creatures; and this is what perhaps is satisfying in a secular sense for Faber, and readers who've moved beyond belief, with the ending of the story. Peter acknowledges death as an embodied person by heading back into dystopia to love with his presence amidst suffering; there's a sort of immanent hope in this, that our momentary experiences of suffering might be relieved or shared in the context of love… but this is also where Peter's Christianity is ill-equipped to help him serve either the Oasans, Bea, or the USIC utopia.
Peter's Christianity is described, sympathetically, throughout the book, but what he does with death is on display when he's invited to speak at the funeral of a USIC employee, Art Severin. He breaks with convention by bringing Art's buffers down; sharing much of his life story (from his files) with the assortment of colleagues who made it along for the ceremony. His message of hope in the face of death is a message of dis-embodied hope; of the release of Art's soul:
Art Severin isn't here anymore; he's somewhere else, somewhere where we can't be. We're standing here, breathing air into those funny spongy bladders we call lungs, our torsos shaking slightly from the pump action of that muscle we call a heart, our legs getting uncomfortable from balancing on our foot-bones too long. We are souls shut inside a cage of bones; souls squeezed into a parcel of flesh. We get to hang around in there for a certain number of years, and then we go where souls go. I believe that's into the bosom of God. You may believe it's somewhere different… ow you're in the next life, where your body won't let you down anymore, and you don't need insulin and you don't crave nicotine, and nobody betrays your trust, and every mystery you racked your brains about is clear as day now, and every hurt you ever suffered is OK now, and you're feeling pity for us down here, still dragging our heavy bodies around.'
This is a demonstration of the neo-gnostic anthropology he spells out as informing his approach to the physical differences he encounters in the Oasans.
"In the eyes of God, all men and women are naked. Clothes are nothing more than a fig leaf. And the bodies beneath are just another layer of clothing, an outfit of flesh with an impractically thin leather exterior, in various shades of pink, yellow and brown. The souls alone are real. Seen in this way, there can never be any such thing as social unease or shyness or embarrassment. All you need do is greet your fellow soul."
Much like the secular neo-gnostic advocate of a non-binary approach to gender, Peter believes the body is a meat sack and the real us lies somewhere within (or beyond) that physical reality. As he brings the Gospel to the Oasans he starts to realise that the death of the body really matters to them (it's later that he realises they can't heal themselves, and that 'our bodies are miraculous'); this exchange comes as he tries to help them understand that God's people are the church (ฐurฐ in Oasan, because they can't say 's' or 'ch' or a bunch of other sounds). Kurtzberg is the chaplain who went AWOL…
Jesus Lover Five, in the front row as always, swayed to and fro in disagreement. 'ฐurฐ iสี ฐurฐ,' she stated. 'We are we. God iสี God.' 'When we are filled with the Holy Spirit,' said Peter, 'we can be more than ourselves: we can be God in action.' Jesus Lover Five was unconvinced. 'God never die,' she said. 'We die.' 'Our bodies die,' said Peter. 'Our souls live for ever.' Jesus Lover Five pointed a gloved finger straight at Peter's torso. 'Your body noรี่ die,' she said. 'Of course it will die,' said Peter. 'I'm just flesh and blood like anyone else.'

Jesus Lover Five had fallen silent. Peter couldn't tell if she was persuaded, reassured, sulking or what. What had she meant, anyway? Was Kurtzberg one of those Lutheran-flavoured fundamentalists who believed that dead Christians would one day be resurrected into their old bodies – magically freshened up and incorruptible, with no capacity to feel pain, hunger or pleasure – and go on to use those bodies for the rest of eternity? Peter had no time for that doctrine himself. Death was death, decay was decay, only the spirit endured.
Peter's new gnosticism is hopeless; it'd only be a real comfort to us if our experience of existence — our humanity even — was not so thoroughly linked to our bodies. It's a promise of no longer being human; which is not good news at all, and which undermines the very good news at the heart of the Gospel; that Jesus became human, not just as he walked the earth, but eternally. The Oasans challenge him to reconcile his view with Corinthians; Peter realises they're talking about 1 Corinthians 15, which in a hint of Faber's own dissatisfaction with Peter's answer, Peter realises he hasn't memorised because he has never preached it. His Gospel is, at this point, only half a Gospel. He flicks his Book Of Strange New Things open and reads:
"So when this corruptible shall have put on incorruption,' he recited, 'and this mortal shall have put on immortality, then shall be brought to pass the saying that is written, Death is swallowed up in victory. O death, where is thy sting? O grave, where is thy victory?' Reading the words aloud, Peter reconnected with why he hadn't ever used them in his sermons. The sentiments were sound enough but the rhetoric was a bit more bombastic than he felt comfortable with. To do those words justice, you'd need a highly dramatic delivery, a touch of thespian pomp, and he just wasn't that kind of orator. Low-key sincerity was more his style. 'What Paul is saying here,' he explained, 'is that when we give our souls to Christ, the part of us that dies and decays – the body – is clothed with something that cannot die or decay – the eternal spirit. So we have nothing to fear from death.' 'Nothing,' echoed several of the Oasans. '
That's not at all what Paul is saying. But this view, this negative view of the body-as-temporary-meat-sack, underpins Peter's faith, his sense of human dignity and his understanding of the Gospel of Jesus itself; what's a little odd is that his approach to ministry, his 'missiology' is very embodied and 'incarnate' and this is so thoroughly inconsistent with his actual beliefs.
He only wished he'd had the chance to explain more fully how prayer worked. That it wasn't a matter of asking for things and being accepted or rejected, it was a matter of adding one's energy – insignificant in itself – to the vastly greater energy that was God's love. In fact, it was an affirmation of being part of God, an aspect of His spirit temporarily housed inside a body. A miracle similar, in principle, to the one that had given human form to Jesus.
Peter's Jesus is only 'temporarily' human, as we are, and so the hope his Jesus offers beyond death is something like being reconnected to the source of the 'energy of God's love'… which is so ephemeral as to be almost totally meaningless. Before he realises how death is a looming and distressing reality for the Oasans; driving them to Jesus; Peter kicks off his mission and his delivery of the Book of Strange New Things with his translation of Psalm 23.
And, from the first page, he read Psalm 23. 'The Lord be He who care for me. I will need no more . . . ' and so on, until he reached 'I will dwell in the home of the Lord for ever.' Then he read it again. And again. Each time he read it, more of the Oasans read it aloud with him. Were they reading or reciting? It didn't matter. Their communal voice was swelling, and it sounded melodious and clear, almost entirely free of vocal impairments. 'He bid me lie in green land down. He lead me by river where no one can drown. He make my สีoul like new again. He lead me in the path of Good. He do all thiสี, for He be God.
Psalm 23 is not simply a promise that our souls will depart an coagulate in some sort of nebulous divine life; it is a promise of re-creation; that the image God breathed into; the human body he formed will be raised and restored to its former glory. The Psalm is full of references to Eden; to the creation of man; but also to the ancient ceremonies of restoring an exiled 'image' of God (a statue) to its function of serving and representing God in his temple. The promise of a restoration of the soul is not some empty 'you'll depart and that longing will be quenched' but rather 'you'll be made new and given divine life'; embodied life, as one of God's creatures made in his image. It's the promise of Romans 8; which the redemption of the cosmos (God's grand temple) depends on. It's a promise — a hope — that hinges on the rest of Paul's words in 1 Corinthians 15, the hope of real full-bodied resurrection free from the scourge of death and disease; and of our dystopian inclinations; where our humanity contributes to the ongoing sense of eutopia, rather than bringing ruin. This isn't just about some sort of releasing of our soul… if only Peter had been more inclined to hang on to the truth at the heart of this passage; if only Faber himself found comfort in these words… because this is the real hope that drives us towards utopia…
So will it be with the resurrection of the dead. The body that is sown is perishable, it is raised imperishable; it is sown in dishonor, it is raised in glory; it is sown in weakness, it is raised in power;  it is sown a natural body, it is raised a spiritual body.

If there is a natural body, there is also a spiritual body. So it is written: "The first man Adam became a living being"; the last Adam, a life-giving spirit. The spiritual did not come first, but the natural, and after that the spiritual. The first man was of the dust of the earth; the second man is of heaven. As was the earthly man, so are those who are of the earth; and as is the heavenly man, so also are those who are of heaven. And just as we have borne the image of the earthly man, so shall we bear the image of the heavenly man. — 1 Corinthians 15:42-49
It's a promise — a hope — God guarantees by the now-permanent humanity of his son; the one whose body exists beyond death, who offers a true Utopian vision; who bridges the gap and provides the way 'to heaven out of all places'; a path from dystopia, and a vision of hope beyond pain, suffering, and death, a eutopian vision that Peter ultimately couldn't bring himself to give to the Oasans in translated form (except that he hands them his own complete Book Of Strange New Things).
Then I saw "a new heaven and a new earth," for the first heaven and the first earth had passed away, and there was no longer any sea. I saw the Holy City, the new Jerusalem, coming down out of heaven from God, prepared as a bride beautifully dressed for her husband. And I heard a loud voice from the throne saying, "Look! God's dwelling place is now among the people, and he will dwell with them. They will be his people, and God himself will be with them and be their God.  'He will wipe every tear from their eyes. There will be no more death' or mourning or crying or pain, for the old order of things has passed away." — Revelation 21:1-4
Both the novel The Book Of Strange New Things and the real Book Of Strange New Things are worth reading; both offer Utopian visions. Both know that our human intuition that real hope is embodied is real. The novel takes that intuition and invites us to ground our response to death to being with those we love in our dystopian here and now; the other is profoundly good news; eutopian news; that both invites us to see that the here and now matters, and that love helps, but also offers us hope through and beyond death when we taste the love of the infinite God who made the world utopian, and who, rather than standing distant from our suffering and death, entered into the dystopian frustration our sin causes to do something about it.