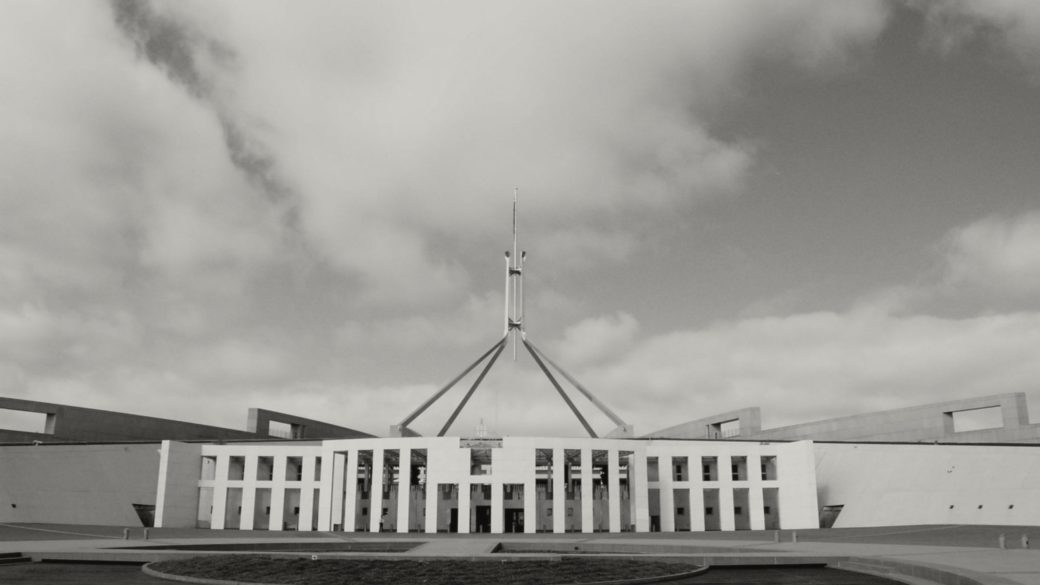 It's election time in Australia, which means its time for various Christian pundits and thought leaders to put out their 'how to vote' guides, because, clearly, most of us can't possibly work out how to participate in the democratic process without some sort of pre-packaged checklist highlighting where the parties stand on the issues we're told we should care about. If you're after advice from me I'll stand by my how to vote in (not) easy steps post from the 2016 election, and leave you trying to work things out.
Long time readers (if there are any) of this blog (if that's even what this is) will know I've been a strident critic of the Australian Christian Lobby for various reasons; but mostly because they, historically, never spoke about Jesus, or about why a particular policy direction they took was a particularly Christian approach. There were some observable changes when former chief Christian, Lyle Shelton, left to fight for marriage with the Coalition For Marriage, and then to run for the Australian Conservatives. The new chief Christian, Martyn Iles, has been doing a creditable job making Christian arguments for various (conservative) positions on various issues, he even made promises to broaden the platform a little (as the former chief did when tackling penalty rates). The change has been, I think, a breath of fresh air and represents at least a desire to enter the political realm or public square in a pluralist, secular, democracy as Christians, rather than as people who neuter ourselves and argue for and from status quo assumptions given to us by a hard secularism that assumes religion doesn't belong in the public life of any individual or society.
The breath of fresh air turned fetid and stale overnight, for me, when the ACL issued its 'how to vote' card for the May election. They've picked five, that's right, just five, 'key' battleground issues for Christians in this election. And there are certain issues that seem particularly self-serving for Christians, which then frames how our positions on issues like abortion and euthanasia might be understood (that we care more about being in control than being considered as a voice in the mix). The ACL's "Policy Analysis" considers abortion and reproductive health, euthanasia, religious freedom (specifically for Christian schools), sexual orientation and gender identity, and keeping the Lord's Prayer in parliament. Picking just these five issues seems an interesting narrow cast; and perhaps it's because on all the other big issues all the parties are exactly the same? Maybe that's it? But given the 'wings' of this table are 'all green ticks' and 'all red crosses' it does appear at least to be about contrasting the 'Christian' options (the Australian Conservatives) and the 'non-Christian' options (the Greens). It's weird to devote so much column space to Derryn Hinch, and not the many, many, minor parties throwing hats into the ring this election. But what's perhaps most beyond the pale for me is that picking such a narrow agenda ends up not just endorsing Bernardi and Shelton's Australian Conservatives, but Hanson's One Nation Party.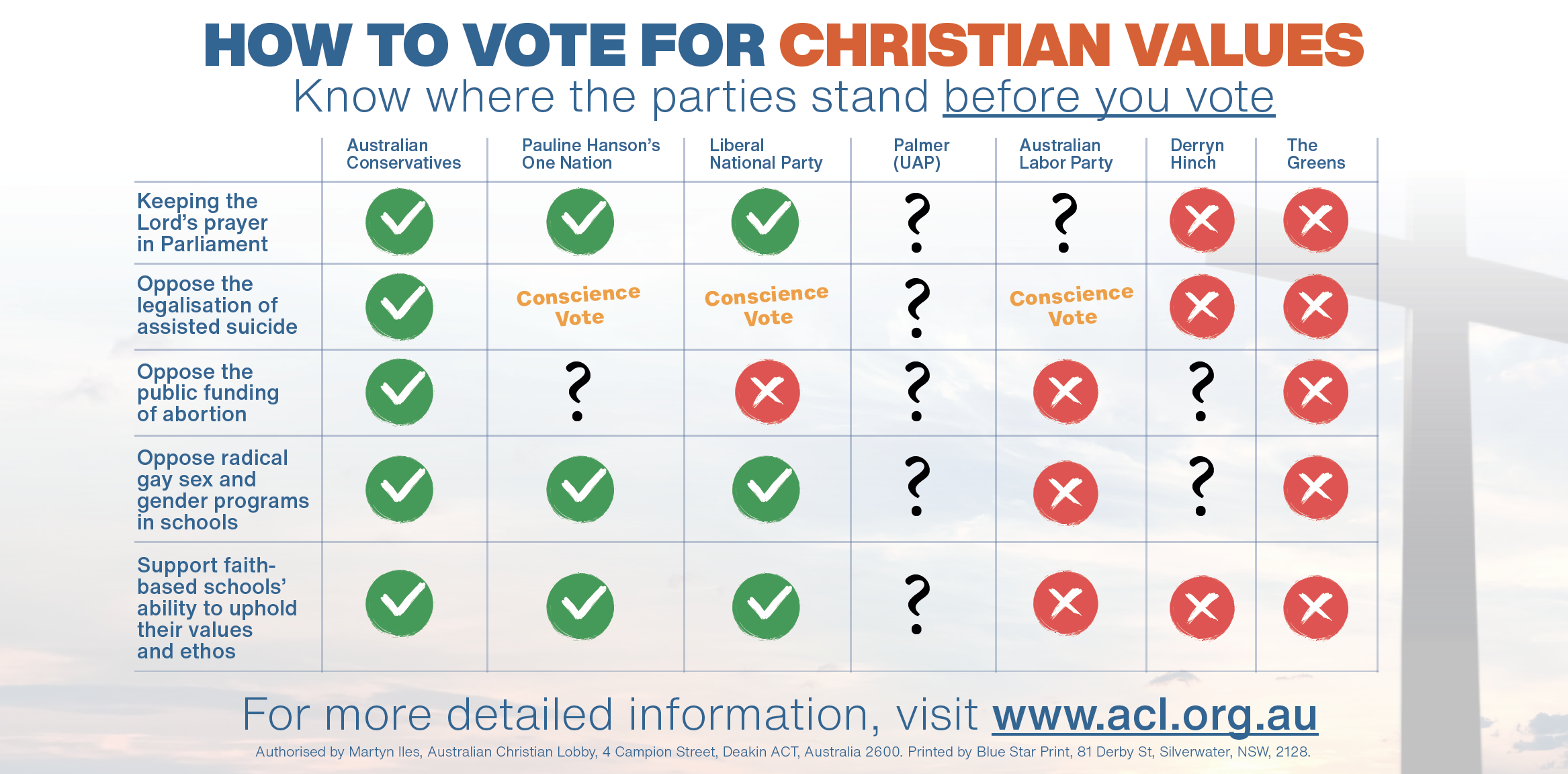 I'm going to put it out there that if your policy platform ends up endorsing Pauline Hanson's One Nation as a 'Christian vote' in the current climate, there's probably a problem with how you're defining your platform. Especially if you don't prosecute a party's platform, persona, or character beyond those issues that serve your own interest — or worse, beyond the way that party promises you access to the political process. This is the mistake evangelical Americans have made as they've been co-opted by the Trump administration in the U.S; a failure to maintain a distinct sense of Christian character and virtue beyond what is politically expedient, and what is happening to the church in America. These politically active Christian conservatives in the 'religious right' have done significant, measurable, damage to the reputation of Jesus amongst the general populace of the United States (and possibly globally) because of the way they've jumped into bed with a bloke who literally embodies the vice list in Colossians 3 just because it's politically expedient to do so; because we Christians, like our neighbours, have bought into an ethic detached from a 'telos' or from life in a cosmos where God and his nature defines what is 'right' and 'wrong' and started pursuing politics like good little utilitarians; jumping on board whatever train will deliver our political ends, no matter what that means.
When I pressed Martyn Iles about this expression of a 'preference' for One Nation on Facebook, he justified the position with the following remark:
"…their doors are far, far wider open to Christians than most of the groups listed. They are easy to deal with, are often convinced to do the right thing, and they happen to line up on the social policy issues listed here.

I am pretty happy to defend where they've landed in our flyer just on the basis of how willingly their elected politicians work with Christians.

I get it that they have their problems (including serious ones, like their support of euthanasia), but I'll take 10 One Nation Senators over Palmer, Hinch, or the Greens any day of the week."
Their relationship to One Nation is, then, analogous to the relationship between the big end of town and the major parties, and the sort of insidious relationship we keep seeing exposed between foreign 'soft power' and our parties; the kind that leads people to suggest banning political donations from such quarters. Votes for access is a terrible pathway to the worst kind of democracy; the craven type where elected representatives act based on what will secure votes, rather than what is good, true, and beautiful, and where lobby groups that aim to distort the process for the sake of special interests urge for votes not based on what is best for all, but what is best for them — measured, predominantly, by questions of power and access.
If you chuck virtue and character out the window when assessing what party to vote for, in the name of results, you are making a bed that the rest of us have to lie in. If you end up platforming a party whose leader consistently appeals to the worst 'angels' of our nature; who promotes conspiracy theories rather than truth at every turn, who blames the media when her chosen representatives are exposed as degenerates, whose party cosied up with the NRA to try to soften Australia's gun laws, whose positions on issues affecting the most marginalised members of our society or the global community are well documented, and who moved a motion in the Australian senate using a phrase ("it's OK to be white" typically used by white supremacists). Hanson is a climate change denier (and the Australian Conservatives come pretty close), she is opposed to foreign aid (in all its forms). The party can't seem to keep an elected representative in its folds, let alone in parliament. And according to the Australian Christian Lobby they're the party who're the second most deserving of your vote, because of what we Christians might get from the deal. Donald Trump might embody the vices in Colossians 3 solo, One Nation's candidates prefer a cooperative approach.
Put to death, therefore, whatever belongs to your earthly nature: sexual immorality, impurity, lust, evil desires and greed, which is idolatry. Because of these, the wrath of God is coming. You used to walk in these ways, in the life you once lived. But now you must also rid yourselves of all such things as these: anger, rage, malice, slander, and filthy language from your lips. Do not lie to each other… — Colossians 3:5-9
I'm not suggesting that One Nation's elected representatives should behave like Christians, or that we should expect them to… but I do think Christians should behave like Christians and exercise our participation in the political process as Christians who are ambassadors for Christ — and so not endorse vice for the sake of being closer to worldly power. I'm suggesting that virtue matters for us (and that it'd be nice to elect politicians who display virtue rather than vice, or to call for those sorts of standards rather than pure utility). A Christian vote is not about how they behave, so much as how we behave, and about what it is we express is important. There is no current political party that exhaustively embodies "Christian Values" (even the ones that have Christian in their name), which means a 'Christian' vote is not about who we vote for, but how one votes (and participates in political life) as a Christian. Here's what should mark our participation in public life.
Therefore, as God's chosen people, holy and dearly loved, clothe yourselves with compassion, kindness, humility, gentleness and patience. Bear with each other and forgive one another if any of you has a grievance against someone. Forgive as the Lord forgave you. And over all these virtues put on love, which binds them all together in perfect unity.

Let the peace of Christ rule in your hearts, since as members of one body you were called to peace. And be thankful. Let the message of Christ dwell among you richly as you teach and admonish one another with all wisdom through psalms, hymns, and songs from the Spirit, singing to God with gratitude in your hearts. And whatever you do, whether in word or deed, do it all in the name of the Lord Jesus, giving thanks to God the Father through him. — Colossians 3:12-17
If you want to "vote for Christian values" then those are the values, or virtues, you might want to see on display in the people you're electing and expressed by their policies. What's tricky, in the way politics happens in the modern world, is that these virtues are thoroughly embedded in a life where a community 'lets the message of Christ dwell among them richly'… And perhaps a better way of framing our participation in politics (beyond just the ballot box) — a politics built from "Christian values" — would be for us to push for Christians to deliberately and transparently bring Christian virtues into public life. The problem is we'd be bringing them into a "public" that has largely rejected virtue for the sake of utility, and where the key, distinctive, Christian idea that virtue comes not just dispassionately from 'nature,' but from a relationship with God is even more remote. To embrace a politics of utility enforces this chasm, which is the very chasm our Christian witness seeks to close.
In his work A Secular Age, Charles Taylor makes this observation about the 'field' public life, including politics, now takes part on, or at least about the way we think about how we should live as people in the modern world.
"The dominant philosophical ethics today… conceive of morality as determining through some criterion what an agent ought to do. They are rather hostile to an ethics of virtue or the good, such as that of Aristotle. And a Christian conception, where the highest way of life can't be explained in terms of rules, but rather is rooted in a certain relation to God, is entirely off the screen."
Taylor suggests the stakes of playing the game with these rules and assumptions are high; they reinforce the view that reality is a 'closed system' or an "immanent frame" that excludes God from the picture. There's a real danger that the way we do politics, if we embrace 'utility' or the idea that being good is about obeying certain rules, or having a certain moral framework, rather than imitating the character of God, actually serves to reinforce the assumption that God isn't in the picture, Taylor says that promoting a morality (or politics) that arises from 'an impersonal law" or "impersonal order" — rather than from "a personal relation" is a problem for Christians. He says: "All these forms of impersonal order: the natural, the political and the ethical can be made to speak together against orthodox Christianity, and its understanding of God as personal agent." Playing the political game this way, as Christians, takes the game further and further away from a Christian view of reality.
"On one level, we have the natural order, the universe, purged of enchantment, and freed from miraculous interventions and special providences from God, operating by universal, unrespondent causal laws. On another level, we have a social order, designed for us, which we have to come to discern by reason, and establish by constructive activity and discipline. Finally the Law which defines this order, whether as political/constitutional law, or ethical norms, can be expressed in rational codes, which can be grasped quite independent of any special relationship we might establish with God, and by extension with each other. The human relationships which matter are those prescribed in the codes (e.g., Natural Law, the Utilitarian principle, the Categorical Imperative)."
Christian values are going to be the ones that push back on the idea that we should make political decisions simply about what's going to be convenient for certain groups — including us — here and now, they're going to be the ones that say there's more to life than just political success, or lawmaking, or winning, they're going to be the ones that point to an actual, not just mechanical, relationship with God being at the heart of reality. And while keeping the Lord's Prayer in parliament could be a nod to this higher ordering of reality, I'm not sure that having a bunch of politicians pray the Lord's Prayer — including the line 'your kingdom come, your will be done' (which is a prayer for the Holy Spirit to come, and for the sort of kingdom ethics expressed in the Sermon On The Mount, where the prayer is found, to be lived) — who are then going to do their best to do the opposite — is the sort of pushing back on this closing of the system that's required. Hypocrisy is not a "Christian value" and I think we should avoid the enshrining of ironic hypocrisy, especially given how Jesus opens up his teaching on prayer when he teaches the Lord's Prayer: "And when you pray, do not be like the hypocrites, for they love to pray standing in the synagogues and on the street corners to be seen by others. Truly I tell you, they have received their reward in full" (Matthew 6:5). If we're going to ask our politicians to keep praying the Lord's Prayer, we've also got to ask them to both believe it, and mean it, and to turn their attention to the sort of ethical vision and kingdom that the prayer entails.
I'm not going to cast my vote just to secure an 'open door' and a few key 'ticks' on policy areas that serve my interests. A Christian vote is not the vote that secures the best possible result for us on certain positions, or the best access to those in power, no matter the cost. A Christian vote is the one that looks to our relationship with Jesus as Lord, to his example, and to his commands, where we vote with integrity and character and virtue — the highest of those virtues being love. This will certainly mean that Christians consider the elderly, the sick, and the unborn in our political matrix — but also the refugee, the foreigner not on our shores, the widow, the poor, the not yet born (whose natural environment our decisions affect), and just about any 'other' — given that they all fall into the category of 'neighbour' or 'enemy' and Jesus calls us to love both (but first to love God with all our heart, soul, mind, and strength). Here's the paradigm that's meant to mark our politics as Christians because it's what it looks like to be a citizen in the kingdom of God — the kingdom Jesus launched in his death and resurrection, at the cross.
"Whoever wants to be my disciple must deny themselves and take up their cross and follow me. For whoever wants to save their life will lose it, but whoever loses their life for me will find it. What good will it be for someone to gain the whole world, yet forfeit their soul? Or what can anyone give in exchange for their soul? For the Son of Man is going to come in his Father's glory with his angels, and then he will reward each person according to what they have done." — Matthew 16:24-27
Cosying up to One Nation might gain us the whole world in terms of political access and power (it probably won't); but what if the cost is not just our soul, but our witness to our crucified king? Is it worth it? Or is it the equivalent of trading our birthright in God's family of promise for a bowl of gruel?
UPDATE: A friend connected to the ACL has reached out to suggest the take put forward by this piece on the flyer is less than charitable, and that a statement posted by Martyn Iles might clear up what the aim of the flyer is. Iles says:
"There is an important difference between an education resource and a political tool.
A political tool has to effectively appeal to people who are disengaged and influence them.
An education resource is for people who are engaged, and it takes them on a much bigger journey.
If our flyer were primarily an education resource, it would include all parties and all conceivable "Christian" issues (which I do care about – anyone who follows my vlogs and blogs will know that). It would also have a small distribution, targeted to rusted-on Christians.
But it is not.
(Actually, it wouldn't be a flyer at all – it'd be a website).
There are a number of good resources of that kind already available, which most people who are that engaged will already have seen.
The flyer is for middle-Australia, marginal seat, politically disengaged, Christian-sympathising voters. It has a mass distribution.
It's for a target that other groups are simply not reaching. It is for a target that is not in yours or my mindset."
I'm not sure I understand how this makes my post unreasonable, I'll let you be the judge. There's a little more in his post.
I will say, briefly, that I think this explanation makes things worse, not better. If this is designed to present a 'Christian values' approach to politics to people who are largely not actually Christian, but might share some Christian values, then this misrepresents the heart of Christianity (and Christian political concerns). It might be politically expedient (or utilitarian), but it is not helpful for the wider mission of the church (or the Kingdom of God, of which the ACL is, universally, a part). I'd also point out that there is a website that goes with the flyer, and lots of opportunities for the ACL to be clearer in its repudiation of One Nation, especially for the sake of those who receive this flyer in the mail who might be confused about how Christians stand with regards to that political party.