Nothing says "geek cred" like a Pacman watch.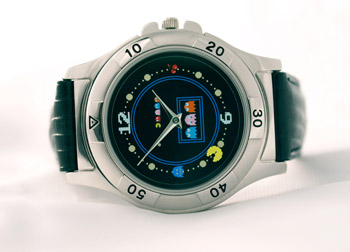 It'll only set you back $150. Or thereabouts.
I like clocks. Especially clever clocks. These are clever clocks.
On Foot

On Foot displays the world record times for running different distances. Three arcs map the records to the hours, minutes and seconds on the watch. The outer arc shows records of less than 60 seconds: 100m, 200m and 400m. The two inner arcs align with the minute and hour hand respectively, for records of under and over one hour, showing distances from 800 metres all the way up to 100km
Hubless Clock


The creator of this clock set out to create a clock with no hands, it's just got two rotating circles…
Switchital Clock
This one's my favourite. Its mechanism uses a bunch of rearranging magnets. Watch it in action in the video clip.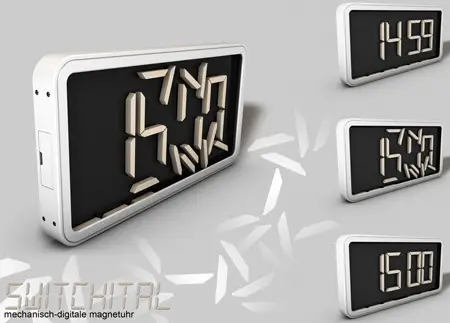 Clocks
Like the Mario thing I have heaps of clocks and watches just waiting to be posted, so here they all are at once…
The Mississippi Clock – available from Amazon – counts the passing of time in the traditional.
Or how about the whiteboard clock – a clock that allows you to jot down appointments so that you don't forget.
This one takes the whiteboard clock concept to a new level. It automatically wipes out the past…
Some people get up so early that they need to callibrate their eyes. This test pattern wall clock should help…
Sometimes when you wake up you want to be alert quickly, and alarmed, this pneumatic alarm clock will do the trick…
This digital "black and white" clock is digital technology taken to a whole new level. And it's pretty awesome.
Digital clock: only figures, no case, only the necessary – only accurate time. Each figure has self-contained power supply and independent control, it can be fixed to any surface autonomously. A light sensor will switch the clock to an invert mode: the figures are white in the dark time of day and black at daytime.
Watches
Here's a spherical pocket watch of awesome.
The problem with the myriad social networks available to divert and distract is finding the right time to use each… that's no longer a problem with this social networking watch.
Look mum, no hands. This is a ground breaking moment in clock technology… Blue for hours, red for minutes.