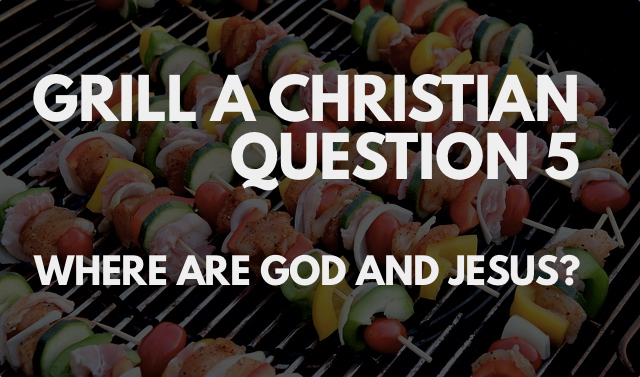 Where are God and Jesus?
Cool question.
The Father is what is technically called 'omnipresent' — God is infinite, he must be, because all things are contained within God, he's not a limited being within the universe who is measurably more powerful than everything else, he's infinitely more powerful than everything else, and infinitely bigger than the universe. I just had this thought recently. If the universe, by all our human measurements, seems so vast and constantly expanding that it is limitless, or infinite, the gap between the size of space and time, which I believe to be finite, and God, who I believe to be the infinite source of these things, is actually infinite. The cosmos is contained in God, he is the source and grounds of its being, and the source of life and breath for all beings living in it. This has basically been what people have, across most religions, and as far back as human history has been recorded, believed about at least some part of what it means to be God (some religions have had other gods existing within the universe, or underneath a chief God). It's consistent with what the Bible says about God, some of my favourite bits that talk about his vastness come in Job, and the Psalms.
This is what Paul says about God when he's telling a bunch of religious philosopher/theologians who were the gatekeepers of the pantheon of Greek gods about Jesus.
""The God who made the world and everything in it is the Lord of heaven and earth and does not live in temples built by human hands. And he is not served by human hands, as if he needed anything. Rather, he himself gives everyone life and breath and everything else. From one man he made all the nations, that they should inhabit the whole earth; and he marked out their appointed times in history and the boundaries of their lands. God did this so that they would seek him and perhaps reach out for him and find him, though he is not far from any one of us. 'For in him we live and move and have our being.' As some of your own poets have said, 'We are his offspring.'" — Acts 17:25-28
The Bible suggests, I think, that this omnipresence is true for Father, Son, and Spirit, prior to when Jesus becomes human. There's a substantial change made to God's nature that begins in what is called 'the incarnation' — God becoming human — which is what makes Christmas really worth celebrating. Here's something from Colossians 1, which is what Paul says about Jesus and his relationship to the universe before he became a man, but also how God the father positions him in the universe as a result of him becoming human (a bit like Philippians 2). The bit about all things being created and held together in him is important for building that idea of 'infiniteness'… and the 'firstborn' bit is a stepping out of the infiniteness. The whole being the image of something invisible is playing with this idea I think.
"The Son is the image of the invisible God, the firstborn over all creation. For in him all things were created: things in heaven and on earth, visible and invisible, whether thrones or powers or rulers or authorities; all things have been created through him and for him. He is before all things, and in him all things hold together. And he is the head of the body, the church; he is the beginning and the firstborn from among the dead, so that in everything he might have the supremacy. For God was pleased to have all his fullness dwell in him, and through him to reconcile to himself all things, whether things on earth or things in heaven, by making peace through his blood, shed on the cross." — Colossians 1:15-20
So, Jesus becoming human is a stepping down from this sort of infinite nature into a specific, and limited, form. It means Jesus now occupies a place, physically, in a way he did not. He shares something of our nature for the rest of eternity, which is part of how he now operates on our behalf, a bit like our lawyer, in heaven. The Bible says he 'intercedes' for us (see Romans 8, which picks up a bit of the answer to your earlier question about 'the flesh'). The first chapter of John's Gospel, which we'll look at in term 1 next year, has a really cool way of describing what's happening here. Jesus goes from being the 'divine word' that spoke creation into being, to being flesh. Stepping into the world. In this description where the 'word became flesh' — the 'substance' of God the father's creativity, the means by which he acts stuff out — or at least has historically in the Bible, has at least in this sense, changed form from 'eternal' and limitless, to being a living, breathing, human (but still a fully divine human), this change is permanent. Jesus takes this same body with him when he goes. If you think about Jesus being a 'spoken word', God the father being the 'speaker' and the Spirit being the breath that gives volume and a 'channel' for that word to be heard, that's probably the best analogy out there for how the Trinity thing works when God does stuff). There's a bit in Hebrews (another book of the New Testament, and also the name the people of God in the Old Testament, Israel, and the language they speak), where the person who wrote Hebrews (we don't actually know exactly who it was), plays with this idea of God's 'speech' now being caught up in Jesus becoming human. This is from Hebrews 1, the first three verses:
In the past God spoke to our ancestors through the prophets at many times and in various ways, but in these last days he has spoken to us by his Son, whom he appointed heir of all things, and through whom also he made the universe. The Son is the radiance of God's glory and the exact representation of his being, sustaining all things by his powerful word. After he had provided purification for sins, he sat down at the right hand of the Majesty in heaven. — Hebrews 1:1-3
God's 'speech' — the way he made the world, and revealed himself to his people — which was presumably always this person of the Trinity in action, because it's not like Jesus suddenly came in as a substitute who'd been warming the bench when he became a baby — this person of God and his actions are now concentrated in the human person of Jesus.
That's part of what's amazing, moving from infinite — which is utterly inconceivable to our heads — to finite, just like us. In the 'incarnation' something about the son's nature changes, in that he now has a human body for the rest of eternity, the story in the New Testament goes that Jesus was raised, and then ascended to heaven, where he reigns. Still embodied, still with the scars of the crucifixion that he shows to his disciples — changed by the experience of taking on our humanity in order to save us, but now ruling in heaven again.
So, where is that exactly? I think heaven is a place beyond the boundaries of this universe but within the 'infinity' that is God, and the future picture is of heaven becoming, like Jesus, 'Incarnate' — becoming a merging of these places, a creative act by God similar to the way he created earth the first time, by his imagination and will. That's where Jesus is. There's some stuff in the Bible that suggests that Jesus, from this point/place is essentially omnipresent again, while being embodied and present in this place. He's also eternally connected to the omnipotent Father, and with him the source of the Spirit (and eternally connected to the Spirit too). Jesus hears our prayers from earth, he is 'present' in us, by God's Spirit, when we 'gather in his name', and he continues to be eternally one with Father and Spirit in whatever communicative network/connection thing is involved in being one God in three persons… he's also 'in us' the Church, as we are 'in him' — Paul writes a bunch of letters that talk about us being 'in Christ' and about Christ being 'in us by the Spirit', and about us being the 'body of Jesus'. If someone said to Paul "where is Jesus body?" Which was probably a question Christians got asked all the time in the early days of Christianity, I think he'd say "in his church"…
I'm comfortable with not fully being able to explain how all this works because I'm trying to put human words, which are finite and often sort of inexact, to things that are literally out of this world. There are some philosopher/theologians who say that any language we use to speak of God is using analogy because we're grasping at what he's like with our relatively tiny brains. I like that.
I hope this helps. Sorry if the answer is bigger than you thought. But the TL:DR; version… God (the Father) is everywhere, the Son is in heaven, and the Spirit (though you didn't ask about the Spirit) is orchestrating the connections between Father, Son, and the people God (as Trinity) made, love, and in some cases, save. All life, whether its the life of people who follow Jesus, or reject him, is a good gift from God because it happens within the universe that happens within God. That line from Acts 17 "in him all things live, and breathe, and have their being" is one of my absolute favourites in the whole Bible. It actually explains a heap of other tricky questions you haven't asked yet about death, suffering, etc… God is good because he gives life, and life is good. Bits of life suck because we broke God's world. But God is good to every person because existence by its nature, 'breath' even, is divine.