When are blokes going to learn?
The Aimee Byrd de-platforming saga rose to new heights of farce today as the Alliance of Confessing Evangelicals put out its clarifying statement, that simply affirmed what everyone already thought was the case, while Todd Pruitt and Carl Trueman finally said something after their podcast co-host was unceremoniously dumped from their show. The Alliance statement, which puts the decision in the hands of their board, says, of people who've left that:
"Those asked to leave have one thing in common; they have caused our audience to respond in a largely negative way. They have caused other contributors to either speak up, to sit out, or to leave altogether. And these situations often and recently have kept other contributors from joining us."
If their argument is that the 'audience' is unhappy with Byrd, then this is a very clear choice in favour of a particular sort of audience.
Men.
And if the argument is that the way the Alliance platform has been used by people who have been asked to leave (Byrd) has kept people away from the platform, then I think it's fair to say that this episode is going to lead to a whole new set of contributors not joining.
This response is tone deaf; it's another 'old media' approach to new media; an utter failure to recognise that the internet doesn't work like the pulpit of the local church; and that 'hard complementarian' approaches to church life have been massively disrupted by the Internet in the same way the printing press disrupted the church during the Reformation. There, suddenly, lay people had a voice and could propagate alternative views to those held by the magisterium.
I do believe that men and women are different; I do believe that this difference plays out, and is systematised, in the world in toxic, patriarchal ways — the pattern of curse in Genesis 3 even. I do believe that the way the church is structured as a community of resistance to the toxicity of the curse — including a toxic masculinity — is meant to involve men using the strength and power society offers to love and serve those society marginalises who are part of our community; including women. I think that's what Paul wants from men who pastor church communities, and from husbands of wives — that our love for women is shaped by Jesus' sacrificial, self-giving, other-raising, love. It's not about authority or role, or hierarchy (a point made in Byrd's book).
I mean, by-the-by, the word Paul prohibits for women in 1 Timothy 2, 'authentein' (αὐθεντεῖν) only occurs once in the New Testament; its etymology is 'self-arming', it's not the picture of male eldership that Paul then lays out in 1 Timothy 3. Paul very much has Genesis 2-3 in view in 1 Timothy 2, the 'childbearing' word (τεκνογονίας) is the word used in Genesis 3:16 as well; 1 Timothy 2-3 is a pattern for alternative relationships in a cursed world. That self-arming authority is prohibited for women — as a response to the cursed 'rule' of men, is not necessarily given to men as a pattern for life either. When I say "don't hit your brother" to my daughter, I'm not saying that he can hit her… Paul retells the Genesis 2-3 story in 1 Timothy 2, grounding what he's putting forward as an alternative in creation (and showing where problems come from); and the problem in the Fall wasn't that Eve spoke, and Adam listened, it was that they both fell for Satan's lies. There's a reason, for example, that Proverbs personifies wisdom as the ideal wife for the faithful king. Women aren't automatically wise, they don't always say true things; Solomon, the ultimate wise king, is, like Adam, led astray by bad advice, but in the ideal world, men and women are listening to one another seeking truth, and wisdom, and the flourishing life found in relationship with God, through Jesus, jointly operating as his image bearers, male and female.
Do you reckon the Proverbs 31 husband no-platformed his wife? Not that I think Proverbs 31 functions the way it's often used; rather, I think the whole book is ultimately a metaphor for Israel, and an encouragement to choose wisdom God's way, rather than the false wisdom offered up by a cursed world… rather than rushing for quick fixes like trees with forbidden fruit. Even if it's a metaphor it only works if it's a picture of some sort of desirable thing, right? Just not a norm, so don't feel guilty if you're a woman who doesn't have a bunch of side hustles…
We are meant to get a new pattern for life in the Gospel (see, for example, Ephesians 5, and Philippians 2). We are meant to be better than the world, because we see women as different and equal; we see the God given gifts and abilities they have, and, because we are members of one body, we seek their flourishing. The church is meant to be better than the world for women, not worse. I'm continuing to work my way through Recovering From Biblical Manhood and Womanhood, and I think it offers a necessary corrective to the way the patterns of the world have infiltrated the church.
Here's the problematic thing with this situation; the lesson that needs to be learned. If the Alliance is concerned about its audience, and is responding to complaints about Aimee Byrd's book, it has a ready made audience in the cesspit of the Genevan Commons. That's it's base. That's the audience this cancellation is going to appeal to. Our calling as Christian men is not to trample women and elevate ourselves at their expense; it's to use our strength to make space for women in a world that gives us a platform by virtue of our privilege.
In the Pruitt/Trueman piece, Todd Pruitt didn't like that he was being criticised for not speaking up on Aimee Byrd's behalf; he especially didn't like what my friend Stephen McAlpine had to say about him, and there's an oblique reference to this criticism in the piece.
"For two years or more we have been trashed in blogs, social media, and on the GC site. We have been cast as crypto-feminists out to undermine the church with our liberal dogma. Of course anyone who knows us understands just how ridiculous such a charge is. However, in just one day last week, numerous people who are not privy to internal Alliance discussions and have not bothered to ask us what we know of what has happened at the podcast, have felt able to opine online about us."
Poor boys. People have been mean to them and said such mean things. Let's all take a moment to remember their historic courage in the face of such a nasty group of bottom dwellers. Pruitt and Trueman wanted to throw back to the last two years they've spent defending Byrd, while people said such mean things to them (and about their relationship with her), but when the going got tough — when Aimee Byrd was causing problem for the Alliance's audience, when it mattered, when the voices from the cesspit escaped and were listened to by the Alliance board of faceless men, did Pruitt and Trueman speak up then? When it might cost them their 'platform' — a popular podcast? Did they sacrifice 'platform' and go with their cohost (and one hopes, someone they viewed as a friend and fellow worker in the Gospel)? No. In fact, Pruitt even deleted his Twitter account while Twitter was piling on Aimee Byrd, and while the revelations about the Geneva Commons group were coming out.
Todd Pruitt will have a platform without Twitter. He'd have a platform without the podcast. He has a platform, and a voice, by virtue of being an ordained man in the church. Platforms are given to us; women in Christian circles have to earn their platforms, and then fight to keep them.
Platform is such an awful concept, but I'm using it intentionally, just for this piece, as a synecdoche for 'voice' — I hope the payoff is worth it…
Women in conservative Christian circles have to fight to be heard; especially if their voices are limited to contexts outside the gathered body of Christians (as they are in hard complementarianism), which is where, again, the Internet comes in to level the playing field.
I've written a couple of pieces on this stuff now, and been following the conversation this fiasco has created on social media; especially amongst women. Overwhelmingly, the response to the Alliance's actions, the follow up piece, and Pruitt and Trueman's explainer has been to suggest that this is typical behaviour from Christian men, and that it reinforces how precarious a woman's voice is in the Christian scene; how easy it is to erase them. I'm blown away by how often I get thanked for just sticking my head up to say 'this is not right,' but also how blind we blokes are to the damage we're doing.
That the Pruitt/Trueman post essentially degenerated into their historic record on copping flack, and the airing of grievances about how Aimee Byrd revealed the vile things being said about her (things they admit were vile), and how mean people are now being to other men with protected platforms (the equivalent of academic tenure)… It is the very worst of the tone deaf stance we adopt when we fail to listen to one another.
The Alliance post implies that it was Aimee Byrd's failure to answer the nine questions put to her by a group of unnamed men that led to her de-platforming:
"We are not opposed to providing for conversations we don't perfectly agree upon. That seems to be in keeping with iron sharpening iron. Yet it must be a conversation, a two-way dialogue, and done so graciously. When that is not possible, when contributors will not or cannot define or defend what they believe, continuing together is no longer viable."
It must be a conversation. Two way.
I love conversations with people who post anonymously and badger me with passive aggressive concern-trolling questions about my orthodoxy when I've made vows to uphold a confessional stance. Those are my favourite internet interactions, definitely — and I'm a bloke who owns my own platform (this blog), and has another one (a job at a church).
They want to be broad. It seems. And gracious… But apparently gracious conversation means a woman being badgered with nine questions that imply she has somehow become a person of suspicion. These questions were so loaded it was like that scene in Monty Python where the crowd, having already decided a woman has no value, is happy to test whether she's a witch by drowning her. There's no win for the woman in that scenario. I'm pretty sure a book, and a statement that one upholds one's denomination's confessional framework is a 'definition' of 'definition and defence'…
The church is meant to be different. Belief that men and women are different, and equal, is meant to produce something less self-protective or self-arming, or patriarchal, or covered in the yellow wallpaper alluded to in Byrd's book.
There are two scenes in the movie Wonder Woman that have remained with me to this day (my other abiding memory is that in seeing a strong, empowered, and supported woman on screen, my wife finally understood why I enjoy super hero movies). In the first, Diana Prince (aka Wonder Woman) has just arrived in the western world having grown up on an island with no men. She confidently walks into a room full of male army officers and speaks her mind; the men are shocked. Women are normally only in these meetings as secretaries. They seek to close down her voice; to cancel her; to de-platform her. It's a picture of patriarchy at work; a failure to imagine how men and women might co-operate.
Now, remember, Wonder Woman has super powers, and so this is going to be a metaphor. The Centre for Biblical Manhood and Womanhood crew at Desiring God got very, very, upset about Wonder Woman being a soldier fighting on the front line, as they did about Captain Marvel, when they longed for the good old days of princesses being cursed by witches, waiting for their heroic man to come and kiss them while they slept (which, you know, consent issues)). I am not saying we should throw women into the clutches of the patriarchy simply because they are super; when Paul was writing, "the patriarchy" was the Roman Empire, that would end up enjoying killing Christians for sport. But I am saying we blokes should not exclude or trample women (or say toxic, misogynist things in 'private forums'), and we probably should not just speak up about toxic blokes on the internet and how much they hurt our own feelings, but recognise that when we're complicit in the de-platforming of a woman's voice, when that woman is asking to be heard, we're not following the way of Jesus.
The platform stakes are much higher for women in a world. Platforms are fought for; not earned. One thing I've noticed here is that women are much more supportive of one another, once they've got a voice that is being heard; much less likely to go hammer and tongs at another woman than a man is with another man, or a bunch of men are with women. I suspect this is not because 'women are more relational' or whatever archetype you might turn to, but also because I take my position and my voice for granted, and the position of those I hammer, because they are given to us and not particularly precarious. There's so much more at stake for a woman speaking up when her voice can simply be eradicated. This includes in the church context, where the deck is stacked so that women have to fight to be heard and where that fight has to somehow broadcast their voices into rooms where they are absent (like the Alliance board room, and, I am part of a church tradition where we have room, after room, where decisions are made in the absence of women because somehow 'male eldership' means 'no listening to women when making decisions').
I made this point in my review of Wonder Woman on The Gospel Coalition (now, just pause for a minute and ponder why a bloke is writing this, and how much I might inadvertently be trampling into territory that a woman's voice might occupy, I've thought about that often since). But kudos to TGC for publishing this, especially because I gave them some flack in a link above about the printing press, and the internet…
There's this beautiful picture of male/female co-operation, or platforming, that has stuck with me as an inspirational metaphor for what male strength and partnership might look like. I like it so much I made it a GIF.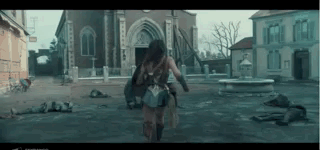 This is what the church could be; I mean, it's ironic that she's about to smash a church — but there's a sniper taking out innocent people from that bell tower… who knows if there's some deeper symbolism here, but… would you just look at that platform.
This group of blokes — Wonder Woman's friends — are not threatened by her gifts, they recognise that everyone flourishes when the whole group flourishes, and that part of their strength might be given so that Wonder Woman can do what Wonder Woman does.
Now, I recognise that women don't, or shouldn't, need men in order to be human and flourish or succeed — that this could sound like some sort of 'benevolent patriarchy'… and, yet, simultaneously the beauty of non-cursed, Christian, relationships, shaped by the love of Jesus, the mutual dynamic of sacrifice for, and elevation of, the other — whether in marriage, or in the church, is that we are no longer independent, but interdependent; in the marriage context we belong to one another (1 Corinthians 11:11: "Nevertheless, in the Lord woman is not independent of man, nor is man independent of woman"), and in the church context, we were joined together by God so that our achievement and sufferings are shared (1 Corinthians 12:25, "so that there should be no division in the body, but that its parts should have equal concern for each other).
Wonder Woman is heroic, but so are the blokes in this image. In a world that says they should be the heroes; they should be the ones standing on the platform; they serve. They elevate another. They each serve according to their gifts.
It's just such a shame that Todd Pruitt and Carl Truemann didn't keep holding up that platform for Aimee Byrd. They, and the Alliance, let Wonder Woman down, just when they could've and should've been holding her up and supporting her. The thing about the group of men in Wonder Woman who wanted to shut down Diana's voice; it turns out that the movie's Satan figure, Ares, was hiding amongst them, playing them like puppets, deceiving, and they should've listened to her right from the beginning.