This is probably the most important post in my recent series of ACL related posts – it's the one objection that keeps cropping up when these posts start doing the rounds on Facebook – and I think it's reasonably important ground to cover.
It's probably the longest post I've ever written. It's over 5,000 words long, plus a picture containing more words. I'd split it, but I don't want to extend this series any further than it needs to be… in sum, to save you reading…
I start by clearing up some of the issues people have raised in response to my previous posts – in the comments here, and on Facebook.
Then I provide my rationale for making my criticisms public, alongside a framework I try to operate in (though I acknowledge that I fail in this area). My points are:
It's a gospel issue.
The damage is public.
To equip others.
Because disagreement, and the ability to disagree, in public, should not put "Christian unity" at risk.
I want to make a few important points to begin with…
1. I am sure that the people involved in the ACL are Christians who love Jesus. From what I know of their ministries outside of the ACL – particularly Jim Wallace and Wendy Francis – they are concerned that people know Jesus. My problem is that they seem unwilling to see this translate into the positions they adopt in public discourse under the auspices of the ACL.
2. It is only really the public presence of the ACL, especially in the media, that bothers me – I have no idea what they do behind closed doors as they meet with politicians – which is doubtless where they see their main contribution in the political process. Like it, or loathe it, much lobbying now takes place via the media – and it is in the media where they are presented as the voice of Australian Christians – whether the ACL thinks of themselves that way or not. Their website makes this claim:
"The ACL does not seek to be the peak political voice for the church, but to be a professional witness to Christ in the Australian Parliaments which allows for the voice of the church and individual Christians to be more respectfully received in the public square."
If parliament is where they want to do their work then they should say no to media appearances. Or be careful when they take on such media appearances not to speak beyond their remit, or be represented as the voice of Christianity in Australia. They are treading a fine line when it comes to their stated aim regarding the impact they have on the voice of the church and individual Christians in the public square if they are squeezing those Christians out of the public square.
3. I'm not suggesting the ACL should only talk about Jesus. That's clearly not their function. I do have issues with their function – but I recognise their right to exist in a democracy. Rather, I'm suggesting they should start by, and possibly end by, talking about Jesus as the foundation of any moral position, and a relationship with Jesus (not legislation) being the true answer to any brokenness they identify in society. Even if this is edited out by journalists who are only interested in controversy (and I don't think most journalists are like that, in my experience) – at least we could point to their work and say "context is important" – at the moment there is no real context for the moral proclamations the ACL makes except "this is what the law in Australia has always been like thanks to our Christian heritage"… this means, conversely, that I will not as one person suggested shut up about the ACL and just talk about Jesus – tackling issues from a gospel framework is important for our witness to the world. I will always talk about Jesus as I point out the shortcomings of how Christianity is represented in the public square. I can't see any of my posts about the ACL where I haven't done that.
4. I'm also not suggesting that evangelism is the ACL's function. Nor that the ACL is "the Church." It is not the ACL's job to evangelise, but it is the ACL's job to think about how what they say helps or hinders this job for others. I'd also say that when the ACL is in the public sphere representing Christians – they also need to be representing Jesus, and presenting their activities in the context of the gospel message. I am suggesting that when the exercise of their function is damaging to evangelism and the work of the church they're not fulfilling their charter as a parachurch organisation – and when they "go rogue" like this it is the church's job to call them out for it. If the damage is done in public – to the church's witness to Jesus – then the response needs to be public to undo such damage.
5. Christian unity is in Christ – not in a conservative political position or our "Christian heritage" – one of the constant criticisms when my posts hit the interwebs is that Christian disunity is unattractive to non-Christians. And there is a fundamental truth there that I agree wholeheartedly with. It would be much better for our witness if we all just got along – but if there's one thing church history shows us – it's that it's unlikely we're all going to get along, and it's especially unlikely when people stop being united on the main thing – Jesus, and the next main thing – loving one another as a testimony to our relationship with Jesus (John 13:35). This is part of the reason Paul tells Christians not to sue each other in Corinth (1 Corinthians 6). I'm going to argue below that this is not the only passage that has any bearing on public disagreements between Christians, because it's not really saying "don't argue with each other in public" – though it provides an ethical paradigm to work from, which does value unity.
6. I do believe that Matthew 18:15-17 is relevant here, though not as relevant as some suggest. I think raising a disagreement with the party involved is a valuable exercise – though I don't think these verses are directly applicable (I flesh this out more below). I have discussed my problem with the ACL with them directly, and at some length, without fruit. I will always give them an opportunity to respond to what I write, and notify them when I have written about them. I'm not sure if I think the ACL is "sinning by omission" but I think they're doing public relations, and public Christianity, in an unhelpful way.
I think that 1 Peter 3:15 is probably as important – I suspect the gentleness and respect that we're to show to outsiders should be typical of our dialogue with each other. I need to be better at speaking in love when directing my writing at Christians, there is a remarkable difference in tone between my posts to Christians, and those aimed at non-Christians. Though perhaps this is the difference between "rebuke" and evangelism.  2 Timothy 2 is also particularly pertinent (but note that it doesn't say "don't disagree" or anything about the context of the disagreement (be it public or private)…
"24 And the Lord's servant must not be quarrelsome but must be kind to everyone, able to teach, not resentful. 25 Opponents must be gently instructed, in the hope that God will grant them repentance leading them to a knowledge of the truth, 26 and that they will come to their senses and escape from the trap of the devil, who has taken them captive to do his will."
I will say that I do not think this is a foolish or stupid argument, but a wildly important one.
"23 Don't have anything to do with foolish and stupid arguments, because you know they produce quarrels."
Ephesians 4 is also relevant… but again, maintaining unity doesn't mean avoiding criticism. Criticism doesn't equal disunity except in the most modern adversarial approaches to life. I've bolded the bits I think are relevant to this post.
"As a prisoner for the Lord, then, I urge you to live a life worthy of the calling you have received. 2 Be completely humble and gentle; be patient, bearing with one another in love.3 Make every effort to keep the unity of the Spirit through the bond of peace. 4 There is one body and one Spirit, just as you were called to one hope when you were called; 5 one Lord,one faith, one baptism; 6 one God and Father of all, who is over all and through all and in all.

7 But to each one of us grace has been given as Christ apportioned it."

…

11 So Christ himself gave the apostles, the prophets, the evangelists, the pastors and teachers, 12 to equip his people for works of service, so that the body of Christ may be built up 13 until we all reach unity in the faith and in the knowledge of the Son of God and become mature, attaining to the whole measure of the fullness of Christ.

14 Then we will no longer be infants, tossed back and forth by the waves, and blown here and there by every wind of teaching and by the cunning and craftiness of people in their deceitful scheming. 15 Instead, speaking the truth in love, we will grow to become in every respect the mature body of him who is the head, that is, Christ. 16 From him the whole body, joined and held together by every supporting ligament, grows and builds itself up in love, as each part does its work.

…

20 That, however, is not the way of life you learned 21 when you heard about Christ and were taught in him in accordance with the truth that is in Jesus. 22 You were taught, with regard to your former way of life, to put off your old self, which is being corrupted by its deceitful desires; 23 to be made new in the attitude of your minds; 24 and to put on the new self, created to be like God in true righteousness and holiness.

25 Therefore each of you must put off falsehood and speak truthfully to your neighbor, for we are all members of one body.

…

29 Do not let any unwholesome talk come out of your mouths, but only what is helpful for building others up according to their needs, that it may benefit those who listen. 30 And do not grieve the Holy Spirit of God, with whom you were sealed for the day of redemption.
I find it hard to think of truthfully telling other Christians to talk more about the foundational truth of Jesus -who changes our approach to morality –  as something that doesn't build them up, or something that grieves the Spirit.
7. I am predominantly driven by concern for my non-Christian friends with what I write here. I hope my posts are helpful for other Christians in clarifying issues, and providing a framework for thinking about how public relations, evangelism, ethics and Christianity fit together. I am really only claiming to be anything like an expert on the public relations side of things, and I claim that reluctantly and mostly on the basis that people still pay me a fair amount of money in that field. I write these posts, and I share them as widely as possible, because I want any non-Christian friends who I hope to be a witness to through what I speak about, how I speak about it, and how I live, to know that I don't think the gospel looks or sounds like it does when the ACL gets on a platform and whether intentionally or otherwise, makes unhelpful comparisons between things to further a political agenda that I do not always share.
8. I think it is really important not to water down sin, but I think it's more important not to water down the gospel into "don't sin"… I'm pretty careful when I'm writing not to suggest that the moral issues at the heart of the ACL's campaigns aren't moral issues (though I do think there's a profoundly important difference between homosexual temptation and homosexual practice when it comes to sin). I'm not saying that Christians should never speak about morality – I'm just saying when we do it should always be in the context of what Jesus has done, and who Jesus is. And my preference would be to lead with that, then talk about sin, then talk about Jesus again – who Jesus is in relationship to the world makes what the Bible says about morality important, here's what the Bible says about this moral issue, the good news is that even though we all fail morally, Jesus died in our place, taking our punishment – and he offers a restored relationship with God freely.
It's not really that hard. You simply say: As Christians we follow Jesus, who we believe is Lord of all, and restores our relationship with the God who created everything. We believe God created the world in a way that makes this behaviour wrong, and while a case can be made from nature, we base our opinion on what he has revealed in his word, the Bible, which shaped our legislation in this country historically, and we think a better case needs to be made for moving away from this foundation. We believe that people are broken – including us – by a desire to not live this way, but God sent Jesus as a first step towards fixing us, and now works through his Spirit to help Christians live his way."
Obviously I've argued elsewhere that because the Spirit is only active in regenerating Christians the case for legislating Christian morals with the expectation that people will keep them is fairly weak, but others have different opinions regarding the uses and efficacy of God's law.
That's a rather long preamble, and it has touched on the points I'm going to make below. But this is important stuff to think through well – because it's important for how the gospel is presented and understood by the people we live, work, study, and play with…
Why I will criticise the ACL in Public: It's a Gospel issue
If I didn't think that failing to even mention Jesus when you're talking about the brokenness of humanity and the solutions that human rights provide was a problem, I wouldn't be critical. But if people think this is what the church thinks is the solution to a broken world – we have a problem. The solution to the problem of sin, at a social level, and for the individual, is for people to know Jesus as Lord.
The ACL is pushing a Christendom styled solution to a post-Christendom society. While 62% of Australians culturally identify as Christians, less than 20% are churchgoers – which I would suggest is a much better measure of Australia's commitment to Christianity. Of that 20% there's an incredible diversity of political affiliation and even a diversity of understanding of what the gospel is, who Jesus is, and what sin is. The "Christian constituency" is a myth.
Why I will criticise the ACL in Public: They are operating in public, the damage they do is public
I don't think of myself as an ACL watchdog. Or watchblog. I'm not waiting for them to stuff up so that I can criticise them. There are more than 5,000 posts on this blog, and probably 15 of them are about the ACL. I could count – but you can check it out yourself. I often blog about other Christians in the public sphere, and how to do PR stuff without mentioning the ACL. I want that to be clear. Some people only pay attention when I pick on the ACL… but they're not a particular "bee in my bonnet"…
I try very hard to abide by the principles of publicly criticising people that Tim Keller posted here, because I think they're really useful guidelines (and part 2 – which is part 3 of a bigger series).
1. Carson's Rule—You don't have to follow Matthew 18 before publishing polemics.
Don Carson wrote an Editorial on Abusing Matthew 18 in which he addresses the often-made argument that a Christian should not publicly write criticism of other Christians' theological views without going to them first, privately, citing Matthew 18. But Carson points out that this passage is talking about two people in the same church, or at least in the same ecclesiastical connection, since if the two parties disagree the whole matter can be taken to "the church," meaning the congregation and its leaders…

…In short, if someone is publicly presenting theological views that are opposed to sound doctrine, and you are not in the same ecclesiastical body with this person (that is, there is no body of elders over you both, as when, for example, both of you are ministers in the same denomination,) then you may indeed publicly oppose those without going privately to the author of them. Carson does add a qualifier, but that comes under the next rule.
2. Murray's Rule—You must take full responsibility for even unwitting misrepresentation of someone's views.
If someone can demonstrate that I have misrepresented them I will retract, edit, and apologise for such a misrepresentation.
"Don Carson says that if you have strong concerns about Mr A's views, and you are considering publishing a critique, it may be wise to go to Mr A first, but "not out of obedience to Matthew 18, which really does not pertain, but to determine just what the views of the [other person] really are."…

… This is very sobering. In our internet age we are very quick to dash off a response because we think Mr A promotes X. And when someone points out that Mr A didn't mean X because over here he said Y, we simply apologize, or maybe we don't even do that. John Murray's principle means that polemics must never be "dashed off." Great care should be taken to be sure you really know what Mr A believes and promotes before you publish."
I slightly diverge from Carson and Keller here – because I think being able to provide an immediate response to the perceived position of Mr A is vital for limiting some of the damage, and it's the nature of blogging or reporting to be producing content as quickly as possible or you miss the moment. It's PR 101. But I am pretty careful to read closely, as sympathetically as possible, and to update posts where necessary. Sometimes I'm not as sympathetic to the ACL as I should be – and I apologise. I'm always happy to rewrite sentences that impugn someone's character or motives if they're pointed out. I think my responsibility is to be mindful of the potential of misrepresenting others.
3. Alexander's Rule—Never attribute an opinion to your opponent that he himself does not own.
They were to "strive for truth, not victory" and they were to "know when to put a stop to controversy. It is a great evil in keeping it up" unnecessarily. He also urged them to not go public with criticism unless the error was very dangerous and important. Like Lloyd-Jones and (as we will see) John Calvin, Alexander taught that the ultimate purpose of controversy was to persuade and win over people in error. Therefore we must "avoid whatever is apt to create prejudice in opponents or auditors." In other words, we must not argue in such a way that it hardens opponents in their views.
These other principles are similar:
4. Gillespie's Rule A – Take your opponents' views in total, not selectively.
5. Gillespie's Rule B – Represent and engage your opponents' position in its very strongest form, not in a weak 'straw man' form.
I do try to avoid guess work regarding the motives of certain people, and wherever possible, my understanding of the ACL comes from their own website, publications, and media releases – rather than the mainstream media. However, I think, when it comes to the public sphere – that it's just as important to understand the public perception of the people you're engaging with. The ACL may not seem to be the "peak body" – but it is certainly the "go to" organisation on public policy debates so far as the media is concerned, and as long as their annual report says:
"… the regular mentions of ACL in the media demonstrate that ACL is continuing to mature as a player in the Australian political landscape. It has become the go to organisation for Christian commentary on so many of the major issues facing Australia…"
I'll be questioning whether their commentary is essentially "Christian"… which I think means it has to contain the gospel.
I'll be dealing with this last principle substantively in the last point.
6. Calvin's Rule – Seek to persuade, not antagonize, but watch your motives!
"In short, it is possible to seek to be winsome and persuasive out of a self-centeredness, rather than a God-centeredness. We may do it to be popular. On the other hand, it is just as possible to be bold and strongly polemical out of self-centeredness rather than God-centeredness. And therefore, looking very closely at our motives, we should be sure our polemics do not unnecessarily harden and antagonize our opponents. We should seek to win them, as Paul did Peter, not to be rid of them."
7. Everybody's Rule: Only God sees the heart—so remember the gospel and stick to criticizing the theology.
I've probably fallen foul of this one  a couple of times – in part because I think the very act of lobbying is counter to the gospel – in part because at times I have been critical of people alongside being critical of what they've said. But I will say again, as I have said above, and in previous posts – I do not doubt that the ACL is an organisation of my brothers and sisters in Christ. I agree with some of the criticism that has accused me of resorting to ad hominems on occasion – and I'll strive to do that less, and to apologise more. And I'll also be taking some principles from John Newton, cited in Keller's third post on the rules (and fourth post in the series).
"But no one has written more eloquently about this rule than John Newton, in his well-known"Letter on Controversy." Newton says that first, before you begin to write a single word against an opponent, "and during the whole time you are preparing your answer, you may commend him by earnest prayer to the Lord's teaching and blessing." This practice will stir up love for him and "such a disposition will have a good influence upon every page you write." Later in the letter Newton says, "Be upon your guard against admitting anything personal into the debate. If you think you have been ill treated, you will have an opportunity of showing that you are a disciple of Jesus, who 'when he was reviled, reviled not again; when he suffered, he threatened not.' "
Why I will criticise the ACL in Public: To equip others
Because I believe that Christianity, and especially Jesus, has an essential place at the table in public discussion, I want other people who want to participate in public discussion to have resources for thinking about how they might do that. I do have a certain level of expertise in this area that I haven't really seen demonstrated elsewhere in the evangelical scene in Australia – and I'm constantly reaching out to other Christian experts in this field, or even secular experts, for feedback on these posts. People have told me that previous posts have been helpful for them, people like Mike O'Connor, in Rockhampton, who had this piece published in the Rockhampton paper this week (you can read a little more about where the paper slightly exaggerated his position here (though I'm not sure if you need to be his friend to read it)):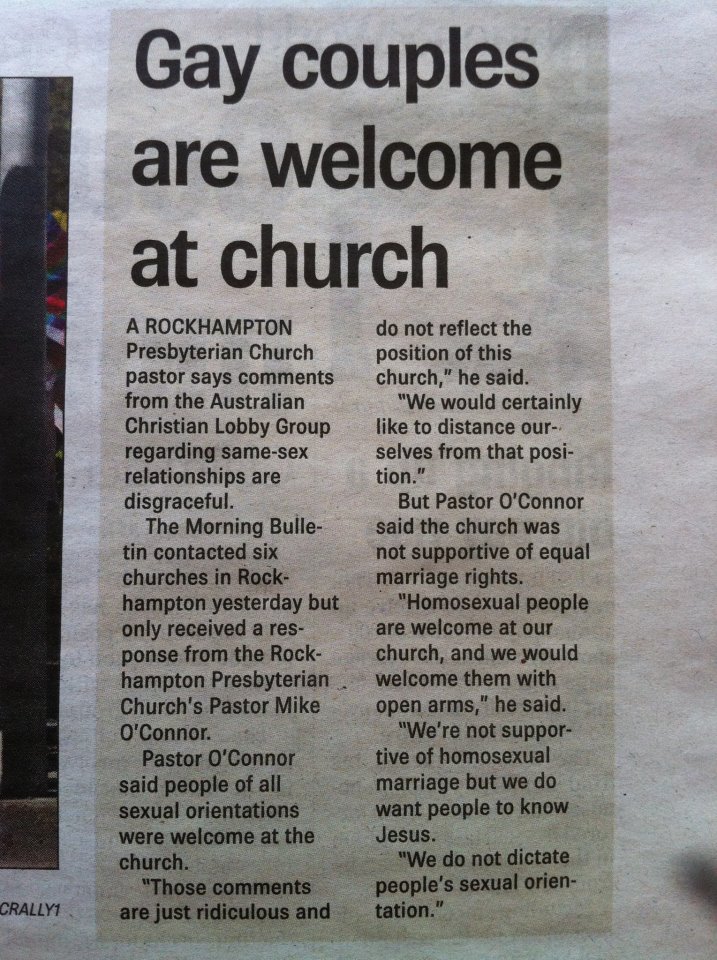 Why I will criticise the ACL in Public: Because we need to grow up and move past the bizarre idea that robust criticism necessarily indicates disunity
I'm fairly certain that apart from one unfortunate moment when I referred to the ACL as pharisees, I've never actually suggested they weren't Christians. I apologised for saying that, and even at that point I didn't think that the ACL weren't Christians, just that they were in danger of misrepresenting the gospel in a manner consistent with the Pharisees' understanding of how to relate to God.
Paul pretty publicly criticises people in his writings (Paul affirms Peter's apostolic authority (Gal 2:6-8) but also records, in writing, in the most public book of the last 2,000 years, that he "opposed Peter to his face" (Gal 3:1-19) because a moral position he has adopted is inconsistent with Christian unity in the gospel of Jesus, and he's doing their witness to the Gentiles a disservice. His words, I think are both pertinent and paradigmatic for this discussion:
15 "We who are Jews by birth and not sinful Gentiles 16 know that a person is not justified by the works of the law, but by faith in Jesus Christ. So we, too, have put our faith in Christ Jesus that we may be justified by faith in Christ and not by the works of the law, because by the works of the law no one will be justified.

17 "But if, in seeking to be justified in Christ, we Jews find ourselves also among the sinners,doesn't that mean that Christ promotes sin? Absolutely not! 18 If I rebuild what I destroyed, then I really would be a lawbreaker.

19 "For through the law I died to the law so that I might live for God. 20 I have been crucified with Christ and I no longer live, but Christ lives in me. The life I now live in the body, I live by faith in the Son of God, who loved me and gave himself for me. 21 I do not set aside the grace of God, for if righteousness could be gained through the law, Christ died for nothing!"
Paul also pretty publicly names Euodia and Syntyche, in the midst of trying to correct them, in a public document that was to be read in the context of the church gathering where there would be presumed to be a mix of Christians and non-Christians (cf 1 Corinthians 14:24-25)… urging them to be united in Christ – and he still regards them as co-workers in the gospel (Phil 4:2-3).
There's nothing to suggest that when the Bible suggests people aren't doing a great job at representing the gospel that they're not Christians (I'm thinking particularly of Acts 15:36-41 which records a sharp disagreement about John Mark's approach to ministry). It seems that calling one another out, in public isn't a threat to Christian unity. I'm not saying I wouldn't sit down and have a cuppa with people from the ACL, nor that I don't think they are Christians, simply that when they speak they are not speaking for me, because I don't think they're speaking the gospel.
This isn't a lawsuit between believers. I'm not taking the ACL to court to shut them up. I'm not launching any official action against them for falsely representing me as some Christians did with a political party calling itself Australian Christians, when they wrote to the Victorian Electoral Commission. And I don't think that's really the point Paul is making in 1 Corinthians. Corinth had a culture of vexatious litigation being used as a status booster where people would sue people for the boost in status a victory would bring – this was a problem because it denied the reality of who they were, in Jesus.
I'd feel convicted by this passage if my attacks on the ACL were in any way simply an attempt to boost traffic here by picking on an easy and unpopular target. But I feel sick to the stomach when the ACL makes it harder for people to know Jesus – and that's my motivation. I truly want the ACL to do a better job of talking about Jesus – if that wasn't the case I'd stop making that the substance of my criticism.
Further, upping your status at the expense of other believers – which Paul again deals with when he's talking about idol food in 1 Cor 8-11 – is bad because they distract people from the true basis of their unity – Christ. So from 1 Corinthians 8:
Now about food sacrificed to idols: We know that "We all possess knowledge." But knowledge puffs up while love builds up. 2 Those who think they know something do not yet know as they ought to know. 3 But whoever loves God is known by God.

4 So then, about eating food sacrificed to idols: We know that "An idol is nothing at all in the world" and that "There is no God but one." 5 For even if there are so-called gods, whether in heaven or on earth (as indeed there are many "gods" and many "lords"), 6 yet for us there is but one God, the Father, from whom all things came and for whom we live; and there is but one Lord, Jesus Christ, through whom all things came and through whom we live…

9 Be careful, however, that the exercise of your rights does not become a stumbling block to the weak. 10 For if someone with a weak conscience sees you, with all your knowledge, eating in an idol's temple, won't that person be emboldened to eat what is sacrificed to idols? 11 So this weak brother or sister, for whom Christ died, is destroyed by your knowledge. 12 When you sin against them in this way and wound their weak conscience, you sin against Christ.
He concludes this argument in chapter 10.
31 So whether you eat or drink or whatever you do, do it all for the glory of God. 32 Do not cause anyone to stumble, whether Jews, Greeks or the church of God— 33 even as I try to please everyone in every way. For I am not seeking my own good but the good of many, so that they may be saved.
My argument from these passages, and the whole of Corinthians, is that we're to be united around Christ, for the purpose of winning people over – and reading the conclusion of Paul's argument about how the Corinthians are living in the world back into chapter 6, I'm arguing that the problem with lawsuits amongst believers is that they ruin the testimony of what Christ is doing in our lives. My problem with the way the ACL approaches the public sphere is that they run the risk of ruining our testimony about Christ. That's why I don't think this passage applies.
I think it's possible to robustly criticise each other, in the public sphere, so that non-Christians know we take the gospel seriously. That we are prepared to be robust with each other, while in fellowship, because we want to get the gospel right. The idea that we should hide our divisions behind closed doors will lead to the conclusion that we don't actually care about this stuff enough to speak about our differences.
It's a product of our immature approach to politics in our country – where opposition is loud, adversarial, and dramatic – to think that any disagreement is bad and unhelpful. This plays out in all sorts of really harmful ways in society and leaves us with anaemic, politically correct, solutions to issues because nobody is passionate enough to come to improved resolutions through conflict. If we run away and bury our heads in the sand, say that criticism itself is wrong by nature of being public, or refuse to be sharpened through discourse then we're going to end up with a fairly weak presence in the public sphere anyway.
UPDATE: Also – a few other people have suggested that we should just be thankful the ACL does the hard work that the church isn't doing, and wear the cost of the gospel being obscured, or use the controversy they generate as opportunities for "conversations"… the main theme of these comments is that we should let God work through the bad teaching, or the imperfect vessel…
I'd say this is a little unhelpful, and short sighted – if you want the ACL to continue surely you want it to be getting ready as it responds to, and engages, with criticism from Christians as well as non-Christians. Plus part of the "conversations" it generates are conversations where we have to distance ourselves from the ACL anyway – if we want to be properly representing and proclaiming the gospel of Jesus. So this is, in a sense, exactly what posts like this are doing – they're continuing the conversation.
Letting such "imperfect vessels" go uncorrected is pretty dangerous and will lead to a weak, confused, and potentially liberal presentation of the gospel. Better to robustly and lovingly offer correction – whether in public (so that you're loving the audience of these "vessels" as well), or in private.