Confession #1. I have not watched Q&A's "Christian" special from last night. I'm not yet sure I can stomach it, but I am reading the transcript. There's some good stuff there, and some bad stuff.
Confession #2. I have followed the discussion about the episode in earnest because when it comes to public 'texts' that aim to articulate a vision for the good life in our community — conversations in the public square — the conversation about the text interests me as much, if not more, than the 'text' itself.
Confession #3. I have, in the past, said many, many, things about public Christianity that I stand by, but that this post addresses, specifically the idea that the way to get the Gospel into a conversation in the public sphere is to say the name Jesus lots and lots. That's definitely partly true. But it's not everything.
Confession #4. I suspect the outcome of what I'm going to suggest below is less Christianity in the public square and more Christianity for the public good, but doing that might get us some invitations back to the adult table (I'm pretty sure Q&A is actually the teenager's table not the adult's table).
I do still like the vision for our place in the public square put forward by Scott Stephens from the ABC (summarised here, quoted below). But I don't think the 'public square' as represented by our new media 'Fourth Estate' is actually capable of allowing us to play the role he speaks about. This version of the fourth estate — the role the media was meant to play as a sort of public guardian speaking truth to power by providing a public square — now comes in either in the form of Q&A's national broadcast of representative debate, or the sort of public square we find on our Social Media platforms where the voices we hear are curated by algorithms and filtered based on popularity. I firmly believe that to achieve Scott Stephen's utopian vision we may actually need to develop an alternative public square where we can play that role, and that may be less about taking our up role as the 'First Estate' with renewed vigour (where the other estates shut us out and don't see us as part of the 'estates of the realm'), and thinking of ourselves as an entirely different realm. Where we might invite more voices to take part in conversations about the common good at our own table, and listen well to them.
"Could it be that the role of the church (and the public broadcaster?) is not so much to be one ideological warrior among many, but the shepherd/keeper of the moral ecology of the public square itself. The defender of whomever is excluded from the public square itself." — Scott Stephens, at the Emmanuel Centre for the Study of Science, Religion, and Society's Faith and Public Office Conference
This is a nice sentiment, and a lofty goal, but it's made harder because our contributions to the public square have, for some time, been at odds with the religion of our day, our secular idols. We are exiles. We don't belong to the realm, the powers and authorities in our culture anymore, even if we might protest loudly and seek to claim our rightful, historical, place at the table.
We're marginalised voices not in a sort of woe-is-me I'm being persecuted sense, but in the we've-made-a-rod-for-our-own-backs sense. We've used the power and influence we've had in the public square to silence voices that people are now listening to. Or so they tell us. What's weird is that we probably actually belong at the margins, if we're going to take following a crucified king seriously, and whatever power or influence we might have is probably best used on behalf of the poor, the oppressed, and the weak. We're being pushed to the space we should be speaking from anyway, and now we can listen to these voices that Scott Stephens suggests we should be giving voice to. So there's that.
It's possible we've allowed too many people to speak in our name, unquestioned, equating conservative morality with God's kingdom in much the same way that makes this picture so obviously vile and offensive, but without being amplified to cartoonish heights.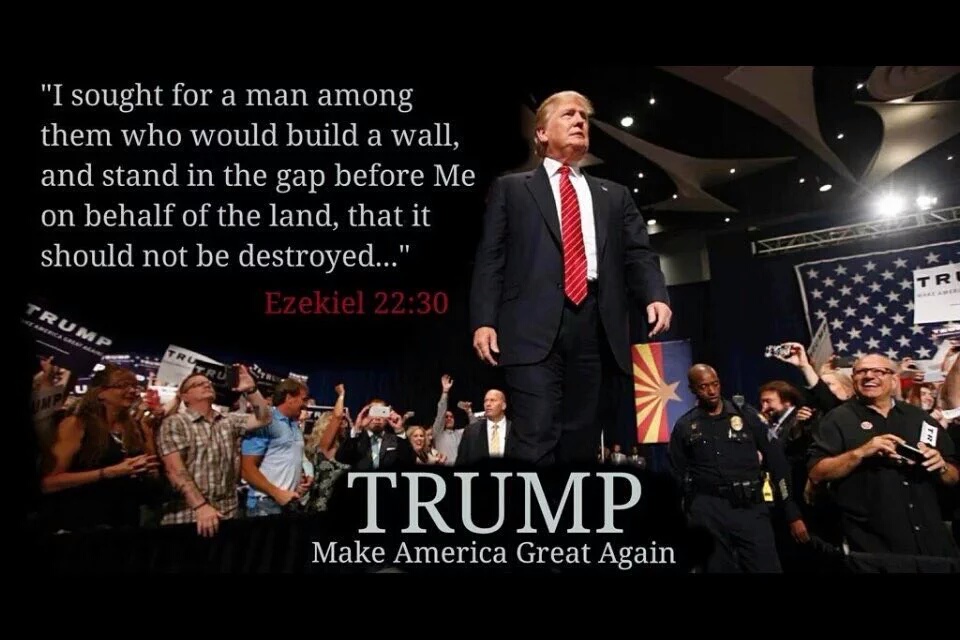 So what separates any of our political engagment — our 'public Christianity' — from Trump's? Whether we're on the right or the left, what is it that protects us from co-opting Jesus for our own agenda and has us living as people tasked with being part of God's agenda? Because the problem with paying lip service to Jesus in order to get the word cloud looking more "Christian" is that it's actually not evidence that you're contributing to the public good as a Christian; that you're actually doing things for his name. Not yours. The calling of the 'public Christian', or the calling to be publicly Christian, is a call to bear the image of Jesus in his world. Paul describes this task succinctly in Colossians 3.
And whatever you do, whether in word or deed, do it all in the name of the Lord Jesus, giving thanks to God the Father through him. — Colossians 3:17
I've, generally speaking and with a few notable exceptions who do things very well, been very vocally critical of public Christianity in Australia. Especially in the media. One of my loudest critiques, often the things I write that have the most 'virality' is that our public Christians need to speak about Jesus. We definitely need to get the 'word' part right, but 'word or deed' isn't setting up two optional categories, it's unpacking the 'whatever you do'… they're related. Not separate. They're twin aspects of our image bearing vocation.
I would've loved the panelists on the show last night to have spoken more about Jesus, not artificially weaving him in to answers to real questions, but showing how he informs good and real answers to real political questions at every turn. If our answers to any question about life in the world as Christians isn't built on Jesus, and the virtues that we're called to exhibit as we live for his name, then they might be 'wise' or philosophical, they might even be good and sensible and human, but they're not meaningfully Christian. There's plenty of human wisdom that Christians can tap into as citizens as we observe the world, but that always has some connection to the divine nature and character of God, that stuff can inform the public square when it comes to decision making and the shape of our life together, but a good mathematician or health professional can do that sort of thing too (and Christians can, and should, be good mathematicians or health professionals). But when it comes to 'public Christianity' we're talking about our answers to the public's great needs coming from somewhere beyond simply good science or math. I feel like we've lost this central conviction, that Jesus should be at the heart of our politics — literally how we 'citizen' — and how we speak into the public square as his ambassadors. His image bearers. I certainly don't see this conviction articulated in many places whether we're talking about Christianity's conservative or progressive arms.  The context of that Colossians verse is our new political reality. Our belonging to a new people. Our renewed function as image bearers…
"… you have taken off your old self with its practices and have put on the new self, which is being renewed in knowledge in the image of its Creator. Here there is no Gentile or Jew, circumcised or uncircumcised,barbarian, Scythian, slave or free, but Christ is all, and is in all. Therefore, as God's chosen people, holy and dearly loved, clothe yourselves with compassion, kindness, humility, gentleness and patience.  Bear with each other and forgive one another if any of you has a grievance against someone. Forgive as the Lord forgave you. And over all these virtues put on love, which binds them all together in perfect unity." — Colossians 3:10-14
Too often our assessment of public Christianity, mine included, is about Logos.
Did they hit the right notes on my Christian shibboleth test?
Did they say "X"? 
Where X is our summary of the Gospel, for me, something like: "Jesus is Lord of a new kingdom, he proves it and invites us to take part in it, and be one with him, through his death and resurrection, and the gift of the Spirit"…
And that's important, but it's a potentially meaningless criteria if its simply about getting the message right… The Gospel is a message. But it's a message about an alternative political reality. An alternative emperor; that's caught up in the first century meaning of the word Gospel. A 'gospel' was political good news, delivered by ambassadors, that shaped the lives of citizens. Words matter. The word-made-flesh matters. But in Jesus being word and flesh we see the way to navigate this tension. A human image is embodied. We teach by what we do, by what we consider to be virtuous and how we embody those virtues, and how that embodied life supports and amplifies our speaking. We've been Logos heavy, and part of the answer is Ethos, and its relationship to the fruit of our message, to what people do if, or when, they're persuaded. It's in lives that match our words, and words that spring to lives from our lives, from the relationships we have in and with our community; from how we love people. It's not seeing 'truth' and 'love' as exactly the same thing, as though we love simply by speaking, or as completely disconnected activities. More of the answer comes from properly seeing the Gospel as a challenge to the political orders of the world, not just a detached bit of news that leaves us unchanged. This stuff changes everything, and the change is demonstrated in the examples we live in our world.
Join together in following my example, brothers and sisters, and just as you have us as a model, keep your eyes on those who live as we do. For, as I have often told you before and now tell you again even with tears, many live as enemies of the cross of Christ. Their destiny is destruction, their god is their stomach, and their glory is in their shame.Their mind is set on earthly things. But our citizenship is in heaven. And we eagerly await a Savior from there, the Lord Jesus Christ, who, by the power that enables him to bring everything under his control, will transform our lowly bodies so that they will be like his glorious body. — Philippians 3:17-20
This new "citizenship" is why we might end up excluded from 'estates of the realm' when the realm belongs to those opposed to Christianity and to Jesus. This is why thinking of the church as belonging to that realm as a separate estate to the media, as the 'first estate of the realm,' not as a realm of its own, will also lead to trouble. We are citizens of something new, but we still have obligations to love our neighbours, and part of that love must surely be in seeking their good by modelling and articulating an alternative Christ-centered vision of life whenever, and wherever, we're invited to speak.
This typical 'Logos-centric' approach, an approach I've been guilty of, is an anemic vision of what it means to be publicly Christian. To do "Christian politics." It puts too much weight on proclamation and not enough on the ethos that goes with it, and I think it makes the criteria a simple check box that some of us, me included, are prepared to tick off if people simply give lip service to Jesus. This is a dangerous check-box if it means we'll pass people who say things that are totally at odds with the sort of lives of love, and vision for human flourishing, that the Gospel brings and exemplifies in the person of Jesus, or fail people who are living those lives out of Christian convictions but don't totally land the Gospel in their delivery. There are reasons to pass or fail people at either end of the spectrum… but it's not enough to tick-a-box for the Gospel, or to quote bits of the Bible that seem to support our position, any monkey, even Trump, can do that.
A certain subset of people reading this, the type who have jumped on the same bandwagon as me with a bit of vigour (and often not much sympathy for the way public Christianity via the media takes place) might switch off here, especially if it sounds like I'm saying "preach the Gospel, when necessary use words" — I'm absolutely not saying that. Words are always necessary, and as Christians, our words about life in the commonwealth as Christians with a view to the common good, should always be fundamentally informed by the Word-made-flesh, and point to him as the model of the good life, and the solution to our bad and damaging ways of life.
Successful public Christianity, whether its on the TV or on your street, is about genuinely grappling with who Jesus is and what he is remaking us to be as we share in his death and resurrection, living out the fruits of this new life, and this grappling, and inviting others to do the same. It's about adopting a posture of other-loving humility that informs our words and our manner. Trump clearly hasn't done that, if you listen to what he says about Christianity, but if you listen carefully to many of our Christian voices, voices coming from people I believe are often genuinely Christians, we don't get much of a sense of this deep-seated conviction that the Gospel creates a political reality. We need Christian images, not simply disembodied Christian voices. Which means the adversarial Q&A format is an interesting challenge… We need to rest in our new citizenship, and develop a new vision for what life together with other kingdoms, following other gods, looks like. Because that's what Christian politics is about. Citizenship. That's what shapes our ethos, or image, and feeds into our words. A belief that Jesus is Lord is something that should lead us to proclaim that truth, and build a community around it. A community of Christians though; its loony cultural-colonialism to expect people to live as Christians without the Gospel. The Lordship of Jesus, and his example of love and the ultimate picture of what human life should look like, should help us form coherent opinions on all sorts of social issues so that words on our lips aren't window dressing, but are substantiated by our lives, and show why we do things differently.
In an age where the public square is contested, and the Christian voice is losing a position of power it held too vigorously and too long to the point that the power corrupted us, we need something more sophisticated than bumper sticker Christianity. Conservative or progressive secular politics with a bit of Jesus chucked in on top. We need to be able to articulate a radically different vision of humanity and 'kingdom' that comes from our new citizenship, and our new way of seeing the world, which begins with the death and resurrection of Jesus and seeks to make his name great in the world. We need to recapture the sense that public Christianity is a fundamentally human activity caught up in our created vocation of carrying God's image throughout his world, as his image bearers, especially as this image — that is broken by our decision to bear the image of false gods — is being restored by God's Spirit so we are transformed into the image of Jesus. Our persuasive efforts in the public sphere are about being people of this new kingdom, ambassadors from a different sort of kingdom, pointing to the conquering king. His name should be on our lips not as a token 'get the Gospel in to the Public Square' box to tick, but because our foundational belief is that a public square founded on anything else is deadly and destructive.
Too much of our 'public Christianity' — some of which is on display in the transcript from last night that I've read so far — is just us picking a political side that we've been indoctrinated into by our culture, our parents, or what appeals to us. The default human institutions — left or right — with a bit of Jesus. Sometimes it's not so simple. Sometimes we're informed by some part of our Christianity that is not 'central' — like a moral framework that we pull from the Old Testament, without Jesus, so we're constructing our own man-made religious framework, sometimes our actions are shaped by a particular vision of the new creation, an eschatology, where we're seeking to construct something good without recognising the gap that exists between us and our neighbours is infinite – that we have the mind of Christ, via the Spirit, and they don't. Sometimes it seems we expect people to take these positions on board in their life, to change their deeds, without being transformed into the image of the one whose name we now live for, the one who stands at the centre of the cosmos and models the way of love for us, and so rightly stands at the centre of any true picture of how we should do life together as people. Too much of it assumes we have a right to have a voice at the table in an estate that is not ours. Too much assumes that we're to hold on to, or wield, power (in the form of lobbying) for the sake of 'Christians', not use whatever power or influence we have for the sake of others (in the form of advocacy). Too much of us leaves Jesus acting as the ambassador of whatever worldly cause has co-opted us, even if it's morally good and naturally worthwhile, so that we, and he, are ambassadors for morality and nature, and not for the one who is truly moral and created all things.
If you're going to be a public Christian, which we should all be every time we cross the threshold of our homes and walk into public space, and any time we invite the public into our space, we'd do well to meditate on Colossians 3 and 2 Corinthians 3-5, perhaps especially this bit…
For Christ's love compels us, because we are convinced that one died for all, and therefore all died. And he died for all, that those who live should no longer live for themselves but for him who died for them and was raised again.

So from now on we regard no one from a worldly point of view. Though we once regarded Christ in this way, we do so no longer. Therefore, if anyone is in Christ, the new creation has come: The old has gone, the new is here! All this is from God, who reconciled us to himself through Christ and gave us the ministry of reconciliation: that God was reconciling the world to himself in Christ, not counting people's sins against them. And he has committed to us the message of reconciliation. We are therefore Christ's ambassadors, as though God were making his appeal through us. We implore you on Christ's behalf: Be reconciled to God. — 2 Corinthians 5:14-20
This should ultimately be what separates us from Trump, and keeps us both wanting to speak about Jesus and doing it coherently. It's who we now are, not just a box we tick to appease the Christians talking about our performance on social media or in 3,000 word rants on their blogs.