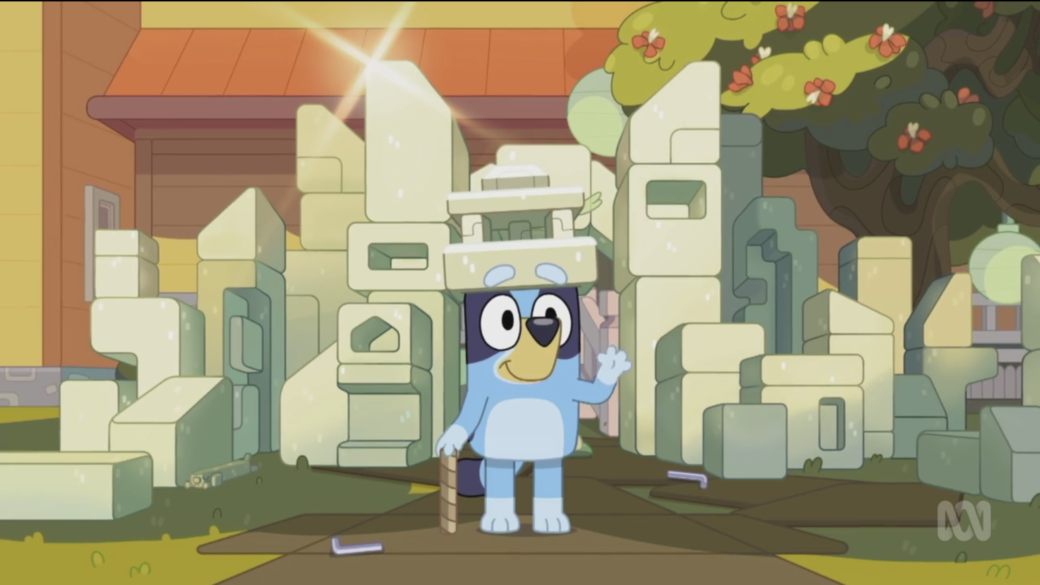 Bluey has gone gangbusters globally; and such recognition is, of course, utterly well deserved. Last night I had growth group (what our church calls our small groups) at my friend's house — a house that, thanks to her two boys, always has a collection of sticky geckos stuck to the roof; this is to say that if you're a parent there's a relatable Bluey moment for every parenting experience.
Our church is currently working its way through the Biblical concept of wisdom, in conversation with the wisdom literature — but also (with the help of good Bible scholars like Will Kynes) seeing that "the Wisdom Literature" is a made up imposition on these few texts because wisdom is woven into the fabric of the whole Bible, and indeed, the whole of creation. We're in the '10,000 feet' abstracted part of the series at the moment considering how wisdom is lived, not just 'believed' and that it is about right relationship and understanding of God, his world, and each other, shaped by God's revelation of himself in his word, and the 'second book' of creation. You can follow the sermons as they get closer to ground level via our Vimeo.
Our created purpose — in Genesis 1 — is to bring order to the world; to "be fruitful and multiply" as we rule the created world as God's regents. Psalm 8 suggests this rule is connected to God's glory — a glory displayed in the heavens, and the heavenly realm, that we were meant to co-operate with in the world as we spread the conditions of Eden across the face of the planet, "cultivating and keeping" the garden; shaping the world to be like the garden-temple — the place of God's presence, as we partnered in wise relationship with him.
right after human nature is corrupted in the pursuit of wisdom (via the fruit) apart from God — or in broken relationship with him as an expression of a desire for self-rule, that fractures our co-operation with each other and the world — we get this genealogy that notes that people and cities become 'culture-makers' — who make a mix of generative, life-giving things that can be used to glorify God (or in idol worship, or entertainment), or implements of destruction; musical instruments, agricultural tools, and weapons — we are homo faber — "man the maker"…
Lamech married two women, one named Adah and the other Zillah. Adah gave birth to Jabal; he was the father of those who live in tents and raise livestock. His brother's name was Jubal; he was the father of all who play stringed instruments and pipes. Zillah also had a son, Tubal-Cain, who forged all kinds of tools out of bronze and iron. — Genesis 4:20-22
This is a family of makers — but in the next sentence we hear how Lamech, the patriarch of this little family — is a maker of death.
In our first week in this series — considering what a wise relationship with the world looks like — I noted how often wisdom in the Old Testament is tied to craftsmanship — to the right use of raw created materials to co-create (or in Tolkien's words maybe, 'sub-create') beautiful creations that glorify God. To fulfil our vocation as image bearers is to create things in accord with our purpose, in relationship with God — those same skills and imaginations can be used to build idol statues, and weapons — and the priestly garments — that take the gold and jewels present around Eden in Genesis 2 (and plundered from Egypt and use them to recapture humanity's (now Israel's) priestly representative role as people creating God's Eden like presence in the world.
See, I have chosen Bezalel son of Uri, the son of Hur, of the tribe of Judah, and I have filled him with the Spirit of God, with wisdom, with understanding, with knowledge and with all kinds of skills— to make artistic designs for work in gold, silver and bronze to cut and set stones, to work in wood, and to engage in all kinds of crafts. — Exodus 31:2-5 (see also Exodus 35:30-35).
The tabernacle and priestly furnishings are a reflection of Eden; and an anticipation of the Temple that Solomon will build, and the new creation golden heavenly city of Revelation 21. So the craftsman who makes the bronze furnishings — especially fruit trees, fruits, and other 'garden' imagery for the Temple is described in similar terms in 1 Kings.
"Huram was filled with wisdom, with understanding and with knowledge to do all kinds of bronze work. He came to King Solomon and did all the work assigned to him." — 1 Kings 7:13
We were created in the image of the creator to be creators. Dorothy Sayers put it this way in her most excellent The Mind of the Maker:
"When we turn back to see what [the writer of Genesis] says about the original upon which the "image" of God was modelled, we find only the single assertion, "God created." The characteristic common to God and man is apparently that: the desire and the ability to make things."
Tolkien specifically saw this role playing out in the telling of stories — the creation of worlds — that would teach us true things about the world; but that were also in themselves, an expression of a truth about us — that we are image bearers of a story-telling, world creating, God. Here's some Tolkien (from On Fairy Stories).
"The human mind is capable of forming mental images of things not actually present. The faculty of conceiving the images is (or was) naturally called Imagination. But in recent times, in technical not normal language, Imagination has often been held to be something higher than the mere image-making, ascribed to the operations of Fancy (a reduced and depreciatory form of the older word Fantasy); an attempt is thus made to restrict, I should say misapply, Imagination to "the power of giving to ideal creations the inner consistency of reality."
Tolkien makes a distinction between the illusion of creation and genuine 'sub-creation.' He sees 'sub-creation' as a sort of elvish life-giving, or generative creation, working with the fabric of the natural world (and God's design), and illusory 'magic' as de-generative. And so, in his books, the elves are sub-creators, but the magicians are a metaphor for those who would make and use technology outside our sub-creative purpose. Elvish stories tap into our deep desire to be makers who sub-create rather than destroy.
At the heart of many man-made stories of the elves lies, open or concealed, pure or alloyed, the desire for a living, realized sub-creative art, which (however much it may outwardly resemble it) is inwardly wholly different from the greed for self-centred power which is the mark of the mere Magician. Of this desire the elves, in their better (but still perilous) part, are largely made; and it is from them that we may learn what is the central desire and aspiration of human Fantasy—even if the elves are, all the more in so far as they are, only a product of Fantasy itself.
In a letter, to his friend Milton Waldman, Tolkien speaks about what happens not only when our sub-creative tendencies draw us to the creation of machines, but when they are motivated by hearts bent on autonomous power and dominion — disconnected from the creator. He calls this "fallenness" — and says it is a tension at the heart of Middle Earth (and our own earth as well), he says a desire for the 'things of this world' (we might call it 'idolatry') corrupts our making, and so our making corrupts the world.
"It may become possessive, clinging to the things made as 'its own', the sub-creator wishes to be the Lord and God of his private creation. He will rebel against the laws of the Creator – especially against mortality. Both of these (alone or together) will lead to the desire for Power, for making the will more quickly effective, – and so to the Machine (or Magic). By the last I intend all use of external plans or devices (apparatus) instead of development of the inherent inner powers or talents — or even the use of these talents with the corrupted motive of dominating: bulldozing the real world, or coercing other wills. The Machine is our more obvious modern form though more closely related to Magic than is usually recognised."
Which is all well and good, you might be thinking.
But what about Bluey. You promised this was about Bluey.
First up — Bluey is just beautiful Tolkien-esque sub-creation; the layers of careful, thoughtful, generative and life-giving ideas, imagery, and music woven together in the life of the Heeler family and their community is pure faerie. Bluey even has a little explicit dose of elvishness, or faerie, to it in the episode Fairies. It is, maybe to Tolkien's dismay — a world exclusively made up of talking animals; but it is everything that good sub-creation should be. And so, it should be taken seriously because it is a manifestation of our human desire for rightly ordered relationship with the world and each other — it is a source of wisdom inasmuch as it rightly recognises truths about flourishing life in this world.
But I want to talk about the episode Flat Pack (and I will be this Sunday, in my talk).
I went back to watch Flat Pack (currently available on iView) because it is something like peak relatability to me as someone who might be better sub-creating in words, than with 'wise hands' — I have several flatpack horror stories that mirror Bandit's efforts in constructing an outdoor chair. I wanted to talk about the folly of pursuing wise work in the world without reference to the maker's instructions — and I still will — but I was blown away by the high art of this episode. I know it is an episode with a little controversy and history attached to it — and, no doubt it carries a certain amount of controversy within the realm of conservative Christianity.
Flat Pack is a creation story told next to a sub-creation story that then integrates the two stories in a beautiful and profoundly religious way; it also — consciously or not — offers an integration between the 'science story' — a story of the pursuit of knowledge from God's second book — and the theological story told by the Bible.
Augustine spoke of the world being God's second book in order to encourage people to pursue deep and wise knowledge and use of the 'gold' buried in nature — he saw the purpose of the world, and our knowledge of it — to be somewhat connected to the use of material gold in the Old Testament (whether the gold is in the hills or in nature). He said we should 'plunder gold from Egypt and use it to preach Christ' — and that the task of the Christian is to be well informed about God's world; to be widely and wisely educated. He was, with others, part of the impetus for the development of science, in the west, as a quest to know more about God from his world; the idea that knowledge about the material reality would somehow contradict knowledge of God from the Bible was anathema to Augustine (his commentary on Genesis is quite brilliant; especially on Christians who use it to make truth claims about the world that science makes obviously not true, particularly, in his day, this was about the movement of heavenly bodies). In a book called The Literal Meaning of Genesis he wrote:
"Usually, even a non-Christian knows something about the earth, the heavens, and the other elements of the world, about the motion and orbit of the stars and even their size and relative positions, about the predictable eclipses of the sun and moon, the cycles of the years and the seasons, about the kinds of animals, shrubs, stones, and so forth, and this knowledge he holds to as being certain from reason and experience. Now, it is a disgraceful and dangerous thing for a non-Christian to hear a Christian, presumably giving the meaning of Holy Scripture, talking nonsense on these topics; and we should take all means to prevent such an embarrassing situation, in which people show up vast ignorance in a Christian and laugh it to scorn.

The shame is not so much that an ignorant individual is derided, but that people outside the household of faith think our sacred writers held such opinions, and, to the great loss of those for whose salvation we toil, the writers of our Scripture are criticized and rejected as unlearned men. If they find a Christian mistaken in a field which they themselves know well and hear him maintaining his foolish opinions about our books, how are they going to believe those books in matters concerning the resurrection of the dead, the hope of eternal life, and the kingdom of heaven"
For Augustine — creation rightly understood would involve an alignment between what the Bible says about creation — the questions it is answering — and what science would reveal about God from creation — and wise living would connect the dots; so that we wise image bearers might sub-create good things (including in speech and writing) that reveal and glorify God.
Whether deliberately or not Flat Pack stands in this great Augustinian tradition; it is a thing of beauty.
Bandit and Chilli are building a piece of flatpack furniture from the Bluey equivalent of Ikea; in the world of Bluey they are the dog-gods. Existing in the 'heavenly' realm, upstairs — while Bingo and Bluey are in the lower, earthy, regions. As Bandit and Chilli — Bluey and Bingo's mum and dad — fashion their heavenly constructions — a heavenly throne — Bluey and Bingo play with the off-cuts. While mum and dad create — they also create as little images of dog-gods (or images of god-dogs?).
While mum and dad struggle with their chair, Bluey and Bingo play their way through the evolutionary story — starting as fish, on some bubblewrap, becoming frogs, then dinosaurs, then monkeys, and then cave-people-dogs as their environment is subtly changed by the provision of the upstairs dog-gods. While they're in the cave, these cave-people dogs draw the creation story complete with the heavenly 'mum and dad' as gods overlooking the process.
Bandit and Chilli finish their work in the heavenly realm, and look down, proudly, at the little living image bearers they made — "we made them," Chilli says; and they are good and pleasing. The little makers are chips off the old block — images of their parents; but also, in the 'cosmic story' — images of their making-gods. The supreme creation of these god-dogs (or dog-gods?).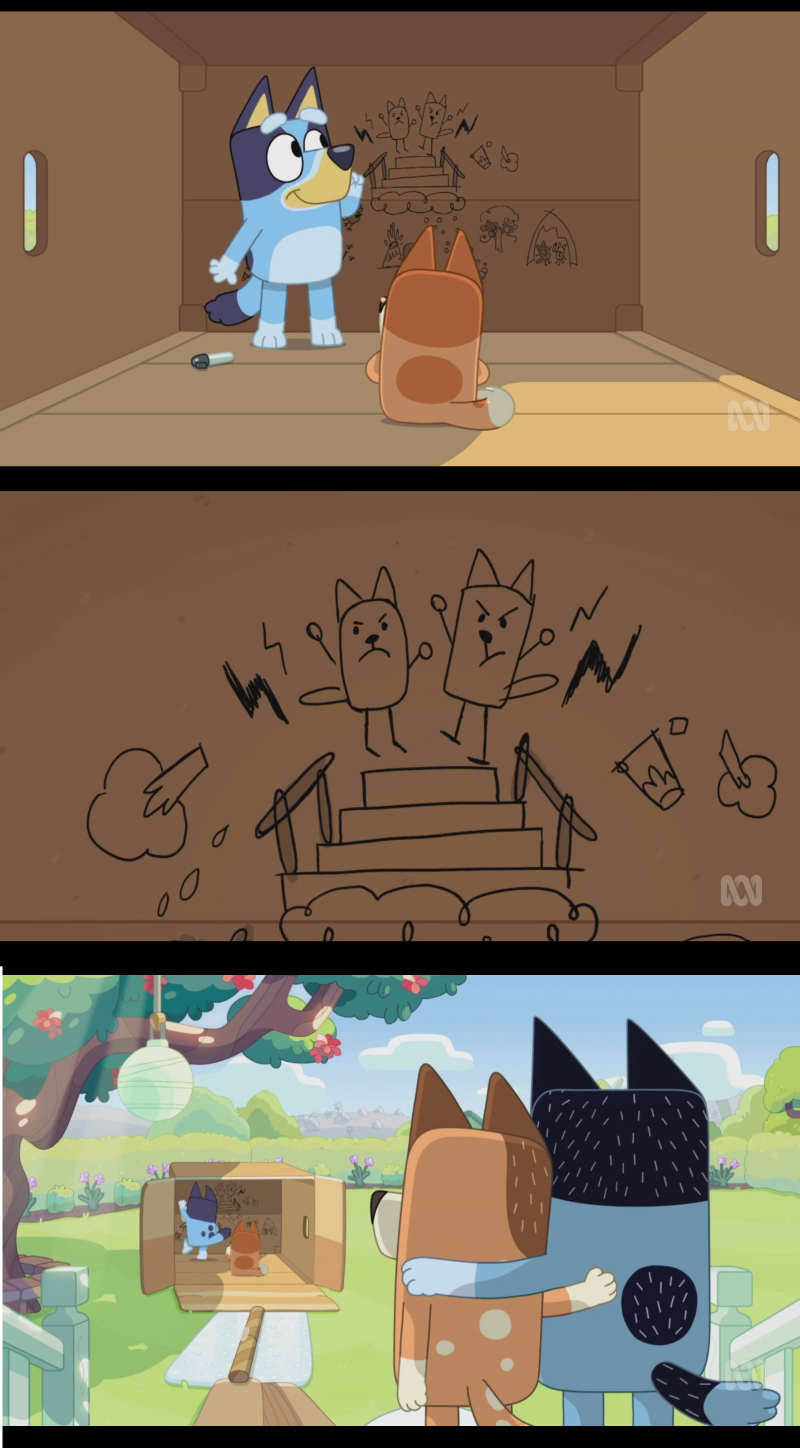 Bluey and Bingo eventually become grown-up people-dogs who master their physical world, once the 'upstairs gods' have finished their creation, they find their tools and say "let's be builders." They have become like their gods. They use their tools and resources to cultivate an entire culture; one that looks a lot like a temple-city, with a library, before Bingo 'finishes growing up' — building a rocket ship to explore the cosmos.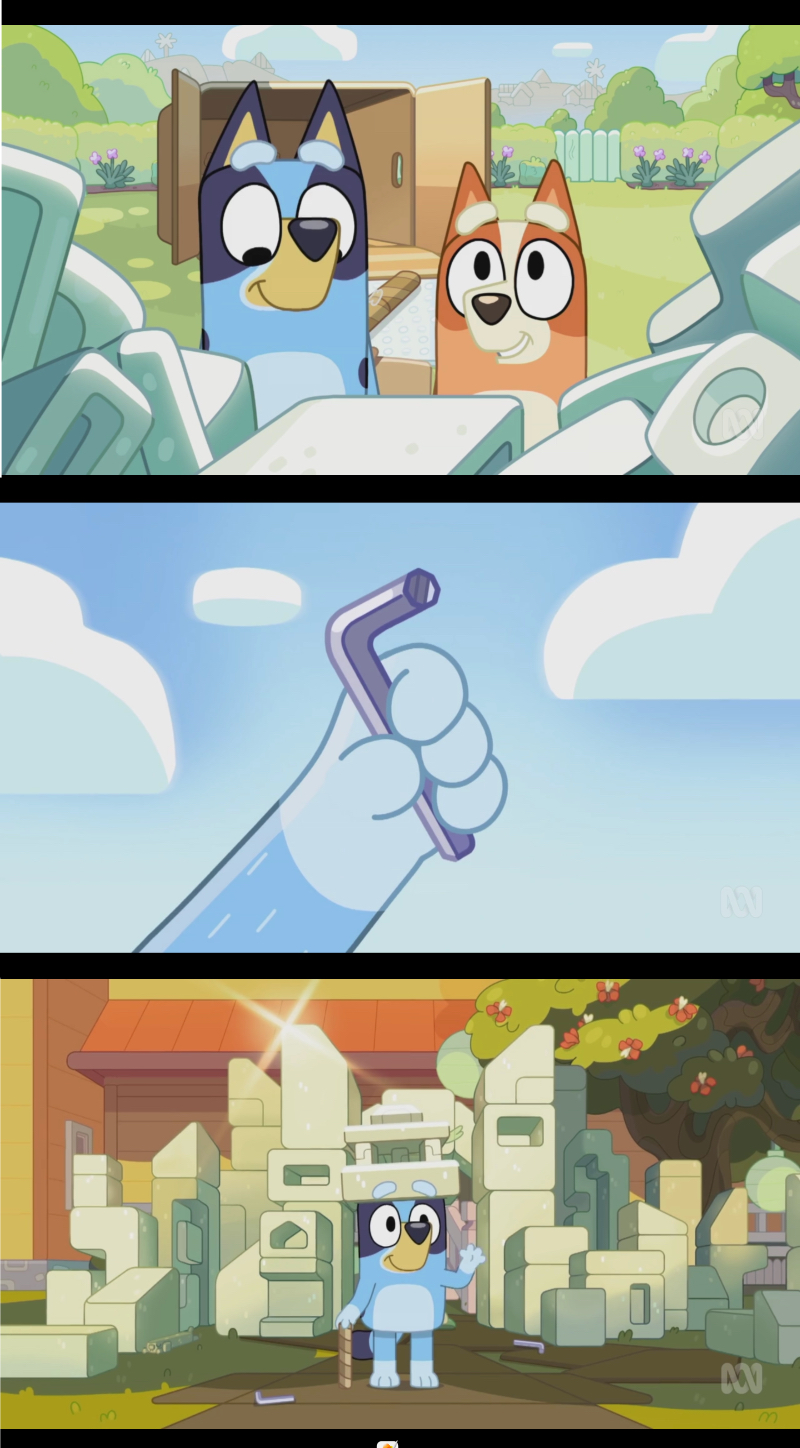 Once her life as 'mum' is complete, with Bingo a little 'image' of her, who has learned her ways, Bluey feels at a bit of a loss. She sits down. It could all be over. But then — she reaches out to the gods (in a little homage to Michaelangelo's Creation of Adam), and ascends to the heavenly realm to sit down with her makers in their heavenly throne. And, as she does, and we see this golden vista — the world put right, filled with 'sub-created' culture — Bingo says "this is heaven."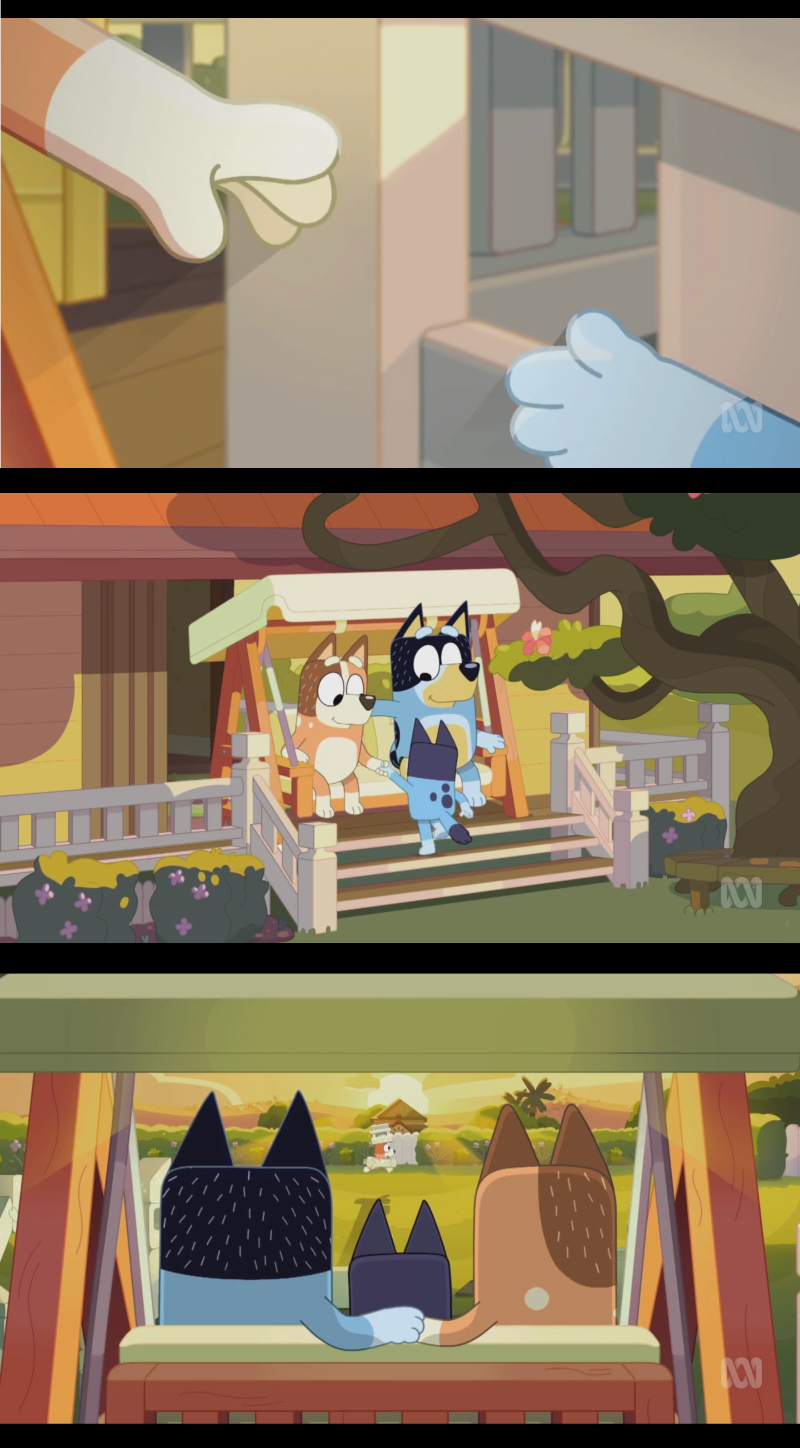 It's beautiful. Heavenly. Elvish even. This is children's television — but there are some deep 'cosmic architecture'/understanding of reality flat packed into this seven minute episode if you know how to put them together. The thing is, according to the Bible's own creation to heaven story (which is, pretty much, the story of the Bible in a nutshell) — we don't just figure out wise, generative, life by ourselves — in fact, we do the Tolkien thing of idolatry; the 'machine-based-domination' of one another in a sort of 'military-industrial-complex'; and we actually need God to step in to the story to redirect our making, and to show us what it is our sub-creating hearts need in order for us to be truly human and to flourish as sub-creators with our sub-creation connected to both the image and likeness of God, and the purpose he made us for. There's a nice little picture of this where Paul visits Athens — and sees in their building; their sub-creation — even in the creation of idols, temples, and altars — some part of our human need to know God and to make things from his world.
Our making of art, and stories, and even things that reshape our world — temple-cities, libraries, buildings — can be an expression of our 'reaching out for' — our quest — for God, and the way his nature is still imprinted on ours; it can be — like the tower of Babel (a picture of the city of Babylon in the Bible) our quest to reach for the heavens and our assertion that the gods in heaven are like us; dominant military-industrial death-hungry monsters who justify our corruption, and sometimes it can be both those things at the same time.
"The God who made the world and everything in it is the Lord of heaven and earth and does not live in temples built by human hands. And he is not served by human hands, as if he needed anything. Rather, he himself gives everyone life and breath and everything else. From one man he made all the nations, that they should inhabit the whole earth; and he marked out their appointed times in history and the boundaries of their lands. God did this so that they would seek him and perhaps reach out for him and find him, though he is not far from any one of us. 'For in him we live and move and have our being.' As some of your own poets have said, 'We are his offspring.'

"Therefore since we are God's offspring, we should not think that the divine being is like gold or silver or stone—an image made by human design and skill. In the past God overlooked such ignorance, but now he commands all people everywhere to repent. For he has set a day when he will judge the world with justice by the man he has appointed. He has given proof of this to everyone by raising him from the dead."
The world changes — our human quest changes — because God came down the stairs; the creative word — the light and life of the world — Jesus, the maker — stepped into the earth as the true image of God, the true human — to show us the true way of 'sub-creative' life, and to restore us to it by reconnecting us with God, pulling us up into the heavens (seating us with God, even, in Ephesians 2, and Colossians 3), so that we make with our eyes and hearts fixed on God again, rather than on our idols and our destructive will to power.
Our making doesn't have to be an expression of our quest for God any more, if the Christian story is true, because in Jesus God finds us, and so our making can be re-cast as sub-creation — taking up the task we were made for to be like God, and to reveal God's nature — his love and glory — to the world. Our redeemed making is an expression not of God's absence; but his presence.
Tolkien saw the Christian story — the Gospel — as the justification for making; for sub-creation; for fairy stories with joyous 'eucatastrophic' endings (that's "good catastrophe"); he saw in Jesus the 'good catastrophe' written into the fabric of the world. The 'true fairy story' that doesn't just redeem us and re-create us, but redeems our making so that we participate in God's work in the world. He said:
Redeemed Man is still man. Story, fantasy, still go on, and should go on. The Evangelium has not abrogated legends; it has hallowed them, especially the "happy ending." The Christian has still to work, with mind as well as body, to suffer, hope, and die; but he may now perceive that all his bents and faculties have a purpose, which can be redeemed. So great is the bounty with which he has been treated that he may now, perhaps, fairly dare to guess that in Fantasy he may actually assist in the effoliation and multiple enrichment of creation. All tales may come true; and yet, at the last, redeemed, they may be as like and as unlike the forms that we give them as Man, finally redeemed, will be like and unlike the fallen that we know.
We humans were made, and we Christians were redeemed, in order to sub-create — to make things that reflect God's presence and nature in our world, to bring the conditions of heaven to earth — it's our idolatry and corruption that gets in the way; an idolatry and corruption that required God's intervention in our story, and his re-creation of us as image bearers caught up with Jesus, but this re-creation involves us being given the task of being wise sub-creators who reveal his glory to the world; we could do much worse than making art as wonderful as Bluey, or Tolkien's Middle Earth, or getting our flatpack furniture rightly ordered.