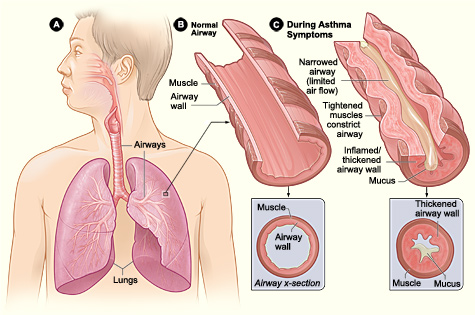 I'm an asthmatic. For most of my life I've managed to mostly ignore this, except when exercising in winter, but lately, my asthma has been worse than in the past and I've found myself with a preventer — when I remember to take it, things go well for me, when I don't, well, there's nothing worse than feeling breathless and scrounging around the house looking for the ventolin inhaler my kids have hidden somewhere. That sense of not being able to breathe is oppressive, and scary, and has me considering the shortness of my breath not just in the moment (when it comes to lung capacity), but in my finitude — I have a limited number of breaths I will take with these lungs before I expire. And asthma — the disordered restriction of those airways — means that some of my breathing is more breathless than it should be; and that those breaths in particular serve as a reminder of my mortality.
When I'm wheezing and spluttering and trying to breath what I need is ventolin. I can definitely reduce the impact of my asthma on my life by taking preventative measures like being healthy. But in that moment of breathlessness; if all you do is hold up a picture of healthy airways and tell me I should do all in my power to have those, I'll still expire. And you'll be a massive jerk; especially if you have some ventolin in your back pocket.
In the fallout of a controversial recent post it has been suggested that the framework I've put forward for speaking about sexuality in the modern world — that it's a form of idolatry — is 'soft pedalling' when it comes to calling sin "sin".
I disagree.
The Bible, from start to finish, is pretty sure that idolatry is deadly and destructive — the most deadly and destructive sin — and I'd argue that it sees most sinful actions as a result of an idolatrous disposition. It even gets the top two spots in the ten commandments.
"You shall have no other gods before me.

"You shall not make for yourself an image in the form of anything in heaven above or on the earth beneath or in the waters below. You shall not bow down to them or worship them; for I, the Lord your God, am a jealous God, punishing the children for the sin of the parents to the third and fourth generation of those who hate me, but showing love to a thousand generations of those who love me and keep my commandments. — Exodus 20:3-6
I've written stacks of stuff about how when Genesis says we're made in the image of God, this uses a word used elsewhere (in the ancient world) for 'idol statue' — and our job is to be the living, breathing representatives of God in his world, which is what makes idolatry a particular inversion of the created order where we, as Paul puts it in Romans, worship the creation instead of the creator; this represents a disordering of the natural world — we were meant to rule the world with God, and instead are being ruled by it. The second commandment is a big deal because breaking it turns the created order on its head. As we live in disobedience to this command we're actually living against the 'created order' — our order-bringing mission in the world — which disorders the world, and us. This disordering involves, as Augustine would put it, a 'disordering of our loves' — if we were made to chiefly love and worship God, and rule over the creation, but put created things in the God slot in our hearts, we end up living lives that are not optimal but destructive. Or to use the flourishing language that picks up the 'be fruitful and multiply' command in Genesis 1, we live lives that are not fruitful, and instead spread death. When I say something is idolatry I'm not backing away from saying something is sinful, I'm diagnosing something as terminal, using the same diagnosis the Bible gives. But this diagnosis comes with a particular treatment (as I'll suggest right at the bottom of this post).
A lot of the debate around changes to the definition of marriage, because they misdiagnose the problem (in my opinion), miss the solution. Lots of people in my theological camp — those who hold Reformed convictions about God and the world — talk about 'creation ordinances' — things that God instituted for 'all people' not just 'his people' 'in the beginning' — before people rejected him and the world was cursed — that last beyond that curse (typically largely undamaged by it and still accessible and good for all people). These 'creation ordinances' typically are listed as marriage and multiplication, work and dominion, and the sabbath. These are part of how 'God has ordered the world' for all people; a sort of 'natural law' that should be apparent for everybody.
These 'creation ordinances' are often linked to the concept of 'common grace' (wikipedia); they're part of how God continues to bless all people, and they become the basis Christians in this framework use to assess the work of governments; whose role relates to common grace as they 'restrain evil' and who are not just meant to restrain bad things but uphold these basic universal goods.
It's interesting to consider how far our culture has departed from work and dominion, and from sabbath, and how little we made a fuss about those changes (and other changes to marriage — like no fault divorce) when considering how stridently we argue for marriage now… the onus now seems to be on those who suggest these ordinances are undamaged by the fall to demonstrate how this is the case (not just insist it is), or we need a different model for explaining the world (and the Biblical data).
Now. I have some issues with this basic framework as it has been applied — because I think it misses a couple of important and foundational 'creation ordinances' that humanity departs from as soon as we're given the opportunity; and because we walk away from these, I think this gives us a framework for understanding why humans (individuals, cultures, and governments) walk away from the others; and what is required to have people walk back. I also think these particular commands — pre-fall — are particularly connected to our telos or purpose as humans, and that post fall they are frustrated rather than ongoing; that 'work' was meant to be the work of extending the garden of Eden — as the place God dwelled with humanity (like the Temple) — over the face of the earth; that 'sabbath' was meant to be the enjoyment of rest with God in this expanding garden, and that marriage was to reflect the image of God in a one-flesh union 'male and female'; and that multiplication was the multiplication of living breathing images of God who would represent him in his 'temple-kingdom' as it spread. Nature is oriented towards a certain function, and that function is broken by sin. So, for example, I see these functions being recaptured in the church — the cultural mandate becomes the Great commission (which sees the 'temple-kingdom' of the Church — people with the Spirit — spreading around the globe).
But let's work with this category of 'creation ordinances' being the ongoing things that God gives to all people for our universal good. I think the list is missing a few, and here's the two things I'd say God gives to all humans that are, perhaps, bigger and more vital to our humanity than those other things held to be ordinances — 'image bearing' and 'breath'. These are two concepts that Christians have used politically in very similar ways to the others — in upholding the sanctity of human life — and they are certainly universal. But they are also closely tied to our created purpose in the world; the other creation ordinances, and those two commandments quoted above.
Then God said, "Let us make mankind in our image, in our likeness, so that they may rule over the fish in the sea and the birds in the sky, over the livestock and all the wild animals, and over all the creatures that move along the ground." — Genesis 1:26

Then the Lord God formed a man from the dust of the ground and breathed into his nostrils the breath of life, and the man became a living being. — Genesis 2:7
If these are not 'creation ordinances' — that are true for all people of all time — then I'm not sure that 'creation ordinance' is a valid category.
They're also concepts the prophets return to as they call God's people back from idolatry (and arguably at the heart of how Israel is meant to be a blessing to the nations — who share these realities — as they call those nations away from idolatry and to life in God.
Because here's the thing. Idolatry distorts these creation ordinances. Idolatry literally takes your breath away. It is worse than asthma. It is deadly. And Idolatry deforms us as we are conformed into the image of the images (or other gods) we worship. Idolatry is the gradual process of eradicating God's image in our lives and replacing it with an idol — a process that is complete when we become breathless.
Consider, for a moment, how the Bible speaks of idolatry distorting work, or the 'cultural mandate' — to take the good things God has made and create with them; Genesis 2 speaks of the gold in Eden; look what Isaiah says about those who fashion idols from silver and gold.
With whom, then, will you compare God?
    To what image will you liken him?
 As for an idol, a metalworker casts it,
    and a goldsmith overlays it with gold
    and fashions silver chains for it.
 A person too poor to present such an offering
    selects wood that will not rot;
they look for a skilled worker
    to set up an idol that will not topple. — Isaiah 40:18-20

"Tell us, you idols,
    what is going to happen.
Tell us what the former things were,
    so that we may consider them
    and know their final outcome.
Or declare to us the things to come,
     tell us what the future holds,
    so we may know that you are gods.
Do something, whether good or bad,
    so that we will be dismayed and filled with fear.
 But you are less than nothing
    and your works are utterly worthless;
    whoever chooses you is detestable. — Isaiah 41:22-24

All who make idols are nothing,
    and the things they treasure are worthless.
Those who would speak up for them are blind;
    they are ignorant, to their own shame.
 Who shapes a god and casts an idol,
    which can profit nothing?
People who do that will be put to shame;
    such craftsmen are only human beings.
Let them all come together and take their stand;
    they will be brought down to terror and shame. — Isaiah 44:9-11
This is maybe my favourite bit of this extended treatment of how idolatry is fundamentally a departure from not just the creator but these created ordinances, talking about the craftsman who cuts a block of wood in half and uses one half to make an idol and the other as kindling to cook his food:
"Such a person feeds on ashes; a deluded heart misleads him;
    he cannot save himself, or say,
    "Is not this thing in my right hand a lie?"" — Isaiah 44:20
It's not just Isaiah either…
Everyone is senseless and without knowledge;
    every goldsmith is shamed by his idols.
The images he makes are a fraud;
    they have no breath in them. — Jeremiah 10:14
The thing is; the Old Testament consistently says the product of idolatry is that we become what we worship. And when we worship breathless and dead gods, rather than the living, breathing, God, we become breathless. 
The idols of the nations are silver and gold,
    made by human hands.
They have mouths, but cannot speak,
    eyes, but cannot see.
They have ears, but cannot hear,
    nor is there breath in their mouths.
Those who make them will be like them,
    and so will all who trust in them.— Psalm 135:15-18
Here's where 'common grace' kicks in — for as long as we're still living and breathing we're still, in some capacity, representing the God who made us — whether we like it or not — but our idolatry means we're hurtling towards breathlessness as we hurtle away from the 'creation ordinance' of life representing God and ruling over creation (because we've made created things our God). And this life and breath is still a good gift from God — a 'common' gift to all people.
This is what God the Lord says—the Creator of the heavens, who stretches them out,

    who spreads out the earth with all that springs from it,
    who gives breath to its people,
    and life to those who walk on it. — Isaiah 42:5
Ultimately it's idolatry that takes us to death as its natural end… it takes breath away, and it takes our bearing the image of the living, breathing, God away. It changes the way we work and rest. Why should it not also threaten how a culture understands marriage and multiplication? At some point in this trajectory from living and breathing and bearing God's image a person — be they an idol maker, or idol worshipper — sees God's common grace to them overcome by the effects of their sin and idolatry. This seems to be also true of cultures. At some point, culturally, a shared idol distorts us or deforms us away from the image of God and into the image of a culture's gods; at some point our shared loves created by cultural stories disorder our loves so that we don't love God as we were made to and as the Bible commands. The cultures in the Old Testament that were idolatrous were led by kings who were basically the 'popes' of their idol cults — who were also held to be 'the image of god' in their cultures. Idolatry happens corporately and culturally, and typically around narratives about what a god is and what they require and provide. Common grace is held in tension with the sort of temporal judgment for idolatry Paul speaks about in Romans 1 — where we no longer see the natural as natural — or with what has been called the 'noetic effect' of sin.
For since the creation of the world God's invisible qualities—his eternal power and divine nature—have been clearly seen, being understood from what has been made, so that people are without excuse.

For although they knew God, they neither glorified him as God nor gave thanks to him, but their thinking became futile and their foolish hearts were darkened. — Romans 1:20-21
Here's how I understand the logic of this passage — God's invisible qualities should be clearly seen from creation — creation ordinances are relatively logically clear and embedded in nature itself; but oriented towards us knowing God. When we deliberately choose not to know God, culturally or individually, we're no longer able to see these obvious connections — our thinking and loves — our minds and our hearts — are darkened or 'disordered' — and this is ultimately an act of judgment from God. Our breathlessness starts now; the process of becoming what we worship starts now. God gives us what we want. And the result is that we individually and corporately start walking away from life-giving, common grace producing  'creation ordinances' and towards death and destruction.

Another way of framing this might be 'how much uncommon grace is required to pull someone back to knowing and worshipping God'? And then 'how do we do this'? We'll get there below. Before we do, there's a pretty compelling account of how the noetic effect changes the way we see some good things God has made (like moral ordering of the universe) in a different degree to how we see others (like the logical ordering of the universe — eg mathematics) in this paper on how sin effects scholarship; I think it's worth grappling with that paper and at least seeing that common grace and the noetic effect are held in tension. I've written elsewhere how because of the 'subjectivity' created by sin and idolatry (following this model), marriage might be more like music than mathematics.

It seems to me that from the limited survey of some Biblical gear above that it is reasonable to conclude that sin changes our ability to know and worship God — it pulls us away not just from the creator but from the 'creation ordinances' in their pre-fall state — even if those things are all still good and provide 'common grace' benefits to people as a part of what it means for us to be human. The questions for us with this data are: how much is this effect corporate, not just individual? And at what point does the 'noetic effect' of sin eclipse common grace in a culture (or an individual)?

At some point we need to be able to account for why it is that the people in our culture are so happy to redefine a 'creation ordinance' if the category of creation ordinance is going to have any valid descriptive power when it comes to life in this world. As well as accounting for why our world seems to be departing from these creation ordinances, we probably need to better account for why it's people who believe in a creator who seem to be less likely to do this (why is the coalition for marriage just a bunch of religious leaders?). It's not just that these communities are more sold on history or biology. It's not just that theism comes with an orientation towards the 'classical view' of the world; we have to account for why others don't buy this. I think the answer that best accounts for and describes this reality is idolatry. That's the diagnosis. It's serious. And it's terminal if not properly treated.

Let me be unequivocal in not 'soft-pedalling'…

The Bible says that marriage is created by God as a 'one flesh' relationship between one man and one woman. This 'one flesh' relationship is sexual, but also unitive in that it forges a single identity unit of 'two-persons-as-one'. It is part of how such a man and woman then bear the image of God, and marriage is part of how we humans were to fulfil the command to 'be fruitful and multiply' — this isn't to say that every person has to be married to bear the image of God, or contribute to fruitfulness, or even that children are the 'purpose' of marriage or having children its essence.

This is God's design for humanity and is part of what a truly flourishing society is built on. To depart from this design is sin.

That we have walked away from God's design for sex and marriage is a result of sin. The deadly sin of idolatry where we've, as a culture, decided to worship sex (a created thing); and see the flourishing human life as being connected to love and sex — and so marriage — rather than being connected to God. This is idolatry — it's not just our gay neighbours who do this (and it's not just outside the church); this is a culture wide decision to live in a different story and to put a 'created thing' as an ultimate good. Part of the problem with how the church speaks about this is that we're so complicit with the idolatry of sex and marriage — the idea that these are necessary for human flourishing — that it sounds like we're actually denying a thing we think of as god (or an ultimate good) to others. When we extol the virtues of marriage and family in idolatrous terms — as though they truly satisfy — and then deny them to people who are different to us, we do not sound loving. This is part of why talking about Jesus in this conversation about marriage and sex is not just window dressing…

This sin, or idolatry, is deadly in that it pulls us away from bearing God's image as it forms us according to a different image or vision of the good and flourishing life. This is why our culture has walked away from God's design for marriage. We're pursuing a different God, or ultimate good. Once we, as a culture, pursue that good it makes sense to afford the 'good' of marriage to any one of our neighbours who is living in this story or according to this vision.

If what the Bible says about idolatry is true then this is deadly. It's not soft-pedalling on sin to call the push for same sex marriage a 'religious' or 'idolatrous' thing; but like any doctor delivering a fatal prognosis our bedside manner is important. Especially if there is a cure and a treatment plan…

At some point sin means our 'breath' is more like the breath of an asthmatic on the way to a fatal asthma attack than like a human with a healthy set of lungs — or like the lungs of somebody who has deliberately set out to reduce their capacity by unhealthy living or smoking. When I'm in a state of breathlessness, panicking as I open every drawer in the house looking for an inhaler, I don't just need to picture what my lungs should be without this disorder. We don't treat an asthmatic or someone with asbestosis or mesothelioma by showing them a picture of healthy lungs — creation ordinances — and telling them to jump back to living that way; we treat disordered lungs by fixing the disorder, or with a lung transplant.

We respond to idolatry — disordered love — with the Gospel of Jesus, which re-orders our love for God, others, ourselves, and the world.

God restores breath to breathless lungs, and restores his image in us, by the Spirit as it conforms us to the image of Jesus.

Without this intervention we're holding up a picture of healthy lungs to an asthmatic as they suffocate to death.

I'll unpack more of this in part 2.

[ssba]