Attention console owners and video gamers you are killing the planet.* I hope you leave your conscience at the door when you turn your machine on.
The Natural Resources Defense Council has released an American study that found gamers in the US are filling the air with toxic carbon emissions and killing the polar bears.**
"NRDC and Ecos Consulting performed the first ever comprehensive study on the energy use of video game consoles and found that they consumed an estimated 16 billion kilowatt-hours per year — roughly equal to the annual electricity use of the city of San Diego. Through the incorporation of more user-friendly power management features, we could save approximately 11 billion kWh of electricity per year, cut our nation's electricity bill by more than $1 billion per year, and avoid emissions of more than 7 million tons of CO2 each year."
 The news is not all bad for me – as I still don't own a new generation console. I am an eco-friendly gamer with my Super Nintendo and Nintendo 64 faring best in a tabled comparison of power usage.
For those of you who are visual thinkers, here's the graph:
You can read the whole report here (PDF). A Playstation 3 ($160) will set you back 16 times the price of a Wii ($10) in energy costs over a year if both devices are left on, and five times the price if both are turned off – $3 and $15 respectively. More video game energy factoids can be found here (another PDF).  
Climate Friendly's carbon calculator says the Playstation 3 user who leaves their console on all year round uses an appropriate 1337 kWh per year – which produces 1.4 tonnes of carbon – offsetting that via the aforementioned company will cost you $95 a year.Year round use of the Xbox 360 uses 1031 kWh per year, produces 1.1 tonnes of carbon and costs $75 to offset.
My coffee machine uses 2190 kWh per year (estimated), produces 2.3 tonnes of carbon emissions and would cost $156 to offset. Luckily the Nintendo 64 doesn't even register on the calculator in terms of its annual carbon emissions so I've got a fair bit of credit up my sleeve through my environmentally friendly gaming strategies. Come to think of it, I've been an eco-savvy gamer since way back when playing Eco-Saurus (aka Zug's Adventures on Eco Island). A game so obviously ahead of its time.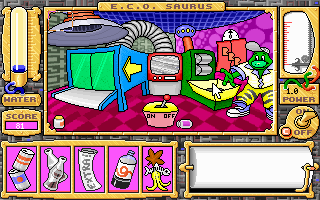 *In a literal, physical sense not in the actual game you're playing.
** Killing polar bears would be another fun game – Polar Bear Hunter the long awaited sequel to Deer Hunter…