The Map
We're about to hit the road for our garage sailing techstravaganza. So that any of you following with interest know just where we're going, here's a map: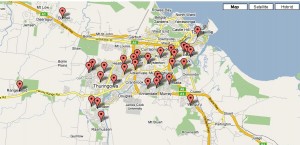 If you click through to the map page you'll see a list of the sales and their advertised descriptions (if you scroll down).
Our first stop met with success – a brand new, old chess set complete with glass pieces. They offered $5, we offered 3 and the deal was closed at $4.00 – downward negotiations faltered on the basis of  a complete set with new box.
Pictures here
Garage sailing came to a close today at about 11:50am. You can check out geotags on the images in Craig's album linked above.
I'm calculating my total spend from today – and will get figures from Robyn, Craig, Teagen and The total so far is $84.90 – but I still need to get a figure from Chris, here's the purchase summary:
1. Glass chess set – Nathan – $4 (asking price $5).
2. Table – Chris – $4.50 (asking price $5).
3. 3 tealight candle holders – Chris – $2 (asking price 2 for $2).
4. Set of magazines/recipes/craft books – Craig and Teagen – 4 for $1 (asking price 3 for $1).
5. Four playstation one games (to be used on a playstation bought at a previous garage sail) – Nathan – $5 (asking price – part of a $35 bundle).
5a. Where in the World is Carmen Sandiego PC game – Robyn (for educational purposes) – $0.20 (by negotiation)
6. Round plate/platter/dish – Chris – $3 (I'm a bit shady on that price) (asking price around $5).
7. Set of dominos – Craig – $0.20 (asking price unspecified but original recommended retail price $1).
8. Round the Twist complete episodes DVD bundle and A-Team DVDs – Nathan -$15 (asking price $20).
9. Craig got a $0.20 platter thrown in free with my purchase.
10. The guys selling the DVDs (and the platter) had a tub full of unopened Star Wars figurines from about three years ago for sale for $5 each. 13 in total. The gentleman in question used to collect Star Wars merchandise with a friend. His partner was clearly not as enthusiastic about Star Wars as he and his friend – so we took the collection of figurines off his hands to sell on eBay. We will list them after our Summer Holiday – but if anyone wants to make an offer in the meantime leave a comment on this post. We bought the lot for $35.
At this point we were feeling pretty good about ourselves and were on the home stretch. We made one last stop. En route to our home base. Where we found the best garage sale ever. Everything was for sale. Even the house. The neighbour was piggybacking on the sale – selling books on the street.
11. Two books – Corcisan (some sort of gangster thriller) and The Douglas Adams Dirk Gently Omnibus (a book I leant somebody years ago and haven't seen since. You know who you are. Ben.) – Nathan – $2 (asking price $2. I offered $1.50 and was refused).
We probably spent an hour at this next house. Which had been lovingly renovated in a really classy way by a former surgeon who due to a horse riding accident no longer works. It was a really nicely furnished Queenslander  – and she's selling it herself hoping to move to Mexico. Craig became a real estate photographer – and I'll add a link to the listing when I find it.
There was some great stuff for sale from her collection of jewellry, kitchen appliances, clothings, shoes, antiques, furniture, glassware – you name it. It was for sale. Under the house there was this wooden box with two massive grindstones in it – it was an old grinder used by farmers to grind wheat and barley for their beer. She used it for bread. I almost bought it. But instead settled for my next purchase:
12. A hand turned chrome coffee grinder – Nathan – $10 (asking price unknown – price agreed on by negotiation).
13. A bracelet – Robyn – $3 (again price agreed on by negotiation).
14. A funky tealight candle tree thing – Chris – price unknown.
15. A set of coffee cups – Nathan – free on the basis of Craig's photographic services.
Craig's had so many freebies off my back that I thought it only fair to get in on the action.
Here's the photo of our swag…