I'm expanding my presence on Twitter. Which involves getting more followers. This happened by accident. Deliberate accident.
Lots of expert Twitter types have a policy of following back the people who follow them. And I've spent the last couple of days tracking down, and following (like a good stalker), people who do church communications stuff. So when I followed 100 new people, I scored about 25 new followers.
One of the questions I'm trying to figure out when it comes to social media in general, and Twitter in particular, is how you be present on these platforms in a way that points people to Jesus. How do you use these platforms with humility shaped by the cross? This is true for St. Eutychus too, and for Facebook (though I have some thoughts on ways to use Facebook in a gospel-promoting way (linked, for ironic self-promotional purposes)).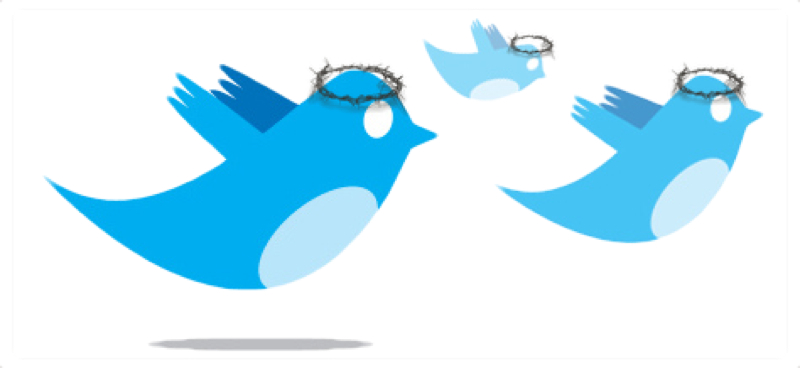 Reading through a few thousand Twitter biographies has been an interesting exercise.
Incidentally, one of the reasons I'm doing this is that I'm drinking some of the social media kool-aid (also this Kottke piece) that says Facebook is a weird mish-mash of relationships largely made up by incidental people in your life – former colleagues, school friends, and random acquaintances – which is true, with all the caveats about how I love you very much if you are one of those people… while Twitter is fresh and exciting, and you can follow people you share interests with. So I follow the coffee industry, and its various parts, and personalities, and people keen to see the good news of Jesus presented to as many people as possible, in the best ways possible.
I've followed lots of people in the last few days, and there are some pretty useful people saying some pretty useful things out there.
But there are some people who I'll never follow, because their 160 letter bio – which is what Twitter gives you – is too cringeworthy. I have limits.
I should make a slight qualification at this point – I'm particularly interested in what people choose to feature as "individuals" rather than as "professionals" – professional accounts need to be professional. They'll have a different set of standards – and a different set of communication priorities. And that's fine. I'm really interested in what individuals, especially Christian individuals, choose to feature in their bio. Because most of the people I'm following are running what essentially amount to mixed accounts – which deal with their professional interests from a personal perspective, or are in vocational ministry – so professionally Christian – some of these quibbles I'm making in this post will apply more or less directly on a case by case basis.
160 letters isn't a lot. I'd prefer to err on the side of not using all the characters (you can see my profile here). But here is what my blurb said before I started thinking about this:
Christian. Husband. Father. Blogger. Coffee Blogger. Theological Student. PR Mercenary. Coffee snob. http://thebeanstalker.com  | http://st-eutychus.com
Here's what I've changed it to.
A broken human. Bought by God. Following king Jesus. Trying to love people.
Relentlessly curious | Fixated by words | Pursuing coffee perfection
There's a long and rambling post I'm writing and editing, and writing and editing, about the perils of being a Christian on social media – with its built in tendencies towards default narcism. I'll post it, somewhat ironically, when I can finally get it to a point where it doesn't seem to all be about me.
The biography is an interesting, and fixed, part of who you are on Twitter – even if, as Kottke suggests, you are your last six tweets, the bio provides an interpretive framework for how your tweets are read and understood. It's a big part of your personal brand – in that it shapes how people who don't know you outside of Twitter perceive you.
So the Twitter bio presents the best, and worst, of this part of social media. This isn't a post about the content of your feed – but the bio both frames how people perceive you, and provides some indication of what you're going to post. You can make everything you post about Jesus, and ruin it with a bio that's all about how great thou art – not how great he is.
Biographies and about pages are the distilled essence of your presence on social media, more than each individual tweet, or post. They're designed for self-promotion. They're the billboard that wins you new followers. Your sales pitch. If there's ever a time to talk about yourself, in a flattering way, it's the Twitter bio… and maybe this is a cultural thing – maybe my good, old-fashioned, Australian, tall poppy syndrome kicks in here – but if you have to blow your own trumpet, and beat your own drum, it's not really a tune I'm all that interested in listening to, or a rhythm that gets me tapping my feet along…
It's hard to be simultaneously "self-promoting," in line with the expectations of the medium, and self-effacing, in line with the cross-shaped approach to self that Christians are called to adopt.
How do we take up our cross and follow Jesus in this space? How do we imitate Paul, who resolved to know nothing but Christ, getting rid of the eloquence that would focus attention on himself when his Corinthian audience, who couldn't separate style from substance, forced him to… as he imitates Jesus?
This is one area where I think Mark Driscoll, channeling Luther, does a stellar job. Here's his bio:
"A nobody trying to tell everybody about Somebody"
What I've found is that there are certain common elements to Twitter bios that I'd argue are essentially redundant. And a few elements, when individualised and freshened, that I find really appealing, and I'll be trying to fit into my bio. I'll do those first.
5 Elements of a Christian Twitter profile that I like
It starts with Jesus. If Jesus isn't defining who you are, and one of the things you want people to know about you – then why do I want to read about you?
It humanises. It doesn't just end with Jesus. That'd be boring – and the sort of pietism that, if reflected in your tweets, is a real turn off (I'm looking at you Piper). I like the idea that Twitter isn't just about being in a Christian-to-Christian love-in. I like Twitter profiles that show me something of a person's humanity (I'll get to some short cut ways of doing this that annoy me below) – and acknowledges human limitations.
It's humble. This is related to the first two, and it's a genre subverter. And I love people who pull this off in a bio, it often requires a bit of well thought out self-deprecation. It's part of the reason I like Driscoll's bio so much (even if the content of his social media presence can occasionally run counter to that).
It uses humour appropriately. Generally this follows being humble, but it can also be a matter of what you choose to focus on, other than yourself.
It gives some idea what sort of content you'll be tweeting. This goes two ways – it's a great tool for you, the tweeter, to give you some sort of editorial policy, but it also means if I follow you on the basis of a common interest you highlight in your bio, I'm not going to be inundated by pictures of your cat.
5 Elements of a Twitter Profile that scare me off
Those are the good. Here are the things that irk me…
It's all about you. Even if you're sufficiently self-effacing, if you're a Christian, and you're not using this 160 characters to give some account of the hope that you have (even using the label "Christian" is better than nothing), then you're wasting letters.
It's all about your idea of your qualities. Calling yourself a "leader" or a "genius," or a "creative," or anything better demonstrated than claimed – this stuff always reads, to me, a bit like the lame person who tries to give themselves a nickname to fit in somewhere. Nicknames come when you demonstrate that you fit in, or as part of the process. Leaders lead. They can't just say "I'm a leader"… Creative people demonstrate creativity.
You waste letters on disclaimers. There's nothing more boring than reading "ideas my own" or "retweets are not endorsements" in your bio. Boring.
You put faux-interesting expressions of humanity in your bio. It's not ground breaking to tell people you love coffee, or your family (which is why I cut those bits). Nor, I would argue, is being "into coffee" all that interesting – especially because being "into coffee" is so relative. Do you drink instant four times an hour? (I'm guilty of this one – though I'd argue having a coffee blog means referring to coffee in my profile is indicative of the content I'm going to tweet). It's another shortcut to interestingness to tell me that you like sports, and you support a particular team – I can't believe how many people put that in their bio (I'm a Manly-Warringah Sea Eagles fan by the way… and a Man Utd fan). If that's the tribe you want to claim some sort of allegiance to, then that's fine.
It's full of doublespeak/weasel words. I read a bio about optimising such and such through creating synergies and blah blah blah. That's exactly what I thought. Why would you waste 160 characters on words that either mean nothing, or could be explained in less letters in a way that isn't just designed to make you look smarter than the other guys.
So. Are these the worst? Or am I missing something? And perhaps more importantly – how do you navigate the minefield that is the narcissism inherent in the system, and the humility inherent in recognising that you're a broken human following the crucified king? Even posting something like this is fraught with the possibility of being a little self-indulgent, so what's been helpful?