I'm speaking at a camp this weekend. I've never spoken at a camp before – I've never even written a series of talks before, my sermons have been one offs in other people's series, or stand alone deals. So it's been fun.
I'm preaching on 1 Corinthians. All of it. In three talks. I've also never written talks this long before – they asked for 40 minute sessions, I reckon they'll get two 30-35 minute talks, and one 25-30 minute talk. Who doesn't want extra free time on a camp?
It's for a couple of Brisbane based Chinese churches, for their youth and young adults. I'm summing up the book as Paul's guide to cross-shaped living, and the talks were billed as "Cross-shaped Succes"…
Anyway. Here are some of my slides – no idea if these are getting recorded, and the hours that went into my three keynote presentations will be wasted if I don't share…
These ones have cool stories attached…
Meghan Vogel picked up the girl who was in the spot ahead of her in their 3,200 metre race, when she fell over 20m from the finish line, carried her to the line, and put her across the line first (though they were the last two to finish – Meghan had won the 1,600 metres race the day before). She did it because she puts Christ first (her words).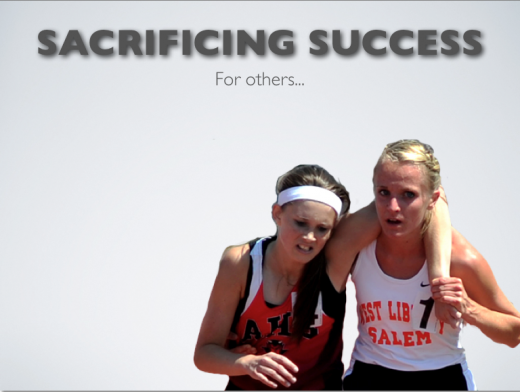 This is "Team Hoyt" – Rick Hoyt, Dick Hoyt's son, told his dad he wanted to run a marathon – they've now completed 1,000 long distance races since 1977.
These ones have puns.