My friends at Brisbane Property Solutions have been busy. Not only are they terrible, terrible, bond cleaners in Brisbane. And not only should you not trust them to clean your house. They are terrible reviewers of their own business. And you should not trust them to talk about themselves…
As a follow up to the situation described in the previous post – I emailed the company with some feedback, pointing out our areas of concern. The email featured the photos from the gallery in the previous post.
Subject: Our House "clean"
Hi,

We finally had the chance to check out the clean you guys did of our house for our exit today. We're handing the keys over to the landlord on Monday.

And we were staggeringly underwhelmed.

We booked a bond guarantee end of lease clean – and while we understand that it was a big job, which took extra time, which we paid for… I was quite clear in my directions to Kirsty, our cleaner, over the phone. Especially regarding what we wanted done in the additional time – the walls and the floors.

I am sure you are familiar with the included items listed on your website for this standard clean (at this page: http://www.brisbanepropertysolutions.com.au/712fd69e-58e0-4590-81ea-a8841203f8b0.aspx – just so we're clear).

It seemed to me from our inspection that the vast majority of these tasks were not attempted, which leaves us feeling a little robbed, and considering our options.
I took some photos, which are included in this email, I look forward to hearing what your solution to this is.
I pointed out that they had dirtied the carpet that we had had cleaned, and mentioned that the walls and floors had not been completed, as requested (several times). And finished with:
"These are just some examples of the state of the house, which, as you can see, we have several reasons to be disappointed in, after spending a significant portion of the bond we are anticipating receiving on this clean. We booked your company on the basis of the product you offered, rather than labour time involved – and the jobs quoted on were not completed.

I will wait for your reply before taking any further action, but as I say, we're meeting with our landlords on Monday, and I hope to be able to offer them some sort of explanation and solution at that time."
I sent this email on Saturday. Which, as was pointed out to me in some detail by Lisa, the company's representative, over the phone – was well and truly outside the time guaranteed.
To point out that we were aware this was outside the 48 hour period, I sent a follow up email – almost immediately after the previous email:
"we were unable to attend the property within the 48 hour period stipulated due to work and family commitments. We have a newborn baby, and I have just started a new position so taking time away from work or home for either my wife, or myself, is difficult. Today was our first opportunity to examine the work.

Secondly, the house has been vacant, and locked, since completion of the work – the owner is, to our knowledge, moving back in to the property so there have been no rental inspections, and nobody else inside the house.

We trust that you will respond to this complaint quickly and in good faith."
We weren't necessarily expecting a written response prior to heading over to the house on Monday morning. And we weren't disappointed not to get one. But, as we drove to our old house on the Monday to start cleaning the bits they refused to touch (the rendered walls), I called them. And spoke to Lisa. And wow. I've never been treated more rudely by a product supplier ever before. I'd post the last three minutes of the ten minute call, which we recorded – but doing so would probably see me fall foul of the law. It is hilarious. She cackled triumphantly when she realised that because our job fell outside the guarantee period, we weren't covered.
As an aside – I can understand the need to not provide a lifelong guarantee for a cleaning job. But 48 hours seems pretty arbitrary. Are they expecting their work, in a locked house, will vanish in a puff of smoke, or turn back into a pumpkin, when the clock rotates four times (clocks are 12 hours, remember).
It was a bizarre phone call, in which, as I am wont to do on occasion, I mentioned that bad reviews are bad for business, and mentioned that I work in Public Relations so get pretty good bang for my buck review wise. I wasn't trying to blackmail her, or be vindictive, I was just blown away by what was passing for customer service over the phone, and I suspect the owners of the company would be too. I'm going to do my best to contact them directly, along with the real estate agents who "recommend" this company.
I sent a follow up email, after our call ended with threats of legal action from both directions (I had informed Lisa that I had asked the Commonwealth Bank to investigate our payments on the basis that the goods (in this case services) received were not as described), in that email I outlined the facts as described in these posts. And I have not received a response.
So, onwards and upwards.
Brisbane Property Solutions Gets Reviewed
I am curious about how a company like this gets business – especially when they get such horrible reviews from customers online (if only we'd checked that first, I know…). Here's a sample of the reviews from True Local.
Hindsight is a wonderful thing. These reviews so perfectly describe our interactions with the company – and I can't help but think that were I running this company and seeing such reviews typed in pixels, permanently emblazoned on the interwebs, I'd be more than a little concerned.
Now the social media experts (the people who write books) say that dealing with criticism online is important. And you should respond publicly, graciously, and likeably, so that other people see that you are interested in your customers.
You probably shouldn't go writing your own reviews…
I mentioned that I spoke to Lisa on the phone. Lisa had a strong New Zealand accent. Interestingly, the latest five star review, the first positive review after a string of half star reviews, was by a Joy Packer, the second was by a Lisa Craig – with a kiwi bird as her Facebook profile picture. Now, this could be an unhappy coincidence. But I think not…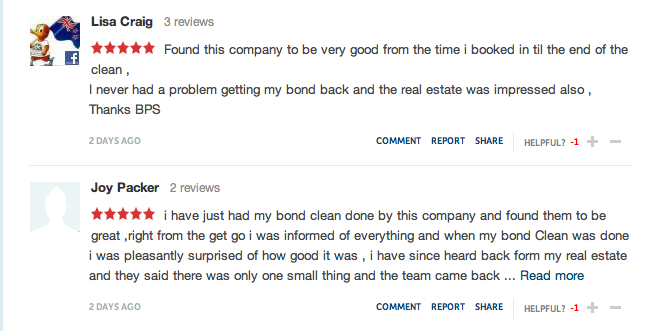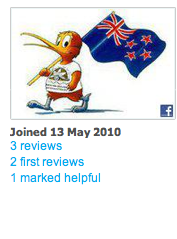 Joy Packer has reviewed two bond cleaning companies in ten months. She promised to use the last one again. But it appears she's fickle.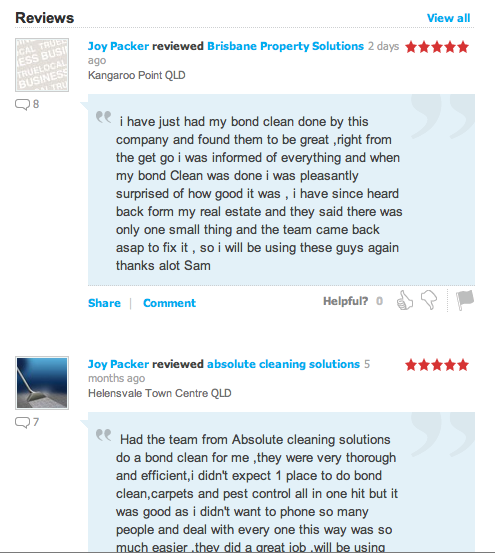 Compare Joy Packer's reviews with Lisa Craig's reviews…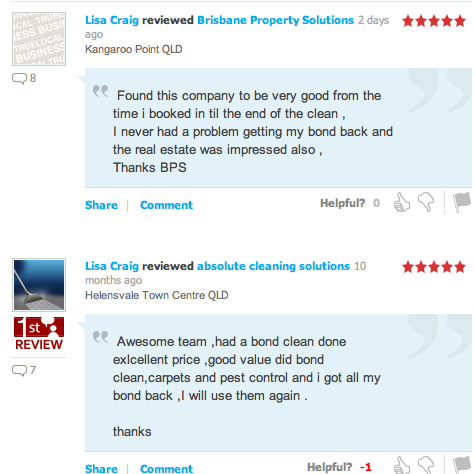 Now. I'm not a great believer in coincidences. And I'd put my money, and at the very least, my mouth, on the line and I'd say these two people are the same, and I'd say there's a fair chance it's the very same staff member who abused me on the phone.
Some rules for reviewing yourself online
1. Don't use your real name (speaks for itself).
2. Do just one, or thousands. Two reviews in quick succession after a string of negatives doesn't look great.
3. Variety is the spice of life – four stars is fine. If you shoot for the top, and talk about yourself in glowing terms, people will get suspicious. Reality bites. Use different words.
4. Keep track of which fake accounts have reviewed what.
5. Pay someone else. Review writing can be outsourced. It's a bit sad when you have to stoop to doing this yourself – especially if you get caught.
6. Just do the job you promise to do, in the manner you promise to do it in – then you won't have to invent reviews. You'll get good ones that are deserved.