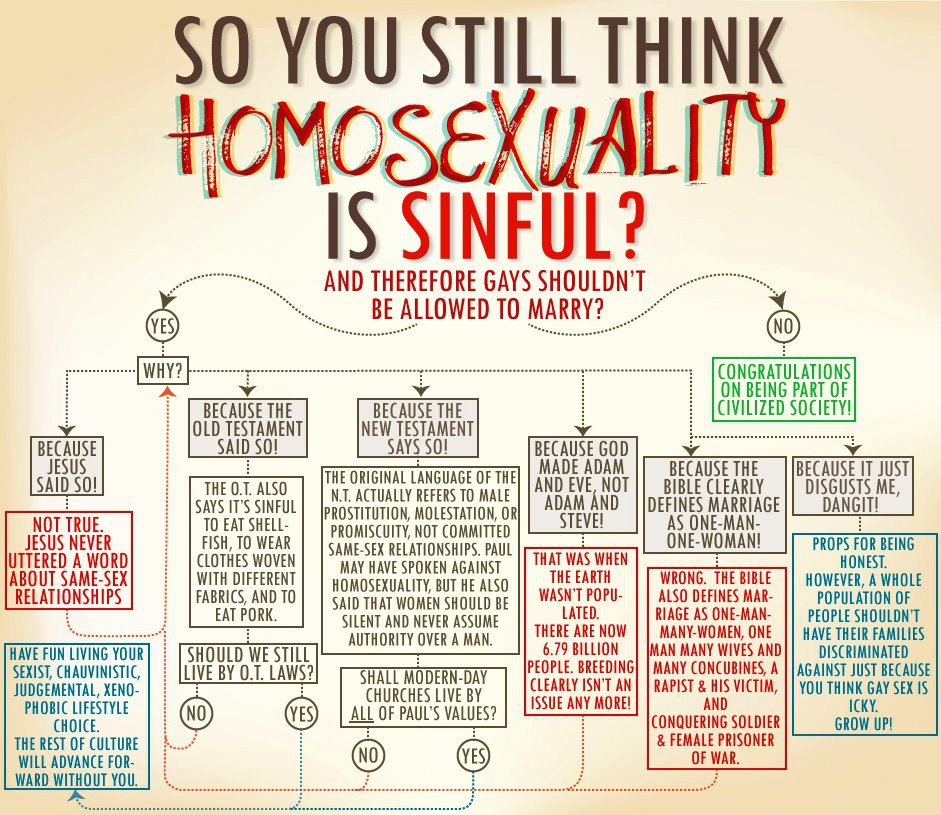 While I've argued elsewhere that perhaps in a democracy which we recognise is secular, if we think the government should be allowing individuals relative freedom to define their own identity, we could possibly curtail the debate entirely by just selecting the "no" option here, I have real problems with the way this flow chart characterises legitimate arguments that Christians bring to the debate and turns the focus "in house."
Notice one of the questions is "shall modern-day churches live by all of Paul's values"… and then the conclusion to answering yes to that question is that such a response is a "sexist, chauvinistic, judgmental, and xenophobic lifestyle" and then there's some throw away line about culture moving on.
It's fair to say that while I don't like Christians being nasty to homosexuals, I also have problems with Christianity being misrepresented like this.
I just want to make it clear – I don't think the "so you still think homosexuality is sinful?" To which I answer "yes," necessarily leads to the conclusion "therefore gays shouldn't be allowed to marry." So I don't think I'm the target market for this flowchart.
I also want to acknowledge, from the outset, that the church has been unhelpful on this topic in a couple of ways:
1. Homosexual attraction is not, in any meaningful sense, a "choice" in the vast majority of cases (I would suggest it's the product of both one's environment (nurture),and biology (nature), (I think predominantly nurture, but I don't necessarily think there's anything preventing a "gay gene" existing – and a person does not choose their environment when that shaping is happening).
2. The church has consistently been bad on this issue, particularly in the last thirty years, when treating it as some "special sin" – the only thing special about homosexuality is that there's a proactive move to not define it as a sin at all. But we Christians have been hateful, bigoted, oppressive, and intolerant. And I'm sorry about that.
However, that a behaviour is natural is no argument for its inherent value. This is called the naturalistic or is/ought fallacy, and it also doesn't work with Christianity and the doctrine of man's natural inclination to sin.
If you're a non-Christian reading this – please keep this in mind. I'm not discussing this to support the anti-gay marriage campaign, I'm not saying this because I think homosexuals who aren't Christians need to be stoned, legislated against, persecuted, or even forced to give up their loving relationships – I'd much rather you, and they, meet Jesus, and reconsider what "identity" actually is, and whether sexuality should be the foundation of human identity in the first place. What I am interested in doing is correcting the misconceptions about Christianity this chart perpetuates, because I think it gets in the way of people meeting Jesus. And it does a disservice to the important discussion of sexuality, homosexuality, and marriage, that is still happening in Australia.
So lets take a look at the arguments here…
We'll work from left to right…
Jesus and marriage
While a direct statement like "homosexuality is wrong" would have been really convenient for this debate, some 1,980 years after the fact, there were plenty of other things Jesus didn't directly speak against. This is an incredibly odd category to bring to Christian ethics. Jesus wasn't really on about moral proclamation in the way this box assumes. He spoke about morals, but his major moral sermons, like the Sermon on the Mount, don't leave much scope for assuming Jesus was interested in doing away with the moral law of Israel, if anything he intensifies them (or explains how the way they were operating was a long way from the picture of holiness the law was designed to create). I can't, off the top of my head, or with a couple of quick word searches, find any passages where Jesus forbids building idols – the second commandment – but there aren't a lot of people out there arguing that this is a reason for idol worship. And this was a major issue for the early church (see, for example, Acts 15, and Paul's instructions to flee from idols (1 Cor 5:11, 6:9–10, 10:7, 10:14, Gal 5:19–21, Eph 5:5, Col 3:5)).
What Jesus did do was, whenever the issue of sexuality came up in his teaching, affirm an Old Testament position on marriage, based on creation, in Matthew 19:
3 Some Pharisees came to him to test him. They asked, "Is it lawful for a man to divorce his wife for any and every reason?"
4 "Haven't you read," he replied, "that at the beginning the Creator 'made them male and female,'5 and said, 'For this reason a man will leave his father and mother and be united to his wife, and the two will become one flesh'? 6 So they are no longer two, but one flesh. Therefore what God has joined together, let no one separate."
So, in the Sermon on the Mount (Matt 5), on adultery, it doesn't occur to him to use gender neutral terminology, as if anything goes…
27 "You have heard that it was said, 'You shall not commit adultery.' 28 But I tell you that anyone who looks at a woman lustfully has already committed adultery with her in his heart.
This isn't a great argument – it's sort of a modified argument from silence. But then this "box" is an argument from silence, and I'd say the onus is on the author of the flow chart to demonstrate why their argument is most logical in the face of the facts that Jesus was a Jew, who consistently upheld the Old Testament.
There is a sense where much of the subsequent argument in this post (this box, and subsequent boxes) relies on understanding that Jesus fulfilled the law in a way (I'd say by keeping it perfectly) that meant its incredibly difficult standard of morality is not what saves God's people, and thus certain aspects (like the food laws) don't continue… This doesn't actually mean the law is of no value for determining what is right and wrong behaviour. There aren't many Christians who would argue that the Old Testament isn't in some way useful for Christian ethics. In fact, Paul seems to suggest the law continues to play a role in making us aware of sin in Romans 7.
6 But now, by dying to what once bound us, we have been released from the law so that we serve in the new way of the Spirit, and not in the old way of the written code.
7 What shall we say, then? Is the law sinful? Certainly not! Nevertheless, I would not have known what sin was had it not been for the law. For I would not have known what coveting really was if the law had not said, "You shall not covet."
This is a good post that deals with this question in a bit more detail. On to the next box…
The Old Testament
This is an interesting argument. I have some sympathy with the point it tries to make – it is hard to figure out why we're ok with pork, but not ok with homosexuality. Most of this, for me, hangs on how Jesus fulfils the law, and a lot of the answer to that is pretty clear in the pages of the New Testament, it's not exactly silent on the relationship between the Old Testament and Christian living, given that this was the big issue Jewish and gentile Christians were grappling with in the early church.
The Old Testament is pretty clear (Leviticus 18:22, 20:13). If this was all the Bible said anywhere then you could try to make a pretty weak case (if you buy into the tripartite moral/civic/ceremonial division of the Old Testament law) that somehow this isn't a moral issue but a purity law that was symbolically meant to distinguish Israel from the nations. Personally I don't think there's a good reason to operate with that sort of distinction, it seems a bit arbitrary. It's important to point out that Christians are not often Jews, we're typically gentiles, so the law in the Old Testament doesn't really have a function for us beyond pointing us to Jesus and explaining something about God. I think the best answer to why these particular passages are still valid for Christians is that when the early church sits down to figure out what expectations of the Old Testament carry through for the church (a mix of Jews and Gentiles), they come to this conclusion (in Acts 15)…
19 "It is my judgment, therefore, that we should not make it difficult for the Gentiles who are turning to God. 20 Instead we should write to them, telling them to abstain from food polluted by idols, from sexual immorality, from the meat of strangled animals and from blood.
It's pretty clear that those passages in Leviticus think homosexuality is sexually immoral, and pretty clear that the NT writers treat it the same way… but that's the next box.
The New Testament
First of all, this whole "the Bible might have said homosexuality but it meant something different" argument is kind of bizarre. A guy named Richard Hays wrote a book called The Moral Vision of the New Testament
which considers this argument (ie the one in the box) by looking at the words that Paul, a Jew, might have been familiar with, to figure out what he meant. He says (page 382) that the Greek words describing homosexual acts in 1 Corinthians 6 are "almost certainly" derived from Leviticus, and that the words were common in Rabbinic texts describing homosexual activity.
The first part of this box is at best a hotly debated minority position produced by people with an agenda to undermine the most basic understanding of the text. I'd say it's much clearer that the New Testament views homosexuality as negatively as the Old. Especially Paul. But Peter thought Paul's writing carried the authority of Scripture (2 Peter 3:16). So dismiss one, and you've essentially got to dismiss them all – especially given the Jerusalem Council's decision in Acts 15.
The second part of this box, which essentially acknowledges our conclusion here, which dismisses Paul because he said women should be silent is confusing two issues, and is what some might call a genetic fallacy that suggests this position is bad because it comes from Paul (essentially this is a poisoning the well fallacy too), an ad hominem fallacy that suggests Paul is "sexist, chauvinist, and judgmental" so shouldn't be listened to, an appeal to emotion fallacy that says because something else Paul does is considered bad and makes people angry – everything he does must be bad, a false cause fallacy, a strawman fallacy that links the two issues as though they are one simply because they are both culturally out of fashion.
It should be clear that my answer to "shall modern day churches live by all of Paul's values" is a resounding yes. By making the statement "values" not "commands" this would even give wiggle room if you could argue for some principle underpinning some of his commands that is the binding part (like what is the deal with head coverings in church?). Paul's values were thoroughly loving, thoroughly interested in winning people to Christ despite their natural rejection of him, and thoroughly concerned for others. Sometimes that means telling other people that their natural desires are wrong.
In conclusion – the argument is inherently bad – but it does at least attempt to make a point (ie Paul is out of date and we shouldn't listen to him). Assuming, for a moment, that there is merit to the argument regarding the language used in 1 Cor 6, and assuming that Paul's views on women are archaic (for the sake of argument, I don't think they've really grappled with what's going on in Corinth that Paul is addressing here), this still doesn't actually deal with the substance of Paul's argument, particularly in Romans. His argument in Corinthians is that Christians shouldn't be like the people around them, and should be changed from the types of people they used to be. This is primarily a pastoral approach to the question. His argument in Romans 1 is that homosexuality is a result of what happens to human nature when we reject God. When we overturn the created order – Paul's problem with homosexuality (explicitly) is the same as the Jesus' implicit problem outlined above – God made man and woman to be sexually compatible. Which is interesting, because it's the next box…
Adam and Eve v Adam and Steve
The argument from nature/creation is an interesting one – it risks running the same is/ought fallacy as the argument that homosexual attraction is essentially "natural" in that it isn't a choice. This comes down to a theological account, or perhaps a philosophical account, of what being human is, and what nature is.
If you believe there's a creator (God), who made a good world (which the Bible says he did), which was then broken by sin so that what is "natural" now is not what was intended then (which many Christians believe is the case), then arguments from what "was" before the fall, are more theologically compelling for Christians than arguments from what "is" now. It's a was/ought thing. So because God created man and woman for relationship, before the fall, we can say this is the ideal. It helps that both Jesus and Paul, two pretty influential figures in Christianity, reaffirm this truth and its relationship to sexuality.
Overpopulation seems a strange place to go next. The argument that people should be gay because we don't need more children (implicit in that box) is kind of a weird approach to the development of homosexual attractions that bears no resemblance to how psychologists think that actually happens. People aren't condemning (necessarily) homosexuality because it can't fulfil the mandate to be fruitful and multiply, the condemnation rests a step earlier, homosexuality is against the created order because God created man and woman – marriage isn't about children, though raising children should happen in marriage. If you tow that line you end up ruling out marriage for elderly or infertile couples – and that's dumb.
The argument from creation is one of the most legitimate arguments from a Christian perspective – not only because it's there from the beginning, but because it's where other people go (I suspect you could make the case that Leviticus bases its prohibition on the same thing). This box also seems to be contradicted by the flowchart author's willingness to see Jesus as an authority in box 1. If Jesus is an authority, then this argument has merit when it comes to marriage.
The Bible's Definition of Marriage
This one is interesting. While the Bible contains descriptions of polygamous marriage, and laws regarding the other types of relationships listed, descriptions aren't prescriptions. You can't argue from laws regarding what Israel was to do in the process of conquering its neighbours, that the ideal behaviour is to marry a female prisoner-of-war. Laws exist, in any culture, to tell you what happens when things aren't ideal. Law isn't ethics.
You can't even argue from characters like Jacob, David, and Solomon, that polygamy was the "Biblical definition" of marriage, in fact at least in Solomon's case it was a big problem. Just because something happens in the narrative bits of the Bible doesn't mean it is being affirmed. A plain reading of the whole storyline of Israel makes that pretty clear.
It's also fair to say that if you follow the whole storyline of the Bible, as something that unfolds chronologically, the Bible does define marriage as between one man and one woman (see what Jesus said).
The biggest problem with this flowchart is that it has a broken model of interpreting the Bible. There aren't many people who don't think that the arrival of Jesus in the New Testament was a significant moment that changed the way the Old Testament should be read.
The Old Testament exists to provide a backstory for Jesus.
You can't just rip bits out of the OT and say "the Bible says" without qualifying that statement by considering how that part applies to Jesus and applies to us, just as you can't say the movie Titanic says "the Titanic sailed safely on its maiden journey," because you caught the middle but not the end, and stick with that as your account of the maiden journey. That's dumb.
I wrote a pretty big ethics essay, essentially on why these boxes are wrong, you can read that if you want another few thousand words to add to this one.
That is all.