Remember Kevin Rudd? He was once the Prime Minister of Australia, and he said some things about the New Testament that weren't true.
One of the things I used to do when I worked in public relations once upon a time – a bit for the laughs, but also because it's a useful tool – was run my media releases through Wordle. Word clouds don't necessarily prioritise words – they simply show what ideas are repeated and linked. They're imperfect. But always interesting.
Kevin Rudd said the New Testament is all about universal love.
Interestingly, other people occasionally suggest Paul, not Jesus, invented Christianity as we know it.
Just for fun I got a little bit "red letter" – I wordled the words of The Word as recorded in the Word (I wordled what Jesus said in each Gospel). And then in the 'synoptic' Gospels – Matthew, Mark, and Luke – which are quite similar. And then I wordled Jesus' words from all the Gospels.
I'll put a little bit of analysis here – because it gets a bit image heavy.
Jesus seems to focus on arriving as the person who is bringing in God's kingdom. He talked about God, his father, very often. And commonly referred to himself as the "son of Man" which gets split up in the word clouds. From Jesus' words the emphasis is clearly on what God is doing in his arrival. His message is that the kingdom of God has come. In him. Love is surely a part of that, but it doesn't pop up as often in Jesus' words as one might think if one believed Kevin Rudd.
Paul, understandably, talks a lot about Jesus.
I'm keen to look at Peter, James, and John in a future batch.
The Message of Jesus (wordled)
The Synoptics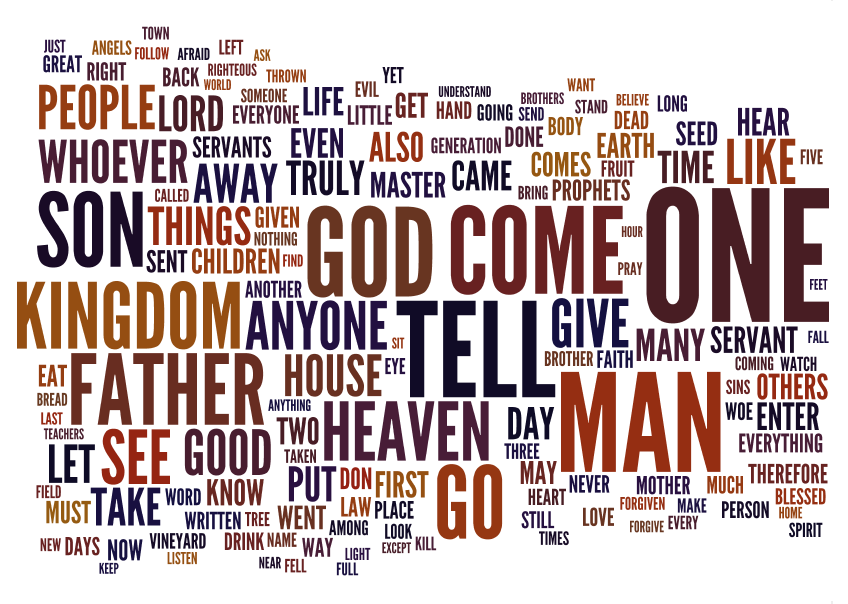 The Message of Paul (Wordled)
Then I did the same with the Pauline corpus – from Romans to Philemon.
Colossians