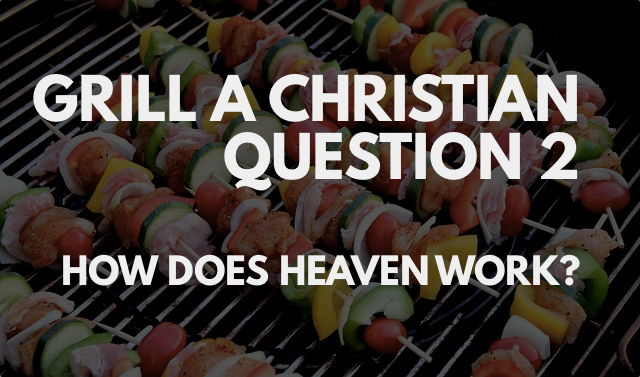 Question: "How do we know that we can remain good in heaven? Free will isn't taken from us, so we can still make mistakes? Once in heaven can people be sent away? What makes living there different to here? And what will we do in heaven? No one will need anything."
These are great questions. I think the big difference the Bible promises between us and our will now, and us and our will for eternity is that our character is perfected. It's not that we won't have free will, it's that our free will won't be lead astray by our self-serving nature (free will is a sort of paradox anyway, because God is also totally sovereign and working through every moment of our existence, because he is the ground of our being — as in, we exist 'in him'). When you have perfect freedom, in the context of perfect love, where there is no crying, or mourning, nor pain, nor the 'old order of things' (which is what Revelation 21 suggests the new creation looks like), our mistakes won't be mistakes, they'll be exercises of our free will that don't cost anyone anything. It's perfect rest and recreation, for eternity. I find this question hard to answer because I find eternity quite hard to fathom. I think there are a few things that the Bible suggests are true about eternity that probably help answer the questions here, even if somewhat indirectly.
1. Heaven is earth. Perfected. Renovated. We're not living on clouds, God's good world is being refreshed, renovated, and renewed for his people to enjoy the way we were made to. So, whatever good stuff you do now, you'll do then too. This is a little speculative, but I suspect we'll not just have the world to explore, but the cosmos.
2. God will remain infinitely amazing, and we will be finite creatures moving towards the horizon of eternity (so becoming more and more infinite I guess, and knowing more and more about the love of God, and who the God who made the world is, and what God is like). He doesn't stop being creator, and we don't stop being creatures — we don't become omni-anything in the new creation, we as creatures have a beginning, but as 'new creations' we have no end, while God has neither beginning nor end. So we, I think, will grow in the knowledge of God for eternity. I suspect this means we'll also grow in the knowledge of our own capacity and what being loved by God frees us to do, so we'll, I think, become more creative (like God), and thus capable of creating more wondrous things over time. I'm fairly sure the imagination continues to exist in heaven, and we'll continue imagining and creating things, like we were made to. Otherwise heaven will be not as much fun as earth.
3. Nobody will 'need anything', sure, but wants are actually valid, even if parents try to tell you only to worry about things you need, not things you want. And we'll still want to know God, still want to love, still want to create, we'll still want to do all the things we were made to do as people made in God's image, and we'll be free-er than ever to embrace our (new-created) humanity in a way we're unable to now because sin gets in the way, so does death. The stuff you can't imagine achieving in your life time will no longer be impossible. I like to think we'll have an eternity to explore the far flung reaches of the universe, and that God might well keep expanding the universe into eternity, so we'll never run out of new things to play with.
4. People can't be sent away. Probably the best passage to read to answer these questions (as well as Revelation 21-22) is Romans 8. It's close to my favourite passage in the Bible.
This bit is the best bit:
And we know that in all things God works for the good of those who love him, who have been called according to his purpose. For those God foreknew he also predestined to be conformed to the image of his Son, that he might be the firstborn among many brothers and sisters. And those he predestined, he also called; those he called, he also justified; those he justified, he also glorified. — Romans 8:28-30
Question: How will we know the Joy? If in this life it's kind of like 'you can't know joy without pain, happy with out sad, bad without good' how will we know that we are experience Pure Joy in heaven? Will people become complacent or tired?
I think we'll know joy because we'll remember life now. I hope we won't become complacent or tired because one way heaven is described is as perfect rest, where work and play are unfrustrated by our shortcomings. So work exists in the Bible before sin, but exists as a sort of unfettered playful creativity with the good things God made.
CS Lewis writes some cool stuff about the fleeting sense of joy we experience here in this world and the overwhelming joy we'll experience, by comparison, in the new creation. Especially in the Weight of Glory (and also in Surprised By Joy). Some bits are about Greek poetry and stuff, which was what he lectured in at university, but you can skip that pretty easily and still get something out of this. I think. Here are some great bits from the Weight of Glory.
In speaking of this desire for our own far off country, which we find in ourselves even now, I feel a certain shyness. I am almost committing an indecency. I am trying to rip open the inconsolable secret in each one of you—the secret which hurts so much that you take your revenge on it by calling it names like Nostalgia and Romanticism and Adolescence; the secret also which pierces with such sweetness that when, in very intimate conversation, the mention of it becomes imminent, we grow awkward and affect to laugh at ourselves; the secret we cannot hide and cannot tell, though we desire to do both. We cannot tell it because it is a desire for something that has never actually appeared in our experience. We cannot hide it because our experience is constantly suggesting it, and we betray ourselves like lovers at the mention of a name. Our commonest expedient is to call it beauty and behave as if that had settled the matter…The books or the music in which we thought the beauty was located will betray us if we trust to them; it was not in them, it only came through them and what came through them was longing. These things—the beauty, the memory of our own past—are good images of what we really desire; but if they are mistaken for the thing itself they turn into dumb idols, breaking the hearts of their worshippers. For they are not the thing itself; they are only the scent of a flower we have not found, the echo of a tune we have not heard, news from a country we have never yet visited…

…Heaven is, by definition, outside our experience, but all intelligible descriptions must be of things within our experience. The scriptural picture of heaven is therefore just as symbolical as the picture which our desire, unaided, invents for itself; heaven is not really full of jewelry any more than it is really the beauty of Nature, or a fine piece of music. The difference is that the scriptural imagery has authority. It comes to us from writers who were closer to God than we, and it has stood the test of Christian experience down the centuries. The natural appeal of this authoritative imagery is to me, at first, very small. At first sight it chills, rather than awakes, my desire.And that is just what I ought to expect. If Christianity could tell me no more of the far-off land than my own temperament led me to surmise already, then Christianity would be no higher than myself. If it has more to give me, I must expect it to be less immediately attractive than "my own stuff." …If our religion is something objective, then we must never avert our eyes from those elements in it which seem puzzling or repellent; for it will be precisely the puzzling or the repellent which conceals what we do not yet know and need to know. The promises of Scripture may very roughly be reduced to five heads. It is promised, firstly, that we shall be with Christ; secondly, that we shall be like Him; thirdly, with an enormous wealth of imagery, that we shall have "glory"; fourthly, that we shall, in some sense, be fed or feasted or entertained; and, finally that we shall have some sort of official position in the universe—ruling cities, judging angels, being pillars of God's temple…

…At present we are on the outside of the world, the wrong side of the door. We discern the freshness and purity of morning, but they do not make us fresh and pure. We cannot mingle with the splendours we see. But all the leaves of the New Testament are rustling with the rumour that it will not always be so. Some day, God willing, we shall get in. When human souls have become as perfect in voluntary obedience as the inanimate creation is in its lifeless obedience, then they will put on its glory, or rather that greater glory of which Nature is only the first sketch. For you must not think that I am putting forward any heathen fancy of being absorbed into Nature. Nature is mortal; we shall outlive her. When all the suns and nebulae have passed away, each one of you will still be alive. Nature is only the image, the symbol; but it is the symbol Scripture invites me to use. We are summoned to pass in through Nature, beyond her, into that splendour which she fitfully reflects. And in there, in beyond Nature, we shall eat of the tree of life. At present, if we are reborn in Christ, the spirit in us lives directly on God; but the mind, and still more the body, receives life from Him at a thousand removes—through our ancestors, through our food, through the elements. The faint, far-off results of those energies which God's creative rapture implanted in matter when He made the worlds are what we now call physical pleasures; and even thus filtered, they are too much for our present management. What would it be to taste at the fountain-head that stream of which even these lower reaches prove so intoxicating? Yet that, I believe, is what lies before us. The whole man is to drink joy from the fountain of joy. As St. Augustine said, the rapture of the saved soul will "flow over" into the glorified body.