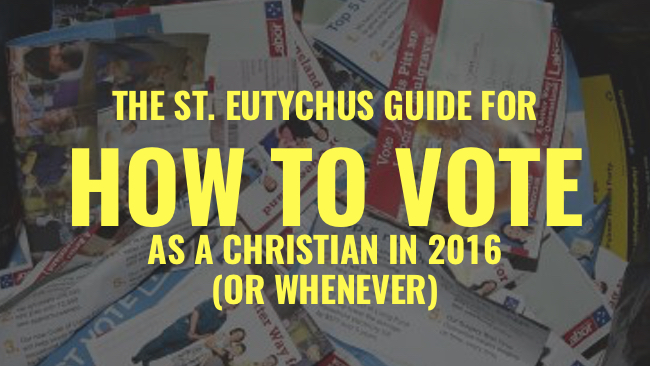 In the first post in this election week series I wrote about how I think we should be discharging the responsibility of voting this weekend, now I turn to a specific reason not to base your vote on in this election; and it's important, and the reasons are many, so it'll take a few posts (rather than one mega post).
There are many, many, Christian voices telling us that this election is different from every election that has come before it.
We're told there is lots at stake in our vote; so much at stake, that we might even have to give up on liberal democracy and its values — and the freedoms it should be providing us as a minority group — in order to attempt to enshrine our view as the popular one.
I've read a handful of blog posts and opinion pieces now that say Christians must vote for the Liberals or the National Party in order to secure the electoral Holy Grail — a plebiscite on Same Sex Marriage — that will allow us to protect our view of marriage (with the caveat that we believe it really is the best relational unit to enable humans to flourish).
I've read a couple that very strongly infer it but then stop short of endorsing a party because it's not only marriage at stake but our religious freedom, and freedom of speech.
My own denomination stopped short of telling us exactly who to vote for in a public statement, but did state that it is our duty to vote for the definition of marriage to remain unchanged should a plebiscite happen, and further, that churches should be involved in the campaign for this particular result in a hypothetical plebiscite.
I believe if this is your sole reason for voting for the Liberal Party then it is a bad reason to vote for them. There are perhaps many good reasons to vote for them, and many good people standing for election with them.
I believe a plebiscite is a bad idea and will be bad for our country (though not really for the reasons the same sex marriage advocates say it will be), and that it will be bad for our Gospel witness to our country if we actively campaign for a plebiscite, or in a plebiscite. Clearly it's too late to stop the former…
Further, I believe those pushing for a plebiscite and those arguing against same sex marriage are holding onto a modernist (old fashioned) view of law and Australian society, and this view in an of itself will become increasingly damaging to the Gospel. A modernist Christian approach to the public life of our secular country will lead to fear, disappointment, and discouragement for Christians, and will have us fighting battles on the wrong front. It'll lead to isolation, and misunderstanding of what Jesus desires, for non-Christians.
We need to reframe the way we think about politics, and more importantly, about being the church: God's Kingdom of people following King Jesus, as citizens in a post-modern, secular, world.
In a later post, but in order to flag where things are going now, I'll suggest that if we want people meeting Jesus to be the chief good we stand for in our nation, then pushing for a plebiscite is a bad idea, and so too, potentially, is opposing Same Sex Marriage (though practicing marriage as Christians are called to practice it within our counter-cultural 'kingdom' will be an important part of our witness to the chief good).
Life as a Christian in post-modern Australia
Here are a couple of not uncommon scenarios, that are, in fact, real. They're not just real in an isolated sense either; they're real in that they happen in Australian communities all over the place.
There's a Christian who loves the gay community in his small town and is seeking to build relationships with them in order for them to experience the love of Jesus in action, and to hear the Gospel. This Christian meets with this couple who tell him of their great desire to marry as an expression of their freedom to be who they are. This couple might not realise what the Christian perceives as the spiritual reality behind this desire; which is a function of putting sex and marriage as the chief love and aim of this couple's humanity, a spot we believe belongs ultimately to Jesus; but this desire is real. It is fundamentally as religious as the Christian's desire to love and worship Jesus in Australia. The Christian wants to hire a public space at the local pub to run a course on Christianity, and is relying on a shared belief in religious freedom, to make that booking a reality.
There's another Christian family who lives on a street full of friendly people. They talk about politics regularly, and religion sometimes. They love each other, lend a hand, and do life together. One couple on the street are men who wish to marry. The people on the street see the love and commitment these men have for one another, and they see the love the Christian family has for those who live on the street; they struggle to reconcile a consistency between these people who want to live following Jesus and their speech about love and freedom, with what Christians say about the relationship they witness in the house down the road. If the Christian's rationale for denying these men who already have children the object of their desires is: that it is unnatural, that marriage is for raising and protecting children, or that a God they don't believe in, or a 2,000 year old book says it is wrong, this fails to adequately address the humanity and experience of the couple on the street in a way that works for their neighbours.
Both these Christians desperately want their neighbours — gay and straight — to hear about Jesus. They both want religious freedom and the freedom to speak about Jesus, but this freedom, in a secular post-modern world of competing truths and differing moral visions, is earned, not an inherent right, it is earned by extending the same freedom to others.
These realities are our post-modern, post-Christian, secular realities. They're not easy scenarios, but we need to be careful that in our desire to proclaim the Gospel in this context we don't keep hold of old strategies that didn't really work. The moral framework of the 1950s may have had a bunch of people living like they were Christians, and ticking a box on the census that indicated a Christian identity, but it didn't do a great job of forming people as disciples of Jesus. And holding on to the idea that Godly morality will deliver anything for the Gospel, or that resisting a shifting public moral framework is what will win us religious freedom just seems quaint and old fashioned. And it's entirely the wrong question for Christians to be grappling with.
It is, to borrow an Australian expression "arse about" — people won't meet Jesus because they're told not to gay marry, or that gay marriage is wrong; they might, if they meet Jesus and put him at the centre of reality — their own reality, and the cosmic reality of the universe — understand marriage in a different way and approach it differently in their own lives.
What we should be spending our intellectual energy on as Christians is what to do if after they get married these couples, their children, and their neighbours, turn up in church wanting to hear about Jesus. How do they then live in the light of the Gospel?
A plebiscite, whatever the result, and for various reasons that I'll elaborate on in future posts, denies the complexity of reality in post-modern, post-Christian, secular Australia. It's a bad idea foisted on us by the very conservative wing of a political party as a last ditch attempt to defend a good thing that our society has walked away from. Marriage as God created it is remarkably good. It is almost all the things people campaigning for it say that it is — but the campaign is falling on deaf ears because the arguments being mounted are the arguments of modernist, nominally Christian, Australia. And most of our neighbours don't live there any more.
Don't vote just to secure a plebiscite. Vote for three years of government, not 6 months of uncertainty, and an uncertain and by no means final outcome.
Why choosing how to vote just on the basis of a plebiscite is a bad idea
Making the plebiscite your single issue this election is a bad idea. It's probably not great to tell Christians that it's their duty to vote a particular way either to secure a plebiscite, or in a plebiscite either — but that's the subject of one of the next posts.
You're going to vote to give government to a party you may or may not agree with on a bunch of other moral issues over one issue that will be voted on and legislated in the first six months of government where all the evidence suggests the result is a foregone conclusion?
What about the next 3.5 years? What about all the other defining moral issues of our times? It might be that you can have your cake and eat it to on that front if you believe the Liberal and National Party platforms deal well with these issues, and if their candidates are well equipped to govern with wisdom and virtue. That's good.
Is that period of government so unimportant, or same sex marriage so important that all other considerations about ethical and good government are irrelevant? Vote for the person in the party who is going to make decisions with the most wisdom and virtue.
Even if it isn't, a plebiscite in and of itself is a bad thing in our form of democracy and will come back to bite us if we further enshrine a belief that democracy is a combination of populism and majority rules.
A plebiscite in particular is a bad reason to vote for a party; and I believe (though I understand others will differ) that support for same sex marriage is a bad reason to vote against a party in a secular liberal democracy. I'll unpack this in two subsequent, longer posts, unpacking some of the rationales I've heard from Christians in support of a plebiscite.