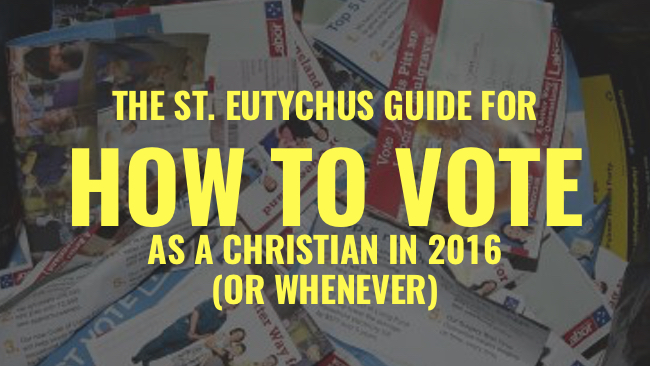 One of the big arguments I've read on opposing the plebiscite is that this is the defining moment in the fight for religious freedom and for freedom of speech. The plebiscite will only be this if we religious people make it so; and especially if we make it a defining fight about Christian religious freedom and our picture of religious freedom is based on the yester-years of Christendom; not on what religious freedom looks like in a pluralist, secular, post-Christian, liberal democracy.
Publicly calling for the plebiscite because it is the last battleground where we might secure religious freedom or defend free speech is a bad idea. Especially when we Christians have also called for a 'no holds barred' public conversation where people can deliberately say offensive things. It's too hard for us to differentiate Christian voices in the public square for an audience who don't care about nuance, unless we're going to say remarkably different things. But these ideas are out there now. And they're going to hurt our witness.
Free speech doesn't guarantee us a hearing for the Gospel
It's one thing to have 'free speech' — it's an entirely different thing to have a voice people will listen to. Securing the former at the expense of the latter is a terrible strategy.
We, as Christians, are citizens of God's Kingdom whose shared task — whose 'great commission' — is to preach the Gospel so as to make disciples of Jesus. We shouldn't be so cheaply sacrificing being heard by our neighbours to 'secure' freedom to speak. And that's what this debate represents — its a chance for us to so stridently argue against our neighbours and how they view the world, and what it means to flourish in it, in the name of free speech that they'll push us to the margins and not listen to what we have to say, or its a chance to model the sort of listening to others that will, at times, result in us being heard.
Free speech and religious freedom are good things, but I'm not willing to compromise my responsibility to speak with love and understanding, and the free practice of my religion — following a saviour crucified by the empire and the religious establishment — to win a fight for things the secular government can't actually take away.
We might be given speech freely, but being listened to is something we've got to earn. We should be much more interested in having our voice actually heard, than in the freedom to speak loudly and obnoxiously in the public square. Earning a hearing is costly, and our core business, as Christians, is to be people who speak words at our cost. The core of our message is the crucified Word. We know more than anyone else that if speech is worth hearing it is incredibly expensive to the speaker. Free speech is for wimps.
We preach a message that is so at odds with the way people around us see our world, and it produces such cost in itself from the world, that Paul has to keep pointing out to his friends that he's not ashamed of our crucified king, Jesus, and that his chains are a small price to pay.
"For I am not ashamed of the gospel, because it is the power of God that brings salvation to everyone who believes: first to the Jew, then to the Gentile. For in the gospel the righteousness of God is revealed—a righteousness that is by faith from first to last, just as it is written: "The righteous will live by faith." — Romans 1:16-17
The secular world isn't equipped to respond to the Gospel as truth without the Spirit
Paul says these words just before he describes the world we live in — an unrighteous world where people live by the flesh, and they do that because God has given them over to a particular way of seeing things because we humans reject him (Romans 1:18-28).
This theological reality has significant implications for a plebiscite; implications that mean our political campaigning will probably be a waste of time and energy better spent elsewhere, and if our 'free speech' isn't used to proclaim the Gospel, and if the ears that hear it aren't moved by God's Spirit, we have little chance of changing what people worship, and so changing how they see the world.
"Those who live according to the flesh have their minds set on what the flesh desires; but those who live in accordance with the Spirit have their minds set on what the Spirit desires." — Romans 8:5
Barring a miraculous event where more than 50% of Australia suddenly converts to Christianity and so sees the idol of 'sexual freedom' through the lens of the Holy Spirit, the only way we're going to see a majority of Aussies voting against Same Sex Marriage is if we adopt 'fleshy' natural arguments, putting forward a bunch of alternative counterfeit gods to shape the way our neighbours vote. We'll have to rely on arguments that attempt to put freedom, nature and procreation and other 'created things' at the heart of someone's response to the issue when they enter the voting booth for the plebiscite.
Even if a plebiscite does go this way, if people vote against Same Sex Marriage, we're kidding ourselves if we think majority rules is a win for the free proclamation of the Gospel, especially if it comes at the expense of us wielding worldly power and appealing to people's idolatrous 'natural' vision of the world, or at the expense of Gospel clarity.
Our job is to hold out the Gospel, speaking at our cost. Just like Paul. Come what may. Come whatever changes the world might bring.
Our job is also to earn a hearing for our expensive message. Here's what Peter says to the early church, a church living without free speech and with the knowledge that they needed to earn the right to be heard if they were going to fulfil the Great Commission:
Dear friends, I urge you, as foreigners and exiles, to abstain from sinful desires, which wage war against your soul. Live such good lives among the pagans that, though they accuse you of doing wrong, they may see your good deeds and glorify God on the day he visits us.

Submit yourselves for the Lord's sake to every human authority: whether to the emperor, as the supreme authority, or to governors, who are sent by him to punish those who do wrong and to commend those who do right. For it is God's will that by doing good you should silence the ignorant talk of foolish people. Live as free people, but do not use your freedom as a cover-up for evil; live as God's slaves. Show proper respect to everyone, love the family of believers, fear God, honor the emperor. — 1 Peter 2:11-17
In order to earn a hearing for the Gospel we might first need to use our free speech to redefine what 'good' is, rather than seeking to legislate our vision of good
There's a difference between doing good ourselves and being known for doing it, and seeking to have our laws established as good for others; especially when nobody really shares an understanding of what good is for humans anymore.

The Christian account of what is good for people is tied to a created telos, or purpose, for humanity; something that we might become if we live with a particular vision of good in mind. This isn't an exclusively Christian thing, Aristotle was pretty big on this idea too. It is, however,  something we've lost in our secular age as we've collapsed the 'transcendent' spiritual reality that people used to assume existed, into a purely immanent material framework for knowing about and experiencing the world.

In After Virtue, Alisdair MacIntyre makes the observation that modern (and post-modern) secular morality has no sense of a purpose or telos outside of material existence for humanity — no good beyond the idea of 'being what you are' — so a very different understanding of good is operating in our world, and being legislated for by our secular government. We'll talk past each other if we don't understand the secular world we live in now and its ethics.

I think there's a good case to be made that loving our neighbours means participating in the political realm and seeking their good. But we've got to know the moral field has changed. Our task is first to argue for a different kind of good — which we do via the Gospel — and we do this by both proclaiming the Gospel and investing our lives in the persuasive, costly, pursuit of the sort of good we want to legislate for, to demonstrate its goodness. We can't achieve good in any real sense just pursuing a Christian moral framework for those "ruled by the flesh," whose sense of good is limited to the natural world and what is, not a divine sense of what ought to be for humans.

Freedom of religion and our use of free speech need to be pointed at addressing this new secular sense of goodness, not trying to defend the moral framework our world is rapidly walking away from. The gap in understanding what good is between us, and our neighbours, is growing fast, but it's a mistake to think this wider gap means we need to shout louder; rather than meaning we need to do some bridge-building before we listen to and speak to our neighbours. If we don't realise why things were the way they were, why they're not anymore, and what has been lost in our shared life as a result of this change; we won't be able to speak across this gap. What has been lost, fundamentally, is a sense of both a divine being who made humanity, and any sense of a divine good purpose or telos for our humanity. We can't argue that people should accept this purpose when they no longer accept the premise. And I don't think Romans 1 leaves us with any grounds to assume that will work.

The world has, for some time, been influenced by a Christian moral vision, or a man-made religious framework that looked a lot like 'righteousness' — and that has worked, in some ways, for the good of many (but it hasn't necessarily been for the ultimate good of many people if that is caught up with knowing and following Jesus). But the world is shifting, and the way to shift it back is not by trying to maintain a particular moral framework, by some use of the law, against the desires of those in our community, but by listening to Paul and Peter — preaching the Gospel, and living it, free from fear of the changes around us and the costs they might involve for us.

The sort of religious persecution we face in Australia is the ultimate #firstworldproblem; people might mock us, scorn us, fine us, arrest us, take our property in lieu of payments of those fines or in law suits, and they'll push us further to the margins of our society; but they're highly unlikely to throw us to lions, burn us alive, or stone us for our beliefs.

We're not meant to live by the sword; we're meant to live by the Cross. We're meant to know that the world isn't a comfortable place that guarantees our freedom. The world isn't 'safe' for us. Somewhat ironically, the same people getting mad at marginal groups who ask for 'safe spaces' in our universities and community spaces are now asking for the whole public sphere to be 'safe' for us to safely speak. We get safety to speak and believe freely by extending that same protection to others, not by seeking to curtail it.

[ssba]