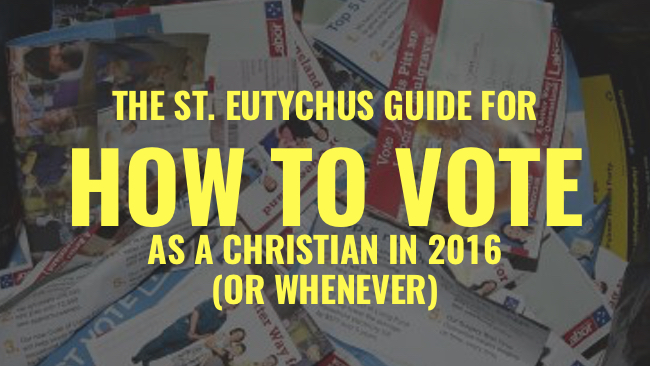 I've posted a guide to voting as a Christian in this election, and some initial summary reasons that a plebiscite might be a bad idea, and specifically why voting for a plebiscite as a means to securing freedom of religion or speech is a bad idea. Here are three more reasons not to vote just for a plebiscite. Again, and particularly for this post; the standard disclaimer applies. I'm speaking as an individual, a Christian, looking to figure out how we live well in our society through to this election, a potential plebiscite, and beyond. I'm not speaking for my church, denomination, Christians everywhere, or whatever… And I'm quite open to being persuaded that I'm wrong or have missed something.
1. Don't vote for a plebiscite because you fear a changing world
There's plenty of fear operating in the conservative community, both inside and outside the church, because the world is changing very, very, quickly. Or rather, it has changed pretty slowly but like the frog in a boiled-from-cold pot of water, we've only just realised the temperature has hit boiling point.
These changes have been coming for a long time — changes in how we understand democracy, how we disagree, the role the media plays in fuelling disagreement, changes in the place of religion, and Christianity, in the public square, a change in the ultimate common objects of love in our community so that sexual freedom is the ultimate good, and it trumps all other considerations; all of these changes are significant in and of themselves, and all of them are frightening for a bunch of Christian voices. Some of these voices are now seeing marriage, and its definition, as the final frontier (others are seeing it as some sort of last bastion to fight for before they come for what we really treasure: free speech).
Christians aren't meant to fear the world. We have no good reason to fear the world, and good reasons not to, and we also have good reasons to believe that the world will cause us temporary pain. We are citizens of God's kingdom before we're citizens of earth, and that controls our destiny. We're followers of Jesus — who the world hated and crucified, and yet he was raised from the dead and said, in talking about how we'd be treated by the world:
"What I tell you in the dark, speak in the daylight; what is whispered in your ear, proclaim from the roofs. Do not be afraid of those who kill the body but cannot kill the soul. Rather, be afraid of the One who can destroy both soul and body in hell" — Matthew 10:27-28
2. Don't vote for a plebiscite because you think it is 'democratic'
A plebiscite is not the answer. It might feel democratic — and its a form of democracy — but its not a good form of democracy. It's the form that isn't about a government protecting the freedoms and difference of the communities and individuals it governs for; it's the form of government that isn't about leaders who embody certain virtues making decisions with wisdom; it's the form of democracy where majority rules and where persuasion and manipulation win out.
And so, these voices that tell us how to vote at this election because it is different are telling us not to rely on the principles of our liberal democracy but populism — we realise that the principles of liberal democracy almost necessarily lead to a community-within-our-community — the gay and lesbian community — having their voice heard on the definition of marriage so that it would include their relationships, so we want to turn to a different form of democracy. One where the majority might rule in our favour if we're able to say just the right things. Populism. Majority rules.
This is a dangerous version of democracy. It isn't about giving everybody equal standing under the law, and an equal share of the public life. It's about giving the most popular position a disproportionate amount of power over public life — total control. And this will be dangerous for Christians for the other 2.5 years of a 3 year term, or for the future. Direct democracy, which is becoming popular because the internet allows it, is a stupid, stupid, idea.
If we want majority to rule, and so argue for a plebiscite as a good way to do serious and important political decision-making, then we need to carefully figure out why this issue is worth it and other issues are not. Adopting a blanket rule that populism is how we want government to happen (and its bad enough when its the opinion polls shaping our policy platforms), we also risk doing significant damage to our increasingly marginal position in the community if we want to make populism the way democracy happens because it might suit us now. It's a live by the sword, die by the sword deal.
Do you really want the tides of populism turning on the church? Especially if in the plebiscite we manage to offend everyone by assuming they'll listen to arguments from the 1960s, and we fail to understand what people are actually asking for? Especially if we're seen as wanting God's law to rule a secular nation (a legitimate criticism, though it's because we believe it is good for society) or not loving gay people.
3. Don't vote for a plebiscite because you think defending marriage is the way to love your neighbours
In After Virtue, Alasdair MacIntyre talks about what happens to 'morality' when we shift looking at other people as 'ends' in themselves, and start treating them as a 'means to an ends' — he suggests there's no morality outside of seeing other people as their own ends. In a plebiscite, where we Christians are told to seek a particular result and to try to persuade people to vote the same way, there's almost no chance we'll be using our speech to do anything but treat other people as a means to this greater end — securing the result we want.
And in the process, we risk turning our neighbours into objects to argue with and persuade (rather than people to understand and love), and further run the risk of marginalising already marginalised people in our community — gay and lesbian people — both in the wider community, and in those in our Christian community-within-the-community who are seeking to live faithfully for Jesus. We straight married people have the tendency to see the world, sexuality, and marriage, through the grid of our own normal experience and so take certain 'realities' for granted. We don't know when we're going to say things that our same sex attracted brothers and sisters find soul crushing and debilitating, unless we let them take the lead a little on this.
This is a pastoral minefield that we're encouraging people to shut their eyes and run around in hoping to secure a particular result in the political minefield a plebiscite presents.
I'm particularly worried about the way we speak about marriage being idolatrous and being pastorally damaging. As Christians we don't believe marriage is the best unit for a flourishing society; or for our children: a village of people following Jesus is.
Marriage is a good thing, and especially good within that community where people are loving each other as a reflection of Jesus' love for his church. Marriage can't bear the weight we put on it, socially or individually.
We're also going to open up the idea, intentionally or otherwise, that we so loathe the gay community that we don't believe they have the same rights to be heard and accommodated in our secular liberal democratic state.
If we engage in the plebiscite because we think its essential to protect our religious freedom we're missing the point that for a society that worships at the altar of personal sexual liberation, we're trying to curtail the religious freedom of others.
The chief good for our neighbours is not found in a broken worldly institution of heterosexual marriage — as much as it is a testimony to the goodness of God's created design for people — it's found in the one who will restore and renovate creation, and who invites us to be part of his kingdom.
We can't confuse the act of arguing for lesser goods with securing this chief good; we might in the logic of 1 Peter 2, by robustly living out the goodness of the lesser goods, secure a hearing from people about the goodness of the Gospel, the chief good. But the chief good is the chief good because it re-orders how we approach and understand all other goods. It, as Augustine says, rightly orders our loves for the things in this world. People who don't primarily love Jesus and serve him as Lord can't and won't approach other goods the way Jesus calls them to.
We should probably put lots of energy into making marriages within the church remarkably different and better than marriages outside the church, and keep teaching people about the goodness of marriage as God designed it (by marrying them and so teaching them about God's goodness and chief goodness in the process).
Why there might be good secular reasons for Christians to support same sex marriage
There are good reasons to not change our definition of marriage within the church; Biblical reasons and an understanding of God's design for humanity and sex. These reasons make no sense to an idolatrous world that hasn't just rejected God, but has had God change the way they see the world (Romans 1:18-28). These reasons are bad reasons for a world where people now worship sexual freedom, such that when we speak against same sex marriage we are speaking against a particular form of religious freedom.
There are good reasons in terms of understanding how our post-modern public square works, and to keep having a voice of integrity within it, to vote against our own interests and beliefs to allow others to practice their interests and beliefs freely, because a liberal secular democracy falls apart if it becomes a case of majority rules.
Others believe integrity requires not compromising how we see the world because others see it differently; I think real integrity requires being clear about what we think and believe, speaking for that, but then compromising because we know that is how the world works, and we expect others to compromise for us. If we want religious freedom, freedom to be Christian as a community-within-a-community, freedom to disagree with the majority, then we need to give this freedom to others.
The argument about protecting children at this point would've been a plausible argument had we not already socially de-coupled children from marriage ages ago, and if there weren't already things in place to allow gay couples to give birth to, and raise, children. I personally don't even think the argument that marriage is for children bears much weight; I think marriage — as the one flesh union between a man and a woman — is an end in itself, not a means to an end.
There's also the question of not just how we are seen to love the gay community, but how we actually love them — especially if they are as Romans 1 suggests "their thinking became futile and their foolish hearts were darkened" because "God gave them over in the sinful desires" — how is it loving to tell people not to live the way God is making them live? Sure, the reason God gives people over to sinful desires is because we worship created things in his place… but the kicker in Romans when you're getting all judgy about these awful idolaters who sin lots is in chapter 2:
"You, therefore, have no excuse, you who pass judgment on someone else, for at whatever point you judge another, you are condemning yourself, because you who pass judgment do the same things." — Romans 2:1
We don't love the gay community by trying to make them live a way that God is preventing; we don't love them (or others in our community) by insisting people see marriage the way we do, as a created thing that reveals the divine nature and character of God (Romans 1:20).
If our vision for their flourishing is that they come to know Jesus and perhaps rethink where their sexuality fits into their identity as a result (which it is, not that they become heterosexual).
We love the gay community, absolutely, by presenting them with the chance to know Jesus — that's consistent with our ultimate vision of human flourishing — their chief good — their ultimate telos. If they don't, and can't, see or pursue that telos on their own steam, if they need the Spirit (Romans 8), via the Gospel (Romans 1:16); is it actually loving to limit how a liberal, secular, democracy defines marriage for its citizens because we can possibly get the votes to enshrine our view as the majority view?
Is it truly democratic?
Is it loving to prevent their freedom to define their relationships the way they see fit because we see things differently by the grace of God? If sexual freedom is, itself, an idol — a created thing — that people worship in the place of God, whether they know it or now then is this not a question of religious freedom too?
Gay marriages won't be good for people in the sense of their created telos — what is good for people is being transformed into the image of Christ…
And we know that in all things God works for the good of those who love him, who have been called according to his purpose. For those God foreknew he also predestined to be conformed to the image of his Son, that he might be the firstborn among many brothers and sisters. And those he predestined, he also called; those he called, he also justified; those he justified, he also glorified. — Romans 8:28-30
This is what ultimate good looks like, but there will be smaller, secular, goods for our gay neighbours consistent with the desires and other temporal benefits that come from long term committed relationships. If our neighbours — gay or straight — aren't going to change the pursuit of their gods, or of sex and love and happiness without Jesus — then perhaps the most loving thing we can do, while proclaiming Jesus to them, is maximise the good and virtuous things these relationships produce; rather than seeking to limit vice. I guess other people will see this differently; I get that. And they'll see the fabric of our society being torn apart and changing and damaging all sorts of people; I get that too. I just don't see it that way. Because the fabric of our society has fundamentally been torn apart already. Years ago. We're grasping after a shadow.
I'm not sure at that point that we can consistently oppose same sex marriage in a secular frame, to do it requires people seeing the world through the lens provided by the Spirit, which is why we need to get better at getting our own house in order within the church; so that our good marriages are part of our testimony to the ultimate good.
 "For this reason a man will leave his father and mother and be united to his wife, and the two will become one flesh." This is a profound mystery—but I am talking about Christ and the church. However, each one of you also must love his wife as he loves himself, and the wife must respect her husband." — Ephesians 5:31-32