There's always an easy way out.
Just bend the knee and the beatings will stop… not only will they stop. You'll be forgiven.
Not only will you be forgiven, you'll become a champion for the cause able to help people just like you used to be see the way out.
This is the carrot. This has always been the way. Perhaps because people taking the carrot is the Devil's ultimate weapon — because it is really people reaching out and grasping the forbidden fruit…
Ware the carrot. Fear the carrot. It is more dangerous than the stick.
There's always a carrot.
There's always a way out. Even in extremely sticky situations.
This was true in Daniel.
"Is it true, Shadrach, Meshach and Abednego, that you do not serve my gods or worship the image of gold I have set up? Now when you hear the sound of the horn, flute, zither, lyre, harp, pipe and all kinds of music, if you are ready to fall down and worship the image I made, very good. But if you do not worship it, you will be thrown immediately into a blazing furnace. Then what god will be able to rescue you from my hand?"

Shadrach, Meshach and Abednego replied to him, "King Nebuchadnezzar, we do not need to defend ourselves before you in this matter. If we are thrown into the blazing furnace, the God we serve is able to deliver us from it, and he will deliver us from Your Majesty's hand. But even if he does not, we want you to know, Your Majesty, that we will not serve your gods or worship the image of gold you have set up." — Daniel 3:14-17
It was true in Rome, under Emperor Trajan, who wrote these instructions to Pliny, the governor of one of his provinces who wanted to know how to treat Christians, and people who'd once claimed to be Christian, but walked away.
"They are not to be sought out; if they are denounced and proved guilty, they are to be punished, with this reservation, that whoever denies that he is a Christian and really proves it — that is, by worshiping our gods — even though he was under suspicion in the past, shall obtain pardon through repentance."
And you know, for Polycarp, a bloke who the empire killed because he wouldn't renounce Jesus, whose death is described in the aptly named The Martyrdom Of Polycarp.
Some tried to persuade him to walk away from his death at the hands of the empire saying:
"What harm is there in saying, Lord Caesar, and in sacrificing, with the other ceremonies observed on such occasions, and so make sure of safety?"
He refused. Over and over again.
"And when he came near, the proconsul asked him whether he was Polycarp. On his confessing that he was, [the proconsul] sought to persuade him to deny [Christ], saying, "Have respect to thy old age," and other similar things, according to their custom, [such as]," Swear by the fortune of Caesar; repent, and say, Away with the Atheists."

But Polycarp, gazing with a stern countenance on all the multitude of the wicked heathen then in the stadium, and waving his hand towards them, while with groans he looked up to heaven, said, "Away with the Atheists."

Then, the proconsul urging him, and saying, "Swear, and I will set thee at liberty, reproach Christ;"

Polycarp declared, "Eighty and six years have I served Him, and He never did me any injury: how then can I blaspheme my King and my Saviour?"
This is the goal. Our goal and the worlds. Ours is to believe that Jesus is true, and true to us. Theirs is to persuade us to blaspheme our king and Saviour. Because that is what the serpent has been after since the beginning. And the best way to do that is to offer the carrot.
And, of course, this is exactly what is at play when Satan offers Jesus a carrot, and Jesus ultimately chooses the sticks — the wooden planks of the cross — instead. 
"Again, the devil took him to a very high mountain and showed him all the kingdoms of the world and their splendor.  "All this I will give you," he said, "if you will bow down and worship me."

Jesus said to him, "Away from me, Satan! For it is written: 'Worship the Lord your God, and serve him only.'" — Matthew 4:8-10
The world lures us away by offering carrots. The sticks are a distraction to make the carrot more appealing. So that we'll wander off and join everybody else in their boundless enjoyment of the carrot.
There's a rabbit warren in Richard Adam's Watership Down, Cowslip's Warren, where the rabbits appear to be living in bliss. They're well fed. By humans. All you can eat carrots. The rabbits don't realise that they're being farmed by the people. That they're food. That's the people in our world. They're being kept well fed, they think they're indulging in the good things they worship, but they are ensnared.
The rabbits in Cowslip's Warren have no stories to connect them to the past, to explain why people should or shouldn't enjoy boundless carrots. Just poetry, just revelry in the moment. They need to keep disconnected from history, and from other stories, and from other warrens, in order to believe that what goes on in their warren — where rabbits are snared by their human overlords and disappear from time to time — that this is normal. That it's just what happens.
"The rabbits became strange in many ways, different from other rabbits. They knew well enough what was happening. But even to themselves they pretended that all was well, for the food was good, they were protected, they had nothing to fear but the one fear; and that struck here and there, never enough at a time to drive them away. They forgot the ways of wild rabbits. They forgot El-ahrairah, for what use had they for tricks and cunning, living in the enemy's warren and paying his price?" — Watership Down
And the thing the carrot-addled rabbits had forgotten? The words of the 'Rabbit God' El-ahrairah.
"All the world will be your enemy prince of a thousand enemies. And when they catch you they will kill you. But first they must catch you. Digger. Listener. Runner. Prince with the swift warning. Be cunning and full of tricks and your people will never be destroyed."
Rabbits were meant to remember the story of El-ahrairah, and his teaching, and run and hide. Made for it. Not to sit and get fat on carrots. Not become story-less.
Watership Down is prophetic really. The lure of the carrot is powerful. Especially when we disconnect ourselves from our past, from history, from stories, from eternity, and start living as though this moment is all there is. Which is exactly what our dominant culture has done. Who needs history? Who needs 'transcendence' or anything beyond the here and now? Why wouldn't we want more carrots?
This is how our culture is destroying the church. Yet we keep worrying about the stick. Stop worrying about the stick.
The stick of persecution might be looming large for Christians in Australia as we read about new laws and new campaigns to silence Christian voices (or sometimes just to stop us being jerks). But there's always a way out. A carrot, dangling just out of reach. Luring us. Leading us.
The thing is. We aren't actually rabbits. Jesus is our El-Ahrairah. And our own survival isn't necessarily our goal. We're to be nimble  — shrewd and innocent — in the face of persecution, sure. But we're going to be caught. And offered carrots, and beaten with sticks.  But we're to endure it, to know that persecution of the body is not a great reason to grab hold of some carrots. And we only ever read these words of Jesus from Matthew 10 in the light of the climax of the story, the cross and resurrection. He tells us (starting with his disciples) this is going to happen, and then he lives it himself. He endures persecution. This is the story that we're meant to remember that'll keep us from the offer of carrots.
"I am sending you out like sheep among wolves. Therefore be as shrewd as snakes and as innocent as doves. Be on your guard; you will be handed over to the local councils and be flogged in the synagogues. On my account you will be brought before governors and kings as witnesses to them and to the Gentiles… You will be hated by everyone because of me, but the one who stands firm to the end will be saved. When you are persecuted in one place, flee to another. Truly I tell you, you will not finish going through the towns of Israel before the Son of Man comes.

"The student is not above the teacher, nor a servant above his master. It is enough for students to be like their teachers, and servants like their masters. If the head of the house has been called Beelzebul, how much more the members of his household!

"So do not be afraid of them, for there is nothing concealed that will not be disclosed, or hidden that will not be made known. What I tell you in the dark, speak in the daylight; what is whispered in your ear, proclaim from the roofs. Do not be afraid of those who kill the body but cannot kill the soul. Rather, be afraid of the One who can destroy both soul and body in hell." — Matthew 10:16-18, 22-28
As an aside, lets make sure we're getting beaten for the right stuff. I'm all for persecution but we don't have to bring it on ourselves by being idiots — pretending we're still the ones holding a stick, or grabbing for us, is sure to see us belted harder. Let's get hit for what Jesus told us to get hit for. The very unpopular Gospel message we preach. Not for having it in for particular subsets of our culture, or the 'enemies' we choose to target in a circle of stick wielders that is closing in on us. You know. When we get stories published in newspapers about how we've had to officially decide whether to let the kids of gay parents come to our schools… That's a paddlin' — but for entirely the wrong reason.
There's always going to be a stick. The world is always going to come after us because the 'prince of this world' is coming after us, and the world.
There's always a carrot though. An easy way out. And that's where the insidious part of the trap lies.
If you want to stop the beating you could walk away. And the lure is strong. I'd say the lure is stronger than the stick, and yet, for those of us who won't walk, we seem more worried about what the stick will do to us than we are about the lure of the culture around us and what it promises those who walk away.
The turkish delight is delicious and our society is always looking for Edmunds.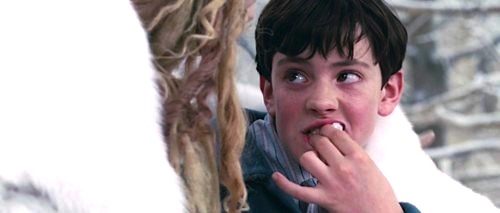 The world is always so beautiful, in part because it glories and indulges in the good things God has made, using the senses God has given us. It wants to hold all of those things. To grasp. To worship. While ignoring that God who made them.
Maybe it's time we spent less time worrying about the stick wielders. Maybe we should remember what happened to the White Witch in Narnia is the fate awaiting those wielding the stick, and start worrying about the damage being done by the lure of the carrot. The stick will fall. The blow will land… But even if it hurts, the pain will be temporary for us, and the joy eternal.
We don't just have to grit our teeth and bear the pain. God is good. And we can know his goodness and joy now too. One of our answers here should be to realise that we already have the carrot the world offers, just as Adam and Eve were already 'like God' in Genesis 3. We live in the same world, the same pleasures are ours in the good contexts God made for them to be enjoyed in, and while this pleasure will be fleeting and frustrated and won't deliver everything we want, it should point us to where we are going. If we trust that his plans and designs are good, and build communities where that goodness is evident in the love of his people, then we'll be less likely to be lured by what the world has to offer. This is part of being the 'eschatological Christian' Stephen McAlpine is urging us to be — we know God is good, and we know the carrot he offers is more complete than anything our world can dangle in front of us, even as the world beats us with its paddles. We know that joy now is possible, but it reminds us, as CS Lewis says, of our pilgrim status. That we're not home yet.
Be like Jesus. Pursue the real carrot.
Therefore, since we are surrounded by such a great cloud of witnesses, let us throw off everything that hinders and the sin that so easily entangles. And let us run with perseverance the race marked out for us, fixing our eyes on Jesus, the pioneer and perfecter of faith. For the joy set before him he endured the cross, scorning its shame, and sat down at the right hand of the throne of God. Consider him who endured such opposition from sinners, so that you will not grow weary and lose heart. — Hebrews 12:1-3
Maybe it's time we stopped thinking that we keep people from the carrot by crying "Don't hit me" and start crying "hit harder" because the carrot is real. And we want people to believe it.